Where To Eat On A Cape Cod Family Vacation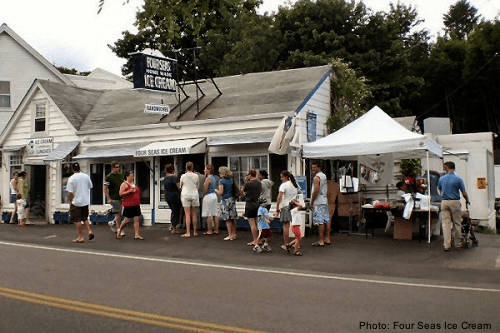 I can't think of a better way to honor July 4th than with a blog about Cape Cod, the place where our nation ostensibly began.  And I can't think of a better person to advise on eating your way up the Cape than Lisa Antinore, a food writer from Queens, NY with family roots on the Cape, a school-age son who will try just about anything she feeds him, and firm opinions on all things edible.
Here is her best advice:
Restaurants are one of our favorite reasons to be on Cape Cod. Fish is impeccably fresh almost everywhere from the simple fry shacks to the five-star restaurants. In many years of vacationing there, we've only had a handful of bad meals, usually when were famished or had no reservations and had to settle for a tourist trap.
My Rule About Clams
Here is my first essential rule for visiting Cape Cod: Don't under any circumstances order clam strips at the myriad fry shacks for which Cape Cod is known. They are for tourists and wusses. It's clam bellies or bust. That first juicy, briny taste of the sea will make you reel and will likely be the beginning of a love affair that will lead you to Seafood Sam's, Kream N Cone and Captain Frosty's (all in one day if you're as hedonistic as us) so you can add your voices to the age-old debate: Who has the best fried clams?  (My family's vote is Captain Frosty's on 6A in Dennis, followed closely by Kream and Cone on Route 28 in Yarmouth).
My Rule About Ice Cream
My other essential Cape Cod food rule: Avoid Krista's and anywhere else that offers lame Hershey's ice cream. This is homemade ice cream territory; take advantage of it. The Kennedys put Four Seas in Craigville on the map (peach was said to be Jackie O's fave). Locals seem to go for Penuche and Rum raisin, but I think pistachio/pineapple, strawberry, peanut butter/dark chocolate, and banana are all just short of a religious experience. The homemade hot fudge topping is a must, especially with the banana ice cream.
If you are not inclined to drive long distances and endure ridiculous waits for ice cream (which Four Seas can have), Sundae School (multiple locations) and Cape Cod Creamery in South Yarmouth are also fantastic. The latter has an inviting wraparound porch and comfy lawn chairs where we sit and enjoy pistachio (me) and Caramel Crunch (my husband).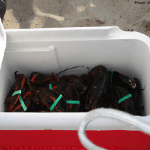 Lobster Rolls With A View
This isn't a rule so much a very strong recommendation: Don't miss Sesuit Harbor Café , my favorite place to eat on Cape Cod. Nothing is better than sitting outside under the umbrellas on a warm, sunny day watching the boats go by with a Lobster Roll in hand.
Kicks On Route 28
In Chatham, chowder at the collegiate Squire is a must, followed by ice cream at Buffy's Ice Cream Parlor (I can't resist the coffee Oreo). Or stop by the legendary Chatham Candy Manor for some dark-chocolate-covered cranberries or giant strawberries (or both if you're me!), plus fudge to take home. Thanks to its shady back porch, Chatham Cookware is a town favorite for reading the morning paper over an iced coffee (free internet access is a plus).
Driving on Route 28 out of Chatham toward Yarmouth, look for a tiny, unassuming house with a sign outside that says, "Marion's Pies." She makes phenomenal chicken pot pies (and other savory pies, too) for take-away and all sorts of confections! It's a great place to stock up for an evening picnic on the beach.
Continuing on Route 28 to Harwichport, you'll find the very kid-friendly Bonatt's. No visit to the Cape is complete for us until we've had breakfast here. The solicitous wait staff will bring your kids milk in plastic cups with animals on them. If you have a sweet tooth, go for the blueberry-stuffed French toast. If you like your breakfast on the savor side, don't miss the Portugese Eggs Benedict with linguica sausage. (Tip: Don't be daunted by the crowds milling about outside; we've never waited more than 15 minutes for a table.)
Dennis Port Favorites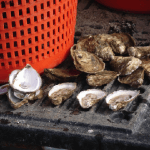 Take a short detour from Route 28 to Dennisport. The Oyster Company has live jazz on Saturdays and—surprise, surprise—fantastic fresh-from-the-flats oysters. You can slurp while the kids groove.
Also in Dennis Port, Clancy's Tavern on Upper County Road off of 134 is our Cape Cod kitchen away from home. There are many Clancy's, none related, and this is the only one I recommend.
Tasty Taffy
 When you get to South Yarmouth, look for Mermaid Taffy, an outdoor stand on route 28. A stuffed box will run you about $15 dollars. It's worth it, but if you don't like taffy that much, at least pull up in the gravel parking lot and try a few of the more than 30 flavors including cranberry (my favorite) and fluffernutter (my husband's).
Better Than Your Average Fish Shack
Brewster Fish House on 6A in Brewster is more interesting than your average fry shack but still pretty casual and has been a consistent source of fabulous meals for us.
If you make it as far as Provincetown, stop at the renowned Provincetown Portuguese Bakery on Commercial Street for kale, bean and linguicia soup and malasadas, their fried, sugared dough. Our main meal in P-Town is always at the Lobster Pot, a legendary place that continues to put out some of the best food on the Cape. The with-dinner salad (with homemade dressing) makes up for the calorie-busting breadbasket (awesome pumpkin bread!) and linguica-crusted cod. If you have small kids though, be for-warned, it's often crowded and cacophonous with surly service.
Cape Cod Date Night!
 One last tip: The Ocean House overlooking the water in Dennis Port, and Red Pheasant Inn on 6A in Dennis are top choices for a fancier splurge meal. Go if you have older kids who will appreciate that or if you manage to swing a vacation date night.
No matter where or what you eat, enjoy Cape Cod. It's impossible not to.
Lisa Antinore is a food writer from Queens, NY. Her family owned a motel in Truro, Cape Cod, for 30 years. You can read more of her food writing on Chow Hound.
3 Responses
Comment on this post