Deals: 12 U.S. Slopes Where Kids Ski Free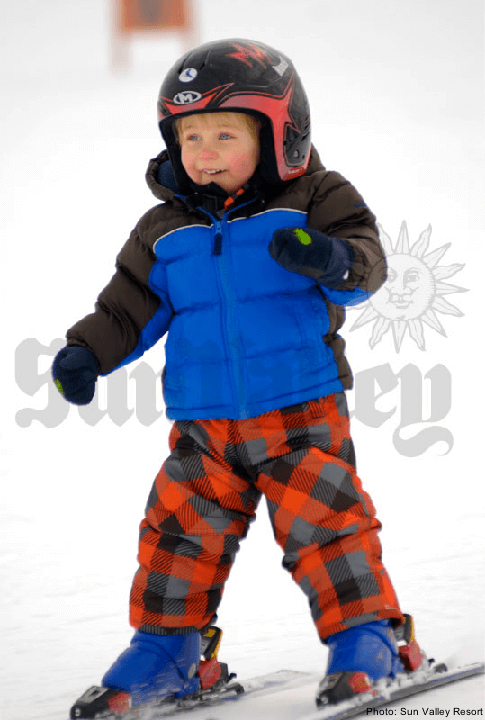 By Eileen Gunn
Unless you're lucky enough to live near a good mountain, ski vacations are expensive. Gear rentals, lift tickets and lessons for a family—on top of hotel, food and transportation—add up. And given the snowless winter we had last winter (and that Colorado is suffering so far this year), plunking down a deposit on a ski vacation can seem like quite a gamble.
With winter and school vacations on the horizon, FamiliesGo! is helping you to make the expense—and risk—and little more manageable by doing a round-up of resorts across the US where kids ski for free; meaning their lift tickets are comped. You still need to pay for rentals and lessons if you need them. A lot of resorts will comp lift tickets for kids who are younger than 4 or 5, so we focused on places where older kids gets get on the mountain for free, too. Still, pay attention to the age ranges, minimum stays and blackout dates. When you find the right fit, get ready to hit the slopes and have some wintery fun.
Northeast
• Vermont's Woodstock Inn & Resort offers free lift tickets for kids under 14 at the nearby Suicide Six Family Ski Center. Don't be intimidated by the name; 70% of the slopes are beginner or intermediate.  The deal is available with any room or package and includes some rental discounts but doesn't include holidays and school breaks.
• At PlatteKill Mountain in the New York Catskills, lift tickets are free for kids 7 and under. At many other mountains across the state, the age for free skiing seems to be 6 and under.
Midwest
• We didn't know there were mountains in this part of the country, but we know there certainly can be plenty of snow! At Shanty Creek Resorts, in northern Michigan, kids 8 and under ski for free through the winter when their parents stay at the resort.  On Christmas Day, lift tickets are comped for everyone and Santa Claus hits the slopes, too.
Rocky Mountains
• In Colorado, book two nights at Keystone Resort outside of Denver and all the kids in the family will have free lift tickets waiting when you arrive. Up to two kids get free lift tickets at Durango Mountain Resort (right) if mom and dad book a room for four nights and get lift tickets, too. The age for both resorts is 12 and under.
• The Sun Valley Resort (above) in Idaho is offering guests free lift tickets for kids 15 and under. There's a two-kids-per-room limit and doesn't apply to the winter break weeks.
• At Deer Valley in Park City, Utah resort guests who stay at least three nights receive up to two free lift tickets for kids 12 and under with the corresponding number of adult lift tickets.
• Moonlight Basin Resort (right) in Big Sky, Montana offers free lift tickets for kids 10 years and under if their families are guests at the resort or season pass holders.
The Sierra Nevadas
• The Resort at Squaw Creek in Lake Tahoe, Nevada lets kids ages 12 and under ski, skate and sled for free with a two-kids-per-room limit.
Making the Grade On The East Coast
Here are a few offers that are limited in terms of who can benefit, but are interesting nevertheless.
• In New York State, 4th graders from anywhere can receive free lift tickets free four times over the course of the winter ski season at any of several participating resorts.
• At Butternut in the Massachusetts Berkshires, 5th graders from anywhere can get free lift tickets with a paying adult on Sunday through Friday (excluding holidays and breaks) with this coupon.
• Beginning January 2, 5th and 6th graders from Virginia, Maryland, Washington, DC, North 
Carolina or West Virginia can ride the lift for free three times at the Wintergreen Resort in Virginia's Blue Ridge Mountains (left). The limit is two kids per paying adult and it also doesn't work on Saturdays or holidays.
Hope you find a ski deal that works for you, that the snow cooperates and that you and your family hit the slopes this winter!