This excursion through the scenic Boyne Valley is one of my favorites day trips from Dublin. It takes you to sites important to Irish history and Celtic mythology. It includes a mysterious tomb older than Stonehenge as well as a good ghost story. And you only have to drive about 50 miles from Dublin, making it very doable with kids.
It's easy enough to do drive this stretch of Ireland's county Meath on your own. But if the whole driving-on-the-left is not your thing Viator and others have organized tours that will include all the high points.
Here is my off-the-beaten-track pla for exploring the Boyne River valley (Brú Na Boinne) in Meath with kids.
Planning a trip to Dublin?
Here's the perfect 3-day visit to Dublin
Rich and I loved the Morrison Dublin hotel right next to the Liffey
Rent a 5-bedroom townhouse near St. Stephens Green.
Read up on your Irish Myths and Legends before you go.
Boyne Valley Day Trip From Dublin: Castles, Medieval Towns & an Ancient Celtic Tomb
Dublin To Newgrange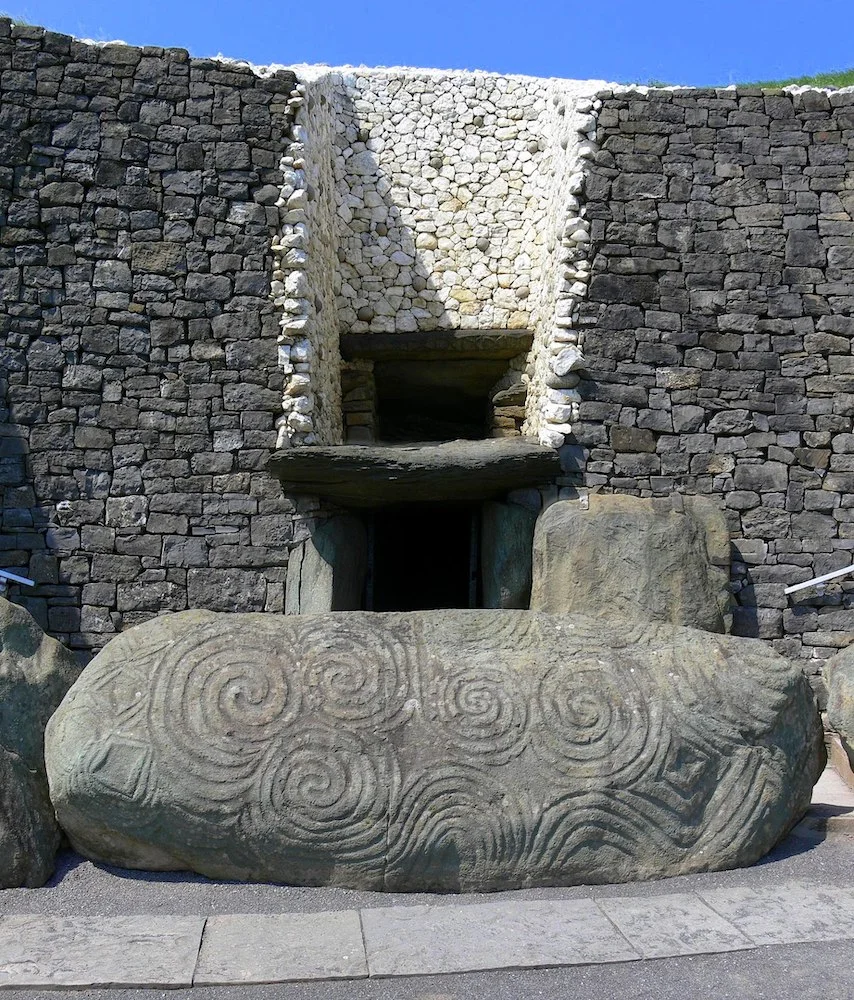 The day begins at Newgrange, a neolithic tomb some 50 miles from Dublin in the Boyne River Valley (top).
It dates from roughly 3200 BC, which is 500 to 1,000 years before both Egypt's Temple of Giza and Stonehenge. It's a large stone mound with a slim corridor and a small chamber that floods with light at sunrise during the winter solstice. There's an annual lottery for spots inside the tomb on that day.
Newgrange was one of the most unexpected and memorable things about my first visit to Ireland as a teenager. I brought my parents and Rich there on subsequent trips. And it's the first thing I recommend to anyone traveling to or around Dublin; it's truly unique.

Newgrange and the surrounding Boyne River Valley feature prominently in Ireland's rich mythology. It was the home of the Tuatha de Danaan, a cast of larger-than-life heros and fools similar to the Greek pantheon of gods.
In some stories, one of central heros, Angus, calls Newgrange his home. The front stone and others around the base feature great examples of original Celtic scrollwork.
Like similar buildings it was literally buried in time—no doubt with sheep grazing on its grassy top—and was unearthed in the 1800s by farm hands digging for stones. Now it has a visitors' center, organized tours and a gift shop.
You have to follow a guide into the tomb and the visitors' center caps the number of people allowed in each day (during the summer it's a good idea to book ahead).
The tour is brief and covers how the tomb was built, its possible uses and other facts, and recreates the solstice sunrise with lights. You can learn more about its structure and see a model of the chamber at the visitors center.
Tweens and teenagers with an appreciation for ancient history and mythology will happily go along—they might just like the fact that it's dark, dramatic and still somewhat shrouded in mystery.
Smaller kids will have a hard time grasping its age and significance, of course. But the tour doesn't take long. Unless they're very likely to be scared by the dim passageway they'll at least find a little curious.
Celtic Myths & British Battles Around the Boyne Valley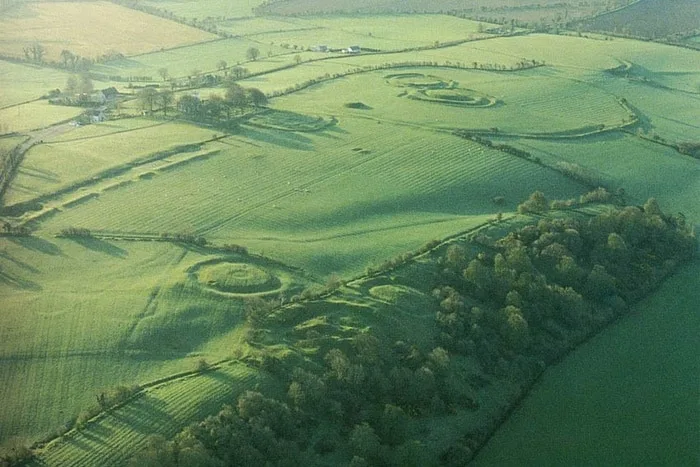 Next on your trip, explore the Hill of Tara, which figures prominently in Irish mythology as the gateway to the gods and in history as the seat of the clan chiefs.
A visitor's center has a video that explains the history of Tara and the smaller passage tomb discovered there and tours can be arranged. If you luck out with good weather it's a scenic place to wander around.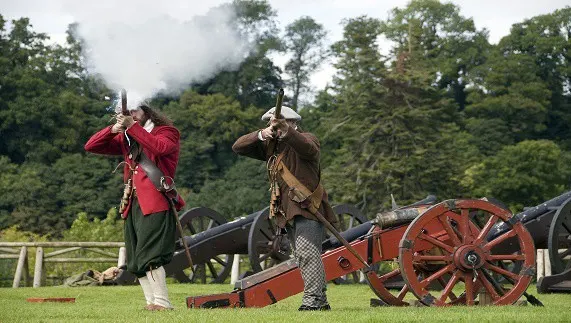 The Boyne Valley was the setting for one of the more notorious events an Anglo-Irish history. The Battle of the Boyne—which sealed William of Orange's seat on the British throne and England's hold on Ireland—happened about five miles from Newgrange.
A local mansion has been given over to a visitors' center where costumed interpreters do reenactments and historic-arms demonstrations. From here, history and war buffs can embark on a self-guided tour of the battle site. My experience is that, for kids, there is nothing more boring than a battle field.
Little kids will be happy to run around in the fields while you imagine the sounds and sights of advancing armies in your head. There's a tea room, too, if your family needs a break.
Stop By 2 Unique Castles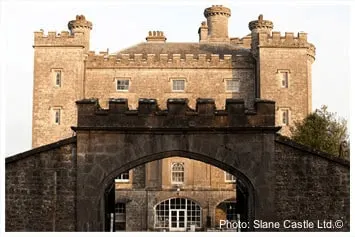 Slane Castle is also about 5 miles from Newgrange in the opposite direction.
Gen X parents and grandparents will appreciate it as the place where U2 recorded the Unforgettable Fire album and shot video footage for the album's songs.
It's a 17th century castle, meaning that it's more Downton Abbey than battle ramparts. They give tours on select days of the week and hold an impressive array of outdoor concerts in the summer.
Newgrange, Slane and the battle site form a triangle of points that's manageable in a day even with kids. I found places like Slane with their genteel opulence and inevitable no-touching rules too nerve wracking to visit when I had a preschooler. But if you're passing by stop to take a peek at the grounds and some photos.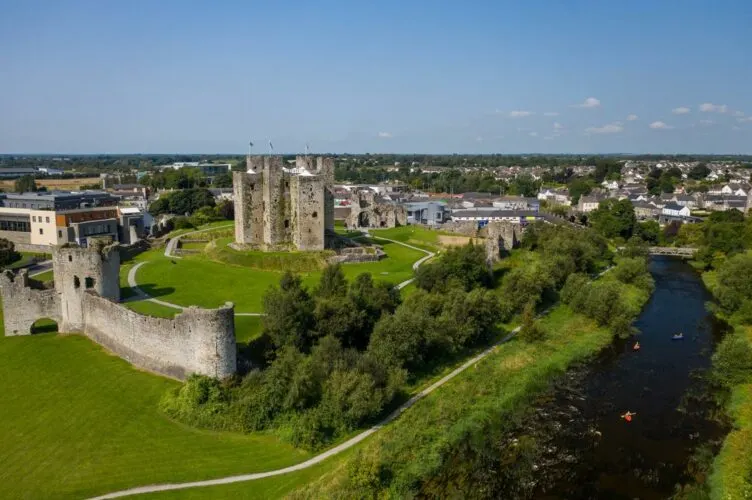 Trim Castle was absolutely built to be a fortress and looks that way. It was built by an Anglo-Norman baron over the 12th and 13ths centuries to hold a strategic point along the Boyne River and protect Dublin from the Celtic clans trying to push the Anglo-Normans out.
It's tall and boxy with a high stone wall around it and you're free to wander around on your own. A fortified medieval village once surrounded the castle and that has grown into a modern town. It's an odd juxtaposition but it makes Trim a good place to walk around a stop for lunch.
The castle also stood in for several Scottish keeps and castles in Braveheart.
Say Hello to Saint Oliver Plunket
Drogheda, another former medieval town on the Boyne. You can see remnants of it owalls and gates as you walk around. It bills itself as the jumping off point for your Boyne Valley site-seeing.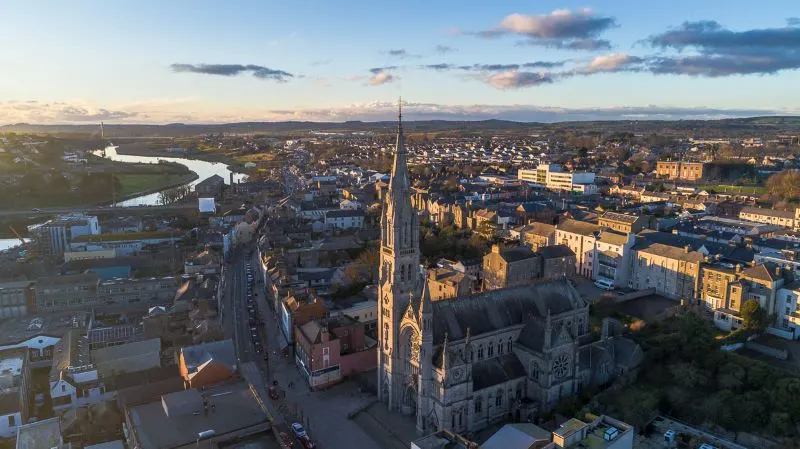 It's come a long way since its medieval days. It's turned an old church into a collection of art galleries and holds an annual Samba festival. I like Drogheda because it has charm —You'll find restaurants and smart shopping—but it feels like a real town, not a made-for-tourist village. It's another good place to stop for lunch or a snack on your way to or from your other activities.
If you have spiritual inclinations (or kids who revel in the macabre) you can visit St. Peter's church to greet Oliver Plunkett, a local saint whose shrunken head is on display.
End the Day With Gormanston's Ghost Story
If you're not totally exhausted yet, stop on the way back to Dublin in the tiny coastal farm town of Gormanston and visit its namesake castle.
The castle, another 17th century manse that's now a boarding school, is approached via a fantastic tunnel of twisting yew trees that open onto its front steps through a giant hedge. Kids will love wandering around in these ancient woods, and the photo ops are great.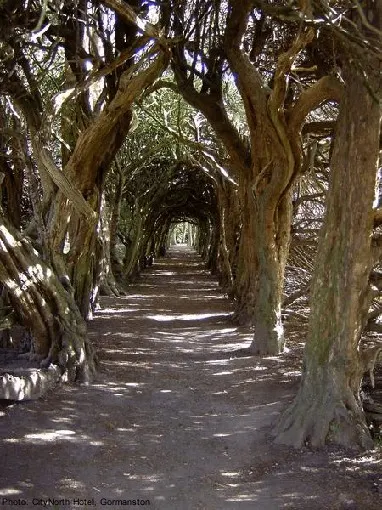 Better still, you can spook your kids with this local ghost story:
During an episode of fox hunting, an empathetic member of the family took pity on the fox and saved it from the hunters. Since then, whenever the current Lord Gormanston is on his deathbed, foxes gather round to keep vigil and howl in lament.
Back in Dublin, over pints of Guinness and a warm dinner, you can discuss whether or not you really believe it.
Pin it for later!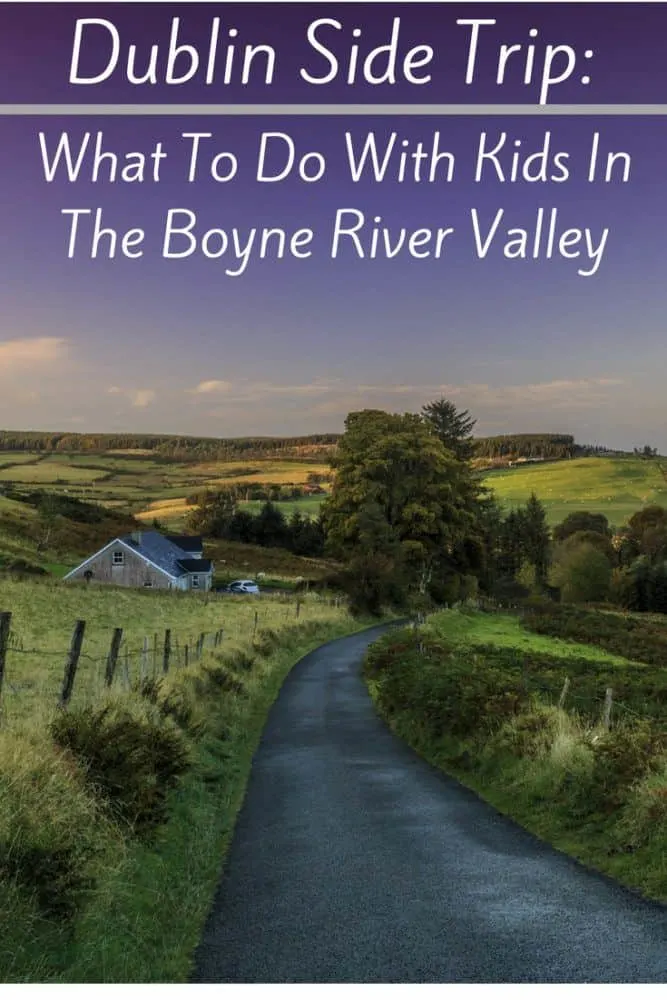 Photos courtesy of Creative Commons and the Irish Tourist Board.