Ask US: Are There Beach Resorts With Toddler Clubs?
Dear FG Editors:
We are looking into beach resorts for two adults & two kids ages 2 and 5. We must have child care/kids club during the day for both kids, but I'm finding most places provide only for ages 4 and up. Any suggestions besides Beaches, Club Med Punta Cana, and FDR in Jamaica?
Thanks,
Stacey
Dear Stacey,
You're right. Finding a kids club for the toddler set is tough. I think the resorts often want to make sure the kids in their care are potty trained. We did some digging and found a few options in different price ranges, though none where the two kids would be together.
Antigua
Though it's further away than some other islands, Antigua might be a good bet.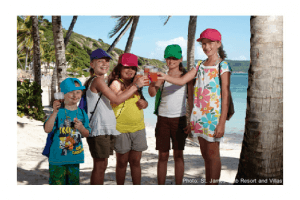 The all-inclusive St. James's Club Resort and Villas  (right) and The Verandah Resort & Spa both welcome potty trained kids aged 2 and up in their Kids' clubs. Those still in diapers can take part in the activities if an adult joins them.
If your budget is roomy, check out Carlisle Bay, a luxury Resort. A Cool Kids Club for kids ages 4 to 6 offers starfish hunting, art projects and access to a clubhouse with a jungle gym, sandbox and
paddling pool. But they also have the Kids Crèche where those 3 and under can do finger painting, water play, treasure hunts and beach games. During holiday break weeks the hotel offers dinner and movie twice a week for kids 2 and up so parents can have a date night. Activities are free for kids 2 and up; $15 an hour for babies.
Aruba
Several Hyatt Resorts including Hyatt Regency Aruba Resort & Casino  (See our listing) 
and Hyatt Regency Curacao Golf Resort, Spa & Marina have kids camps for ages 3 to 12. For an extra fee kids can join in supervised activities like swimming, surfing, arts and crafts and maybe hula dancing.
The Bahamas
We love the easy flight to the Bahamas , but in deep winter they can have weeks where it's too chilly for swimming. Nevertheless, if you feel lukcy, consider the Radisson Grand Lucayan (left), which has a kids' camp for the 3-and-up crowd that costs extra and can include lunch. They also have a nursery for those under 3. It's open daily from 9:00 to 5:00 but charges by the hour and is closed for lunch. It's probably not your ideal, but is an option because of the easy flight.
The Dominican Republic
The DR isn't my favorite island but it's a reliable source for affordable, relaxing all-inclusive resorts with good beaches.
Try the Grand Palladium Bávaro Resort & Spa (right), which has a nursery for kids aged 1 to 3 as well as a kids club for the 4-to-12 set. It also offers family rooms with extra amenities including a communal parents' room with a microwave, sterilizer and extra snacks. (See our listing.)
Mexico:
The Fairmont Rosewood Mayakoba in Mexico will accept potty trained kids aged 3 and up in their Rosebuds kids' program. Daily activities that might include castle building, piñata making, easel painting, Mayan jewelry making, art in the sand, nature walks and, rock painting. The resort isn't all-inclusive but the kids' activities are complimentary.
 St. Lucia
 This island is known for all-inclusives that are more expensive and a little more upscale but also more intimate than you find in more popular destinations.
This might work for you: The all-inclusive St. James's Club has a Mini Club where kids older than two and a half can play in a mini park, do crafts and watch movies. Kids aged four and a half to 7 have their own crafts, activities and sports.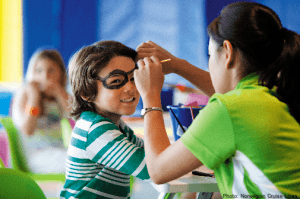 Consider a Cruise?
Cruise ships often let kids two and up into their kids camps. On the NCL cruise we went on when Tiny Traveler was two-and-a-half they accepted kids still in diapers but gave you a beeper so you could come back to change them when it was needed. But cruise ships usually have rules forbidding those still in diapers from using the pool. Since very little kids are unlikely to stay in the cub house all day long (TT wouldn't stay for half an hour), I'm not sure the trade-off is worth it. It's worth considering once the kids are out of diapers though, especially if you're fortune enough to live in a coastal city with local departures.
Readers, Can you recommend a resort we missed that has kids' clubs for babies and preschoolers?
Got a family travel question? Ask the FG editors: editor (at) familiesgotravel (dot) com