Local Tip: Holiday Fun for Families in NYC
For more on NYC at any time of year see our At a Glance section.
I may be biased, but there's nothing more magical than Christmastime in New York. The lights, the decorations, all those cozy spots to stop in for a hot chocolate; it's pure yuletide bliss. So if you happen to find yourself in NYC, here are a few things you'll definitely want to check out – besides the obvious (and wonderful) Rockefeller Center Christmas tree.
Get Crafty at Union Square's Holiday Market
Head down to the Union Square area, and you'll find lots of things to do. Every year Union Square plays host to a wonderful outdoor Holiday Market (left) to browse unique, often-handmade jewelry, ornaments, art, clothes and toys (cool toys!). After getting chilly in the markets, warm up with some hot chocolate at nearby City Bakery (their homemade marshmallows, below, are enormous! And their pretzel croissants are delicious!) or Max Brenner (aka chocolate heaven). And if you're still looking for some gifts to take home, stop by the famous Strand Books to choose from 18 miles of books or Forbidden Planet for the dedicated comic-book fanboy in your family.
Explore Downtown
Further downtown, you'll find the South Street Seaport. Take the kids to the South Street Seaport Museum and the Imagination Playground before checking out Wall Street and the 911 exhibit.
Hit Rockefeller Center
While it may sound fairly obvious, the Rockefeller Center tree really is a sight to behold, and there's a lot to do in the area. Here's my favorite route: Start at the Plaza Hotel on 59th Street. Walk passed the famous jewelry and couture stores on 5th avenue before pausing to see the windows at Saks 5th Avenue. Admire the tree and pop into  Magnolia Bakery on 6th Avenue at 49th Street to buy a cupcake and warm up. Make your way down to 40th Street to admire Lord & Taylor's Window. Then pop into the main branch of the New York library. The children's room downstairs is an excellent place to warm up and use the bathrooms. While there, say hello the real Winnie the Pooh and company. If you're not done yet, make your way to Macy's for more windows and the best Santaland you've ever seen.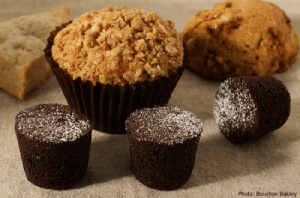 Santa or Ice Skating?
Head to Central Park, say hello to the penguins at the zoo and then make your way to Wollman Rink for some ice skating with skyline views! To warm up afterward, cut across the park to big and shiny Time Warner Center (left) to use the bathrooms, grab a very fancy hot cocoa from Bouchon bakery (right) and, if you're lucky, catch one of the music-and-lights that begin daily at 5:00 pm.
More Shopping? Sure!
We like to  shop at some of the small independent stores, like Kidding Around in Chelsea, Boomerang Toys in Battery Park City, and the gorgeous Babesta (right) in Tribeca. The Strand is great for unique and used books (don't even think of bringing a stroller in though),  Forbidden Planet will have something for the comic book fan boy (or girl) and the Compleat Strategist is a fun shop full of games.
No matter what you do, you're sure to catch some of that holiday spirit—it's everywhere in NYC. So get to the city and get in the holiday mood!
Kristy Jefferson wrote for The Parent Maze.