4 Family Resorts in the Virgin Islands
For a lot of families, the ideal winter getaway includes a long stretch of beach and a short flight from the continental US. For me, that means the Virgin Islands. I recently headed to the islands on a kid-free getaway. But it's such an ideal family destination that I found myself scouting out hotels to so I can return next winter with my twins.
I looked at both the US and British islands and found something for every budget, from exotic private islands to charming budget-friendly small hotels. Here's my scouting report, in case your family needs to take the chill off this winter: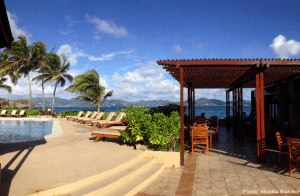 Peter Island
Our first stop was Peter Island Resort on the British side. If you're looking to get away from it all with your kids, this 1800-acre private island resort might just have a hammock with your name on it. It's low-key environment where nature and the beach are the main highlights. Indeed, the island has five private beaches to choose from, secluded by hillsides and tropical gardens.
The gift shop has toys and children's books and beach gear, but there's no kids' program (there is babysitting). It's probably best for families with babies and small toddlers or teens who don't need organized activities to keep busy.
Rooms near the beach are bigger and might offer more space to families that need it. Rooms near the harbor are a 5-minute walk to the beach but are closer to the pool and the restaurant where breakfast and tea are served. All 32 rooms have a balcony or terrace.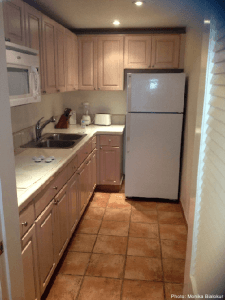 Long Bay
Our next stop was Tortola, also one of the BVIs, where we checked out Long Bay Resort. Set on a mile of white-sand powder beach, it's easily one of the Caribbean's most stunning hotels.  Our room, a lovely ocean-view studio, had a sitting area and a beachside balcony (perfect for morning coffee or a glass of wine after the kids have gone to bed). It also had kitchen, making it a little more budget-friendly than other similarly appointed resorts.
The resort also has two and three-bedroom villas that offer large decks with gas grills, as well as a kitchen. These could be a great choice for larger families or multi-generational families traveling together.  Again there's no kids club, but the beach is good for snorkeling and boogie boarding and the pool has a slide and a child-friendly wading area.
One of the resort's restaurants, 1748, was built inside the ruins of an old sugar mill (sweet!). There's also a poolside grill with snacks and burgers—every kid's ideal of dining al fresco.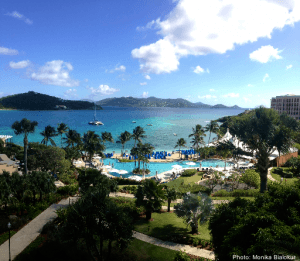 Ritz Carlton
We took the ferry across to St. Thomas in the US side to check out Ritz Carlton, tucked away on 30 acres of its own on the island's east end. The beachfront hotel offers its well-known Ritz-Kids program for 5-to-12-year-olds, which will operate for even one child (handy for off-season travelers).
While your kids romp you can enjoy some tasty food, splurge on a spa treatment or venture 20 minutes away to Charlotte Amalie for some power shopping.
Kids receive a VIK (Very-Important-Kid) welcome while parents are greeted with cool washcloths, cold bottles of water and rum drinks.
If it's in your budget, it's worth it.
Our last stop was the Best Western Emerald Beach Resort on the sandy shores of St Thomas' Lindbergh Bay. This affordable resort is on a beautiful beach with gentle waves, making it perfect for families with younger children. The resort also happens to be directly across from the St Thomas Airport, making it perhaps the most convenient property on the islands (and making the car-seat or no car-seat question easier to deal with) I'm pretty sure my kids will love watching the planes come and go.
Getting There
The best way to get to any of the US or British Virgin Islands is to fly into St Thomas. It has the biggest airport with the most non-stop flights from major US cities. The main airport for the BVIs is on Beef Island, but count on having to connect through Miami or Puerto Rico. There are frequent ferries between the US and British Islands and travel time is about an hour. Schedules unpredictable, though, so call ahead.
Monika Bialokur lives NYC and loves spontaneous trips with her 6-year-old twins. She specializes in PR and Social Media Strategy for lifestyle, travel and children's brands and co-hosts MOMtravelchat. Follow her @MarketingMonika or @CoolMomBUZZ