Raising kids in Florida has been a blast for us. As huge animal lovers, we've really enjoyed having access to Florida aquariums, which number among the best in the country.
If you're looking for an easy weekend road trip, you can visit all three of the aquariums listed below in three days if you plan right!
Even if you aren't that ambitious, a nice relaxing beach vacation with a visit to an amazing marine aquarium can be the perfect weekend getaway for families with school-age children.
Read More:
• Ask FamiliesGo!: Can you recommend destinations for an affordable U.S. beach vacation?
• Paradise Coast: Florida's Best Best Destination for Families
• Ask FamiliesGo!: 5 Ideas for a Warm-Weather Winter Getaway in the U.S.
3 Central Florida Aquariums Worth Going Out of Your Way For
Hands-On Learning in Sarasota
One of our favorite places to visit is Mote Marine Aquarium (above) in Sarasota. Mote was founded in 1955, and does so much good for our marine life here in Florida. They rescue injured animals, rehabilitate them, and often release them back into the wild. My oldest teen daughter was an intern at Mote last year and fell in love with a lot of the residents, like Harry the turtle (below). Harry is blind, so he can't be released and will stay at Mote to help educate the visitors.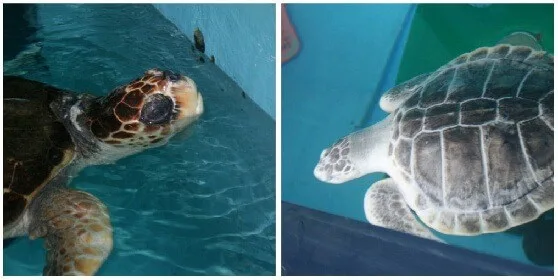 What to do and see: Mote has an outdoor shark tank, touch tank and a stingray tank, where they usually come close enough to let you pet them…eventually. This is where you can visit Moonshine, Mote's lone dolphin. If you're lucky you'll catch a traveling exhibits. We've seen sea lions and penguins visit in the last few years.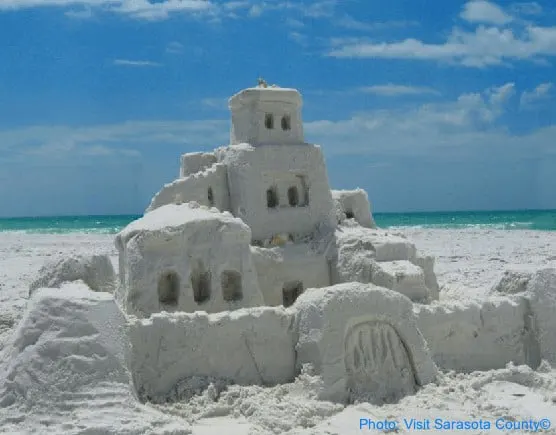 Inside, say hello to two resident manatees, gentle giants that will swim toward you and smoosh their faces against the glass, which is pretty hilarious! There are a lot of hands-on exhibits, as well as an area where you can learn the history of Mote. Kids might be bored by the short film about how it all began. Watch it anyway, then make it up to them with one of the aquarium's boat tours.
Beach Break: Mote is minutes from Siesta Key Beach, which is often voted the best beach in the country. Spend the night at one of the many local hotels and spend the next morning soaking up the sun. Sarasota has good beach weather yearround!
Play And Explore in Tampa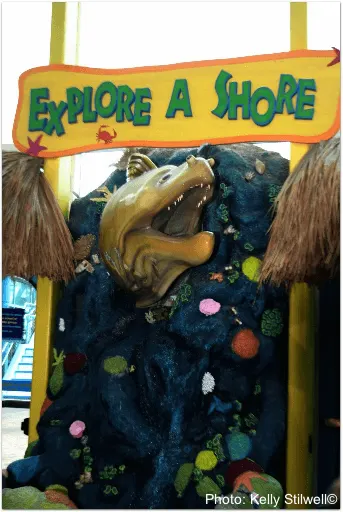 The Florida Aquarium, an hour away in Tampa, is large and packed with enough things to do to take up a whole day. We like to start our visit by exploring the Wetlands Trail, where you an get a close-up look at our state's resident alligators as well as two huge Burmese Pythons that aren't natives. Learn how these invasive snakes got here and how they are a threat to the local environment. Next, take a journey to Madagascar where you can see lemurs and meet a giant Madagascar Hissing Cockroach, which will fascinate or disgust you and your kids (possibly both!). Kids will find a lot of hands-on stuff here, too.
Swim Break: I must admit my favorite area is the two-acre outdoor water adventure zone. Our kids cool off and play while we enjoy the Cantina bar and grill (The food is actually good!).
Dolphin Tales and Movie Magic In Clearwater
About 40 minutes from the Florida Aquarium, you can meet the one and only prosthetic-taled Winter from the movie Dolphin Tale at the Clearwater Marine Aquarium.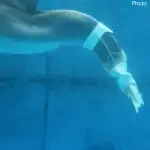 We watched a short show that taught us all about Winter and how her prosthetic works. Her trainers put her tale on while we watched, which was fascinating to see. Winter is a sweetheart, by the way, and loves to have her picture taken!
Of course, the aquarium also has dolphins, sea turtles, otters, and more. But if you can't get enough of Winter, once you've checked out the aquarium, take a free shuttle over to the Dolphin Tale Adventure. You'll see props from the movie, re-built scenes and movie images. There are several hand-on exhibits including one that simulates a hurricane like the one you see in the movie. We loved the movie and so spent quite a bit of time in this area; there's so much to see!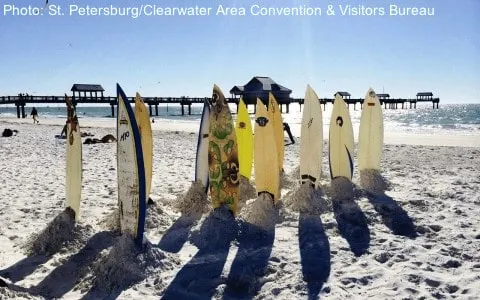 Beach Break: Clearwater Beach is fabulous, with sand like talcum powder. You'll find a plenty of small local hotels as well as a Hilton resort. It's an easy overnight break from Tampa as well as Clearwater.
You'll love visiting the Sarasota, Tampa, and Clearwater areas. Beautiful beaches and first-rate aquariums you and the kids can enjoy together.
I'd love to hear about your experience if you visit. Please share in the comments!
Kelly Stilwell is a freelance writer and blogger who loves living in Florida with her husband and two teenagers. Visit her website, Virtually Yours for more stories and advice on traveling with teens, or follow her on Twitter.
Quick Essentials