Bermuda is a terrifically kid-friendly island. Scenic beaches, great casual restaurants, super easy public transportaion and gentle weather make it easy for families to have a great vacation.
The island is pricey, especially dining and hotels, so we arrived via the Norwegian Breakaway and the older Norwegian Dawn on cruises from New York City two of the three times we visited.
Visiting Bermuda's pretty pink-sand beaches is one of the top things to do and easy with kids from toddlers to teens. By spending a good bit our shore time exploring all the free public beaches we managed to keep our costs reasonable.
Here are some of the best and least crowded family beaches in Bermuda. All are accessible by bus or ferry from both Hamilton, where some of the best hotels are, and the Royal Navy Dockyard where cruise ships pull in.
All have good, relativelu reasonable lunch options nearby.
3 Bermuda Beach-Day Itineraries For Families
Ferry To St. George
A popular itinerary is to take the high-speed ferry to St. George to visit the Crystal Caves and Tobacco Bay beach.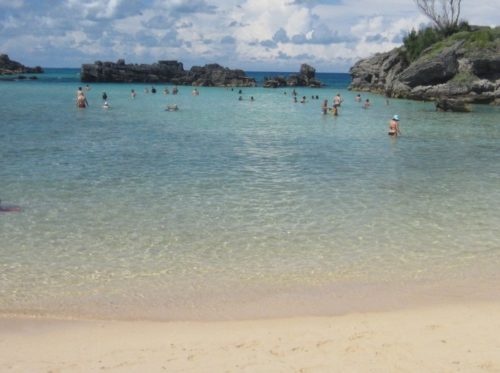 Surrounded by huge boulders that block the waves, Tobacco Bay is ideal with kids and my second favorite Bermuda Beach.
You can snorkel around the rocks and see quite a few fish. If the tide is out, you can walk from 1 side of the bay to the other looking for minnows, which kept Tiny Traveler engaged at 2 ½ and again at 5.
Teens might find the beach a bit too tame, though, especially when the tide is low.
A small snack bar rents snorkel gear and has okay (not great) bathrooms and changing rooms.
Lunch: A friendly local recommended Arty Mel's Spicy Dicy in St. George. We shared a sandwich piled high with crispy fried fish strips and a side of rice of peas. Tiny Traveler had a kid's portion of fish and chips.
It was good and a deal by local standards. But it really is a hole in the wall. They have a few tables in the back but I recommend getting your fish sandwiches to go. Take them to the beach, dine al fresco in St. George's charming square or find a bench with a water view.
Tip: Most people visit the caves in the morning and then head to Tobacco Bay in the afternoon to cool off.
We decided to do the reverse. Logistically it made more sense and we missed the crowds in both spots. But it was definitely hotter traveling and we were covered in sand all day.
If you start with the caves consider springing for a cab from the St. George ferry dock.
Beaches and the Big City
My favorite Bermuda beach is Warwick Long Bay.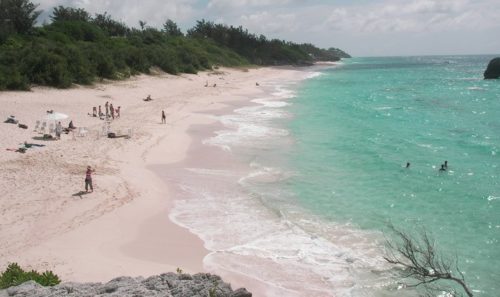 It's far less crowded than nearby Horseshoe Bay, Bermuda's most famous beach and the one where most cruise passengers make a beeline.
The surf along the main beach is rough. Teens will like it; little kids and weak swimmers might not. But the sand is soft and pink. And this beach has a couple of secrets.
First, kids with like this Bermuda beach because there is a nice big playground perched above it at the end of the beach furthers from the Dockyard (closer to Hamilton).
It has a bunch of slides, climbing structures for little kids and a big spider net for older kids to climb.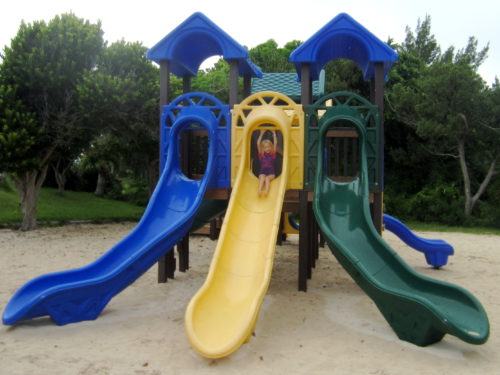 You can see the playground from the road (but not from the beach). If you want to find it, ask the bus driver let you off at the Hamilton end of Warwick Bay.
Second secret: At the opposite end of the beach from the playground (the end closest to the Dockyard), there's is a tiny protected cove. It's hidden by an outcropping of rocks that seem to mark the end of the beach.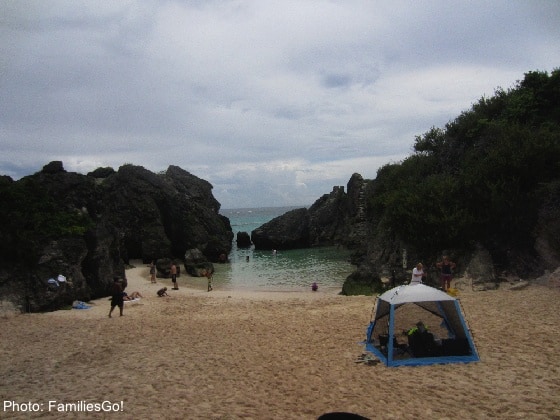 When the tide is out kids, 8 and up will want to climb around the rocks. When it's in you can snorkel and swim.
It's another good place for spotting minnows and crabs and doing some easy snorkeling. around the rocks at the back. I love this beach because it's usually pretty quiet and it's a very easy place to keep an eye on little kids.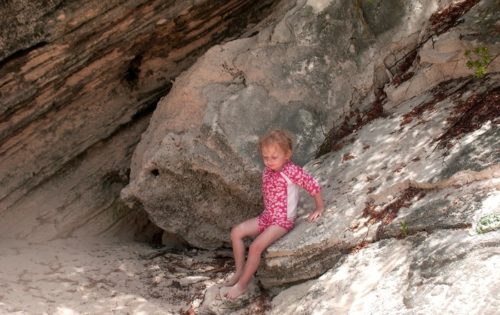 Lunch: From this beach, we head into Hamilton for our version of souvenir shopping (black rum, ginger bear, Cadbury chocolate and pepper-spiked sherry sauce) and lunch at the Lobster Pot.
They do great fish chowder and conch fritters. Tiny Traveler has fish & chips from the kids menu. It's on a side street a few blocks back from Front Street. It's more local and a little more gently priced than the places that cater to either tourists or all the folks in nearby offices.
Beaches For Your Last Shore Day
We hit two beaches on our last day of our second visit. The first was Black Bay, which we chose because it's near the Dockyard and cruise ship port. This is a good all-ages beach because it's easy to keep an eye on little ones, but older kids can venture out a bit to snorkel.
It's a series of small, rocky beaches separated by jetties. The water is a bit shallow and grassy, but very clear and the snorkeling was pretty good.
Tiny Traveler waded, collected rocks and played on a patch of beach that we had entirely to ourselves. Rich and I took turns snorkeling in the very clear water around the jetties while the other kept an eye on her.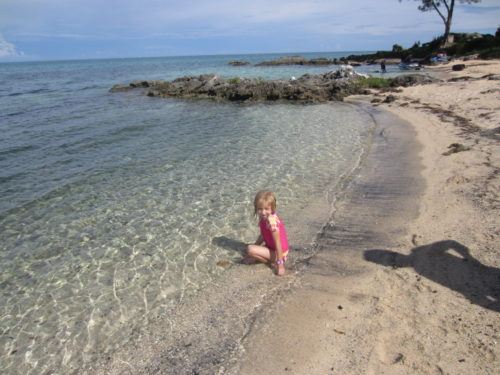 If you venture 500 feet down the road along the water (toward the Dockyard) and look for a flight of stairs behind someone's patio, you'll find a small sea-glass beach.
Tiny Traveler liked sifting through piles of polished glass to find colors she liked and shapes she recognized. We admired the freeform art made by others.

It's a great, free thing to do with kids but if you go, Bermudans would prefer you admire the glass and leave it where it is.
In the afternoon we went to Somerset Long Bay Beach, which has a lot of shad and an idyllic stretch of sand.
It also had a small but spiffy playground. This beach is ideal with the under-5 set. Teenagers will hate you if you bring them here.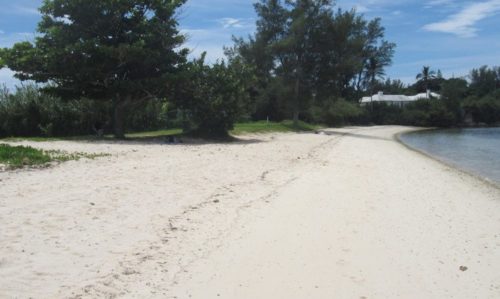 The beach had a nice hidden-away feel to it, but the water that didn't rise above or shins no matter how far out we ventured. And a large stretch sea grass made swimming impossible.
It was fun to wade and look for turtles and fish in the grass. Then we sat in the shade while Tiny Travler played in the shallow water until it was time to head back to the ship.
Lunch: Between our beach excursions we stopped in tiny Somerset for lunch at the Country Squire. Rich & I shared a salad, excellent fish & chips and a last bowl of fish chowder while viewing the harbor from the outdoor patio.
The Squire has a pretty standard kids menu, from which Tiny Traveler had mildly seasoned chicken wings and fries.
Other Beach Options
Horseshoe Bay has the famous Bermuda pinkish sand and so most people head there on their first day in Bermuda.
It's a nice beach, with quieter hidden coves tucked behind rocks at either end. And there are amenities including food, a bar and bathrooms. If you feel like you have to visit this beach, which is understandable, get the first bus out of the Dockyard to beat the crowds.
The Dockyard has the Snorkel Park, a for-fee beach with changing rooms, chairs, a bar, food and water activities including snorkeling.
It's incredibly easy and convenient. The water is clear but I don't know how good the snorkeling actually is. it's small beach and can get crowded (which is never good for snorkeling).
Bermuda is so pretty to drive around, The beaches are so nice–and free– I don't know why you would use the Snorkel Park other than to stay near the ship on the last day.
A Great Way To End Any Day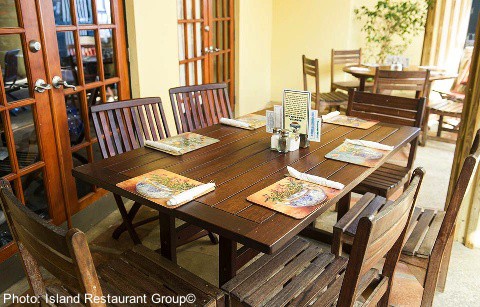 We almost always ended shore days back at the Dockyard and the Frog & Onion, a brewpub with an indoor patio.
The beers are great (I like the lager; Rich favors the pale ale) and we often caught the late afternoon happy hour. We never ate there, but the food food that went by always looked good.
Pin it for later!