I love to travel and being a filmmaker has given me all kinds or reasons to go many places. But as my family grew I got tired of long hours in airplane seats and nights alone in hotel rooms. Then, a few years ago I had a flash of inspiration (some might say insanity, but I'm sticking with inspiration). I decided to parlay a project in Germany into a summer adventure in Europe for my family of six.
It turned out to be a memorable vacation and taught me a very important lesson: Big families can travel. Here's how we did it: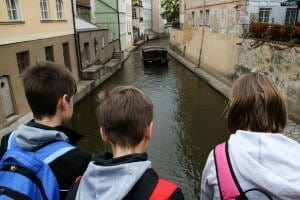 Find A Place To Stay
A hotel would have been unaffordable and wouldn't give us the kind of residential experience we were looking for, so I decided to find a short-term apartment. Today there are all kinds of resources for house swaps and rentals. Back then I turned to Sabbaticalhomes.com, a resource for academics looking to live abroad for a few months at a time. I spent a few weeks researching neighborhoods and browsing the listings and eventually hit the jackpot: a roomy apartment near Friedrichstrasse in the heart of old East Berlin.
Staying in a home where we could cook for ourselves, in a city where we could live comfortably without a car, made the experience affordable.
Note: We learned quickly that we didn't need nearly as much space on vacation as we do at home, even on an extended vacation. It's amazing how much space you need for your stuff rather than your self.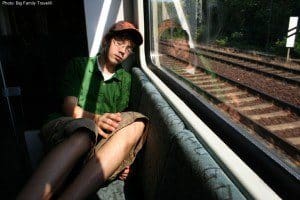 Take Care of the Home Back Home
We found a college student who needed a summer rental. That offset our travel expenses, plus she kept things clean, kept burglars away, and took care of our pets so we didn't have to board them.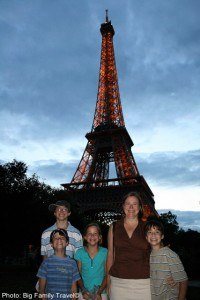 Dive In To The Experience
The summer came and went too quickly for us, and one cannot easily enumerate the rewards of this experience. Sure, we saw all the important sites. But the apartment rental also gave us a taste daily life in Berlin as well. My kids learned to order ice cream in German, which was a joy to hear. My 9 year-old-old learned and taught me how to weight and label produce at the grocery store.
We also learned to travel like the locals do: by train. This gave us the chance to marvel at the architecture in Prague, the art in Paris and the Alps in Switzerland, among many other things.
Let Travel Change You
We learned a lot about the world and about ourselves on that trip.
Our children learned they did have to be intimidated by the world or by people who speak another language, or by sheer wonder and beauty of the cities, the art and the landscapes we saw.
We learned that having large house back home meant that we spent an inordinate amount of time living for our possessions rather than ourselves. Traveling better means traveling lighter, and that seems to apply to all facets of life.
What I'd Do Differently
There are not many things I would change if we did this again. There are better resources available online today, so I might be able to find a house swap and eliminate the lodging cost altogether. It's not hard to imagine a family of any size having a similar trip a lifetime with airfare as the only major expense. Where there's a will, there's most definitely a way.
Our kids are getting older and we may never get to repeat this kind of experience again, but I regard our summer in Berlin as the best thing we did for our kids. We showed them that the world is a beautiful, welcoming place, and that it's better to spend money on experiences than on things. We hope these are lessons they will hand down to their children.
Steve Martin is the host of the Big Family Travel blog and podcast. You can Find him on Twitter, too.