When venturing out with kids it's important to know where you're going and what you're likely to do. But in New York City the more important questions are, where are you going to eat and what are you going to have?
Here are 5 kid-friendly destinations in NYC that my three kids (ages 6, 3 and 1) love, along with their favorite spots to grab a nosh afterward. The best part? These restaurants have appealing grown-up food, too.
Need more on NYC?
Read our posts on Museums, playgrounds and local favorites.
5 Things To Do & Restaurants in NYC For the Under-7 Set
Where To Go: The Staten Island Ferry and Battery Park
What To Do: Riding the Staten Island Ferry is one of the best free things to do in New York City, especially with kids too little to deal with the queue for the Statue of Liberty.
The Ferries leave from their own terminal at the bottom of Battery Park. Kids love watching huge ships, tour boats and sailboats dance around each other in the harbor.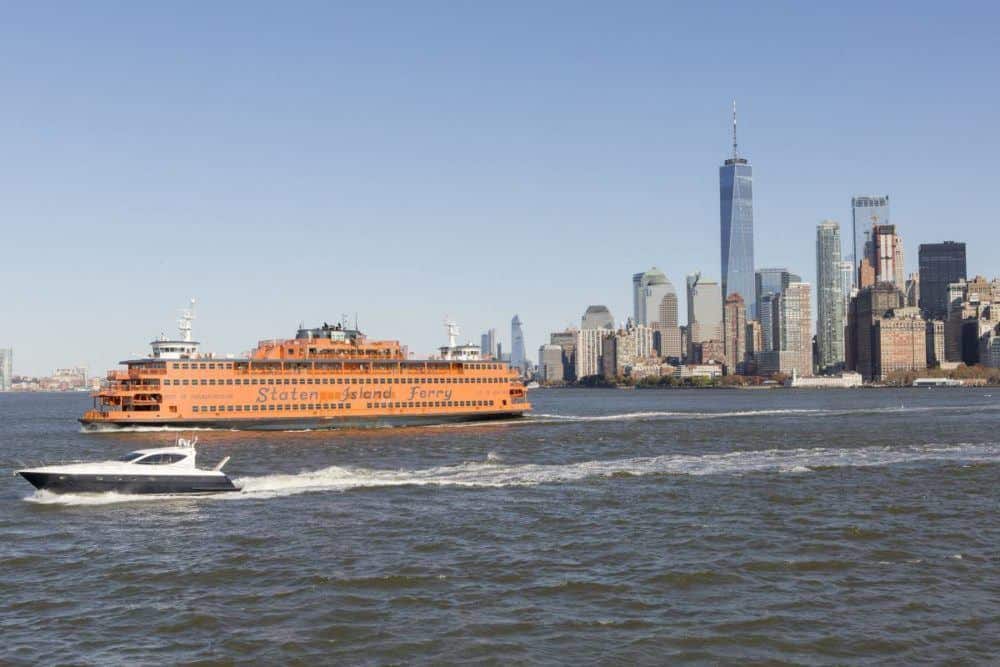 Get picture perfect views of Lady Liberty and Ellis Island. You'll have to wait for a return ferry, but bug fish tanks in the waiting room help to pass the time.
Back in Manhattan, walk north through Battery Park to check out the new, otherworldly SeaGlass Carousel (above), splash in the fountains in summer and roam the gardens. There are also a few pocket parks close to Battery and along the River with space to run around and cool playgrounds.
Location: 20 Battery Place
Why We Like It: This outdoor Italian cafe has great Hudson River views. And you'll actually get to enjoy them while your kids can run around on the lawn until your meal comes. The better-than-average kids menu offers salmon, shrimp and chicken with broccoli as well as plain pasta.
Where To Go: Children's Museum of Manhattan
What To Do: With 5 floors of activities, the Children's Museum of Manhattan is NYC's best and has kids from crawlers to 8-year-olds covered.
Let them interact with lifesize art, play in and around musical instruments and learn about world cultures. In warm weather they can get their splash on at outdoor water area.
Location: 355Amsterdam Avenue
Why We Like It: No matter how your kids like chicken — fingers,, nuggets, wings, roasted— this local chicken chain has it. Plus the offer fun sides like sweet potato frieds, onion rings, plantains and mozzarella sticks. You can keep it healthy with a salad if you want to, but you don't have to.
Planning a trip?
• Book the lowest rates on prime NYC hotels on Trip Advisor.
• Save money and live like a real New Yorker with a vacation rental from VRBO

• CityPass will save you 48% on 3 or 6 top NYC attractions,
with skip-the-line access.
• Viator is the easiest way to book the city's most popular tours .
What To Do: Welcome to Manhattan's 843-acre backyard.
If the Central Park Zoo (famous even before Madagascar came along), the Swedish Marionette Theatre, a carousel and the Metropolitan Museum of Art aren't enough, you'll also find a dozen playgrounds for every age.
Preschoolers love the sandbox and everyone loves the big stone slide at the Billy Johnson playground north of the zoo. Bigger kids like the climbing at Ancient Playground next to the museum. And there are many more playrounds, rocks and fields throughout the park
Location: 3rd floor of the Time Warner Center at Columbus Circle
Why We Like It: Landmarc has one of the greatest children's menus I have ever encountered. From Green Eggs and Ham to peanut butter & Nutella to lemomy roast chicken legs, the team here knows how to capture the imagination of even the pickiest eater.
You'll have plenty of other families for company while you tuck onto your braised lamb sandwich or wild salmon with truffle butter. Breathtaking views of Central Park South make it worth the somewhat steep tab.
Where To Go: Museum Mile
What To Do: Fifth Avenue, along the eastern edge of Central Park is chock full of museums that will please kids and grown-ups.
The Museum of the City of New York is small and it's rotating exhibits are always a surprise.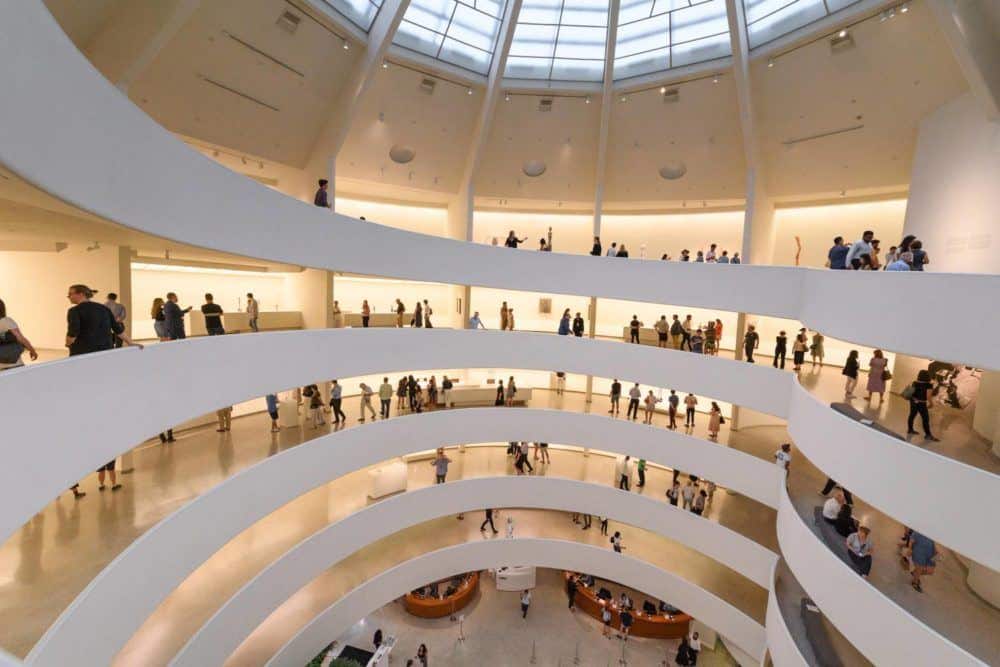 Kids will love the Guggenheim's spiral architecture as well as its art.
Art Treks at the Metropolitan Museum are very well-done family tours that enage a wide age range of kids.
Location: 1596 2nd Avenue
Why We Like It: New Yorkers love their diners, but they can be crowded with brusque service at peak times. My kids love this upscale diner that has enough colorful décor and music to keep even the youngest occupied.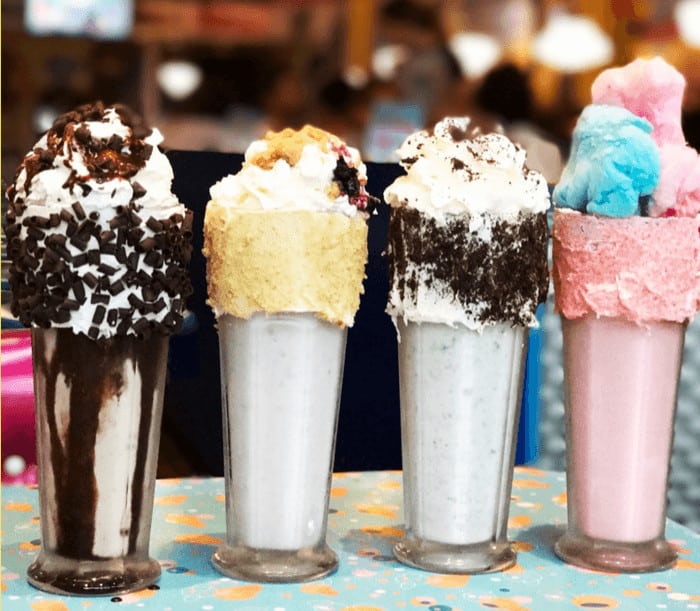 Crayons and balloons to keep kids busy while they wait for crunchy tater tots of milk shakes. The huge burgers are a draw for adults, but there are sandwiches, omelettes and salads, too if want to eat lighter.
Tip: It's happy hour from 3:00-5:00, which means shakes are half price! That's a nice afternoon pick-me-up.
What To Do: Look at subway art! The subway system houses some of the most interesting art installations in the city. My kids and I especially like these:
• Tom Otterness' "Life Underground" at 14th Street and 8th Avenue: These bronze sculptures, located throughout the floors and along the railings and ceilings, are fun to explore.
My kids who delight in spotting little people sitting on the benches and lizard-like creatures crawling on the pillars.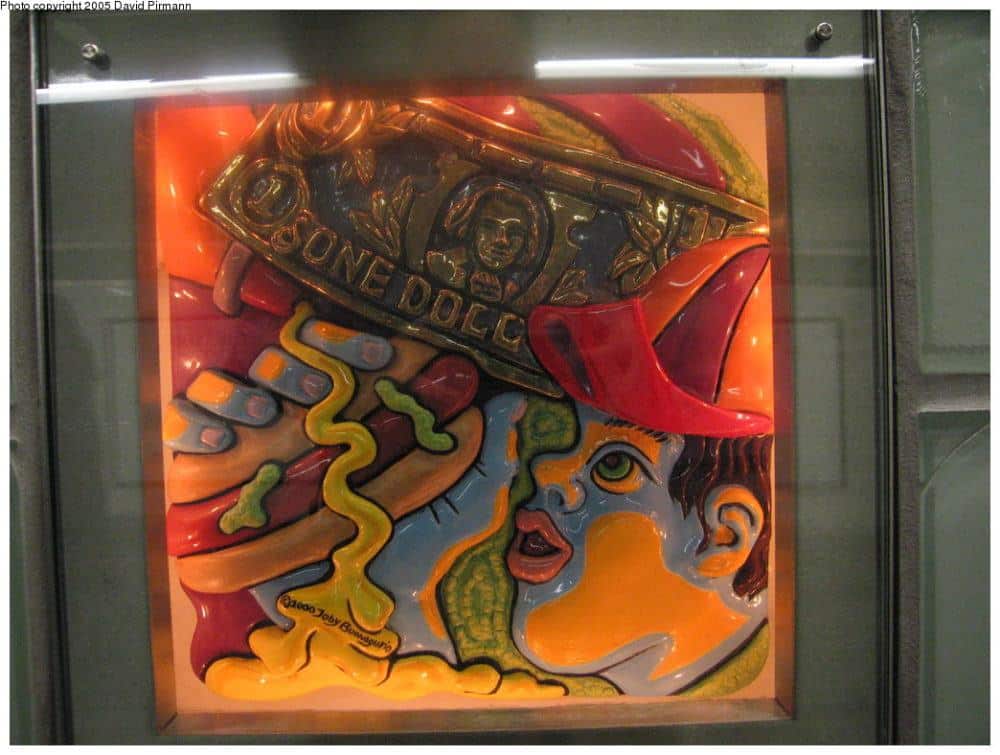 • Toby Buonagurio's "35 Times" at Times Square/42nd Street transfer corridor from the 1/2/3 and the Shuttle: 35 brightly colored ceramic panels depict NYC scenes that mingle jazz musicians, Broadway actors and subway riders.
Location: 1650 Broadway near Times Square
Why We Like It: The food is standard NYC diner fare and everyone in your family will find something they like on the huge menu (try to avoid the overpriced, underwhelming kids menu, though).
The reason to go—and even tolerate the lines—are the wait staff who sing while you wait for your supper. Take a good look at the guy bringing you your burger—you might spot him in chorus of Come From Away the next time you're in town.
Pin it for later!
Carla Sullivan is the founder and Mommy Muncher at MiniMunchers, which lists complete children's menus for almost 300 NYC restaurants and offers advice from experts on how to make dining out with kids enjoyable. The MiniMunchers Goodie Bag offers weekly discounts on children's products and classes.
Photos courtesy of (from top): NYCGo, Creative Commons, CMOM, Brother Jimmy's, Central Park Conservancy, NYCGo, Big Daddy's Diner, the MTA.