The Outer Banks of North Carolina has a lot great things to do and ways to get outdoors beyond just going to the beach. We did out best to check out all of it on our visit. Here are some of the outdoor activities that are great, especially if you visit off-season, in spring or fall when the sun isn't quite as strong.
I think kids will love these as much as Tiny Traveler did. And parents will appreciate them, too.
Read More About North Carolina:
• 5 North Carolina resorts For Every Family
• 10 Top Activities To Cross Off Your North Carolina Bucket List
• 10 Places to Explore History on the Outer Banks
• Book Your Family In To the Wonderful & Relaxing Sanderling Resort
6 Fantastic Ways To Get Outdoors With Kids on the Outer Banks, NC
North Banks: Corolla National Wildlife Refuge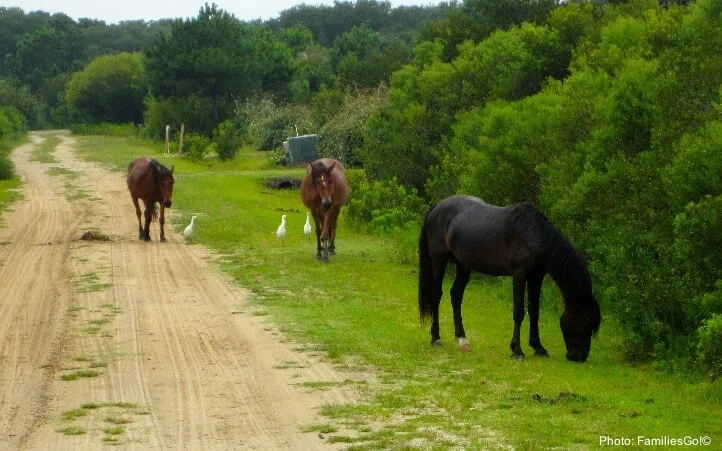 This sparsely inhabited stretch of beach is home to nearly 100 semi-wild horses. We joined Corolla Outback Adventures for a 90-minute drive in search of these creatures.
While it was overall a cool excursion, it is expensive and you have to go in knowing that you're dealing with wild animals. There are no guarantees about what you'll see. Our driver/guide at was friendly and knowledgeable. He explained a lot to us about the landscape and wildlife and did his best to make the excursion worthwhile.
Alas, on the rainy afternoon we set out, most of the horses were hidden away trying to stay dry. We found a trio on a narrow dirt road and spotted a single horse grazing on a resident's front lawn. Tiny Traveler absolutely loved bumping along the beach in the safari truck; for her this was the best part. We saw some wonderful wild scenery and spotted seabirds as we drove along the water. But I do wish we'd seen more horses.
North Banks: Pine Island Sanctuary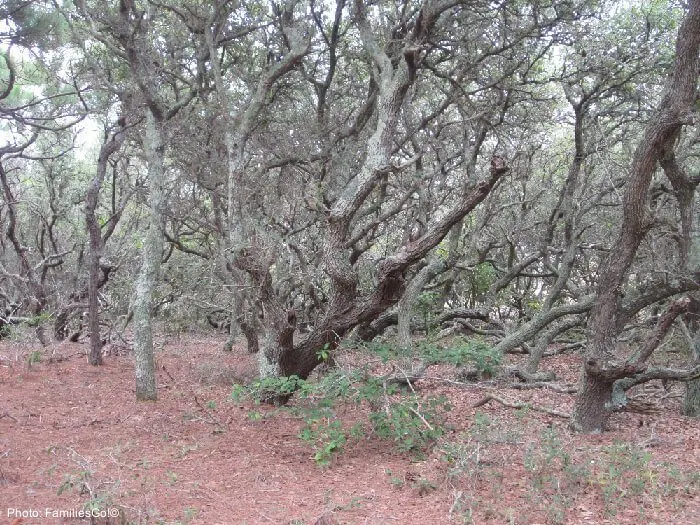 This hidden Audubon sanctuary is worth seeking out for an early morning walk with kids. (turn off the main road in to the Pine Island Racquet Club and follow small signs for the nature trail). Southern live oak trees give the trail a haunted forest feel, as do the several huge spider webs we had to avoid walking into–with impressively large spiders. We saw more butterflies than we could count, many landing on the path right in front of us. While older kids will appreciate this walk a lot, you can easily do it with toddlers, too. You don't have to go far and there is a lot for them to see, touch and discover.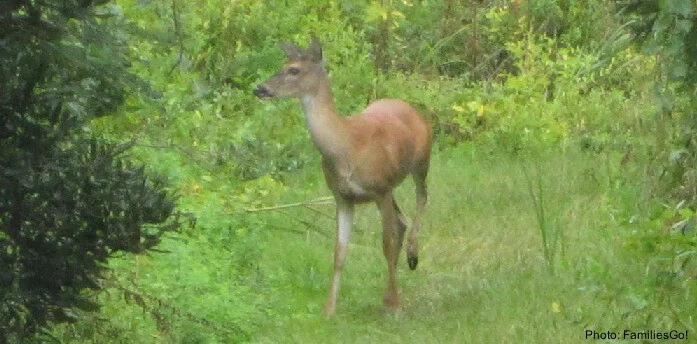 Note: Like all the forested parts of the island this one was pretty muggy. The best time to explore is the morning or late afternoon when the humidity is not at its peak. Bring hats and insect repellent. We had large bugs diving at our heads through most of our walk.
Mid Banks: Jockey's Ridge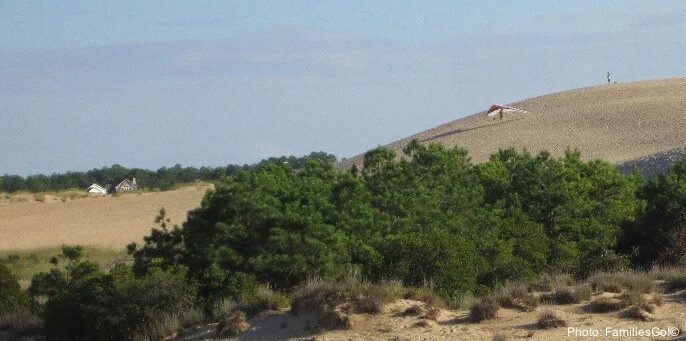 This state park really wowed us. Calling it a sand dune doesn't do it justice. It's a series of rolling hills and valleys of sand in the middle of the island. Climbing up, down and around them is fun and offers up interesting landscapes. You'll likely catch hang gliders taking off from the tops of the dunes if you go in the morning or late afternoon (which we recommend; midday is intensely sunny and hot).
You can set up hang gliding lessons at Kitty Hawk kites, and they were more affordable than we thought they might be. Rich only had time for one lesson, but he managed to take flight, albeit briefly, as you can see in the video.
My recommendation: If you visit only one off-beach nature spot on Outer Banks, make it here.
Mid Banks: Pea Island Nature Preserve
This national wildlife refuge at the north end of the Cape Hatteras Sea Shore is home to dozens of birds in countless varieties, mostly offshore (binoculars are good idea). We really enjoyed it, though we wish we'd had a guide to help us identify the several kinds of feathered swimmers we saw.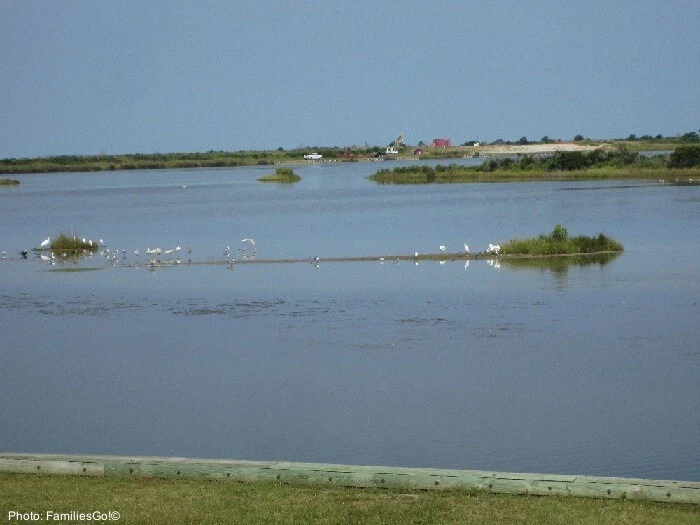 It's a good idea to visit the small visitors center, which has a very helpful and friendly staff, well-aimed telescopes and some kids activities that preschoolers and younger kids will particularly appreciate.
The walking trail is all sun, If you come around midday bring a picnic and consider a swim on the cozy beach across the road.
South Banks: Cape Hatteras National Sea Shore
Cape Hatteras was by far our favorite part of the Outer Banks and where we would stay on our next visit. Long stretches of beach are interrupted now and again by small towns that were far less commercial than the northern end of the Banks.
We stopped at several beaches between Pea Island and Rodanthe to swim, eat lunch and collect shells. Each was nicer than the last with long stretches of sand, calm water and few people. Facilities vary; if bathrooms or changing rooms are essential, plan ahead.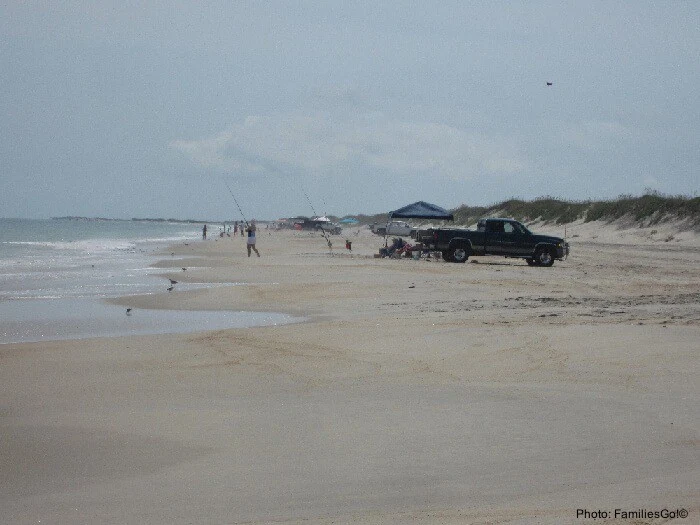 Note: This is a the spot to find a vacation rental if you're with a group and just want to give the kids room to roam. Families with toddlers and preschoolers will find it relaxing, too. But single families with kids 8 and up might prefer staying further north where there is more to do and exploring this area on a day trip.
Up and Down the Banks: Making the Most of the Bay
The water on the bay side of the Banks is calm, warm and shallow. So shallow you can be a few hundred feet from shore and still able to stand. It's not ideal for swimming, but it's great for water sports.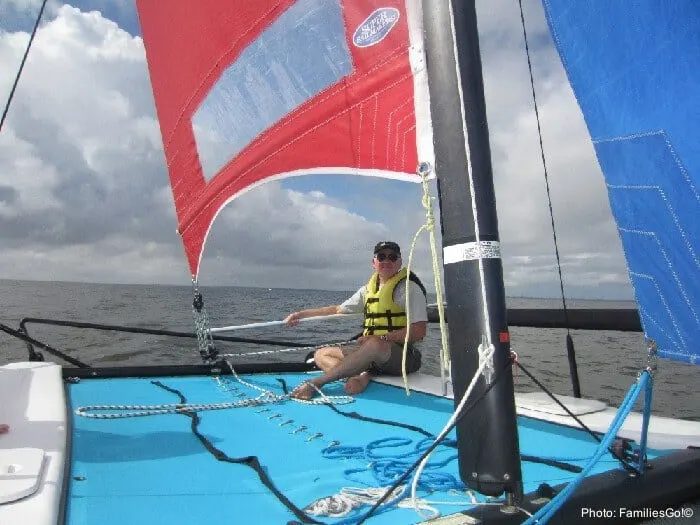 We visit to Nor'Banks in Duck, where the helpful and friendly set us up on a small catamaran. These little boats are easy to maneuver if you have a little sailing experience. TT loved climbing around the boat and dipping her feet in the water. We spent a fun morning cruising around the bay.
Tiny Traveler and I returned a few days later to try stand-up paddle-boarding while Rich was learning to fly. Once I figured out how to balance and shift my weight it was easy going and I liked it. As the passenger, Tiny Traveler tried paddling, but mostly jumped on and off the board and swam around me. I jumped off to swim, too, until we saw a large crab swim by. Then we both stayed on the board for the paddle back!
The stretch of land between Avon and Hattera at the south end has day-use areas on the bay side with outdoor showers and well-kept changing stalls. The beaches are so-so but we saw quite a few families with very little kids because they can play in this calm water far more safely than on the ocean side.
---
More Resources:
• The Outer Banks has some amazing vacation homes, especially further south where the islands are less commercial. Rent a beach-front home for your vacation.
• A car is essential, if you fly in to Norfolk or Virginia Beach, use Kayak for the best airfares and car rental rates. It's where I always start my shopping these days.
• Find the best rates at the Sanderling Resort and other Outer Banks hotels.
---
Pin it for later!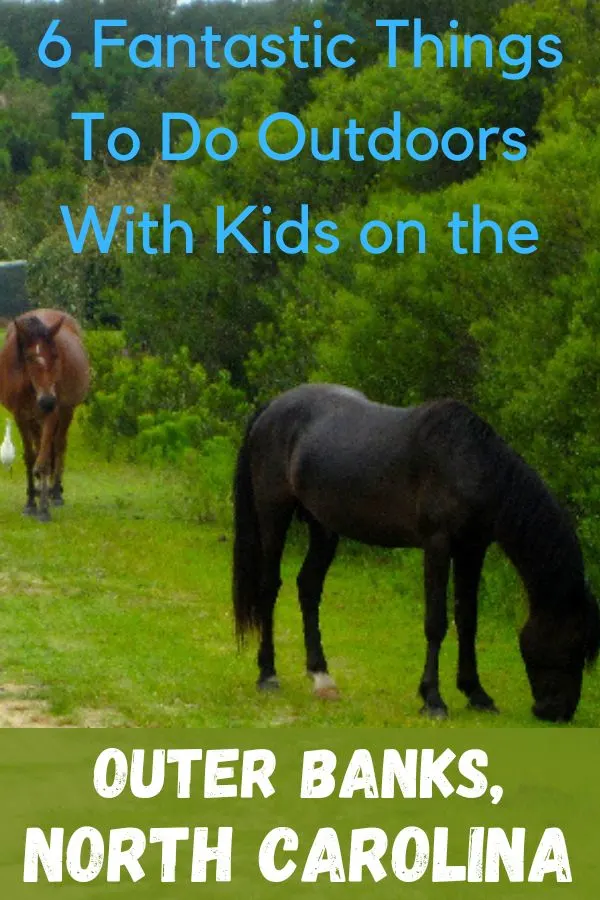 The Outer Banks Visitor's Bureau arranged our activities with Corolla Outback and Nor'Banks. We did not agree to cover them or to an particular coverage in exchange for these activities. Our opinions are always our own.