Deals: 13 U.S. Slopes Where Kids Ski Free
Found a place where kids ski free, read these tips for a fun family ski trip.
Unless you're lucky enough to live near a good mountain, ski vacations are expensive. Gear rentals, lift tickets and lessons for a family—on top of hotel, food and transportation—add up. FamiliesGo! is helping you to make the expense a little more manageable with its updated round-up of resorts across the U.S. where kids ski free.
At most resorts the phrase "kids ski free" means they get their lift tickets comped. Some resorts might offer other family discounts, too. Pay attention to the age ranges, minimum stays and blackout dates. Not all deals are created equal.
Sometimes the best hill is the one closest to home, because it's the one that gets your kids out on skis the  most.
Here are the kids-ski-free deals: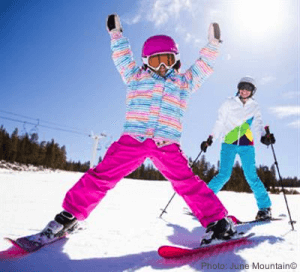 Arizona
At Arizona Snowbowl kids ski free on their birthdays (lucky winter babies). Kids ages 7 and younger get a free lift ticket any day an adult skis. For kids ages 8 to 12 a 2-hour lesson is included with lift ticket and equipment rentals. Kids also stay for free at the nearby Ski Lift Lodge.
California
June Mountain (left) offers free lift tickets to kids 12 and under All season long. It's in the Eastern Sierra East of San Jose.
Colorado
At Aspen Snowmass, book your lodging through Stay Aspen Snowmass teens and kids age 7-12 get free lift tickets with equipment rentals. There are blackout dates, which of course coincide with school breaks. Kids under 7 get free lift tickets through the season.
At Keystone (above) kids 12 and under get free lift tickets when their parents book at least a 2-night stay. Families pick up the kids' tickets when they check in. The resort will have a week-long celebration in January 2016, when it expects to give out its 100,000th kid's ticket.
At the unfortunately named Purgatory Resort parents who book a 4-night stay and three-day lift tickets will get 25% off lodging and a free kid's lift ticket for each adult ticket from January 4 to April 4 (on select dates).
Montana
Moonlight Basin Resort in Big Sky, Montana (below) offers free lift tickets for kids 10 years and under if their families are guests at the resort and make their reseveration through Big Sky Central Reservations.

New Hampshire
At King Pine Ski Area in Purity Spring Resort, beginners who buy 1-2-3 Ski! or 1-2-3 Snowboard! sets of three lessons (with lift ticket and rentals) receive a pass for 50% off tickets, lessons and rentals
for the rest of the 2015/2016 season. In addition, families who like night skiing can by a Moonlight Family 4-Pack. For $58 buy lift tickets for a family of four to ski on Saturday nights (and holiday period nights) from 4:00 to 9:00 pm.
New Mexico
Angel Fire Resort (below) in the southern Rockies of Northern New Mexico give free lift tickets to kids 6 and under as well as to 5th Graders (with a report card) when an adult buys a lift ticket. Angel Fire Resort also has a Parenting Pass, which two parents can take turns using throughout the day. It sounds like a great option for parents who want to take turns taking care of kids too small to ski.

New York
At PlatteKill Mountain in the New York Catskills, lift tickets are free for kids 7 and under. At many other mountains across the state, the age for free skiing seems to be 6 and under.
Utah
At Brighton ski resort outside of Salt Lake City lift tickets are free for kids 10 and under. Plus, on December 12 and 13, Kids ages 4 to10 can learn to ski or snowboard for free. "First timers" get a lift pass, 2-hour lesson, and all day equipment rental.   Online registration goes live Dec 1, 2015 and we bet spaces go fast!
Virginia
At the Wintergreen Resort (below), group lessons are 50% when you rent your equipment on the mountain. Their deals are mostly aimed at getting very little kids on skis for the first time. Kids 5 & under ski free with paid adult. If you sign up kids ages 3-6 for the five-week Mountain Mornings lessons, parent can ski free during the program.
West Virginia
SnowShoe Mountain in Snowshow, WV sells $10 lift tickets for kids 6 and under. It also offers free lift tickets to kids 12 and under for select 4-night stays through the season.
Wyoming
Sleeping Giant Ski Area near Yellowstone National Park offers free lift tickets to all fifth
graders.
Happy ski trails to you!
This blog is part of Weekend Travel Inspiration. Visit our partners:
• AlbomAdventures
• ContentedTraveller 
• TheCrowdedPlanet
• Malaysian Meanders
• ReflectionsOnRoute 
• Safari254
Loading InLinkz ...