The Caribbean is definitely one of those destinations where you can find everything you want most in a family beach getaway: resorts that are good values, fantastic food, incredible nature and pristine beaches, plus a wide range of activities for all ages. Moreover, the calm, clear, relatively warm Caribbean Sea makes it a place where kids can swim and play in the sand safely, see exotic fish right off the beach, and maybe even eat a coconut straight from the tree.
The easy way to ensure a perfect family vacation is by finding the right Caribbean resort—maybe all-inclusive, maybe not—that can provide you and your family with the amenities you want most. To help you out, below is a short list of five we strongly recommend for families for the holiday break, winter break or spring break getaways.
5 Caribbean Resorts for Families
1. Sugar Beach, A Viceroy Resort, St. Lucia
St. Lucia is considered one of the most beautiful islands in the Caribbean; the scenery and beaches alone are worth trying. There is a wide range or boutique and small resort hotels. But if you want a full-service resort for families, consider the *Sugar Beach Viceroy Resort (top). The resort has a private beach, babysitting, the Sugar Club for 4-12YOs and the Spice Club for teens. Kayak, play tennis or snorkel as a family, too. The best part is that your room comes with a personal butler. He takes care of all your needs while you enjoy your family time or (if the kids head to the clubs) the chance to kick back with an umbrella drink and your Kindle.
2. Beaches, Turks and Caicos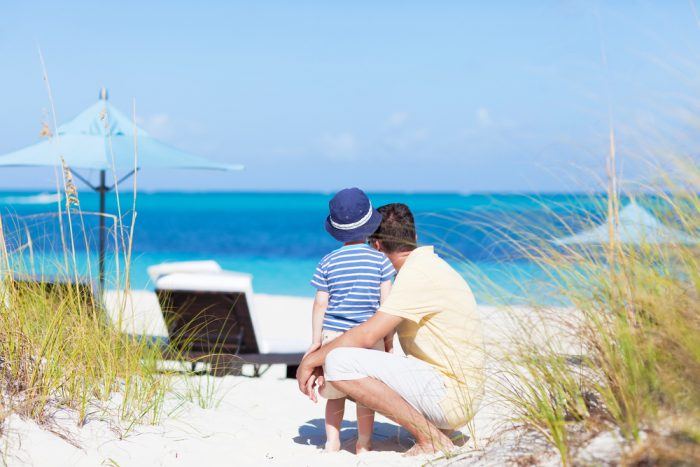 Beaches is one of the most popular and easily one of the best all-inclusive resorts for families. It's not a budget option, but most parents say it's a great value. Here's why: It's "pool area" is a 45,000-square-foot water park water park with slides, pools and other features the please a wide age range of kids from babies up through tweens. If that isn't enough to keep kids occupied there are the well-run kids clubs, and the opportunities for little kids to hang out and dine with Sesame Street characters. Parents love the relaxation time they get while their kids are running from one activity to the next. Everybody wins!
3. Hard Rock Hotel, Punta Cana, Dominican Republic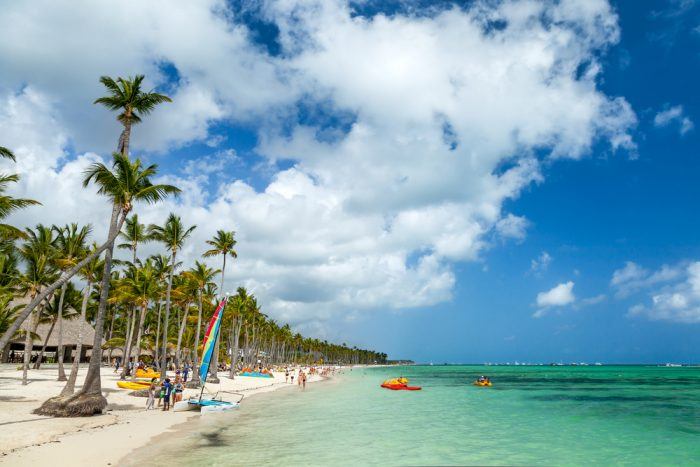 This is one of the biggest all-inclusive resorts on this list and far more kid-friendly than you might expect from rock-n-roll themed brand. In addition to the pools, slides and clubs that most big resorts have for bigger kids, the Hard Rock also has a lot of features that will please toddlers and teens (their parents, too). A kids club just for toddlers features characters popular with the preschool set, including Barney, Bob the Builder and Thomas the Tank Engine. Kids have the chance to watch and interact with these characters during special games, meals and shows. Many of these activities are meant for parents and kids to enjoy together, but the Hard Rock knows that parents of preschoolers need a little downtime, too. Tweens and teens meanwhile, will appreciate mini-golf, an arcade and an extreme sports center with a climbing wall.
4. Atlantis Paradise Island, Bahamas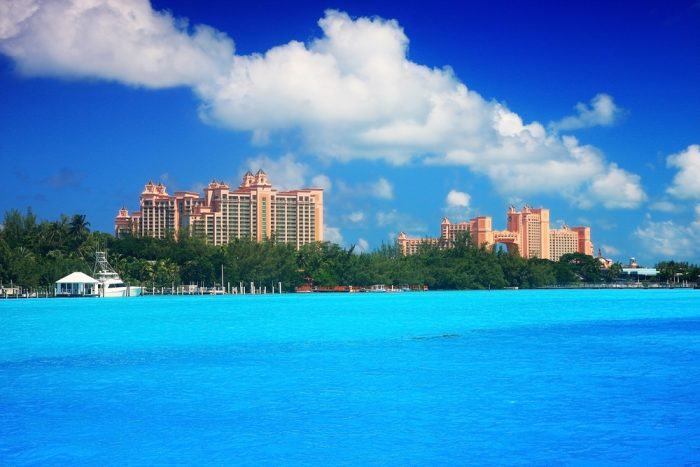 Though it's not all-inclusive, Atlantis is a well-balanced resort likely to satisfy families with kids in very different age groups. Home to one of the largest water-themed attractions in the world, it has wading pools for toddlers, huge slides for tween and teens and beachfront and aquariums for everyone. If you need to see more fish, you can also take your kids snorkeling nearby, too. The large resort offers luxury hotel suites and budget friendly apartment options. The resort has a wide selection of restaurants with something to please even fairly picky eaters. An Atlantis vacation is one most kids never forget.
5. Azul Beach Hotel, Cancun, Mexico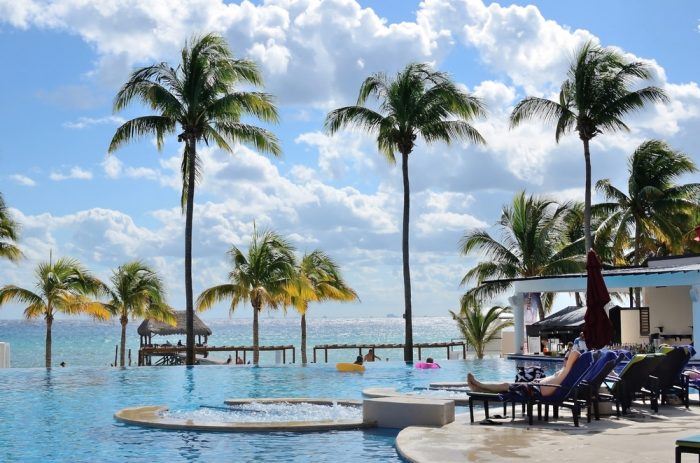 Mexico is not technically in Caribbean, but we still need to mention this fantastic hotel before we're done. The Azul Beach Hotel is an all-inclusive with 148 rooms with a wide choice of accommodations for families. It also has activities to spare. It offers a wide selection of baby amenities, a Nickelodian-themed club younger kids can experience on their own and with their parents, a My Gym play area for 4-12YOs, and special spa treatment. Enjoy activities like snorkeling, bocce, beach soccer and more as a family. Indeed, if you prefer the Mayan Peninsula, Azul Beach Hotel could be the perfect destination for a family getaway.
Here are five great beach resort options, Which would you choose?
Pin it for later!