A family reunion can mean a lot of things. For some it might be three generations of siblings, their parents and their kids all in one place once a year. For others it might be once-a-decade meeting of their uncles, cousins and more.
According to a HomeAway survey, smaller family reunions include 8 adults and their children on average. Extended-family reunions can average 50 people. For both large and small groups, destination reunions have become easier and more popular as online tools have made planning and logistics quite manageable.
Regardless of the number of people coming together, a destination reunion requires plenty of planning. Here are some basics to help you think through your next reunion, or maybe your first one.
Planning Tips For a Destination Family Reunion
Tip #1: Basic Planning
Experts say it's best to plan a reunion 9 months to a year in advance. But the bigger the group and the further people have to travel, the more notice they will want to set aside dates, save money and find reserve plane tickets.
Eighteen months ahead is reasonable if folks are flying or if the trip is an extravagant one, say to a ski resort, Disney World or overseas.
A planning "committee" of two to three people should share the initial work of picking a date and location, setting a budget and communicating with and delegating tasks to the rest of the family.
Use online tools like Google spreadsheets, Basecamp, SignUp Genius and TripIt to share information and stay organized.
Tip #2: Choose Your Location and lodging
Factors to consider in choosing a location include participating families' budgets and interests, the ages of the kids involved, and whether people want to drive or fly.
Does your family prefer the beach or the mountains? Do they want a dream destination, like the South of France, or just a town equidistant from everyone?
There are lots of lodging options for family reunions, and there are certainly advantages to options like an all-inclusive resort or cruise ship (no one has to do dishes!). B
ut the HomeAway survey shows that vacation homes are the leading choice. They are economical, for starters. The average vacation rental is twice the space for half the cost of a hotel room.
A house offers privacy and comfort; no worries that your daytime pool antics or late-night Boggle tournament will disturb other guests. Amenities like kitchens, BBQs, outdoor decks, living rooms and dens give family members options for gathering informally throughout the day.
Some homes can have extra amenities like hot tubs, private pools, playgrounds, game rooms and even home theaters to make your stay unique and more fun.
When choosing a vacation home, pay attention to the total number it sleeps as well as the bed configuration. Will adults need to share a room with their kids, or with other adults and is that Okay?
Can you separate kids by age so up-late tweens aren't bunking with up-early toddlers? Also consider how the shared spaces will suit your purposes.
Tip #3: Delegate
After the planning committee handles the big tasks, make sure one of them is charged with delegating smaller jobs among the rest of the grown-ups and teens.
These might include menu-planning and shopping, cooking and cleaning up, bringing board games, organizing crafts and games for the kids as well as the whole group, researching and booking local activities and planning keepsakes.
Tip #4: Reunion Activities and Logistics
Even with simple activities — hiking in the mountains or sandcastle-building at the beach — it's hard to be spontaneous with a crowd.
Providing a well-paced schedule of meals and activities gives just enough structure to everyone's day and keeps kids from constantly asking what are we doing?
Keep in mind not everyone will participate in every activity (and shouldn't feel they need to), though you probably want one or two events for the whole group.
For things like museums, aquariums and theme parks find out ahead if you qualify for a group discount and if they have accommodations for big groups, like special picnic areas or restaurant seating.
Tip #5: Outsource Some Help
For nearly every task that will have to be done over the course of your family reunion, there is an option to hire someone.
In vacation destinations a concierge service will fill the fridge, send in housecleaners and arrange for a personal chef to cook onsite or deliver ready-to-heat meals.
Parents can hire a sitter for an adults night out. For activities away from the house you might rent a few minivans and drivers or even a bus.
Hiring people for some of these tasks will make the trip more relaxing for everyone. Survey your families' budgets, interests, dislikes and priorities to choose which tasks you'll handle internally and which you'll outsource.
Tip #6: Record Your Reunion Memories
Consider before you arrive what folks will want to take home as a souvenir of your family reunion. Will commemorative T-shirts or hats suffice or will everyone tie-dye pajamas or attend a pottery class? Some families hire a photographer to take composed shots of the whole group.
Speaking of photos, is one family member the designated photographer or has everyone been snapping photos and videos all weekend? Either way, consider setting up a private group page on Facebook or opening an account with a service like Shutterfly to upload and share photos.
You might ask someone to create a photo book that people can order from home.
After all, with all the planning and fun that went into your family reunion you want to make sure you remember it.
Pin it for later!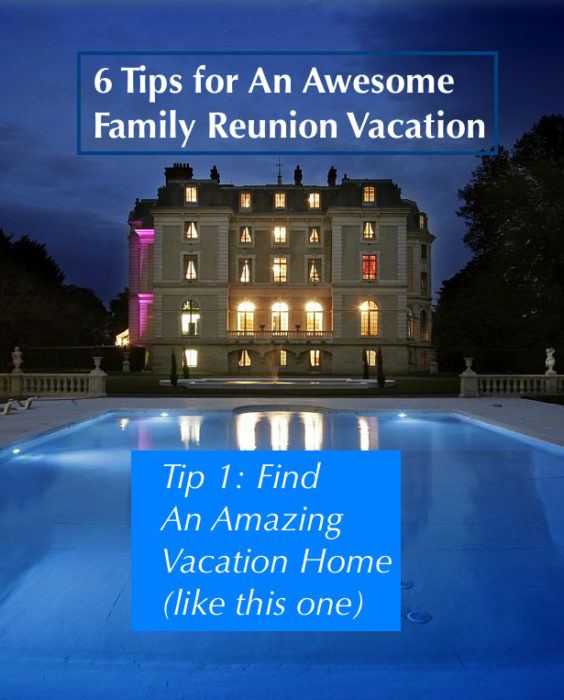 Photos courtesy of HomeAway.