"Come out little guy. Are you in there?" My son Sam, 10 at the time, poked at a snail shell in Calais, France, glorying in the special mini-fork that came with his order. I was holding my breath, still disbelieving that my picky eater had asked for snails instead of pizza. With one more try he successfully stabbed a buttery, garlic-y morsel and popped it in his mouth. "Wait till I tell my friends I ate snails!" he announced triumphantly to all of us.
It was the last day of our vacation in Europe, and Sam and his 13YO sister Libby had come a long way in expanding their food horizons. And we, as parents, had come a long way in figuring out strategies for helping our kids learn to appreciate different food cultures and flavors without wasting tons of food and money, or strangling each other. Here are some of the approaches that helped us get our picky eaters to try new things on a family vacation, and for how to feed them when they weren't feeling very daring.
Take the risk out of experimenting
We quickly adopted a system of ordering two "safe" dishes – ones we knew the kids liked back home – and two unfamiliar "adult" dishes, and sharing everything Chinese-restaurant-style. Often, after the kids tried a non-threatening bite or two of our dishes they'd keep on spooning it in. Other times they'd look disinterested, then surprise us by greeting that same dish as an old friend on some menu a few days later.
Eat out at lunch only
We got in the habit of visiting bakeries for breakfast, where we could buy a ham-and-cheese croissant and juice, or something similar. We ate our main meal at lunch; food was much less expensive than at dinner and the kids weren't yet tired and cranky. At the end of the afternoon we'd duck into a local market and buy chewy buns, cheese, fruit and anything else that caught our eye, and picnic in our hotel room. We saved money and didn't need to worry about those late European dinner hours.
Even McDonald's can be an adventure
Foodies that we are, we still didn't rule out those familiar fast food restaurants entirely. Even kids who aren't picky will crave a bit of "back home" in a very unfamiliar environment. We turned this into another opportunity to open their eyes, by asking them to see what was different in overseas fast food outlets. In England, Pizza Hut offers tuna, prawns and sweet corn among its toppings. In Spain, Burger King sells beer as well as soft drinks.
But when you're away from home even reliable standbys can deliver some unpleasant surprises. One day, Sam ordered a pepperoni pizza and his sister ordered a sausage pizza. His arrived covered in spicy red peppers rather than meat, and Libby's had two large, uncut, greasy sausages embedded in the cheese. The experience was a good incentive to for both kids to consider different options!
Still, we negotiated the frequency of fast food visits and made clear they would be few and far between.
Welcome silliness
My husband speaks good Spanish, and I can hold the fort in French. In Germany, we were at the mercy of the wait staff. One day, faced with a menu totally in German, we rifled desperately through our dictionary while the kids got hungrier and hungrier. Finally, the creative waitress walked us through the menu, making clucking sounds to point out the chicken dishes, and pig-snorts and mooos to explain the pork and beef. (Luckily we're not vegetarians). Ordering was still a bit of a shot in the dark, but we ended up with a delicious meal. And afterward we were all a bit more willing to take a chance on ordering when we didn't know for sure what we'd be getting.
As he finished the last snail in Calais, we asked Sam why he had suddenly decided to order such a daring and different dish. "Well, I told myself I would try either frogs or snails before our trip was over," he replied. "I didn't get up my nerve until the last day and this place wasn't serving frogs' legs."
Exploring the food of another region is every bit as important as visiting museums and historic sites, especially with kids. It's an interactive, tactile way to experience the new culture you're exploring. I'm glad my kids got an early opportunity to see for themselves how different and delicious food can be in different lands.
Pin it for later!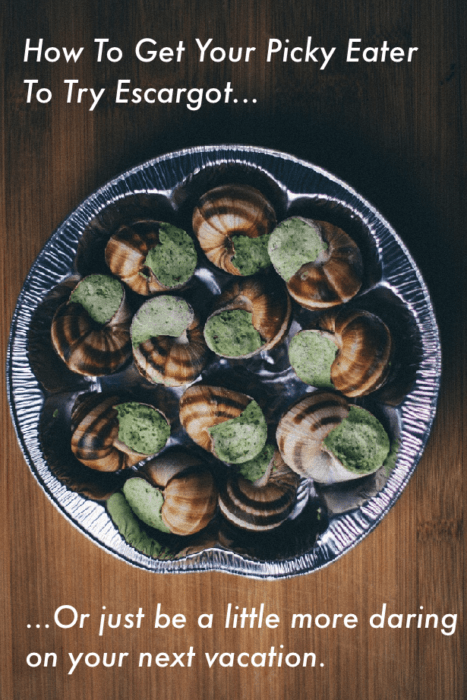 Cynthia Harriman is Director of Food and Nutrition Strategies at Oldways, a Boston-based nonprofit that promotes healthy eating through traditional ways of preparing foods, cooking and eating. She's also the author of Take Your Kids to Europe, How to Travel Safely and Sanely with your Children (Globe Pequot Press).