The Hotel: The Principal, Charlotte Square
Where: Edinburgh, Scotland
The Location: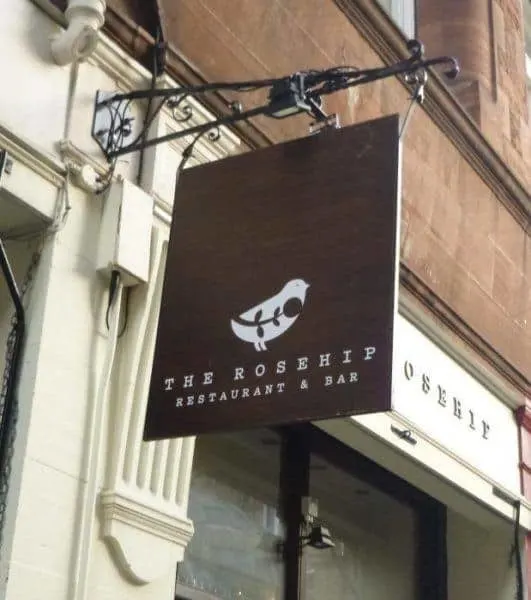 We really felt we lucked out on the location of The Principal, which was operating as the Roxburghe when we were there but has remained largely the same with its name change.
It's on the border of New Town, a block from the Princes Street Gardens park. There was a large, nice playground just inside the park.
It was maybe a 10 to 15-minute walk to Edinburgh Castle and the top of the Royal Mile; it's not actually very far, but it's an uphill walk and not quick.
Being in New Town, we had conveniences like pharmacies, book and clothing stores on Princes Street, and plenty of restaurants nearby.
On a few nights we walked down Rose Street, alongside the hotel found several restaurants where we had nice, inexpensive meals.
It's also only a 20-minute walk from Stockbridge, a residential and somewhat trendy neighborhood (you know it well if you read the 44 Scotland Street books). We explored an interesting Sunday market and had two very good meals there.
The Vibe:
The landmarked Principal is much bigger than you would expect from the outside. It has taken over a string of townhouses and has buildings behind that you can't see from the street.
When you first walk in it has a bit an old-fashioned and formal feel and you wonder if they will welcome kids. But the staff was very friendly and helpful. The concierge could recommend the best times to avoid crowds at certain restaurants and attractions.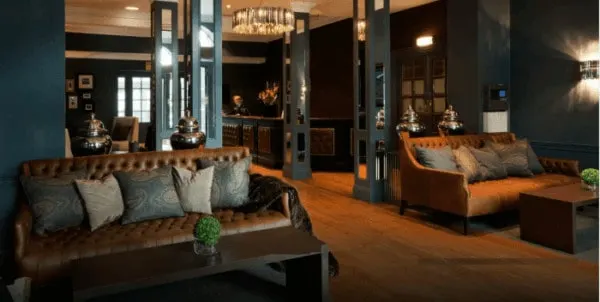 We arrived on a very early morning flight and, as expected, our room was not ready when we arrived.
None of us slept on the flight and I must say the staff very graciously looked the other way as we sat down to rest in their lounge on a busy Saturday morning and promptly fell asleep for an hour.
The only caution I would make is that if you or your children are light sleepers you might request to not be in a room facing Rose Street for a Friday or Saturday stay; some of folks heading home from the pubs can be boisterous.
The Room:
We were given a family room, though I don't think we booked one, which was nice. The room wasn't that roomy but the foldout couch was in an alcove so we could leave it open all the time without it being in our way.
The room had a coffee maker as well as an electric teakettle, good quality tea, tea biscuits, and cold milk in the mini-fridge, a touch I appreciated as an avid tea drinker.
We didn't have a bathtub, which is handy with kids. But as is typical in European hotels there was a hand-shower and that was fine.
The Amenities:
In researching hotels in Edinburgh it seemed that a pool was difficult to come by unless you stay a good distance from the city center. Getting a pool and breakfast seemed nearly impossible.
So we opted for the pool (and sauna and steam room) that the Principal has in its basement. I have to say it was the right choice. After walking around in the cold, gray, damp weather that Edinburgh dishes out in October it was lovely to return the hotel, swim and warm our bones in the sauna before heading out to dinner.
It was easy enough to find good breakfast nearby.
We didn't eat at the restaurant (though I noticed it offers both a reasonably priced afternoon tea and Sunday Roast dinner and a pretty good kids' menu).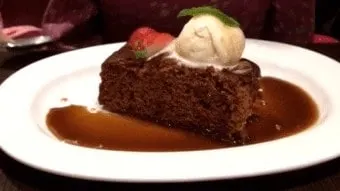 The bar was a welcoming place to play a card game over a glass of wine before dinner or have a glass of whiskey after. The bartenders knew their whiskey list and made good recommendations for our tastes.
They also brought Tiny Traveler dessert to sup while we sipped. We can recommend the sticky toffee pudding.
The Bottom Line:
Unless you are prepared to pay more quite a bit it's hard to find a full-service hotel in central Edinburgh. The most common options are apartments or bed & breakfast inns that seem too antique-filled to be child friendly.
The Principal offered good value for its price (less than $200 a night via Expedia) in terms of location, comfort and service, with a swimming pool to boot!
Read More
• The Best of Edinburgh's Royal Mile With Kids
• The Perfect Edinburgh Sunday with Kids
Pin it for later!