Updated June 2020
Sandals can be my best friend whenI heads out on a family summer vacation. The right sandals are cute and comfortable.
They go with jeans, shorts and sundresses, keep your feet happy when you're sightseeing all day and look stylish enough for that cute café or stylish restaurant.
I used to be able to fill half my suitcase with shoes (and I did!). Nowadays, we use carry-on bags whenever we can to avoid luggage fees. So the best I can do is wear one pair of shoes and pack another (maybe two more if they're flats).
I love it when I find one pair of sandals the checks all the boxes for comfort and style.
Here's are five sandals I love for five different reasons. Mostly, they look cool, fun, stylish and won't kill your feet.
5 Sandals That Will Take You Anywhere You Go This Summer
1) Comfort
I was never one to tolerate foot pain for the sake of fashion, and as a mom it's just not an option (kids don't stop running because you have blisters).
The best sandals are so comfortable you would happily wear them around the house with your favorite pajamas. It helps if they have fun patterns.
My Pick: Clarks Breeze Sea flip-flops
Everyone needs a pair of flip-flops for summer; they're so easy to throw on at home and on vacation.
If you're going to wear them all day long, try these Breeze Sea flip-flops from Clarks.
They have more structure than most flips and a bit of arch support. Plus, they come in 15 fun summer colors ranging from silver, to rose to aqua.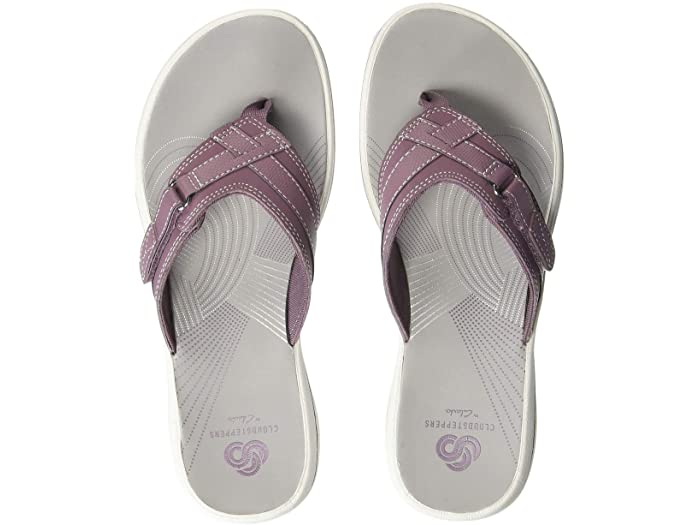 2) Versatility
I need sandals that go everywhere on vacation, from the park to the museum, to dinner. Stylish meets comfort is tricky but so fantastic when you find it.
My Pick: Vionic Kirra
Vionic is the go-to brand for anyone who has had foor problems (hand raised!) and doesn't want to sacrifice style for comfort. These leather Kirra slingbacks are the ideal basic sandal.
They come in black, brown, cherry red and dark blue. The low, non-skid heel is ideal for your most active day. The tailoring and detail segue easily into evening activities where you don't want to look like you've been sightseeing or chasing kids all day long.
3) Summer heat resistance
Let's be serious here, a closed shoe in the summer months is just hot and the longer your day goes the heavier that sneaker or walking shoe gets! Sandals are ventilated and help to keep you cool.
My Pick: Plaka Palm Leaf flats
The braided weave on these palm leaf flats from Plaka give these sandals an exotic accent that's ideal for being on vacation or wishing you were. The stretchy straps move with you and keeps these sandals snugly on your feet while keeping your feet cool and comfortable. And they come in 15 colors!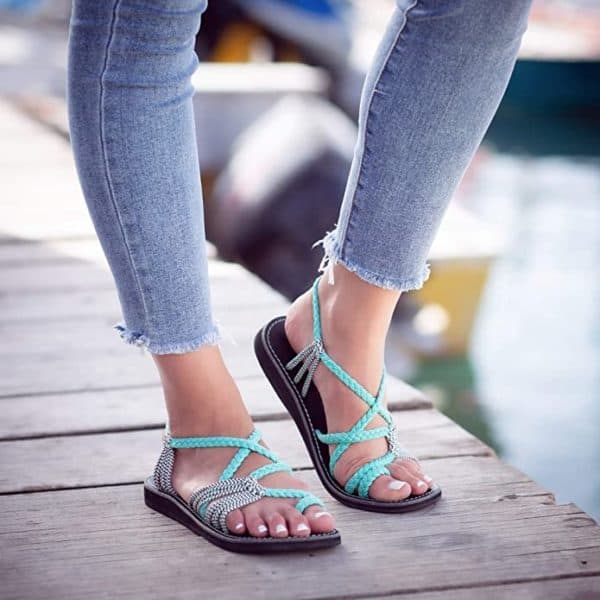 4) Feminine
Ever have those days where you feel that you look like a mom, and you just want to look like a woman? Me too! I love sandals that make me feel feminine without killing my feet.
My Pick: Pelle Moda Baja
Strappy, midnight blue Baja flats frome Pelle Moda are just the thing when you're going out to dinner or a date night and want to kick things up a notch. Dress up jeans and your favorite blouse or pair them with your favorite equally strapy sundress.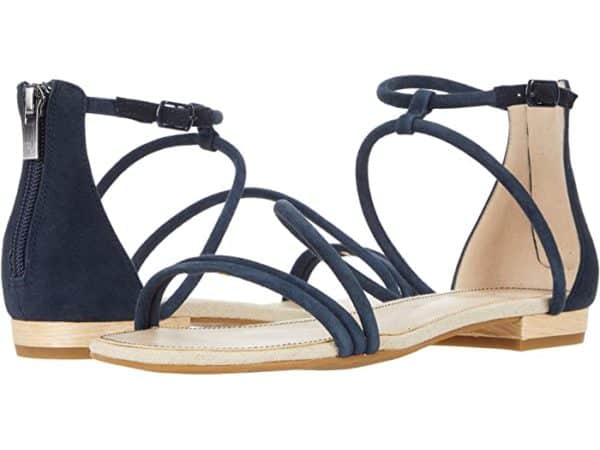 5) Durability
Once I find the right sandals I want to hold on to them. Nothing is more disappointing than having a pair of sandals I love and finding at the end of the summer that I've loved them to death!
I am trilled when I can buy a few pairs of the sandals I love in different colors, so they don't wear out for a few summers.
My Pick: Skechers Reggae Slim
Sport sandals keep getting cuter and less clunky. These Reggae Slims from Skechers might just pull me away from the Chacoss I've been living in for the past few years.
They have the molded heel and arch support you need in a sport sandal and stretchy straps that pull on in a snap. The slim straps are fun and work more for a day of city sightseeing that a lot of sportier sport sandals.
Pin it for later!