My family has taken two different South Pacific cruises, and each time our favorite port of call was Champagne Bay, on the Espiritu Santo island of the Vanuatu archipeligo. Here's why we love getting to spend the day on this little patch of paradise.
Read about Bora Bora Bora, too, another popular South Pacific cruise stop
The 4 Best Things To Do On A Champagne Bay, Vanuatu Port Day
1. Experience the port and market
Most ships that visit Espiritus Santo anchor off shore and tender passengers to the land
When you step off your cruise ship tender boat and arrive in port, you plunge into a different world. Beautiful native songs and dances of welcome drift seductively to your ears and eyes as you try to take in beauty beyond words.
Locals step up, offering live, tamed wildlife for photographs­. You'll see lizards, snakes, even turtles. Local women call to braid your hair in intricate patterns.
This type of idyllic paradise is the reason people take South Pacific cruises. It's enough to spend the day foraging through the fascinating market for souvenirs, or lying on the Champagne Bay Beach gazing at the ocean.
2. Enjoy beautiful beaches
Champagne Beach is simply stunning, even at first glance from the cruise ship. The gorgeous white sand running a ribbon between deep green jungle and crystal blue water, dotted with colorful sarongs that clash (wonderfully) with one another is impossibly perfect.
The beautiful beaches are why I came here, but the true beauty of Champagne Bay lies beneath the surface. To swim and snorkel is a treat that shouldn't be missed during your stop here.
The water is so blue, it's almost as though someone decided to pour in food coloring. Bright coral and colorful fish are everywhere. Gentle, shallow water means that our youngest family member could view the underwater spectacle with a pair of goggles.
3. Visit the Blue Lagoon
There are several local excursions you can do inexpensively on your own. We opted to hop in a jute taking people to the Blue Lagoon, one of several fresh-water pools on the island.
Several people were standing on the back of the truck but with kids we opted for a safer seat inside the cab.
After a short drive we paid a small fee to the local tribesman, then took a short, steep-ish walk to a beautiful blue waterhole. It reminded me of gigantic, very deep aquarium; I couldn't reach the bottom.
We had a couple of hours to swim and expolore before returning to Champagne Bay.
4. Meet the Locals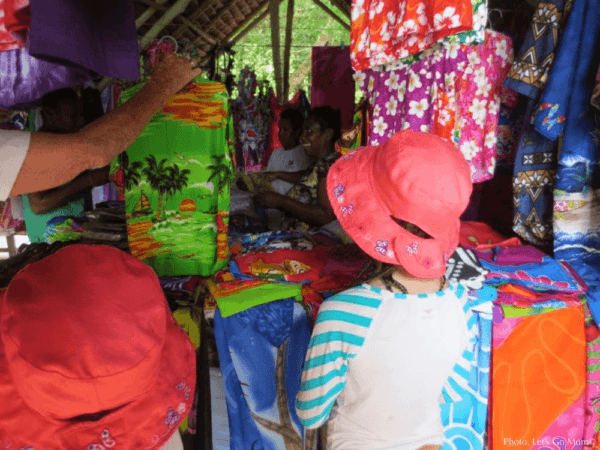 The local people have given us some of our best memories of Vanuatu as a port of call.
They flock to the port and the beach to sell their wares whenever a ships pulls in (which is only every couple of weeks). They come across as friendly and welcoming and at the same time shy, appreciative and humble.
They're not demanding or rude. And some and the prices for their lovely arts and crafts were so low, I found myself supplementing them in an attempt to give them their worth.
At one point, when I was buying a souvenir, I lost sight of one of my children for a moment. Seeing my worry, the shopkeeper dropped everything, left his shop and recruited surrounding stall-holders to help me find her.
She was playing just metres away, of course, but their help for those few scary moments mad me feel like family.
Champagne Bay is an outstanding port of call and it's worth planning your next cruise around a visit here. See it for yourself, and I'm sure you will agree it's one of the most beautiful places on earth.
Pin it for later!
Barbara Bryan writes the Australian travel blog Let's Go Mum about single-parent family travel. You can see her weekly on YouTube and follow her on Instagram.
Photos by Let's Go Mum