Having a camera on our phones makes it easy to take pictures. So we take a lot of photos these days, especially vacation photos. But then, we have a lot of photos. What do we do with them?
Despite my best intention my photos sit on my phone forever, waiting to be printed, artfully displayed around the house or creatively organized in albums.
I really do mean to organize my vacation pics….one of these days. I want to be able to look at our photos without having to whip out my phone—and I want to make space for more photos.
Well, I got to thinking, there must be ways to display vacation photos that are either so cool or so easy I won't be able to resist finally getting them off my phone.
So I scouted around and found seven photo craft ideas. They are listed below from easiest to hardest. I hope they inspire you to finally organize, hang or otherwise display your family's travel photos.
Cool Crafts & Easy Storage For Family Vacation Photos
1. Easiest: Make a photo box
Martha Stewart recommends making keepsake boxes that are simple, easy to organize and attractive enough to keep out on a shelf. I like them because you can store coins, tickets, maps, postcards and knickknacks along with your photos.
And let's face it, it's way easier to put a pile of vacation photos in a box then to edit them down and arrange them in an album! This is the option I'm mostly likely to make my winter project.
Tip: Look for boxes that are made for storing photos to maintain their quality over time.
Photo Box supply list
• Photo boxes made or wood or durable paper.
• Washi Tape in fun colors (maybe themed!)
• Letters for labeling.
• Tempura painsticks, some broad and some thin for detailing.
They're neater and easier than paint and brushes.
2. Almost as easy: Make photo jars
This is a similar concept to the photo boxes except with more style. It gives you the opportunity to display from one to three photos with other related objects in an appealing 3D way.
Put the photos in a jar facing outward. Stack additional photos behind them for storage if you like. And arrange small items from the trip in the jar. Then just tuck it on a shelf!
DIY blogger MJB shows you how. The one change I would make is finding a way to include multiple photos that you can see from different angles.
• Mason jars in a variety of sizes: tall, medium, small & square.
• Sharp scissors with a straight or pinking shears edge.
• Lid labels for important details.
3. Still pretty easy: Fill a door with vacation photos
This was a friend's idea and I think it's super neat. She uses the trim on an interior door as a giant frame within a frame and has filled in the glass with enlarged versions of her favorite vacation photos.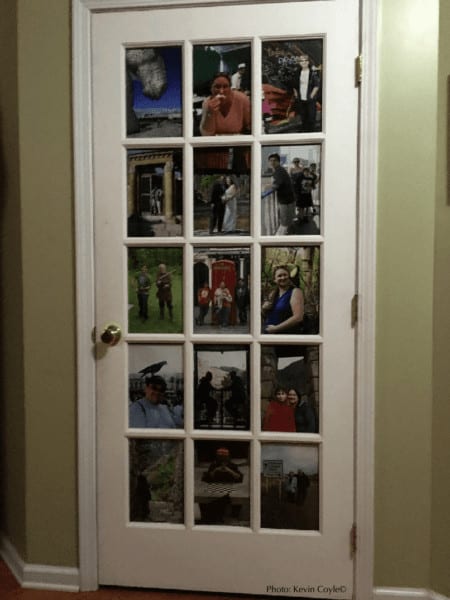 You can blow up your photos to fit sections or use a collage style with smaller photos. I like it because you can build it over time and create a history of your family vacations rather than focusing on one trip.
Just pick your favorite photos from all those trips, find an adhesive that will fix the photos to the door without damaging them or the glass, and protect them from the back in an attractive way.
An art supply store can help.
Photo Door supply list
• Photos enlarged to fit your windows or organized in a collage.
• Sharp scissors.
• Craft glue like Mod Podge and brushes.
• Craft paper or material for the back side of the door.
• Push pins.
4. Getting a little harder: Hang photos with foreign coin magnets
It's time to break out the craft supplies and fancy glue. But this is still pretty a pretty simple way to hang vacation pictures on your wall without spending a lot on frames.
Glue round magnets to the back of those foreign coins you brought home from abroad (and some U.S. coins as well). Then use those to affix vacation photos from those places to a magnetic white board or a well-placed square of magnetic paint.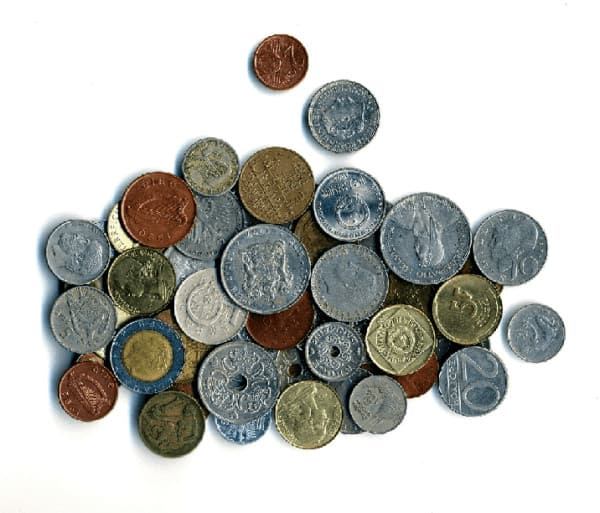 I like this because it gives me something to do with the jar I have of coins no one uses anymore or countries I won't visit again (drachmas, francs, pesos!).
You can enlarge your photos, arrange them artfully, include as many or as few as you like.
And you can add, take away and rearrange your photos as new vacations happen. You can even have more than one white board on a wall or throughout the house.
Photo Coin Magnets supply list
• A supply of foreign coins in a variety of shapes and sizes.
• Magnetic tape to cut to size or self-adhesive magnetic coins.
• A magnetic board in black or white and picture hooks for your wall..
• Or magnetic paint or primer.
5. Getting crafty: Make vacation photo ornaments
Pinterest offers many ideas for turning your travel photos into Christmas tree ornaments. I like the idea of taking 1 family photo from every vacation and making your Christmas tree a recap of your family travels.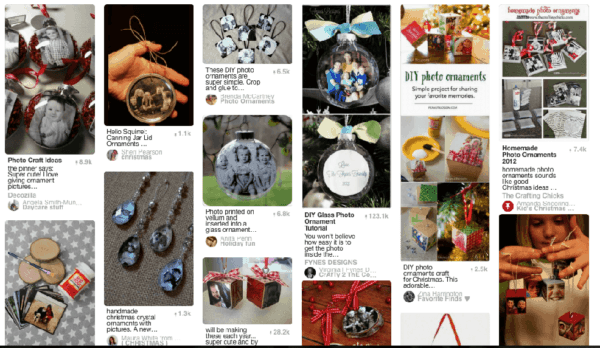 If you don't want to wait until the holidays to revisit your vacations, skip the holidy theming and hang these in attractive photo globles around the house, or make a year-round "tree" for those favorite vacation-photos.
Photo Ornament supply list
• Fillable Plastic balls for ornaments
• Or fillable glass ornaments.
• Velvet ribbon or lace ribbon, perhaps in holiday colors
• And/or ornament hooks.
• Sharp scissors with a straight or pinking shears edge.
6. Challenging but worth it: Photo maps
I think this is a particularly fun idea if you've done a road trip or a big pan-Europe or pan-Asia tour.
It also is a good way to display photos and mark progress on a travel goal you're working on, such as visiting every major league baseball stadium or national park.
It can even work if you've visiting a single bucket-list destination.
You'll find lots of ideas for doing this on Pinterest and Etsy. I like the way the crafter at CutCraftCreate cuts her photos out to fit the shape of the state where they were taken. Make sure the underlying map is nice looking if there will be parts with no photos.
For some road trips you you might prefer a regional map to localize your photos even more.
For a single destination consider an iconic transit map or detailed neighborhood map for a city or a theme park map with colorful icons. For New York City you might use a subway map, or a map of Central Park, for example.
I've seen the map as a backdrop or matting for a single photo and as a centerpiece with photos around it. Both can look great; it just depends on the size of your frame and how many photos you want to display.
Photo Map supplies list
• A pretty map.
• A nice picture frame for it.
• Sharp scissors with a straight or pinking shears edge.
• Craft glue like Mod Podge and a brush.
• Pretty push pins.
• Picture hooks for your wall.
7. Hardest but very cool: Photo coasters
This involves the most crafting skill and equipment, but they just look so cool.
And I like the idea of having these coasters scattered around the house, out where you can see your family vacation photos all the time.
They're also great conversation starters when guests come over.
The creative souls at Dark Room Dearly give pretty clear and manageable instructions for doing it with plain white floor tiles.
They use Polaroids, but I think any photos would work if you trim them the right way.
Photo Coasters supply list
• Coaster blanks.
• Craft glue like Mod Podge and a brush.
• Sharp scissors with a straight or pinking shears edge.
• Spray-on acrylic gloss sealer.
If All Else Fails: A Digital Frame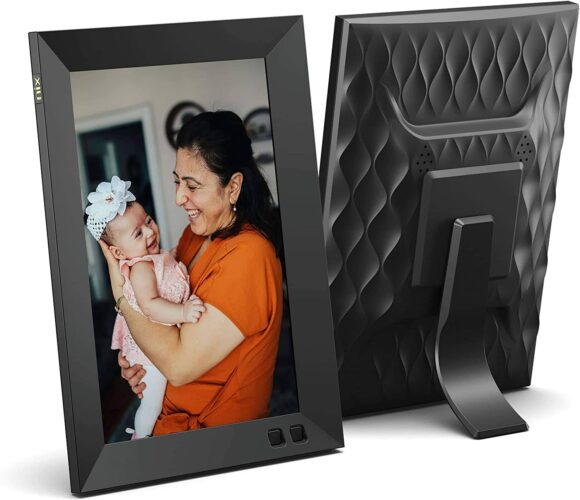 Buy a Nix digital photo frame.
Creative? Maybe ot. But it uses a USB drive so you do't need Wi-Fi. You can have a digital rotationn photo album.
It can sit onn a table or shelf, or yu can remove the stand and hang it on the wall.
It will rotate through as many photos as you can fit on your memor stick.
Pin it for later!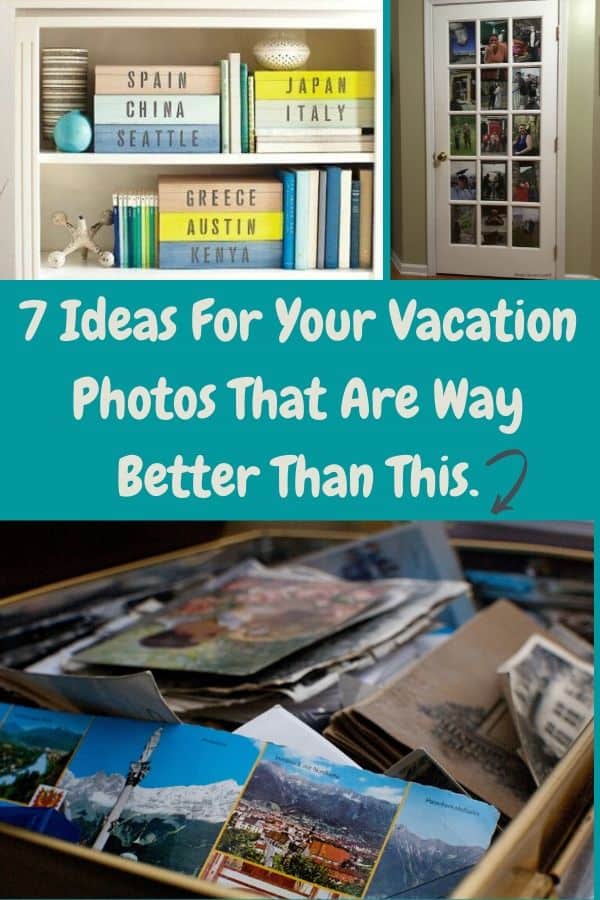 Photos courtesy of photo courtesy of Meredith Media, Kevin Coyle, Pixabay and Pinterest.