As much fun as we had traveling with a younger child, I'm really enjoying traveling with a tween. This was particularly true about our winter break trip to London.
She still has the wide-eyed wonder of a kid, and still has a kid's need to run around. But she knows more, has interests we can build activities aorund, and it's easier than ever to find activitie that engage all of us.
Here is Tween Traveler's top-eight list of fun things to do in London with your parents.
Top Eight Things To Do in London with Tweens
1. Afternoon Tea
Tween Traveler is a huge fan of the Murder Most Unladylike mysteries, wherein two British schoolgirls solve mysteries while eating copious amounts of tea and cream buns.
So sitting down to a real English afternoon tea was high on her list for this visit.
We were lucky enough to be *invited for afternoon tea at St. Ermin's, a lovely Westminster-area hotel with quite a history.
Walk through a quiet, green courtyard into a Victorian style lobby with its original ornate plasterwork and a semi-spiral staircase up to the dining rooms.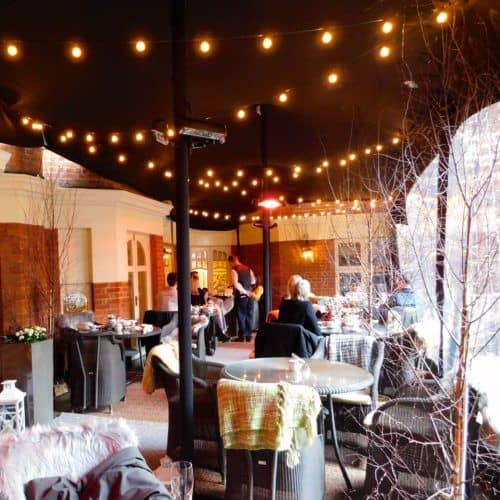 You can have your tea in a plush indoor dining room with colorful upholstered chairs or on an outside patio that's lit with fairy lights and closed-in and heated during the winter. We chose the latter.
The traditional tea includes a pot of tea and a tower of savories and sweets that change seasonally. You can upgrade to a champagne tea (or rosé in the spring) for £10 more.
I say that if you're splurging on a fancy tea why not go all the way? They pour good bubbly with a generous hand and it makes the meal feel very festive.
Everything we ate was delicious. I liked they way they mixed modern ingredients and traditional English tea foods.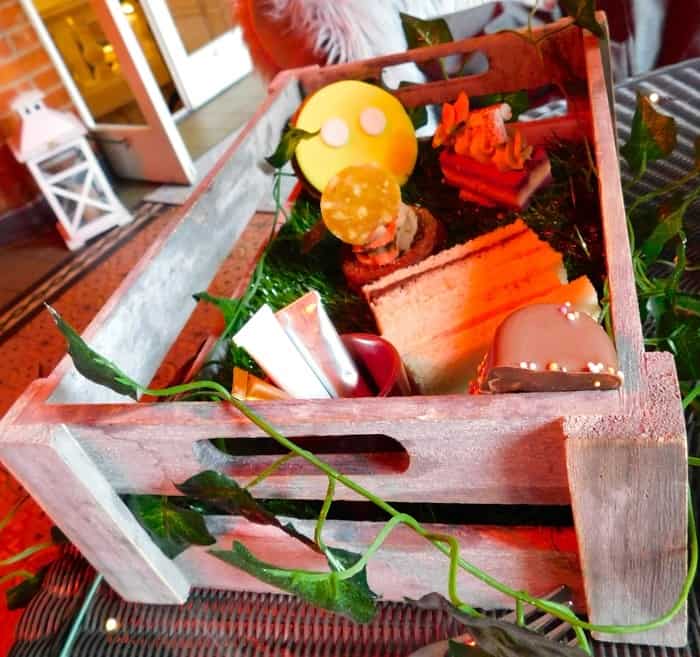 Our savories were curried chicken, humus, roast beef with horseradish and salmon. The sweets paired dark chocolate and pralines, matcha tea and yuzu, and rhubarb and cream.
The hotel's own rooftop garden and bee colony inspire the children's tea. It comes in a garden crate with ham and Nutella sandwiches, the same rhubarb parfait we had, a cookie our tween could decorate and other small treats.
They have plenty of fruity non-caffeinated tea but Tween Traveler preferred hot cocoa. It came in a bowl-like cup and won a thumbs-up from her.
Save room for the mini scones that are served last. Clotted cream is one of the brilliant English culinary inventions. We generously slathered the scones with it and some house-made strawberry jam.
Before you leave take a peek at the Caxton Bar. With its dark walls, leather-backed-chairs and fireplaces it's the masculine counterpart to the feminine tearooms. It's cozy in its own way and the heart of St. Ermin's dramatic history.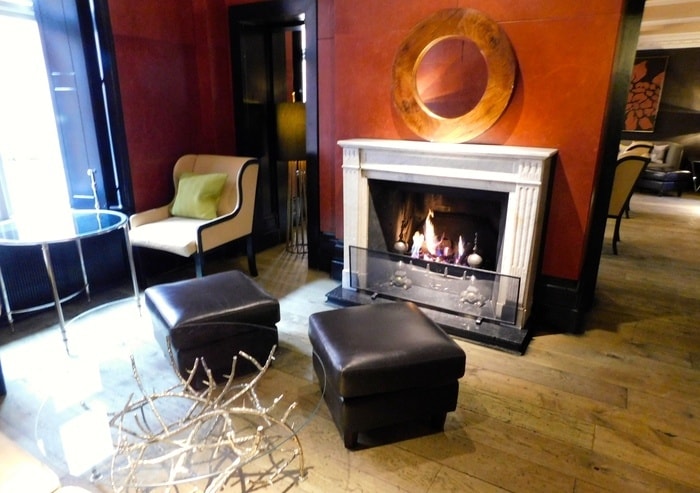 Winston Churchill's WWIIspecial operations team made its home here starting in July 1940 , as did MI6. Their members frequented the bar. When they weren't training secret agents in tram secret agents in sabotage, resistance and guerrilla warfare they frequented the hotel's bar. So did the foreign agents trying to turn them (and some succeeded).
Churchill also gave several speeches and press conferences at a meeting hall next door. There isn't a record of a bar tab, but the staff believe it's likely he knocked back a few cocktails here afterward.
If you're inspired learn more, in 2021 the hotel installed a permanent display of original WWII secret agent equipmen, from clandestine weaponry and communications to escape and evasion tools. You can buy a book that delves into St. Ermin's cloak-and-dagger history in the hotel gift shop.
Tip: We didn't stay at St. Ermin's but I certainly would love to. It offered a quiet street in convenient central location, very nice family rooms and gentler nightly rates than you might expect, especially off-season.

2. Harry Potter Studio Tour
We saved the Warner Brothers Studio Tour for our last day. And this was a wise move. Once you do it, the rest of your holiday will pale in comparison, no matter how good it is.
We loved in partly because we're not big thrill-ride people. And so it was all the fun of going to a really immersive theme park without having to bother with the rides.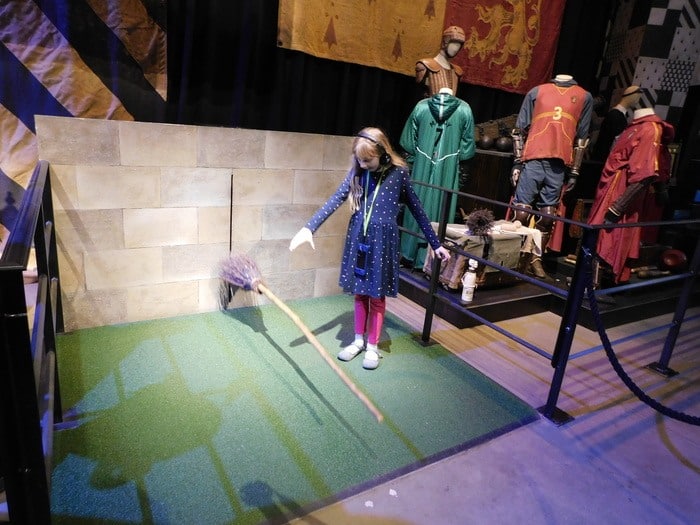 You get to walk through the great hall at Hogwarts and down Diagon Alley. You see the Griffindor common room, Snape's classroom, Hagrid's hut and the Weasley's living room, including Mrs. Weasley's fantastic clock.
You see costumes from the Yule Ball and other major scenes, all the cast members' wands, the Hogwarts Express and a hippogriff.
Quite a few secrets are revealed too, like the fact that most of the cast wore wigs for continuity. You also learn how the quidditch and the train scenes were done.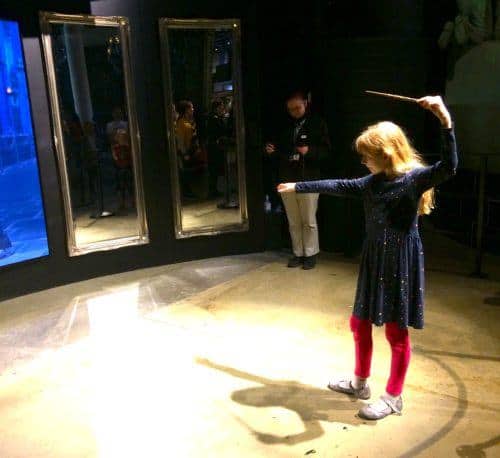 There are lots of great photo ops, including one where you're pushing your luggage cart through the wall at Kings Cross. Kids can duel with wands and fly a broom in front of a green screen, and you can get your family portrait in wizarding robes.
You're going to want to see the broom video and photo proofs, and you'll inevitably buy one or both. If you have multiple adults with you, save time by having one wait in the purchasing line while the other stays with the kids in the broom line.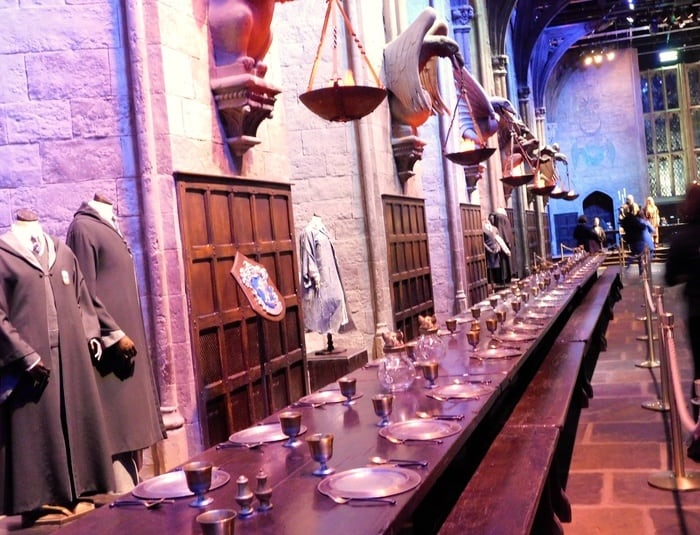 They add new and seasonal features every so often. So we got to see a Gringotts Bank feature. Tween Traveler minted a wizarding coin and we learned the secret behind metal chalices, swords and other treasure (most of it was painted rubber).
I think they recommend three hours for a visit but if, like us, you want to do everything, it will take most of a day.
Good Things To Know:
Tickets: I was tempted to book this before we even had our plane tickets. I didn't But it sells out months in advance so plan accordingly. You'll have the option to buy a regular ticket or a package that includes a souvenir book and audio tour. I bought one children's package and it was plenty. The souvenir book is nice but not essential and Tween Traveler handed the audio guide over to her dad about an hour in (apparently pairing the guide to what you're looking was tricky).
Wizard clothes: Plenty of kids were wearing wizard robes. So if your kids have Harry Potter costumes, pack them.
Shopping: As you would expect there are multiple gift shops, all selling Honeyduke's candies. The souvenirs are expensive, of course, but a lot of them are pretty cool, too. We managed to steer Tween Traveler away from a £20 Ravenclaw pen to a somewhat more practical £30 sweatshirt (she wore it daily for three months it was money well spent). The £1 house pencils near the cash registers are a handy item to bring home for friends.
Dining: You pass by the café at the start of the tour and halfway through. It offers fast food, butterbeer and butterbeer ice cream. The ice cream is sweet but pretty good.
There are also a few pubs and other places to eat in the in the town where the train pulls in. We found the Ocean World chipper a block from the shuttle bus stop on Queens Road. It looks like a hole-in-the-wall but everything was cooked to order and it was some of the best fish 'n' chips we've had. One order easily fed three of us.
The Train: Pay attention to the train schedule leaving London and be sure to wait for an express train. We accidentally hopped on a local on the way there and it took two or three times as long as the express train we took back to the city. Luckily we left London early so we managed to arrive in time for our timed entry.
3. London Theater
We splurged and saw two shows in the Leicester Square area because TKTS has good deals and even without them prices are well below what we pay for Broadway shows in New York.
We chose The Mousetrap because it's been running on the London stage forever and is a classic. Rich and I wanted to see it and Tween Traveler has become an Agatha Christie fan.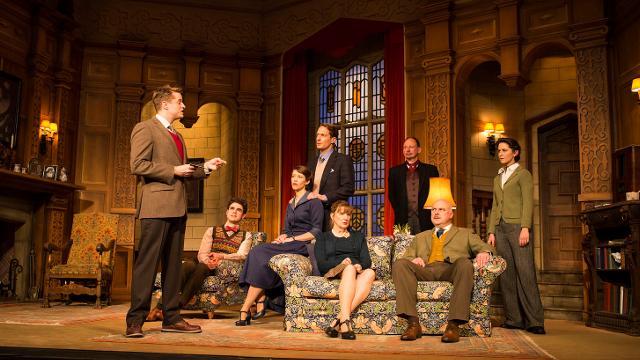 We all liked it a lot. Tween Traveler spent intermission speculating about who did it. I had read the play and knew who did it but was still caught up in the suspense.
Our other play was a musical, but it could be fun to pair Mousetrap with the Play That Goes Wrong, a slapstick comedy that parodies Christie-type mysteries. It's very funny and kids love it. Both of these plays will cost a bit less than the big musicals, too.
4. Shakespeare's Globe Theater
If your kids have been exposed to any Shakespeare, see what's going on at the Globe Theater, a recreation of the Bard's open-air London stage.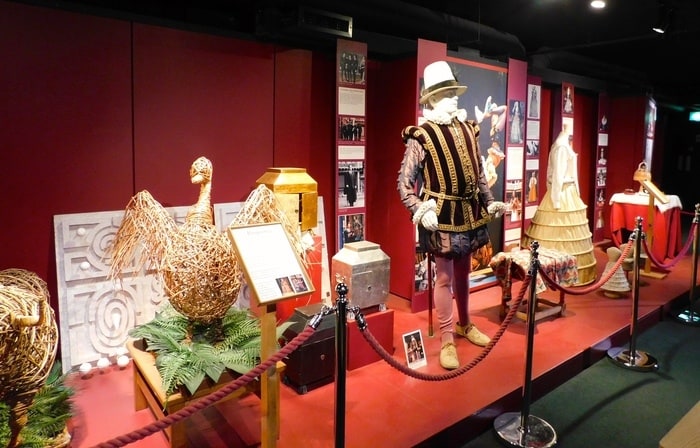 There are tours, exhibits and demonstrations most days and performances in the evening. During school breaks they give family tours and hold classes where you and your kids can explore a classic Shakespeare play together. They have different sessions for younger kids and for tweens and teens, so there's no fear your 12YO will be surrounded by first-graders.
Our winter break coincided with the U.K.'s so we were able to do a the family tour. Our 20-something guide engaged directly with the kids but imparted enough historical information to engage the parents, too.
We all gained new insight into Shakespeare's time and how his plays were meant to be performed. These family events do fill up. Definitely make reservations beforehand.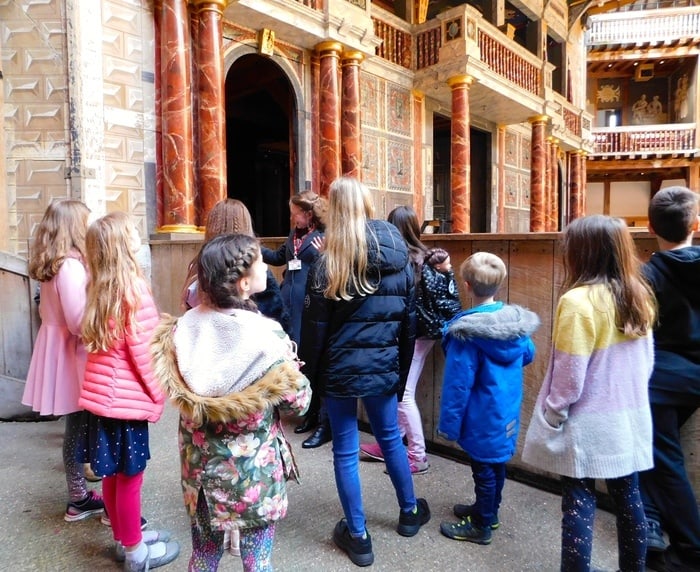 Tip: The great thing about visiting the Globe is that it puts you on the South Bank esplanade.
Give yourselves time before or after to take a walk toward the London Eye, You'll pass the Tate Modern, some attractive pubs, cafés and food trucks, and a lovely playground near the Eye.
You might also like:
• 20 things to do with kids in London has more about the Tower of London and the South Bank.
• For a longer U.K. trip: Read about things to do with kids in Edinburgh,
• with kids and teens in Wales,
• and on sidetrips to seaside towns.
5. Fortnum & Mason
"I love this store!" Tween Traveler declared after about 15 minutes of window shopping.
Fortnum is a fancy-food store the sits on the border of Picadilly and St. James's. Although it was only February, we had the good luck of seeing it decked out for Easter.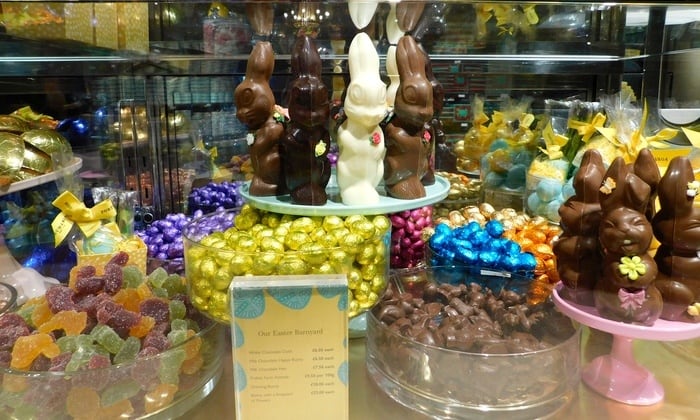 In addition to the shelves of expensive tea, exotic savories, dainty pastries and artisan chocolate there were piles of candy eggs, chocolate animals and marzipan flowers.
We spent more than a half hour looking at everything. I bought Jubilee tea in a classic green Fortnum tin. And Tween Traveler decided to dip into her souvenir money when cream puffs with pastel icing proved tempting and not too expensive.
6. Draughts gaming Café
Tweens are often night owls but evening entertainment options are still a bit limited for their age group.
For something different we spent an evening at Draughts, a gaming café tucked into the vaulted arches of a train underpass behind Waterloo Station.
The location seems better suited to a rave party than wholesome family entertainment, but the café is quite nice. They allow kids under 18 until 9:00 pm.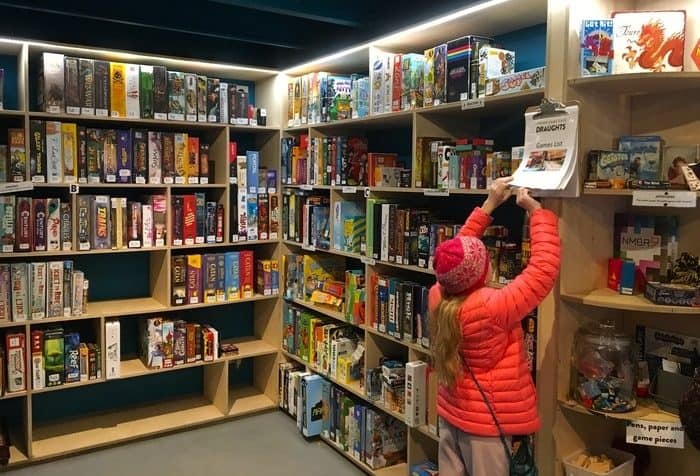 The other people in the café on a Tuesday night were a mix of groups of young adults and a few couples on dates.
For £5 per person you get a table for two-to-three hours and access to their library of some 400 games.
They also have a short menu of creative pub food, a bar and soft drinks. We tucked into Korean chicken wings, calamari and fries along with a round of Carcassone and Sagrada, two games Tween Traveler introduced us to.
Our evening of food and entertainment came to just about £50 and it was a lot of fun.
Tip: We didn't make a reservation because we didn't think it would be that busy on a Tuesday night. But we just about got a table 6:00. So reserve ahead if you can.
7. The Museum of London
This museum, built into the remains of the old Londinium City walls, is not a kids' museum, but it's interactive, engaging and kid-friendly, and much less crowded than other museums.
Following the exhibits in order, you trace London's history from the time when it was grassland and marshes through Roman conquest, medieval times, the plague and the great fire, through modern day.
It's two floors and takes about two hours to see thoroughly. But take three or so if you want to see everything.
The exhibits combine large murals and paintings, detailed dioramas, artifacts, clothes and digital elements.
You can walk into a saxon house, a Victorian pleasure garden or a city shopping street, use a touch screen to find out the many ways water was unsafe in earlier days, and peek at a miniature model of a 1960s Hackney street.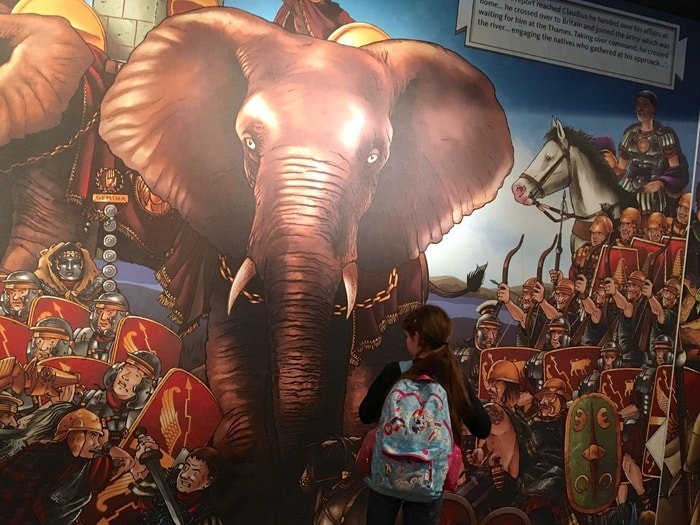 They almost always have temporary exhibits, too. While we were there the exhibit focused on how diseases shaped the city through time, which didn't appeal to Tween Traveler at all.
The Beasts of London, a largely digital experience running through January 2020, definitely has more kid appeal.
The museum also gives walking tours of the city and of the Roman ruins beneath it.
This is another spot that has activities for kids during school breaks and on weekends. The day we were there, the staff had touch tables set up around the museum with artifacts like old coins.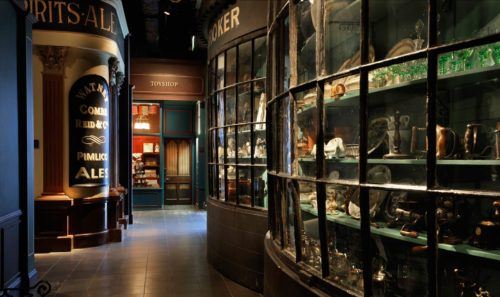 In the lobby they were letting kids make medieval shields out of cardboard. I thought Tween Traveler might decide she was too old for this, but she was game and even took time creating her own coat of arms.
The museum has a smaller Docklands outpost in the East End on London. It focuses on London as a shipping and port city and looks at the neighborhoods and people that grew up around the docks. As a huge fan of Call the Midwife I was curious, but we didn't get there.
If you're traveling with kids of different ages you, know that the Docklands has the Mudlarks Gallery, a 5-and-under play space you can use with a free timed ticket that you can book ahead or request when you arrive (a bit of a gamble on busy days).
8. Neighborhoods
We like getting away from the heavily touristed areas of a city and exploring the residential and ethnic neighborhoods if we can. This is always a bit hit and miss with kids, but we usually manage to find something everyone likes.
Portobello Road
We arrived in Notting Hill late on a Saturday afternoon and wished we had been able to give it more time. The Portobello Road market is a mash-up of antiques, vintage clothes, original maker items, food vendors and some activities for younger kids.
It was winding down somewhat when we arrived. But still, we all found things to interest us and it makes for fun window-shopping. Tween Traveler and I bought really cute handmade cloth headbands that you can reverse the fabric on for two differen looks.
In addition to the street vendors, there are plenty of pubs and cafés along Portolbello road and the streets around it. Unfortunately there was a huge rugby game happening that night and most pubs were full to brim with the crowds watching it.
Luckily we found 7 Saints, a small bistro two blocks off of Portobello. It's one of those places that balances upscale food with a casual neighborhood vibe. It didn't have a kids menu.
But the small seasonal menu had gnocchi and roast lamb, which tween traveler likes. And they were willing to do plain pasta for us.
I'm not sure I would recommend for every family. But Rich and I really enjoyed the food and friendly service, and thought it was the perfect last-night-of-vacation treat. it was worth improvising a bit to feed our picky child.
Shoreditch
We also had a fun day exploring Shoreditch and Spitalfields, which offer up a lot of fun things to do. They're full of ethnic food, cheap cafés, lots of street art and an ecclectic group of shops and markets
We started at the Shoreditch BoxPark, a collection of quirky shops and food vendors set up in a pile of shipping containers. Upstairs there is a food court set up around common tables.
There's even a playspace for younger kids to do activities while parents linger over a beer. Our Tween was a bit too old for it.
But she enjoyed looking at some of the shops, especially the "gift" items at Gift Box and Play Box (bow-ties for your dog, obscure Pez dispensers, political mugs, etc.) and the tiny notebooks at Papersmiths.
Next we made our way down Brick Lane, which is now a mash-up of Indian and Pakistani restaurants and shops, old Jewish delis and hipster boutiques.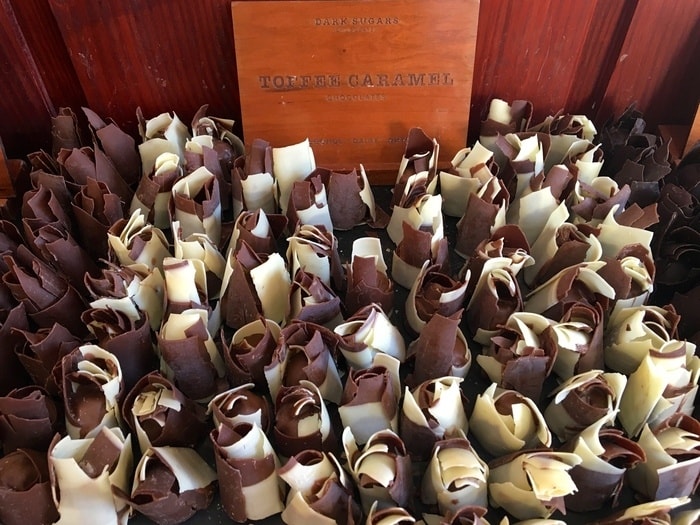 We sampled chocolate in a beautiful African chocolate store and admired the rainbow colored baked goods in an alternative bakery.
There is an indoor/outdoor Brick Lane Sunday Market and the Sunday Upmarket just down the block in an old Brewery building. We've heard good things about them, but weren't there on the right day.
We ended our walk at Spitalfields Market, where the food vendors are packed at lunch time with young workers from nearby offices. We were a little sorry that we weren't hungry because everything looked and smelled good.
The high-ceilinged Victorian market has vendors selling antiques, cheap clothes, expensive jewelry and all kinds of prepared food. Rich and Eva poured over a stall selling antique weaponry and we all perused a stall selling rare books.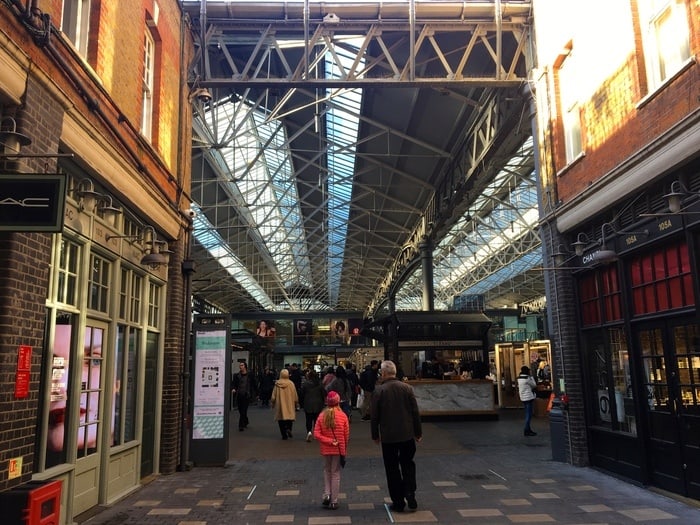 Despite all the food around us at all the markets, we actually at breakfast at a place called the The Book Club, an airy space that's popular for coffee meetings with the creative workers in the area.
Rich had eggs with salmon and I had avocado toast. Tween Traveler had a scrambled egg with bacon. The coffee was good and prices were fair. Our breakfasts were filling enough that we didn't bother with lunch.
Clerkenwell for Dinner
We went to trendy Clerkenwell for dinner one night because we wanted to check it out and had read about a kid-friendly gastropub called Foxlow.
They had creative pub food, good cocktails and reasonable prices. The kids' menu had grilled chicken instead of the usual fried fingers and it came with vegetables. Moreover, because it was school-break, kids ate free (that was a nice surprise!).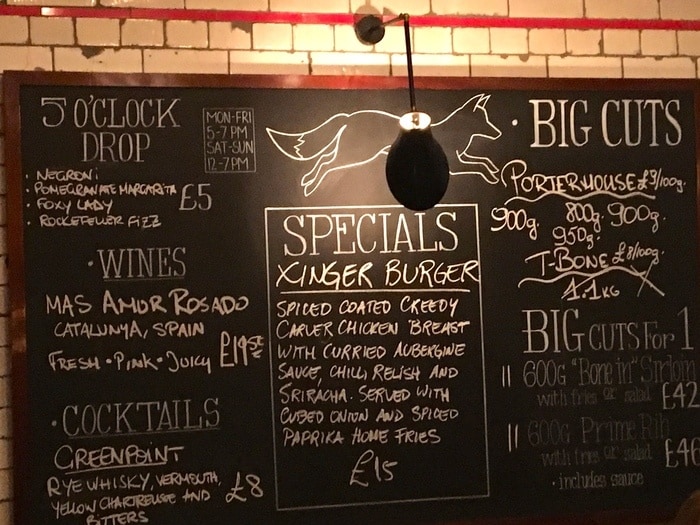 It was one of those restaurants that made everyone happy and was a good find. But in general the neighborhood caters to 20-something singles and young couples more than families.
Our London Hotel
We stayed at the Novotel London Blackfriars, on Southbank side of Blackfriars bridge.
Book it! search for the best deal.
We loved the location because it allowed us to explore the Southbank each morning and evening as we went to and from the hotel.
It's an interesting area with a lot to offer. And I'm not sure how much time we would have explored it had we stayed elsewhere.
We had a single queen with a daybed. It was standard size, which is still fine for the three of us. The bathrooms are a good size with a shower and no bathtub.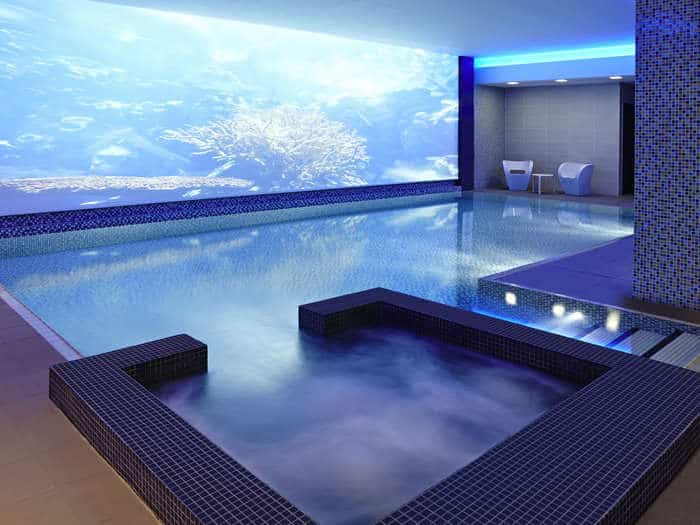 There was a pool, steam room and sauna, which we took advantage of most evenings either before or after dinner. Even after dinner there were usually other families in the pool with us. Once or twice we had it mostly to ourselves.
There's also a restaurant and bar onsite, but we didn't use it.
Breakfast isn't included. Most mornings we walked to the Southbank walk, where we found chains like Caffé Nero and Pain Quotidien.
One morning we had a decent full-English Breakfast at Doggett's Coat & Badge, right alongside the bridge.
Konditor & Cook, on Cornwall Rd and Roupell St., near Waterlook station, had very good coffee and excellent almond croissants, brownies and slices of Victoria Sponge.
Pin it for later!
* All photos are propery of FamiliesGo! except the cast of The Mousetrap (Visit London), the Victorian street (Museum of London), and Portobello Road Market (Oren Majar/Pixabay).
* St. Ermin's Hotel hosted our afternoon tea and a tour of the hotel. We did agree to any particular coverage in exchange for the meal and our opinions are always our own.