At some point in late January I always get tired of my LL Bean down coat and Ugg boots and New York's gray days. I tell Rich that we need to get ourselves to the Caribbean. And I'm always tempted to say it doesn't matter which island as long as there's beach and umbrella drinks and warm sunshine.
But the fact is that the islands across the Caribbean do vary in their culture, can't-miss gems, the quality of their beaches and their price points for a week-long resort stay with kids.
Here's a look some of the stand-out activities, dining spots and beaches on seven popular islands.
Keep in mind most of these islands have more than one stretch of kid-friendly beach and several places to snorkel.
The best places for lunch with a view often have great sunsets, too. And beachfront bars with great sunset happy hours are often right next door to other bars with great sunset happy hours.
Being on island time means going with the flow.
Planning a Trip?
• Find the cheapest flights and packages to any of these 7 islands on Expedia.
• Find the best rates on the most popular hotels and resorts via TripAdvisor
The Best of 7 Beautiful Islands For Your Caribbean Bucket List
Island: Antigua
Flight Time From New York: Just over four hours.
1. Lunch with a view
You expect a restaurant with the name Sheer Rocks to have a great view and this upscale al fresco space doesn't disappoint with a perch that looks out at clear turquoise Caribbean waters and island greenery on three sides.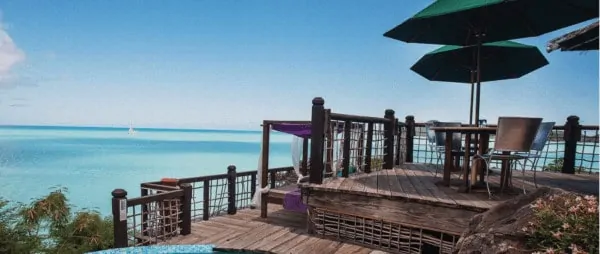 The stellar view comes with a pricey menu. But lunchtime tapas plates are meant to be shared. This isn't the ideal spot for little kids but tweens and teens will love the property's day beds and plunge pools, available to all restaurant guests.
2. Kid-friendly sunset cocktail
Antigua doesn't lack for bars with sunset views. Jacqui O's Beach House gets a thumbs up for its homey atmosphere and friendly pink signage.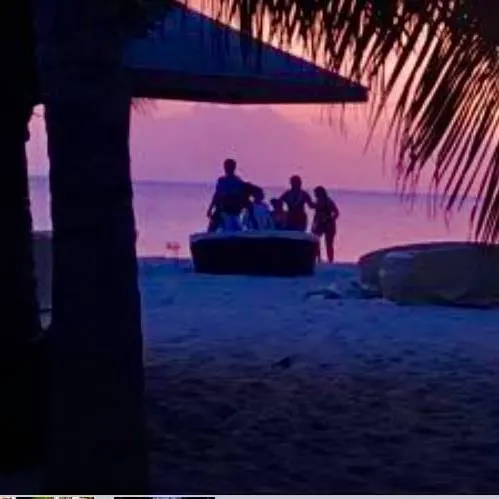 Grab one of the big round loungers on the sand or a couch on the patio. Order something fruity with rum to enjoy while the sun sets and your kids get their last bit of energy out.
3. Stellar snorkeling spot
Some of Antigua's most well-known spots are better for diving than snorkeling because while the water is clear, the reefs are deep. But Islands magazine likes Green island for its calm waters, healthy reef and sea turtle population. It's reached via boat tours that take up a chunk of the day.
For an easier hour or two of snorkeling head to Galleon Bay in English harbor. The wreck of an old life boat is sunk not-very-deeply near shore. Even kids can easily view the boat and the dozens of fish that call it home.
4. Fun family activity
If you're on this Caribbean island on a Saturday head to the weekly farmers' market in St. John's, which spills out of and around the market building.
Buy spices to bring home and fruit you've never seen before to try when you get back to your hotel. Shop for crafts and souvenirs. Eat some of the freshly made Antiguan food while catching some good people watching.
5. Best beach for kids
Antigua has more than 350 beaches so picking the best is nearly impossible. But many families favor Pigeon's Point beach, a few minutes from English Harbour and Nelson's Dockyard.
It has calm water, off-the-beach snorkeling, vendors pedding fresh fruit and cold drinks, and a mix of visitors and local families.
6. The one thing you can't miss
James Kell, The founder of Sailing Virgins, recommends making the steep-but-short hike to the top of Shirley Heights for spectacular 360-degree views of the island.
Visit Antigua says it's the best place on the island for watching the sunset. At the moment the sun tips below the horizon, keep your eyes peeled for a green flash of light, a natural phenomenon best viewed from up high.
Bahamas
Flight Time From New York: Three hours, give our take 15 minutes.
Read More: • Here's Why Your Teens Will Love Grand Bahama Island.
1. Lunch with a view
Austin Tuwiner, the ownere of ScubaOtter, encourages visitors to venture away from the main islands of the Bahamas and explore some of the smaller outlying ones.
For lunch with a view he recommends Wreckers Bar and Grill, perched on a patio over a small bay and marina on Spanish Wells. Tuck into fusion fare like buffalo-seasoned conch and burgers with onion jam while you enjoy the view.
2. Kid-friendly sunset cocktail
LeoRose Sunset Beach Bar & Grill delivers on its name with a broad west-facing patio and beach.
Not every seat in this conch shack has an equally good view of the sunset. But no one will care if you grab your drink and head down to the sand, where your kids will no doubt be looking for shells and exploring the wooden viewing platform by the water.
3. Best snorkeling spot
If you really want to see a lot of fish, take a snorkeling boat to the 124-mile-long Andros Barrier Reef, one of the biggest in the world.
Leave 65-foot deep "Tongue of the Ocean" cliff to SCUBA divers and instead choose a trip that will take you to the shallow lagoon, back reef or inner fore reef, depending on the age of your kids and how well they swim.
4. Fun family activity
Spend a day on the Exuma group of islands, where you can take a day cruise to Big Major Caye (Pig Beach), to float alongside the island's famous swimming pigs.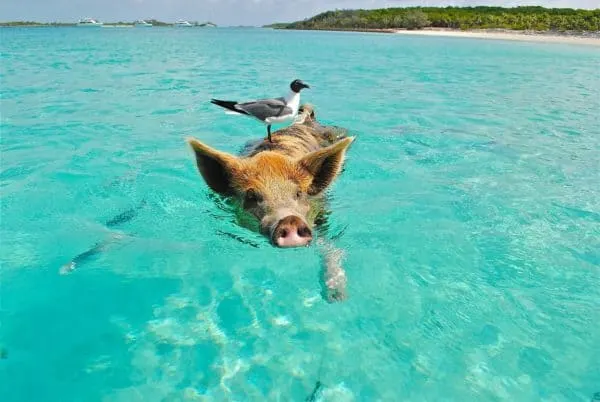 Or head to Chat 'N Chill Beach Bar on Great Exuma. Tuwiner says it has "A beautiful beach with lots of fun games, snorkeling with turtles, and gentle and tame stingrays," that float around close to shore. On a Sunday night you can stay for the popular, well-priced pig roast.
5. Best beach for kids
Pink Sand Beach on Harbour Island is a three-mile stretch of beach on the Atlantic ocean, but an offshore reef keeps the water fairly calm.
The sand, pink from tiny reef coral insects, is darkest where the water meets the land. It's one of the Islands' top beaches but its long enough to find a stretch of shoreline all your own if you want it.
6. The one thing you can't miss
The Thunderball Grotto off of Staniel Cay in the Exuma islands is named for one of the two James Bond movies filmed here.
Your kids might not be impressed with that bit of Caribbean movie trivia, but Tuwiner assures they are sure to be wowed by swimming and snorkeling in this grotto with stone walls around them and colorful sea life in the clear blue water below.
Barbados
Flight Time From New York: A bit less than five hours.
1. Lunch with a view
Barbados has plenty of high end "romantic" restaurants with stunning cliffside views. But for a casual lunch with the kiddos try, Chill N Breeze, on the island's northeast side.
At this casual restaurant and lounge perched next to the rugged Atlantic coast you can dine on Bajan fish cakes, whole fried fish, plantains and conch fritters.
2. Kid-friendly sunset cocktail
Rae Coppola, a blogger for budget-travel search engine IceLolly suggests Tiki Bar on Rockley Beach. "You can watch your kids play on the sand while you enjoy a cocktail and watch the sunset over the Caribbean Sea."
On Friday and Saturday night she recommends you stay for a bite to eat and live music.
3. Best snorkeling spot
Coppola recommends Carlisle Bay for family friendly snorkeling. About 200 yards from shore you'll find a half dozen shipwrecks that are home to tropical fish, sea turtles, star fish and sea horses. "It's an entire underwater world."
Strong swimmers can swim out from Brownes Beach, which has lifeguards and other amenities. Several snorkel tours stop here as well. Just don't expect to be alone.
4. Fun family activity
Everyone loves monkeys. Take half a day away from the water and head inland to the Barbados Wildlife Reserve.
You'll see green monkeys, rabbit-like maras, iguanas, tortoises, small Caribbean deer, parrots, peacocks and small, crocodile-like caimans, most of which roam free through the park. Don't miss the 19th century signal tower, which offers tremendous views of the island.
Tip: If you have a child who's too small to walk, bring a carrier not a stroller for the rough cobblestone paths.
5. Best beach for kids
Rockley Beach (also called Accra) is the ideal beach for families with both older and younger children (or one or the other).

The main beach has waves but not much undertow, making it perfect for bodysurfing and boogie boarding. The south end has a protected pool where little kids can splash and explore.
Tip: There are beach bars at either end and a smoothie shop across the road. It's popular beach with locals and tourists because of its accessible location.
6. The one thing you can't miss
If you wish you could get dive deeper than snorkeling allows to see the Caribbean's wrecks and reefs, book at journey to the bottom of the sea on the Atlantis Submarine.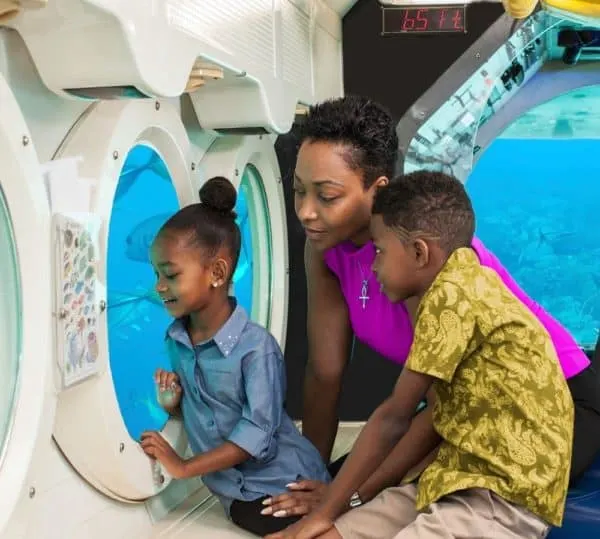 The glass-windowed submarined dives 150-feet down to give you close-ups of Barbados' sea life. There's no age limit but kids have to be at least three-feet tall for this excursion.
Grenada
Flight Time From New York: A bit less than five hours.
1. Lunch with a view
Toward the north end of Grand Anse beach you can walk off the sand into Coconut Beach and enjoy Caribbean chicken, a hamburger or a fancier lunch like pasta with lobster, all with sand between your toes and a water view.
2. Kid-friendly sunset cocktail
Take the kids to La Plywood, at the north end of Morne Rouge, which is exactly the laid-back fish shack you would expect it to be. Sit at colorful wooden tables or wander down to white-sand beach. The tropical drinks are colorful, the fries are crunchy and the sunset is uninterrupted.
3. Best snorkeling spot
The Grenada Tourism Board ranks La Sagesse beach as one of its top snorkeling areas. The site is on the Caribbean Sea near the southwest end of Grenada.
Part of a nature center with the same name, La Sagesse has three beaches with coral reefs that snorkelers can explore. On land listen for the vocal local birds.
4 Fun family activity
This is another island where it pays to pull yourself off the beach and head inland, this time to Grand Etang National Park.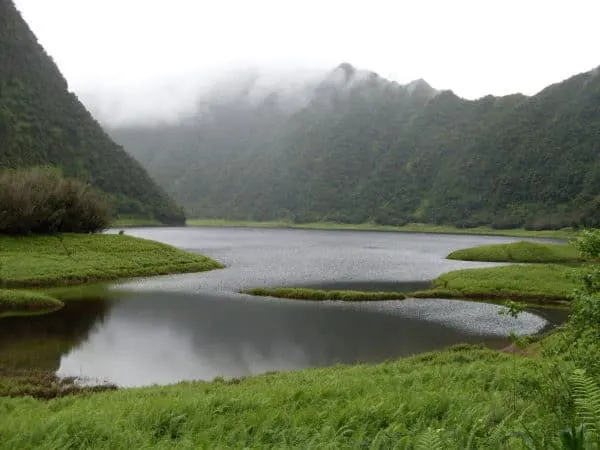 The park offers hiking trails lined with spice plants, waterfalls, a freshwater lake and the chance to spot monkeys and armadillos and mocking birds. Start at the visitor's center for a map and tips on where to hike with your group.
Tip: Leave your flip-flops at the beach; U.S. News cautions the trails are rugged enough to warrant sport sandals, sneaker or hiking shoes.
5. Best beach for kids
Frommers and GrenadaBeaches.com both tout Morne Rouge over Grand Anse for families because its less crowded and usually has a calm surf.
If even Morne Rouge has too many people, head just a bit further south for to the small, more local, tree-lined Magazine Beach.
6. The one thing you can't miss
Duck below the water's surface off Moliniere Point and you'll find a sculpture park with 60 statues that reference Grenada's history and folklore.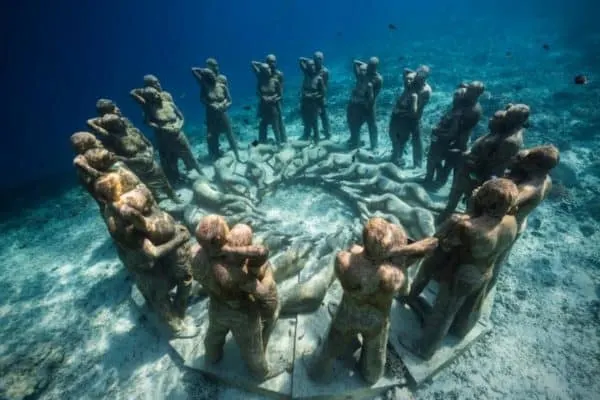 Kell says, "If the visibility is good, a family can snorkel these sculptures; it's a great treasure hunt." Though it's not far from shore it's most easily reached by boat.
Tip: Keep an eye on kids who aren't yet strong swimmers, this is a more open spot than other snorkeling places around the island.
Read More: 9 Ways To Spice Up a Grenada Vacation.
Jamaica
Flight Time From New York: A bit more than four hours to Montego Bay; A bit less than four to Kingston and to Ian Fleming International Airport.
1. Lunch with a view
At Rockhouse Restaurant on the Negril coast you can sit down on the stone terraces jutting out into the water and dine on lunch, smoothies and mocktails that are locally sourced wherever possible.
Look for coconut chicken, pineapple ginger juice, crab quesadillas and even vegetarian options like Jamaican greens and chickpeas.
2. Kid-friendly sunset cocktail
Rick's Café, further south on the Negril side, is "A favorite of adults and kids alike," according to travel advisor April Brown-Miller. The sunsets are stunning and for good reason they are Rick's busiest hour.
You might want to get their early to snack on beef patties, peppered shrimp and chicken wings while you enjoy "amazing cliff-side views and death-defying divers who leap from those cliffs." Guests dive into, she says, "from much lower heights, of course."
3. Best snorkeling spot
Book at day trip that allows you to explore the Montego Bay Marine Park, which stretches along 20 kilometers of coast.
Explore protects reefs and sea-grass beds that the Montego Bay Marine Park Trust is working to restore and replenish, along with native fish populations.
4. Fun family activity
Dunn's River Falls near Ocho Rios is a park with waterfalls that cascade down a series of steps. Your family can climb stairs alongside them if prefer to stay dry. Or you can climb up the rocks in the water, pausing to dunk yourselves in plunge pools or to stand under the falls. T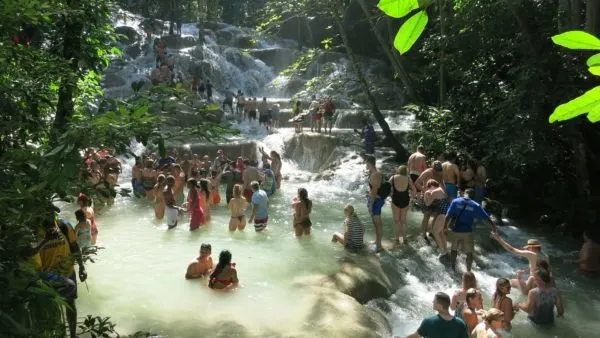 The park also has a beach and gardens with water playgrounds that kids too young for the falls will enjoy.
Tip: Dunn's park has lockers for your dry clothes but it's BYO for towels. They recommend wearing secure water shoes in the falls. And while there's no minimum age, they suggest ages 7 and up in the falls.
Tip: Try your best to avoid cruise ship port days for snorkeling and Dunn's River, or schedule your trip for early morning or late afternoon to miss the worst crowds.
5. Best beach for kids
Burwood Beach, east of Montego Bay on the north coast is known for being a fairly quiet, well maintained and scenic local beach.
The water is clear and the surf is mild. There are lifeguards, facilities and places to buy food and rent beach chairs. Expect to pay a small entry fee, which is typical on the island.
6. The one thing you can't miss
Few people are as synonymous with a place as Bob Marley is with Jamaica. Fans can take guided tours of his relatively modest 19th century house and his recording studio in Kingston.
If you're staying on the north side of the island (or are big fan) you can also visit his childhood home and family mausoleum in the town of Nine Mile.
Neither of these activities are all-day excursions but they'll provide some new insights into a singer who you might not know much about even though his influence on all kinds of music has been large and lasting.
Tip: If anyone tries to sell you brownies outside of these spots (or anywhere that's not a bakery), don't give them to your kids.
Hotel Tip:
Beaches has two all-inclusive family resorts in Jamaica. Its Negril property is known for have a gorgeous stretch of beach and its own amazing sunset views. It's Ocho Rios resort has its own calm protected bay and is a short drive to Ian Fleming Airport.
Read More: An Easy Jamaica Day Trip With Kids
St. Lucia
Flight Time From New York: Just under five hours direct, but direct flights aren't plentiful.
1. Lunch with a view
Head to Sugar Beach Resort on the Southwest coast and choose tapas at the Bayside Bar or more formal lunch at the Bayside Restaurant.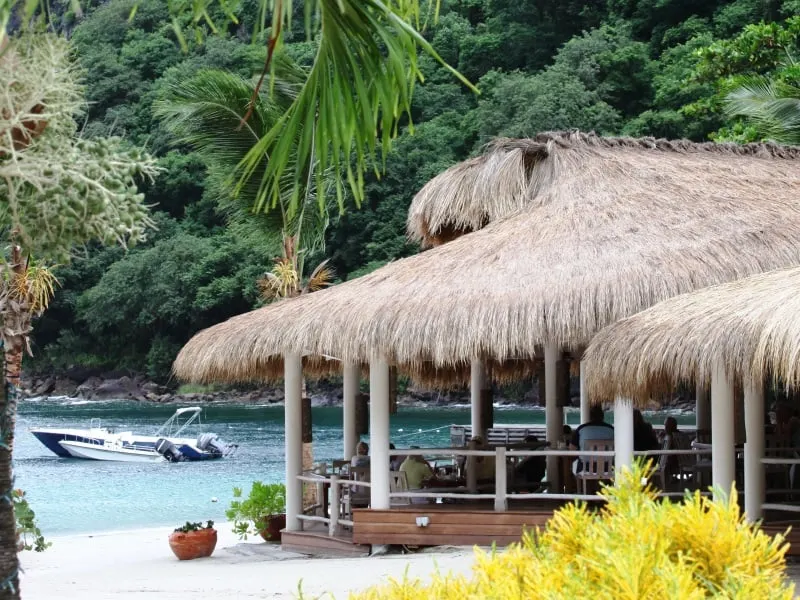 Either way you can enjoy views of the beach, the boats on Pitons Bay and lush green mountains. Be sure to ask for the kids' menu, which has options for both picky and adventurous eaters.
2. Kid-friendly sunset cocktail
Spinnakers Beach Bar on Reduit Beach on the island's northwest side, has a nice expanse of beach and a kid-friendly vibe.
Happy hour, from 5:00 to 6:00 daily, is timed just right for winter-time sunsets. Settle back with a Big Bamboo cocktail and order a plate of wings to share.
3. Best snorkeling spot
The consensus in the snorkeling community is that Anse Chastenet Beach, just a few miles west of Soufriere has easy, family friendly snorkeling that's really good.
Bring your own gear or rent some from the dive shop on the beach then look for the Buoys that protect snorkelers. Enjoy swimming along a colorful reef jutting out from shore that's as shallow as five feet below in some places. There are plenty of fish to see, too.
4. Fun family activity
Some 20 species of dolphins and whales live or migrate through the waters off of St. Lucia. Call a local boat tour company when you arrive and ask what they've been seeing lately.
If you're lucky enough to be there when these mammals are plentiful you could be in for a fun boat ride. Dolphins like to play in boats' wakes, so keep an eye on the water behind yours.
5. Best beach for kids
Reduit Beach has everything a family would want in a beach. It offers a wide swath of soft wide sand, fairly calm, clear water, vendors, restaurants and shops close by and a Marina next door in case your teen wants to try some water sports.
It also has a large and colorful inflatable water park at one end, where kids can scale and jump from a climbing wall, bounce on a trampoline and try to balance on narrow walkways. Avoid this popular beach on cruise ships days.
6. The one thing you can't miss
Soufriere, the island's main city, is named after the sulphur springs found nearby.
Drive into the caldera of a the defunct Soufriere volcano and then visit the nearby mud baths to soak in warm (Sulphur-smelling) water and smear yourself and your loved ones with volcanic mud. It's said to ease everything from sunburn to eczema. There are waterfalls nearby, too, if you need to cool off and refresh after the Sulphur baths.
You can do this with a group tour or just hire a driver to take you around. It's another thing to avoid in the middle of cruise-ship days.
Turks & Caicos
Flight Time From New York: A bit more than three-and-a-half hours.
1. Lunch with a view
Head to Da Conch Shack on the north coast of Providenciales to eat at picnic tables on the beach, shaded by palm trees.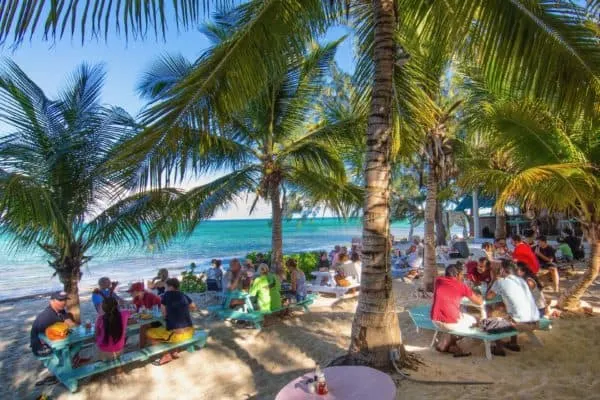 Have conch cooked more than half a dozen ways or eat West Indian style seafood, chicken and pork. The kids' menu is meh, but you can let them eat sides like peas & rice, plantains, mac & cheese and vegetables.
2. Kid-friendly sunset cocktail
Ricky's Flamingo Café is a bright yellow beach shack with a wide porch on Grace Bay. Send the kids down to the beach and settle in on that porch with a rum drink and some conch fritters to watch the sun set across the wide-open bay.
3. Best snorkeling spot
Smith's Reef sits of a point that sticks out almost exactly in the middle of Providenciales's north coast. It's accessible via public beaches or some excursion boats.
The reef begins in shallow water, making it accessible to kids and novice snorkelers. Stronger swimmers can follow the reef out into deeper water. Keep your eyes peels for lobsters, eels and barracuda as well as more colorful and less scary tropical fish.
4. Fun family activity
Kayak or SUP around Chalk Sound National Park, an enclosed bay south east of the airport on Providenciales. Teens and tweens can likely paddle themselves around while younger kids can ride along with you.
The water is calm and clear enough that you can spot lemon sharks, sting rays and bone fish even from above the water. Look for rock iguanas and terns on the little islands that dot this bay.
5. Best beach for kids
The Bight, also on Provo's north coast, is a popular local beach for families because it has a long strand, good walk-in snorkeling, bathrooms and a playground with shade near the Children's Park entrance to the beach. The park also hosts a weekly fish fry at night.
6. The one thing you can't miss
Hire a guide to take you through the Conch Bar Caves on middle Caicos. It has one-and-a-miles of non-submerged tunnels that provided shelter to the island's original population and a source of guano mining.

These caves are not wired for light, Guides often have handheld flashlights for you, but if your family has small headlamps with its camping gear, you might pack them for this excursion.
Hotel Tip: Beaches also has an all-inclusive resort for families on Provo, sitting in the middle of a 12-mile stretch of white-sand beach along Grace Bay. It's the ideal location for families looking for an easy getaway that will suit both kids and adults.
Read More:
• The Best of Turks & Caicos TCI With Kids
• Make the Most of Turks & Caicos With Your Teen
Pin it for later!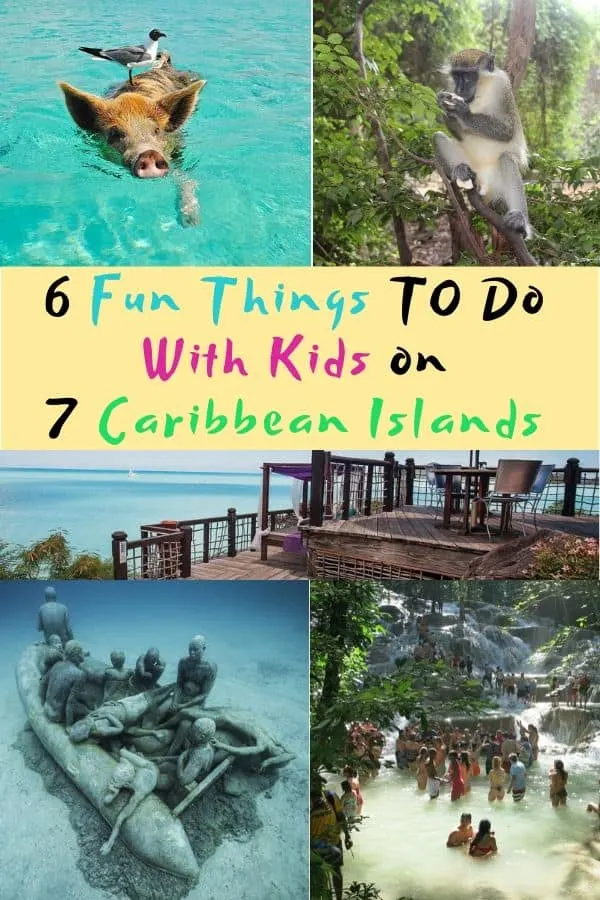 * Photos courtesy of (From top): Beaches Resorts; Sheer Rocks Hotel; Jacqui O's Beach House; Pixabay (Rockley Beach); Visit Barbados; Atlantis Submarines Barbados; Pixabay (Grand Etang); Jason deCaires Taylor (statues); Pixabay (Dunn's Falls); Sugar Beach Resort; Da Conch Shack; Visit TCI (Conch Bar Cave).