The Christmas season always offers a great opportunity to see your own city anew, discover new things in a city you know well or see a city thats new to you at its best. The locals know all the best seasonal activities tucked away around town.
Therefore, I asked several travel writers to tip me off on their favorite local holiday season activities. There are plenty of family activities here, plus a few December date night ideas, in case mom and dad want some holiday cheer for two. Given all the schlepping you've been doing since the school year started, you've definitely earned it.
Here are the popular Christmas-season events in 11 U.S. Cities
Popular Christmas Events Locals Don't Want You To Know about in 11 U.S. Cities
City: Newport, CA
Family Activity: Newport Beach, famed for its fun southern California beach vibes, late night bonfires and popping downtown, offers a unique spin on Christmas for its visitors at the Rogers Gardens nursery.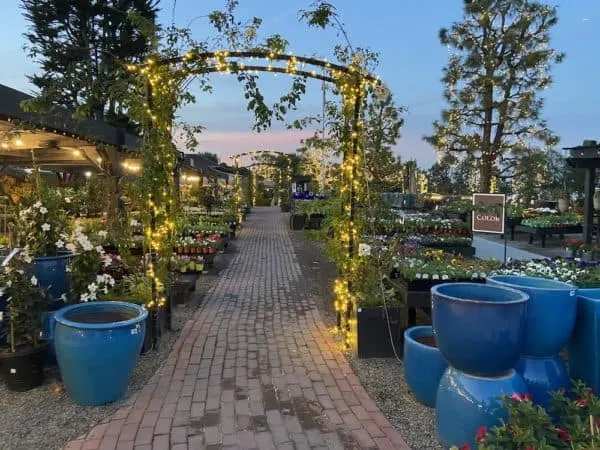 During the Christmas season, Roger's Garden becomes an enchanting garden filled with twinkling fairytale lights and a Christmas tree patch where you can select the perfect tree for your home.
Grab a warm drink and wander through the garden, gazing at the delightfully decorated Christmas trees for inspiration, or watch the Christmas train roam through lettuce and kale in the vegetable garden.
Make your way into the Christmas boutique to pick up Christmas candies, artisanal ornaments and candles for those last-minute gifts.
December Date Night: This is a great family activity but I'd recommend you come back a second time, leaving the kids home.
After meandering through the garden and boutique, head over to The Farm at Rogers Gardens, an upscale casual restaurant with a tempting local and seasonal menu.
Under a set of street lights and warm heaters you can have a hot toddy, cocktails and stylish, shareable small plates like grilled Asian short ribs, fried sunchokes and PEI mussels in broth. (Just take-out this yes, unfortunately!)
From: Ciara Turner-Ewert, The Wellness Diaries
Read more: Top 10 Things To Do in L.A. with Kids
City: San Diego, CA
Family Activity: In San Diego, Santa doesn't come on a sleigh, but on a surfboard, of course. How gnarly is that?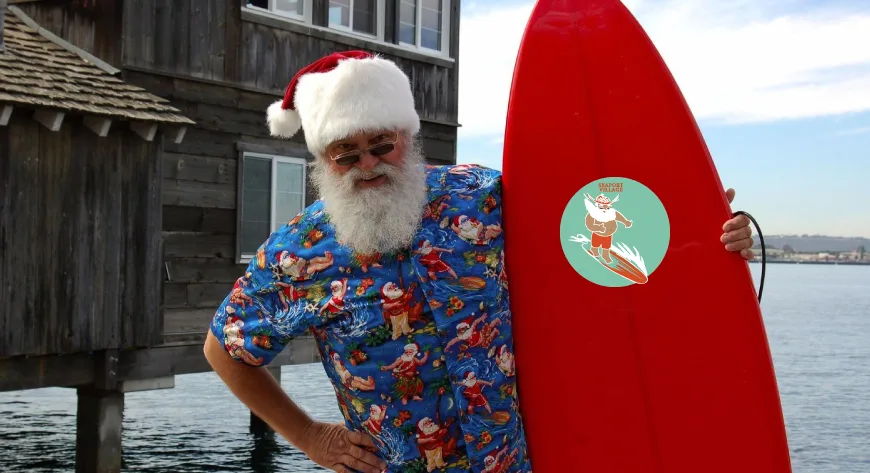 Each year, the weekend after Thanksgiving, Santa arrives in San Diego's Seaport Village on a surfboard, bringing SoCal Christmas vibes ashore with him, and kicking of a month of festive activities.
Of course, families have the opportunity to take some unique Santa photos with the kids (this year they had to settle for a Surfin' Santa cut-out).
Most usually stick around to do some Christmas shopping and indulge is some seasonal treats.
December Date Night: Next year, try ice skating by the sea at the famous Hotel Del Coronado's beach-side rink. Definitely a unique experience to go ice skating under palm trees, with the ocean as a backdrop!

Check out the lavish holiday decorations inside hotel and maybe cap off your skating with a cocktail at Serea's outdoor bar, or at the hotel's more casual taco shack.
For a really special date, you could surprise your partner with a night at the Del – a pricey, but truly unforgettable experience.
From: Maria Haase, San Diego Explorer
Read more: Fall Weekend Getaways in San Diego
• Top San Diego Activities With Tots
City: San Jose, CA
Family Activity: Local San Jose residents, schools, clubs, and businesses come together every year in December to decorate for Christmas in the Park.
But when local businesses include well-known names like eBay, the decorations are not going to be quaint, homemade creations.
In a normal year Christmas in the park includes eleborate lights, Christmas dioramas the size of small buildings, a Christmas-tree decorating contes, a small carnival and food trucks selling items like churros, tamales and hot cocoa.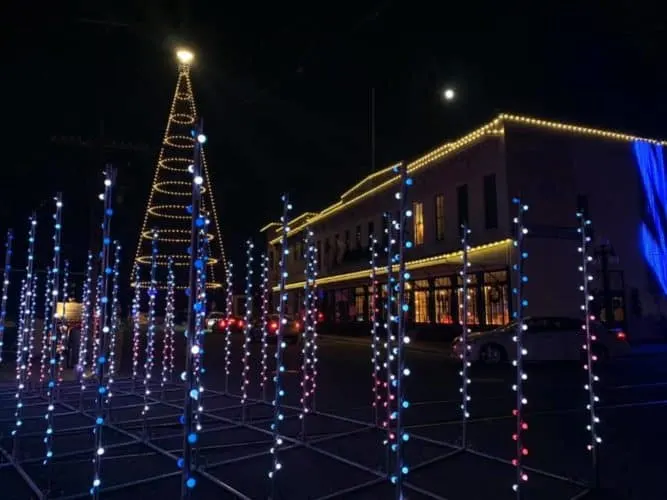 Of course, 2020 has changed everything. For example, this year the festivities will be at History Park on Phelan Avenue instead of the usual Cesar Chavez Park. No carnival. No churros.
Instead of walking in a pedestrian-size winter wonderland, people are driving through large light displays and decorations. I can't wait to see all the changes they've made. But I also look forward to returning to Cesar Chavez Park next year!
December Date Night: San Jose has so many options for a special evening out. But my pick is always either dinner and a walk on Santana Row, which is also always decked up for the holidays. Or dinner and stroll around vibrant San Pedro market.
From: Jyoti Baid at Story at Every Corner
For more regional staycation ideas
• Read Jyoti's post on a day trip to San Francisco
• Read FamiliesGo!'s post on 5 Family Favorites in Monterey.
City: Seattle, WA
Family Activity: Seattle is a magical place during the holiday season, especially if you seek out some of the under-the-radar festivities happening around the city.
I love the low-key Seattle holiday markets that pop up throughout the city, typically more than 50 in November and December. Many of them feature items created by a bunch of other talented local makers.
In particular, I really like the King Street Makers Market is one of the smaller ones that pops up inside an art gallery each year. They sell handmade goods curated by the stylish art store owner and her friend.
Or if you prefer to get all your shopping done at once, head to the larger Urban Craft Uprising that has about 100 vendors and it's always amazing roster.
ACU does a weekend in November called Gobble Up that features artisanal food makers, just the thing to get you in the holiday spirit, and get a jump on gift buying.
December Date Night: The city also has some quirkier holiday shows that are best enjoyed while the kids are home with a sitter.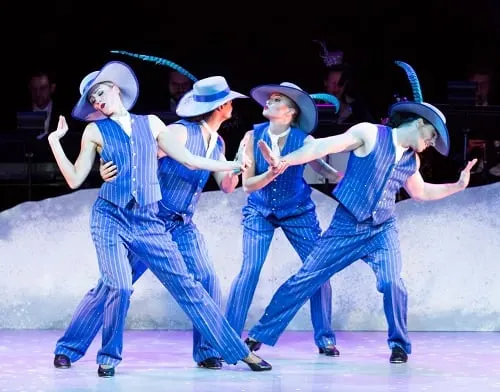 Try Figgy Pudding, a caroling competition that raises funds for the Pike Market Senior Center & Food Bank. , or perhaps the Burlesque Nutcracker, an annual cabaret performance put on by a small local theater.
Tip: Before heading out this year double check to see which markets and shows will be live; some have gone virtual for Covid.
From: Adria Saracino, from the Emerald Palate
City: Las Vegas, NV
Family Activity: One of the best places to celebrate the holiday season (albeit without snow) is Las Vegas. Las Vegas is one of the best family destinations, despite its reputation. One of the city's best-kept secrets for Christmas-season fun is Mystic Falls Park Winter Wonderland at the Sam's Town Hotel.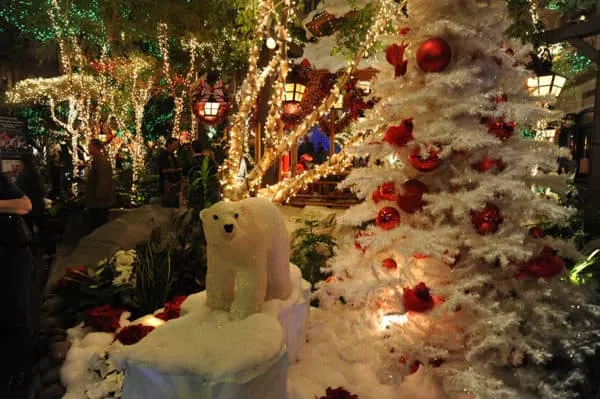 Mystic Falls Park has been a holiday tradition for decades and pulls out all the stops every year to bring an indoor holiday wonderfland to our desert city. Take in the amazing decorations while sipping a warm seasonal beverage. Of course you can see Santa and drop off a letter to him.
The ultimate treat is the park's Sunset Stampede Laser Light and Water Show. You'll be amazed at how everything seems to come to life.
The best part: It's completely free, so you can take the whole family without spending even more this expensive time of year!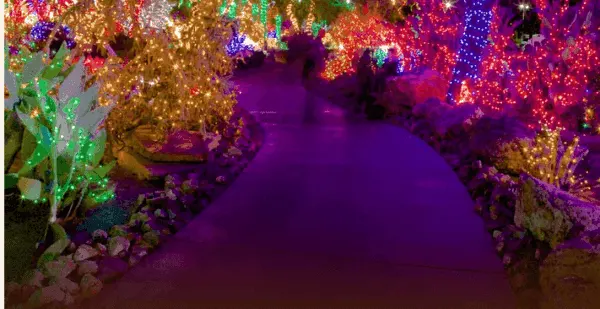 December Date Night: If you want a holiday-themed date, head to The Ethel M Holiday Cactus Garden to see the lights and taste some amazing chocolate. Could you imagine a better date than egg nog, chocolate, pie and Christmas lights inside an enchanting garden? This is the perfect date to get you in the holiday spirit, no matter what.
Note: This year they are offering a virtual tasting experience, so put the kids to bed and get in the mood…at home.
From: Corritta Lewis at Itz A Family Thing
Read more about Christmas in Las Vegas With Kids
City: San Antonio, TX
Family Activity: Christmas in San Antonio sends most people over to Riverwalk to marvel at the Christmas lights.
But for a different holiday treat, head underground to Texas' massive Natural Bridge Caverns where you can celebrate Christmas unlike anywhere else in the world! Hear the echo of carols underground and even catch a glimpse of a spelunking Santa.
Find your way through the 5,000 square foot outdoor maze after munching some s'mores. It's an incredible and definitely unusual setting for celebrating the Christmas season.
December Date Night: Parents looking for some cool-weather couple time can spice up their evening with some traditional local Tex-Mex food.
Tamale making is a popular Christmas activity for Mexican families. The family-owned Tellez Tamales & Barbacoa has been serving making them for San Antonians since 1975.
Dine in (if you can) or get some pork tamales to go and eat them while you take in those lights on the Riverwalk (without the kids!). It's not your usual holiday season date night, but it is very San Antonio!
From: Bruna Venturinelli from Maps 'N Bags
Read more: About Top Things To Do in San Antonio
City: Dallas-Forth Worth, TX
Family Activity: One of our favorite local Christmas season activities around Dallas is Daystar Christmas Lights at the Daystar Television Studio.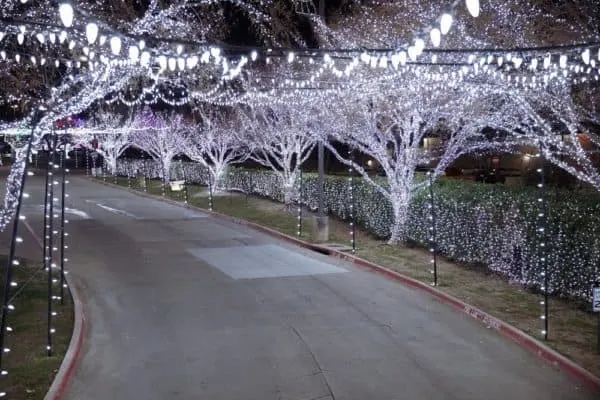 The Daystar Studio goes all out at Christmas time with their fabulous decorations. You begin by driving through a canopy of lights that transports you into a wonderful interactive light display.
There is a walk-through canopy of lights, fun areas for the children to play in, and multiple places that make for the perfect family photo opportunity. If you time it just right, you might even get a visit with Santa!
December Date Night: For a special Christmas date-night in Fort Worth, head down to Panther Island Ice for a fun evening of outdoor skating.
Yes, you read that correctly, there is an outdoor skating rink in Fort Worth, Texas! Located at the Cowtown Theatre, Panther Island Ice operates nightly from the end of November through mid-January and is the perfect activity for a fun, laid-back winter date night.
From: Michelle Snell at That Texas Couple
Read Our Bucket List For a First Visit to Dallas With Kids
City: Flint, MI
Family Activity: December always brings me to Crossroads Village.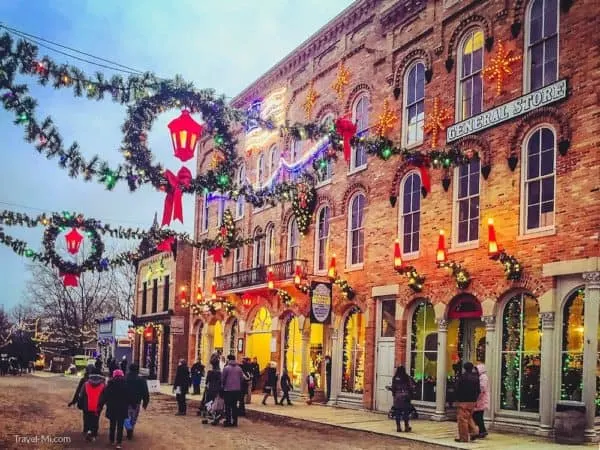 The mid-19th-century village has 34 historic buildings, including a post office, general store, mill and print shop, On weekend nights in November and December the village's streets and buildings take on the warm glow of more than one million Christmas lights; some form familiar holiday scenes.
On a daytime visit you can grab a bag of freshly popped popcorn or warm almonds andyou wander the (ideally snowy) sidewalks while peering into cheerful shops and buildings while Christmas music fills the air. Step inside the warm carousel house to ride the colorful horses.
The Village is also home to Huckleberry Railroad. Hop aboard the #152 steam train for a cheerful ride through sleepy towns, dark forests and past sparkling Christmas lights. The train itself is often decorated and carol singing is known to happen. What a wonderful way to enjoy the Christmas season!
Tip: For an easy date night, do the train ride sans the kiddos.
From: Sherry Trautman at Traveling Michigan
City: New York City, NY
Family Activity: While New Yorkers love the Rockefeller Center tree we often head to the outer boroughs for our holiday festivities. Dyker Heights in Brooklyn is enormously popular because the homes are large and residents compete energetically to outdo each other with lights, decorations, music, moving figures and even fake snow.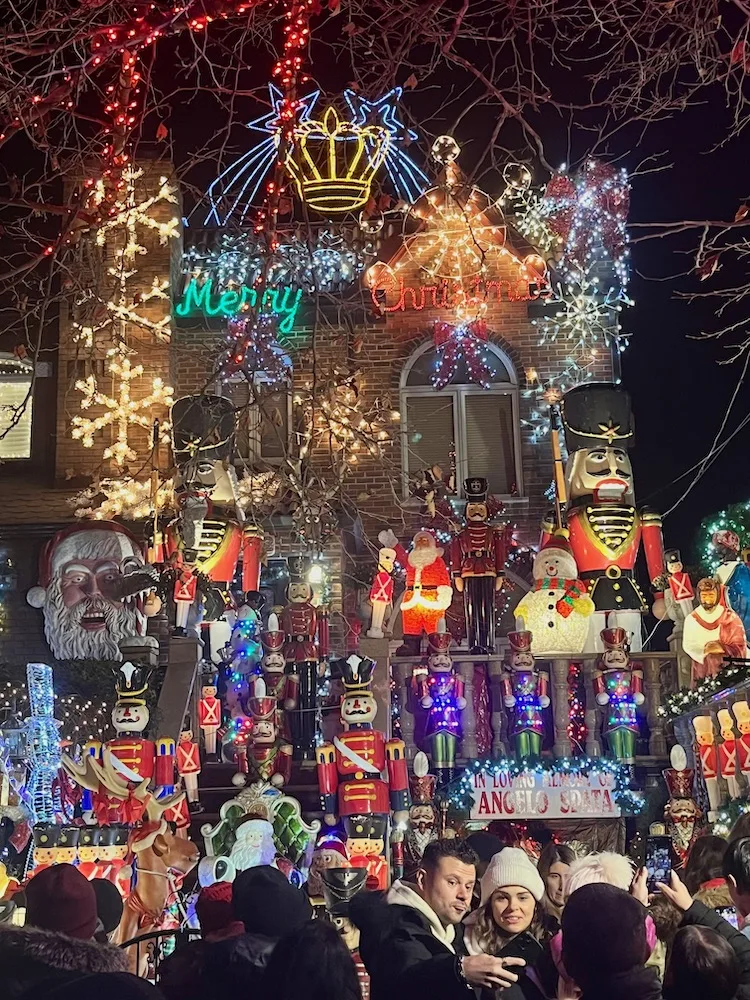 Some of the houses are pretty over-the-top even without holiday decorations, which is half the fun for my family.
Dyker Heights has become popular enough that you can hop a bus tour or take a walking tour. These folks can sometimes tell you a bit about the owners of some of the homes and how the decor has evolved over time. But it's pretty easy to take the subway (45 minutes from Times Square) and wander on your own.
You'll see trucks selling hot cocoa and cotton candy, and local people set up stands in their driveways to sell hot cocoa and Italian or Greek homemade pastries. We usually hold out for one of the wonderful Italian bakeries nearby. Our usualy stop is the Tasty Pastry Shoppe (on 13th Avenue at 83rd Street) to pick up some cannolli and sfogliatelle. There is also Mona Lisa and Grandma's Bakery as you head back toward the N/Q/W trains along 13th Avenue.
December Date Night: Rolf's German Restaurant is one of the hardest restervations to get in December. This Grammcery-Park-area restaurant looks like a Christmas bomb exploded inside with thousands of lights, ornaments, icicles, wreathes and garlands covering every square inch of ceiling and most of the walls.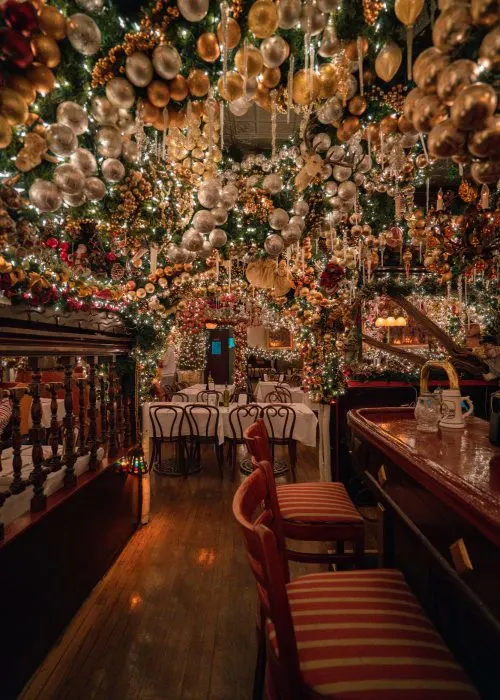 If you can't get a dinner reservation vie for a seat at the bar where you can enjoy a dark German beer or seasonl cocktail—say a burndt toasted almost, spiked cider or mulled wine— while you let the festive setting get you in a holiday mood.
Read more about the Best Things To Do and Best Things To Eat in NYC during the Christmas season.
City: Philadelphia, PA
Family Activity: The holiday light display known as Miracle on 13th Street is one of the most festive places you can be in Philadelphia at Christmas. There are several professional indoor and outdoor light displays around the city, but this one is quintessentially Philadelphia.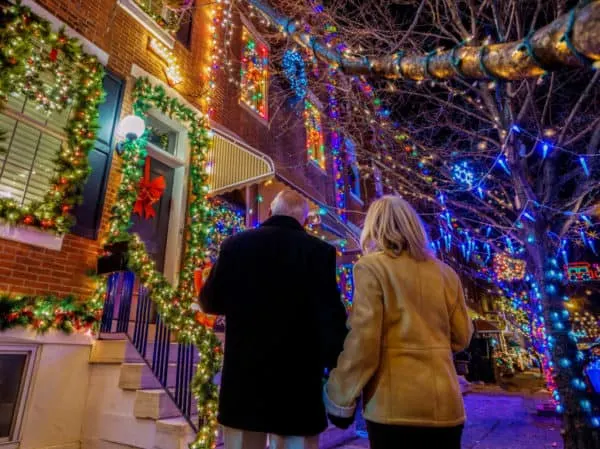 It's a one-block stretch of 13th Street between Tasker and Morris Streets with more Christmas lights than you normally see in entire neighborhoods.
Best of all, the entire light display is completely organized by the street's residents. It attracts crowds of drivers and pedestrians every year mostly thanks to word of mouth about the Christmas spirit of this Philly community.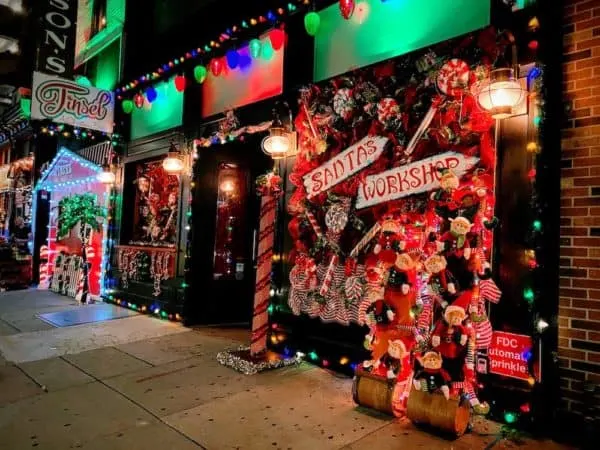 December Date Night: Looking for a cocktail lounge with a Christmas theme? Head to the Midtown "Gayborhood" area for a pop-up bar that's appropriately called…Tinsel!
The entire bar is decorated to the extremes and the drink menu is full of cleverly-named holiday cocktails, like tha Bah Humbug or Mr. Klaus's Mule. It's the most cheerful watering hole in the city at Christmastime.
From: Derek Hartman and Mike Walsh at Robe Trotting
Read More about the best things to eat and fun things to do in Philadelphia with kids.
City: Savannah, GA
Family Activity: The Gingerbread Trail is a fun event that get families exploring Savannah's beautiful Historic District.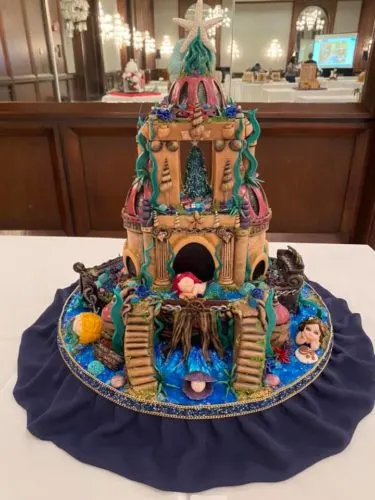 Local teams compete to design the best gingerbread house; 28 teams entered this year. The entries are displayed in the windows of businesses throughout city throughout December.
Pick up a trail map at The DeSoto and then go looking for your favorite gingerbread creation. It might be a puppet theater, a seaside cottage, a mermaid castle or a Savannah town house. Once you've seen all the cookie construction, you can vote for your favorites online.
While you're out and about, do a little holiday shopping and treat your family to some local sweets; it adds to the fun and supports small businesses during these tough times.
December Date Night: Bring the exhausted kids back home, then head out to grab a bite to eat at Crystal Beer Parlor and check out Savannah's beautiful Christmas lights. Jones Street always looks particularly festive, with many of its historic homes showing off their holiday spirit.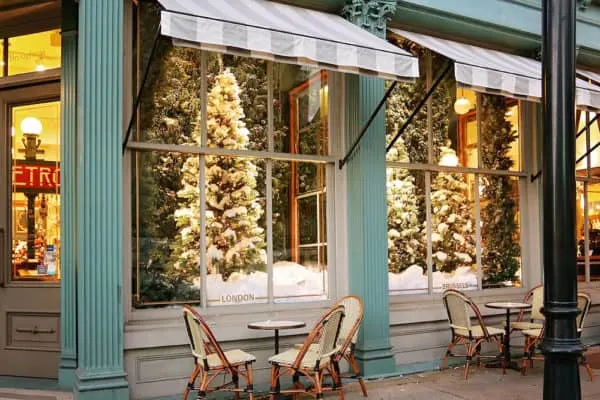 The Armstrong-Kessler House and the famous Mercer Williams House, both on Bull Street, which intersects Jones Street, also decorate beautifully for the season. Swing by Broughton Street to admire the city's Christmas tree, and be sure to take a peek at the elegant holiday windows at The Paris Market.
From: Erin Clarkson from Savannah First-Timer's Guide
Read more about Exploring Savannah With Kids
Pin it for later!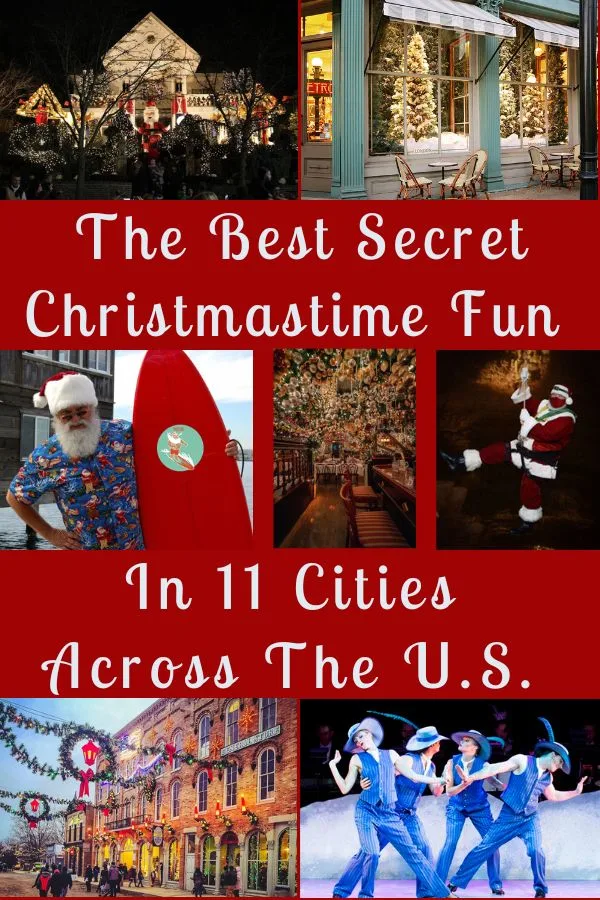 Photos courtesy of the venues, except Miracle on 13th Street (Visit Philly) and Riverside Bistro (Mayuri Kashyap).