Hong Kong is the perfect destination for a first trip outside the United States with your kids. Like other big cities in Asia, Hong Kong feels like an exotic international vacation. But it also has all the familiar comforts of a major city and plenty of attractions that you can easily see and do with kids.
English is widely spoken, there are good hotels in all price ranges (the Salisbury YMCA Hotel is an excellent value option for families) the streets are safe, and the city has reliable, clean public transit ranging from subways to double decker buses to ferries.
In addition to its Western conveniences, Hong Kong also shows its authentic China roots in many places, too, such as the Temple Street Night Market. And if all else fails, there's Hong Kong Disneyland!
Here are five activities that kept us and our 5YO child entertained on our Hong Kong family vacation.
5 Things To Do in Hong Kong With Kids
Take the Peak Tram
Yes it's one of Hong Kong's most well-known tourist attractions; this is because the Peak Tram is a point of interest that's perfect for kids of all ages. Our daughter enjoyed riding the historic tram as it crept up the hill to the highest peak on Hong Kong Island.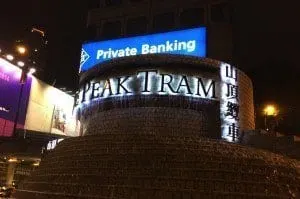 After you take in the 360° views of the city and harbor from the Peak Tower, find your way out of the touristy mall and enjoy a nice walk around the peak. If you want to avoid disappointment, check the weather forecast before you go. Hong Kong is known for its variable weather, and you don't want fog blocking that photo-ready view.
Ride the Star Ferry
The historic Star Ferry fleet crosses Victoria Harbour between Hong Kong Island and Kowloon on the main land via two different routes. The Star Ferry is one of the city's "star attractions" because it's a cheap and easy way to view the city center and busy harbor as well as get a taste of Hong Kong's seafaring traditions.
During the day, be on the lookout for a "junk" (ancient Chinese sailing vessels with red sails). At night, a ride on the Star Ferry offers great views of the skyline and nightly Symphony of Lights.
Experience Ngong Ping 360
A 30-minute boat ride from the central city takes you to Lantau Island and one of Hong Kong's newest and most impressive tourist experiences. Ngong Ping 360 offers a scenic gondola ride to a mountaintop village, where you can visit Po Lin Monastery and see the world's largest seated Buddha, the Tian Tan Buddha.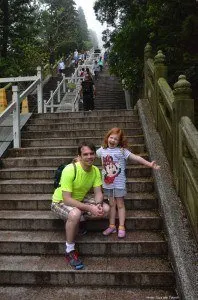 Be prepared for a lot of stairs to reach the Buddha statue. Consider bringing a backpack carrier for kids younger than four or five. If you have adventurous eaters with you, try the vegetarian lunch the monastery serves when it's open; typically a soup, stir fry, vegetable dish and rice.
If you have fearless children and a bit of flexibility in your travel budget, opt for the Crystal Cabin on your gondola ride. Our brave 5-year-old laid down on the glass floor to look at the sea and land hundreds of feet below! The entire Ngong Ping experience can be done in a half-day, but you may want to plan for a full day on weekends when crowds spike.
Play at Hong Kong Disneyland
We couldn't go to Hong Kong with letting our little one sample a taste of Disney magic (top), served up with a distinctly Asian accent. Hong Kong Disneyland, opened in 2005, is the newest and smallest of all the Disney parks, but a few lands, such as Mystic Point, are unique to this park.
One full day is probably enough for casual fans, but true Disney fans might need a bit more time. Lines were substantially shorter on weekdays than weekends. Arriving in the morning when the park opened let us avoid even more crowds. And you can get to the park by subway.
Sample Dim Sum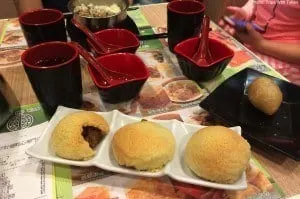 I've had my battles with my picky eater, but Hong Kong is a great place to tempt the pickiest of eaters with a range of new foods. Dim sum offers tastes that kids like in a variety of shapes that are perfect for sampling.
Roast pork buns, pot stickers, and meat dumplings were a hit with our child. Eggy custard tarts are good bet too, if you spot them. Best of all: if your little one can't quite manage the chopsticks, fingers work great.
There are many delicious dim sum restaurants around the city, so ask your hotel's concierge for recommendations. We really enjoyed Tim Ho Wan, famed for being the cheapest Michelin star restaurant in the world. The three of us dined like kings for about $20.
Pin it for later!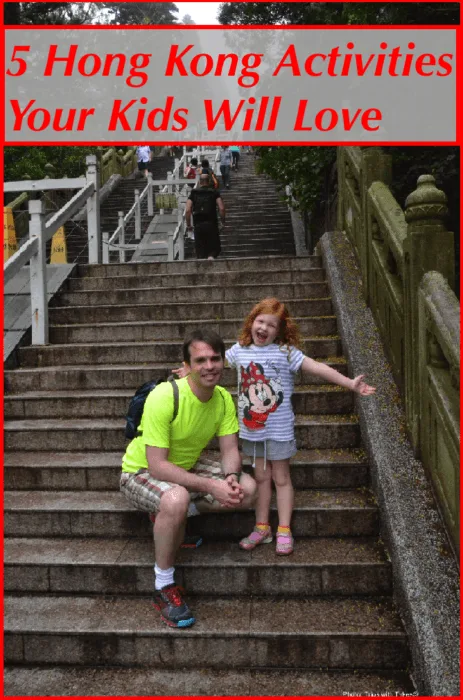 Leslie Harvey lives in the San Francisco Bay Area, and blogs about travel with her husband and two kids at Trips With Tykes. Follow her on Facebook, Twitter, Pinterest, and Instagram.