Introducing FamiliesGo! & Eileen Gunn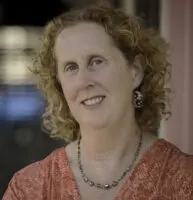 Learning to Travel With Kids: The Questions:
Before we became parents, Rich and I traveled far and wide.
Once Tiny Traveler came along we had a lot of questions. Could you take a child to Cambodia? or Peru? Do we have to go to Disney World? How do we read or watch TV in a hotel room when our child is sleeping six inches away from us? And how do you keep a 1, 3, 5, 8, 12 or 15-year-old entertained in a way that engages you, too?
Seeking Better Answers:
I looked around and found no good answers. I talked to a lot of other parents and found they had the same frustration.
Parents love great family vacations—the fun, the bonding, the photo ops, the memories. But we dread the time and effort it takes planning a family vacation. Getting our most basic questions answered can be hard. And we dread the possibility of getting it wrong.
This is where FamiliesGo! comes in. I believe families can travel almost anywhere with kids of almost any age, as long as they have good information and the right expectations (and extra snacks). My job is to provide parents with the information they want and the inspiration they need to head off into the world with kids in tow.
I strive to provide accurate and digestible itineraries, reviews and planning tools. And I always keep the unique needs of parents in mind. Some of my most popular posts spring from the questions parents send to me.
What Makes FamiliesGo! Unique?
I'm curious and have more than a little of the old-school news reporter in me. I'm known for looking at the places I visit from different points of view and for asking insightful and creative questions.
I always find the activities, sights and restaurants that are overlooked as family friendly, but that families can absolutely enjoy.
I write in an engaging, conversational but authoritative way and I capture the key details and the flavor the destinations I visit.
In addition to influencing travel decisions with my website content I'm known as the family travel expert among family, friends, my socia media circle and my Brooklyn community. I provide long-term positive word of mouth for places I partner with and provide frequent recommendations in person and over social media.
How Will I Work With Your Brand or Destination?
I will provide
From one to three search-optimized website posts focused on your destination, hotel, resort, cruise line, attractions etc.
From one to three Instagram/Facebook posts while at the destination.
One Instagram post, three Facebook posts and 2 Pinterest pins in support of my content.
I can provide content and/or photos for you to use on your website, social media and publications.
I can provide a post-visit debrief on your destination: Does your "family" content have suggestions for kids of different ages? Are there places you could market to families but aren't? Are there ways to make your destination more family friendly than it is?
You will provide
Travel support—airfare, car rental, airport transfers, gas mileage—as is appropriate for your destination.
Lodging that is appropriate for families (or parents on a child-free weekend).
Passes or access to activities and sights you would like covered.
Most meals at places that are realistic options for visiting families or couples.
Free time for me to explore your destination on my own.
Social media support or a link-back for content I produce from the trip.
A fee to be negotiated prior to the visit*.
* When a destination hosts my family for a working vacation, I typically waive my fee. But ask for lodging, activities, most food, car rental and my airfare to be covered by the destination.
---
"You have a wonderful way of distilling the essence of each site you visit in a way that sets each apart and highlights its best features. It's pleasure to host you."

– Dutchess Tourism
---
View or Download the FamiliesGo! Media Kit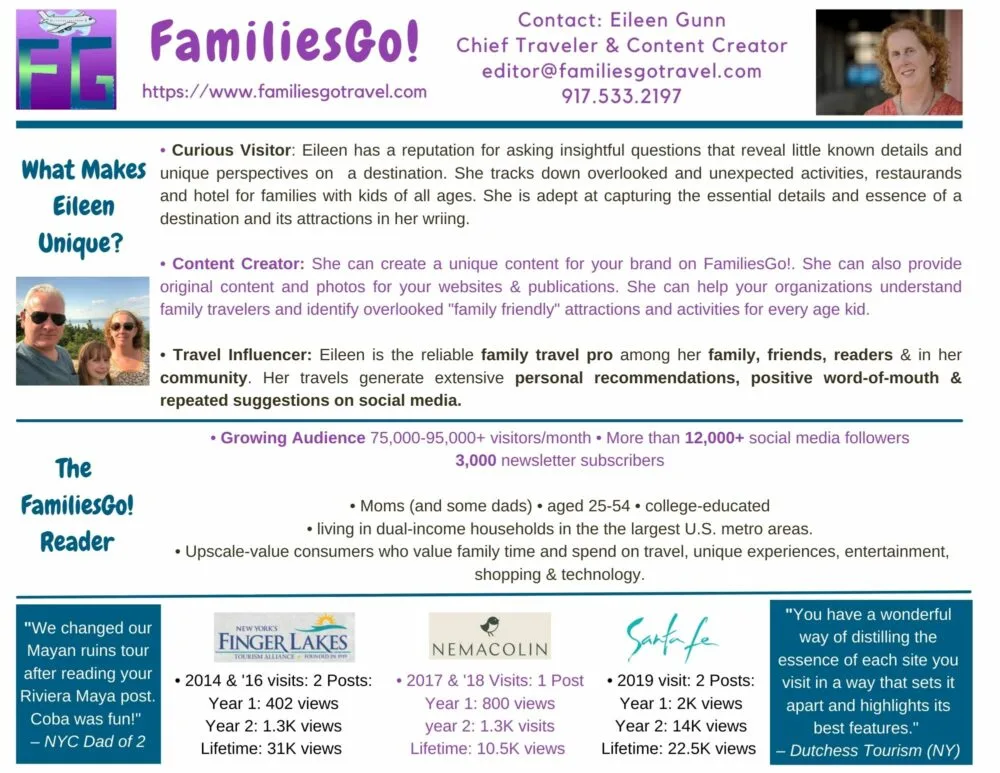 Learn More and Contact Me
• See my custom content portfolio on Content.ly .
• Send and email to Eileen Gunn.
• To buy banner ads on FamiliesGo! contact Mediavine.