We took a day trip to Reims during our Paris vacation this summer, attracted by its history and promise of champagne and a pretty cathedral.
Daytrips are tricky because you have only a little time to orient yourself to a new place and see a few worthwhile things. Reims is a well worth a visit, and even an overnight stay.
It was bigger than we expected and our guidebook did a poor job of making it clear how very far apart some key sites were. Here is the one-day itinerary I wish we'd followed to see everything we wanted to.
The 7 Best Things To Do In Reims With Kids On A One-Day Visit
Take a Page from WWII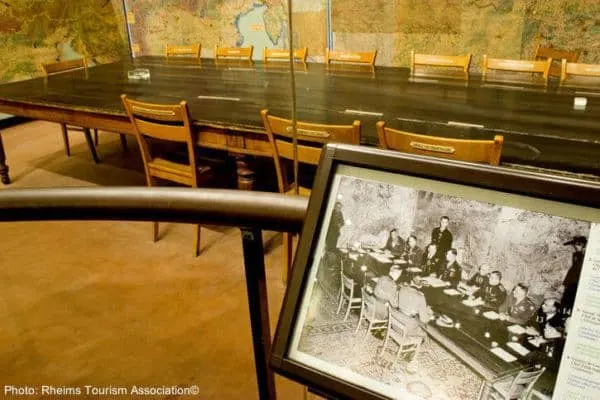 One of the most interesting places to visit is the Musée de la Reddition (Museum of Surrender). It was General Dwight Eisenhower's headquarters during the Second World War and where he received Germany's unconditional surrender in 1945. Ike's war room and other artifacts are a must for history buffs.
Note: It's on the opposite side of the train station from the town center and almost everything else you want to see. So if you arrive by train, it' a good idea to start your day here.
Visit the Market
If it's a Wednesday, Friday or Saturday, make your way around to the opposite side of the train tracks and head to the Halles du Boulingrin, a covered market that was designed in the 1920s and recently renovated. Beneath its vaulted ceilings you'll find produce vendors, coffee and patisserie and more.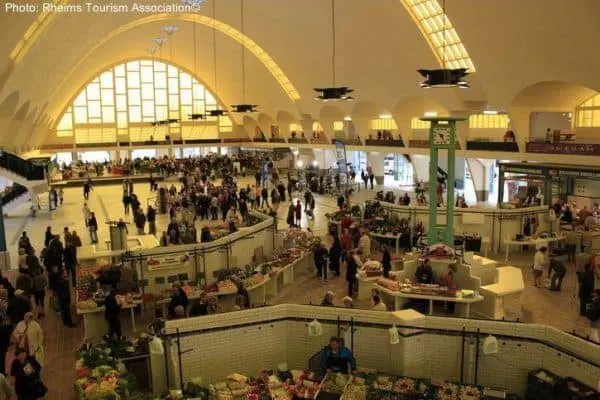 Walk over to visit the Mars Gate, an ancient remnant of the area's Gallo-Roman past, then hop the nearby tram to the Opera stop, which will put you in the town center.
Visit the Tourism Office
The tourism office is in a stone building a few steps from the cathedral. One of the first things to do is to pay a visit.
In particular, they can help you make reservations to tour a champagne house. Consider a package that includes a discount on your champagne house visit, plus a museum visit and audio tour.
Choose the cathedral for your audio tour and your museum based on your interests and how much time you have (more on that later).
Most of the champagne houses are away from the town center (and the train station), so the timing of your tour will determine whether you explore the town before or after.
It's Bubbly Time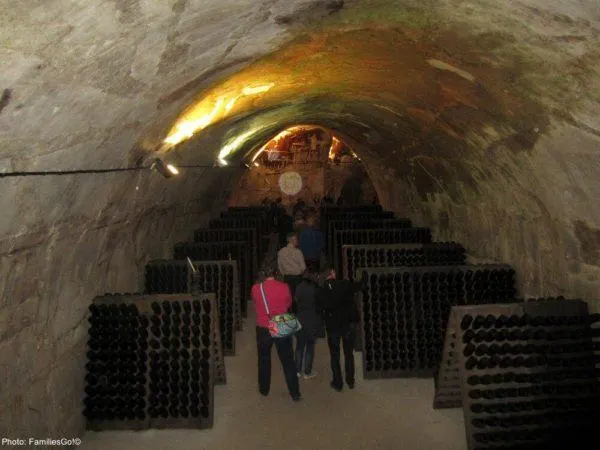 If you have kids with you, the tourism folks are likely to steer you toward G.H. Martell, where the tour is relatively short and deemed to be "child friendly."
We played along and wound up with several other families on our tour (you can debate whether having many kids–including several not your own–on a tour is a plus or minus).
The tour covered the history of champagne and how it's made. The caves were small but had plenty of examples of antique champagne-making equipment, which was all suitably dusty and medieval looking.
There is a courtyard outside their tasting room, where we sent Tiny Traveler to run around— sure that she would be followed by the other kids in the group—while we sampled several styles of the house's very good bubbly.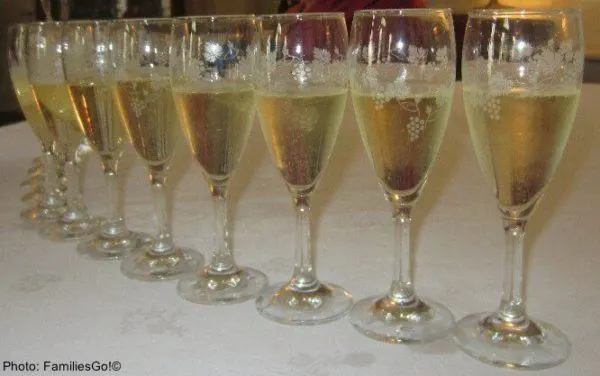 Still, Martell is not as famous as some of the other nearby houses, including Taittinger, which is a block away. Taittinger's tour is supposed to include impressively vast underground caves and their tasting room is far more stylish.
We wished we'd chosen that tour, even if Tiny Traveler probably would have been the lone kid and would have had to behave better.
A Play Break
A few short blocks from either Martell or Taittinger is the Basilique Saint-Remi, an 11th century church that is worth a quick peek. More interesting to us was the park right behind it.
With a few woodsy paths and a small playground at the opposite end from the Basilica, it provided Tiny Traveler with some well-earned playtime while we planned the rest of our day.
Back to the Town Center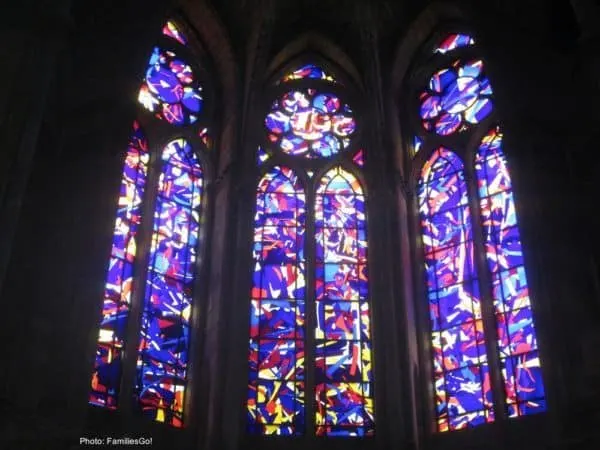 It's a given that you'll visit the Cathedral of Notre Dame, which is notable for its history, its architecture and its local role in the world wars.
Be sure to see how they integrated beautiful modern stained glass by Marc Chagall and Imi Knoebbel with the traditional windows elsewhere in the church.
There are several museums in Reims. We stopped into the Beaux-Arts Museum because our guidebook touted it. But after spending time at Paris' world famous museums we found its modest collection underwhelming and really could have skipped it.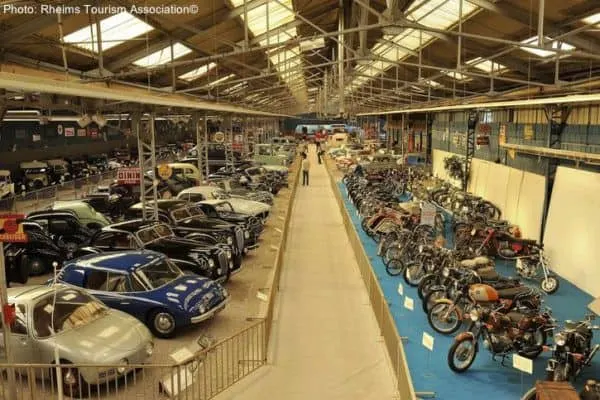 If it's raining and clearly a museum day, consider the Automobile Museum or the Planetarium, which will be fun for kids but are away from the town center; you'll have to figure out the trams or find a cab.
If you are strong French history buffs or just don't want to travel far, try the gilded Palais du Tau, which is right next to the cathedral.
Or Just Shop
Reims has several pedestrian streets and attractive cafés and shops (many are a little touristy, but sometimes you don't care). We had no problem finding a good, reasonably priced place for lunch.
When we were tired of site-seeing we were happy to window shop, buy brightly colored macarons for the train, take a ride on the requisite town carousel and stop into one of several sidewalk cafés near the station for one last glass of champagne (and grenadine syrup for TT).
This is the day we almost had, but not quite, somewhat to our frustration. I hope your trip to Reims is better organized than ours was and that you make the most of your day in this city that really is well worth a visit.
Pin it for later!