I like revisiting certain places periodically as Tiny Traveler grows. Seeing the evolution in her interests makes these trips more memorable. Nearby Philadelphia is one of these places.
Over spring break we decided to see how her experience in the city at age 7 compared with her spring break visit when at age 4.
Here are our best ideas for exploring the city of brotherly love with a preschool and school-age kid.
7 Fun Activities For A Philadelphia Family Getaway
1. Take Younger Kids To Please Touch
This is an amazing children's museum. the kind you don't mind visiting as an adult. But It was clear (and a little sad) that she's getting too mature this giant children's museum that enthralled her three years earlie.
The World of Alice in Wonderland was still her favorite area and it's where we spent the most time on both visits.
She rode the carousel. And she had fun building with big blue foam blocks, maneuvering a bulldozer to lift plastic balls from a pit, and shooting rockets in the room that's all about motion.
The craft room always has something going on for kids of many ages.
Still, even the exhibits she liked didn't hold her interest as much as they once did. Two hours here was plenty.
Read More:
The Best 11 Kids Museums in the U.S.
2. Take Older Kids To The Franklin Institute
On the other hand, She's hit the perfect age for the Franklin Institute, probably the best science museum we've been to.
She liked the KidScience room, which explores air, water, wind and light and is just for 5- to 8-year-olds.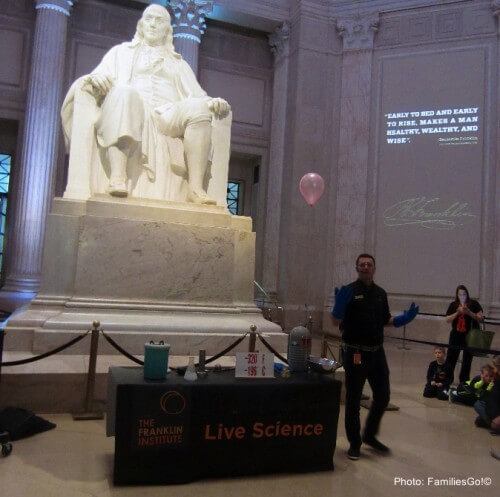 She had a great time pretending she was on a Magic School Bus trip as she climbed inside a human heart and crawled all over brain neurons.
We made a human circuit in the Electricity room and she recorded her own weather forecast as we passed through the Changing Earth.
The Amazing Machine looks a little dull at first, but she could have spent hours here transforming gears into machines and making devices move in different ways.
Even with the museum staying open late for spring break there was a lot we missed.
Tip: Our AAA membership gave us a discount at the Franklin.
3. Make A Magical Discovery
The Philadelphia CVB suggested the Magic Garden on South Street as an activity that would please both parents and kids, and they were so right!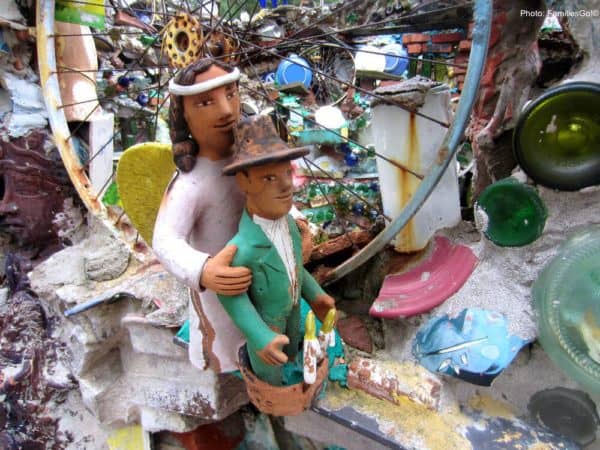 An artist took a retail space and backyard and spent about a decade covering every available inch with mosaics of tiles and mirrors, ziggurats of glass bottles, Peruvian statues, bicycle wheels and any other odd bits that struck his fancy.
It's part genius and part crazy and makes you say, wow!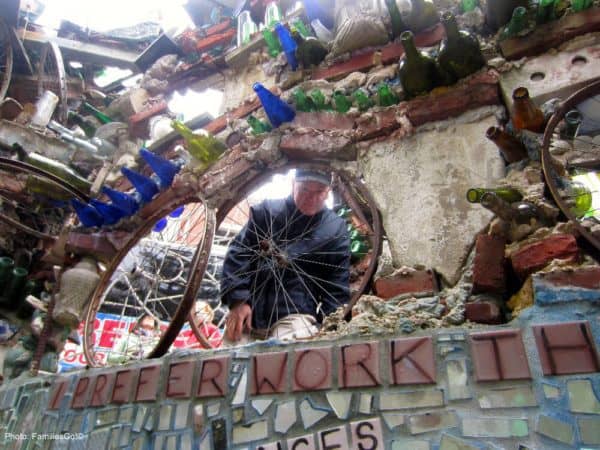 The ticker seller gave Tiny Traveler a scavenger hunt that sent her searching high and low for animals, birds and mermaids. On our way out we exchanged her pencil for a temporary tattoo designed by the artist.
South Street is a famous Philly strip but I've always been underwhelmed by it. The book, magic and vintage stories we used to visit when it was kind of seedy (in a colorful way) have closed.
Part of it has gentrified and there's a Whole Foods and some hip restaurants, which are probably fine with kids during the day. But aside from the Magic Garden it's not an area you must see with kids, by any means.
4. Do Something Outside
For run-around time, try Smith Memorial Playground & Playhouse in gigantic, (if somewhat inconvenient) Fairmount Park. Built to protect the city's water supply Fairmont Park sprawls for mile on either side of the schuylkill River. You'll find trails, meadows, colonial houses, a Japanese garden, the Philadelphia Museum and so much more tucked among its hills and bluffs.
For something more central, Franklin Square offers a carousel, playground and mini-golf in the warm weather.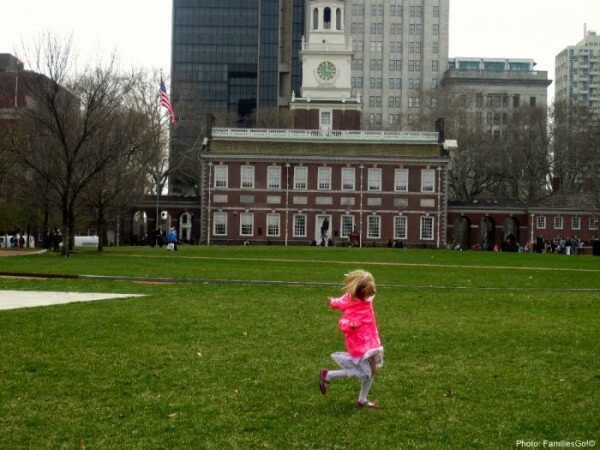 When Tiny Traveler was younger she spent nearly an hour running around on Independence Mall. On a warm winter afternoon she had plenty of company.
If you need to perambulate with a stroller and sleeping baby, try the Rittenhouse Square area. It's picturesque and there's a small farmers' market on weekends.
I've never been to the Philadelphia Zoo, but I know it's a good size city zoo with several two types of rhino, which you don't often see, hippos and several types of Lemurs. It's out in the direction of Please Touch.
5. Explore American History
American History is the prime reason to visit Philadelphia. There are a lot of historic buildings and sites if you want to do a deep dive. But you can hit all the high points in a day or two without wearing the kids out.
I tried the Historic District When Tiny Traveler was in preschool and again when she was in third grad. I have to say the historic stuff is probably best for kids in fourth grade and up, about the age they start learning Colonial history in school.
We started at the Independence Visitors Center across from the Liberty Bell, which I recommend. We also picked up free, scheduled tickets to tour Independence Hall. And they have other stuff happening there as well.
They show wwo free movies that are each about 25 minutes long. The one we saw focused on the lives of real young people on both sides of the revolution. Tiny Traveler was curious but didn't entirely understand it.
We also watched a guy give a demonstration on a hammered dulcimer. He asked for requests, so I joking asked if he knew "Hotel California." He did!
I find it thrilling to stand in the room that yielded both the Declaration of Independence and the Constituion, but I'll admit it was incredibly boring for her. Another year or two would have made a difference
While waiting for our tour, we ventured into a small side exhibit that explored the interest and influence the founding fathers had on science and nature, especially Franklin and Jefferson. Tiny Traveler enjoyed it more than I would have expected and I think she learned from it.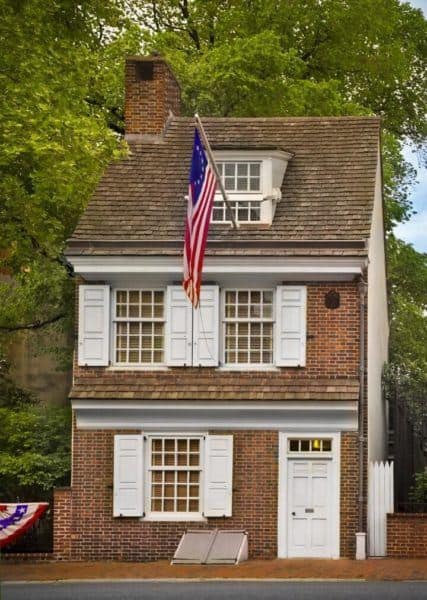 Preschool-age Tiny Traveler like Betsy Ross's house, pretty much the only historic thing we did on that trip.
But I have to admit the high points included the chamber pots and a clever cat fountain in the yard. The plus is that it can be thoroughly explored in under half an hour and admission is pretty cheap.
We have yet to visit the interactive National Constitution Center, but it's high on the list for our next visit.
Checking Out the New History Museum
The Museuem of the American Revolution opened in a Federal style building a few blocks from Independence Hall in 2017. It has some really cool and unique exhibits but the main permanent exhibit is far less interactive than the American Revolution Museum in Yorktown, VA, which finished a major upgrade around the same time this museum opened. I admit I was a little disappointed.
The coolest thing this museum has is is a collection of photos of people who were alive during the revolution and lived long enough for cameras to come along and take pictures of them. The diversity of the photos is stunning: former slaves, soldiers, loyalists, women who supported the army and more.
The seond coolest thing here is George Washington's tent, which he slept in throughout the war. They show a movie that talks about Washington as a leader and what made him so popular with his contemporaries (sleeping in a tent like the rank and file helped). After the movie the screen lifts, showing the tent behind a glass wall. It's quite dramatic but they don't give you any time to walk up to the glass for a closer look, which I would have liked.
If you have elementary or middle-school-aged kids with you plan to spend some time in the Revolution Place rooms. This is where things get interactive. Kids can don costumes, crawl into a typical soldier's tent or spend time in a period church, tavern or parlor, each important to the war effort in its own way. There are touch screens and digital tables in each space to help kids immerse themselves in the lives of regular people from the time.
6. Appreciate Art After Dark
The Philadelphia Art Museum stays open until 8:30 on Friday nights and offers live jazz and light food. The jazz was great but way too loud for our child. While we did see other families dancing and eating, we didn't linger in the main hall.
The fellow who sold us our tickets recommend the impressionists collection, the Brancusi statues and the Asian galleries for kids and he was mostly right.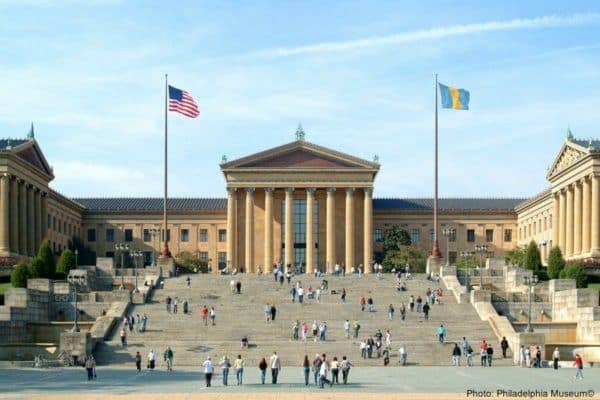 We spent a lot of time talking about light in the impressionist paintings, guessing what time of day and what season they showed. And we moved closer to them and further back to see how they changed.
Brancusi intrigued her. And she found a small wing of eclectic American art imaginative and amusing.
Tip: If your kids aren't jazz fans either, try the museum on a Sunday, when it offers its family programs.
Read More:
How to Take Kids To An Art Museum
7. Have A South Philly Food Adventure
We never visit the city without stopping to shop and eat in the Italian and Mexican markets in South Philadelphia. Share a roast pork sandwich from George's but leave room for tacos from any of several purveyors, and cannoli filled to order, of course.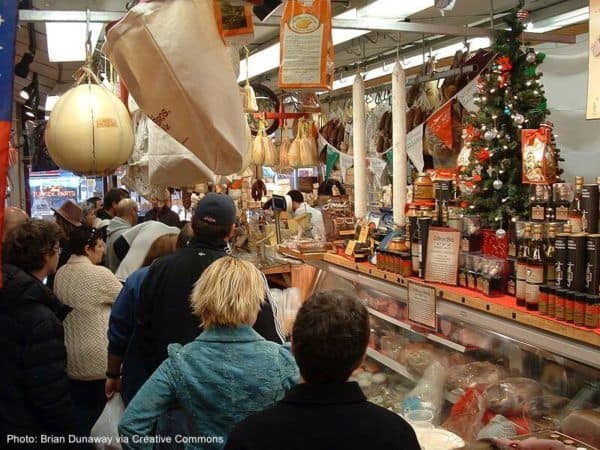 We bought a huge bag of surprisingly good tomatoes for $2 from one of the produce guys on the street.
We smelled the amazing cheese shop before we saw its well-curated selection, including rich Italian styles you don't see everywhere.
We discovered a butcher that specializes in game and picked up some boar to make Ragu with. His house-made sausages looked good, too (next time).
Our last stop was a pasta shop where we watched them crank out fresh fettuccine for us.
We picked up cannoli and mascarpone-filled éclairs at Isgro's Bakery for the car ride.
We drove home looking forward to cooking and eating our South Philly feast.
Tip: South Philly is a popular neighborhood for food-centered walking tours.
Read More: Foods You Have to Eat in Philly With Kids.
The Famous Philadelphia Flower Show
Philadelphia's springtime flower show is the oldest in the U.S. and attracts big crows. It's usually indoors around Easter but because of Covid they moved it outdoors to FDR park, adjacent to the sports stadiums. For the moment they seem to be continuing that.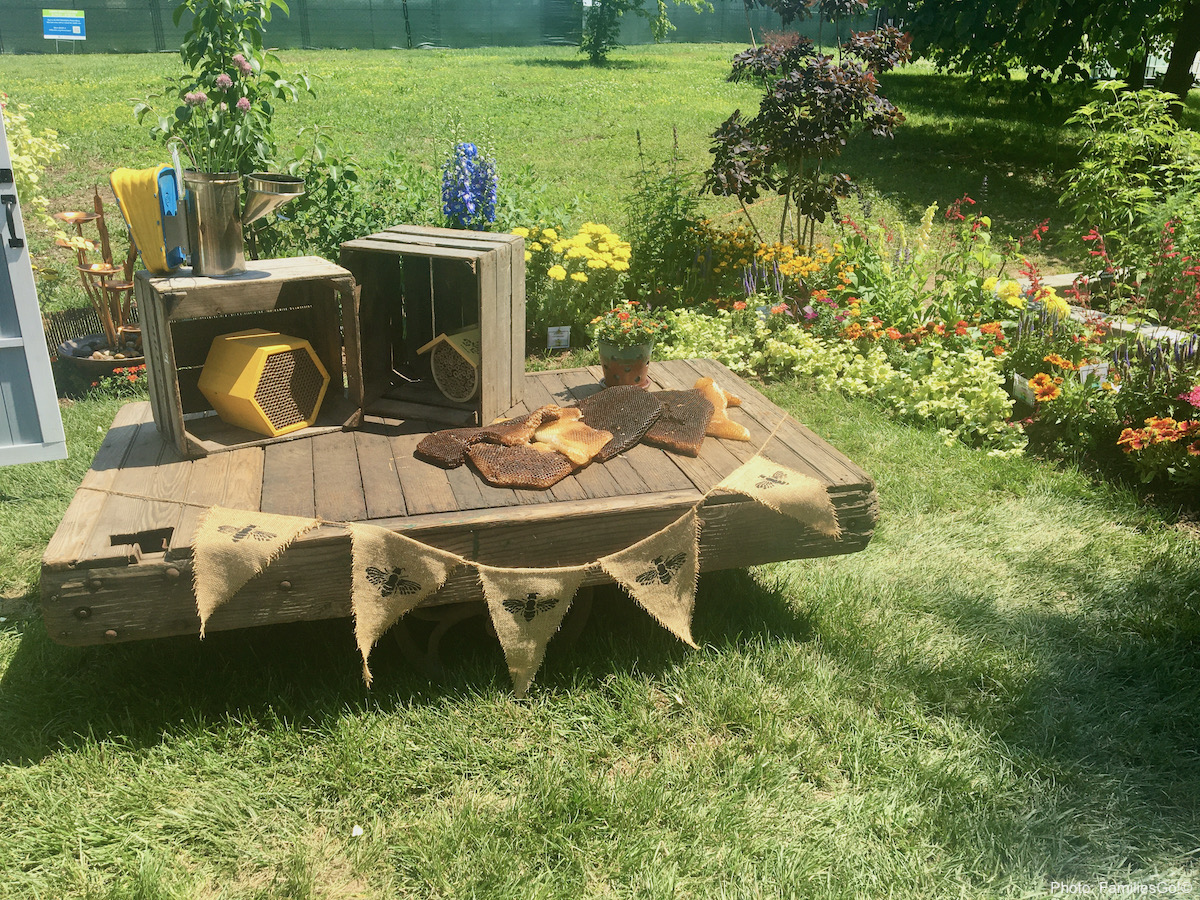 The show wasn't quite what I expected. I thought I would see a series of large and colorful flower displays, and there was a little of that. There was also large-scale floral art, some funny and imaginative creatures made from flowers and leaves and models of small city patios and gardens. There were a lot of vendors selling gardening related wears from gardening hats and gloves to flowery jewelry. Sometimes it felt like I had to find the flowers among the vendors but I'm sure the gardening enthusiasts enjoyed talking to many of them.
There were a lot of dining options including a beer garden but we didn't stay for lunch.
Being outdoors allows it to be bigger, but now it can also be hot and very sunny. Wear sunscreen and a hat and bring water. Give yourself a minimum of two hours here, more if you are a gardener.
Philadelphia Hotels For Families
• If you want want stay closer to the musuems then the historic center, we liked Hilton's Curio Collection hotel on Logan Square. It had a nice pool, a locavore restaurant with a popular brunch and an outdoor terrace facing a garden. Our room was a decent size with a nice view of the enormous Square (top photo).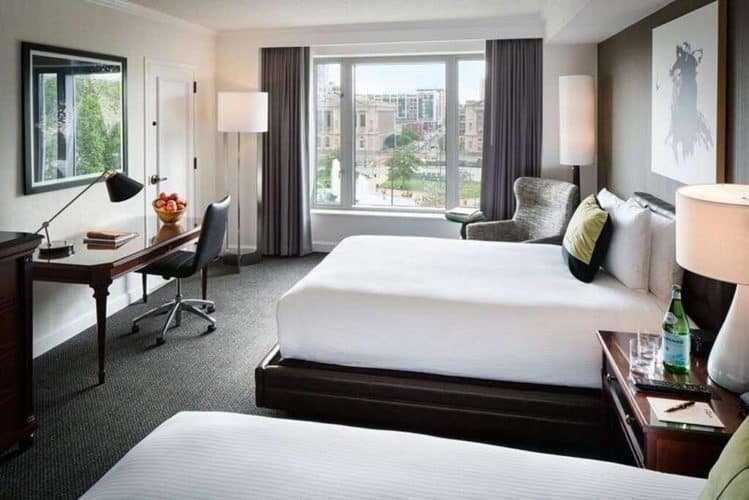 The Academy of Natural Sciences, the Franklin Institute and the Sister Cities Park—three very kid-friendly attractions— are also on Logan Square. The square itself has a large fountain that kids were playing in on the hot June weekend we visited. There are restaurants nearby and it's a short walk down 18th Street to Rittenhouse Square and your choice of casual and hip restaurants.
It has valet parking which is always expensive but was worth it; it's not an easy neighborhood for street parking.
We always stay in the Historic District and I liked staying away from it this time. We walked more and got to see parts of the city we might not have explored otherwise.
• In the Historic District, The Renaissance Philadelphia Downtown has an indoor pool and a great location. It has an elegant classic facade but inside the rooms have been modernized manage to be sleek and welcoming. The first-floor lounge has an inviting fireplace.
When we stayed in this hotel it was an Omni with a helpful staff and a friendly, relaxed attitude toward kids. Hopefully Marriott Bonvoy has kept that up.
We also stayed in a Sheraton that is now the Marriott Old City, which is steps away from several great Philadelphia restaurants. When Marriott bought the hotlel it gave it a total makeover with smarter rooms, welcoming lounges and a restaurant. But it also converted the pool to a fitness center, an indication it might not be as family friendly as it was when we stayed.
The Hilton at Penn's Landing is on the river has a good size pool. It's near everything but not right next to anything because a highway separates it from the Historica District (there is an overpass for pedestrians).
Tip: Most of the Historic District hotels have valets. Hilton Penn's Landing has valet and self-parking but both are for-fee. There are also a couple of public garages and lots that are a bit cheaper than the valets. It's tempting to try street parking but there are a lot of restrictions and it's easy to think you've parked legally when you haven't.
• If you prefer to be right in Rittenhouse Square, the Doubletree Philadelphia City Center has free breakfast, an indoor pool and a variety of standard rooms and suites. It also has some nice city views from the upper floors.
Pin it for later!
All photos by FamiliesGo!© except the Art Museum (PMA), South Philly (stock) and Curio Collection (Hilton).