Edinburgh's Royal Mile is the mile-long sloping pedestrian zone where nearly all visits to the city begin.
Many of the city's top points of interest are along it or nearby and there are plenty of things to do with kids that parents will enjoy, too.
It takes 15 to 30 minutes to walk end-to-end. But a good plan is to spend a full day making your way along the Mile checking out its many museums, restaurants and shops.
Read more:
Our hotel recommendation
And A great local Sunday tradition.
Here are some tips to help you plan your day and the Royal Mile activities and sites our family liked best.
What To See, Eat, Do & Buy With Kids On Edinburgh's Royal Mile
Royal Edinburgh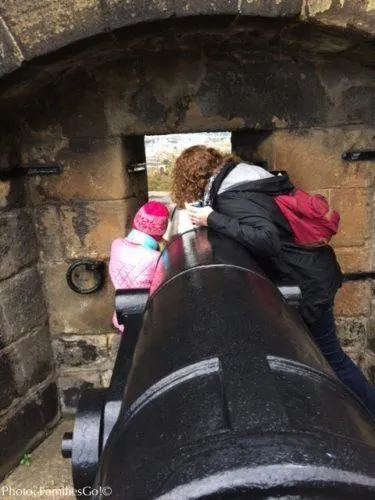 Hulking, medieval, Edinburgh Castle sits perched on a rock at the top of the Royal Mile.
At the bottom sits the stately Palace at Holyroodhouse, where the royal family still stays and the queen hosts a giant outdoor tea party every year.
They are very different, and both worth seeing. But if you are short on time and need to choose one, consider the differences:
The Castle is the place to go to learn more about historic Edinburgh with its battles, sieges and (frequent) assassinations of young monarchs. We didn't take a tour or grab the audio self-tours, and I wish we had.
The history of what's happened here is far more interesting than just looking at canons and battlements. My 8.5YO was surprisingly intrigued by an exhibit on what has happened to Scotland's crown jewels through history.
The jewels themselves are on display and are fairly impressive.
Note: In October we waited on line for about ten minutes, but we hear that during peak weeks the castle gets packed. Buying tickets ahead or booking a skip-the-line tour might be a good idea during school breaks.
Holyrood Palace has a different audio tour for kids than for adults.
I didn't get to hear it but Tiny Traveler was very engaged. She wouldn't leave each room until the recording was done, and even murmured, "Hmm, interesting," a few times.
You'll see Mary, Queen of Scots' apartments, the throne room, the formal dining and more.
How interesting you'll find it might depend on how interested you are in the historic and current royals. We got to see a temporary display of the Queen's coats, dresses and hats through the years.
Tiny Traveler wouldn't leave until she'd looked at every one. You just never know what will capture kids' interest.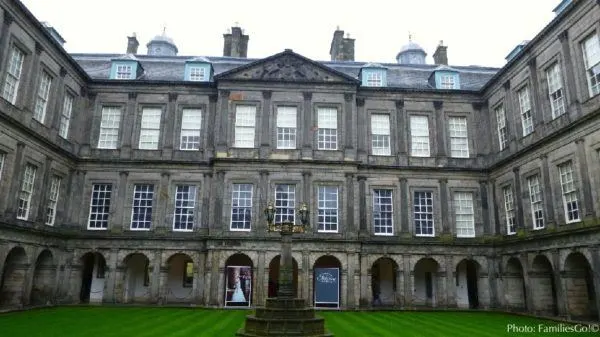 The Best Kids' Museums in Edinburgh
Edinburgh has several large, well-known museums. But they don't scream "kid friendly," with the exception of the National Museum of Scotland, which is their version of the Smithsonian condensed into one building. It's worth an afternoon's attention (easily a full day if you have it).
The city also has a handful of small museums along the Royal Mile that all struck me as potentially kid-friendly and fun. Even if one is a miss with your kids, you can probably see what you want to and leave before they get too bored.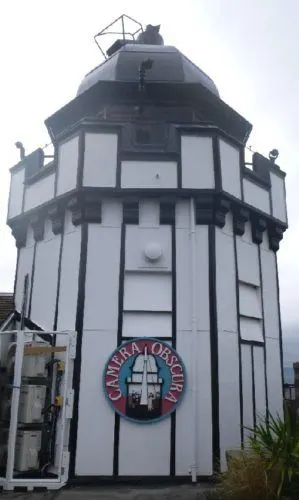 Starting from the top, just below the Castle is the Camera Obscura. The actual camera, built by a woman in 1860s, has a series of mirrors and lenses. By shifting them around the camera operator can zoon in on several parts of the city and project them onto a white surface. It's cool and kids like it.
Note: The brighter the day the better the camera works,which can be challenging giving Scottish weather. If you get even an hour of sun, take advantage.
The surprising part is the several floors leading up to the camera that are filled with hands-on exhibits about light, shadows, mirrors, motion, electricity and lenses, and the many ways to employ them to create illusions.
Unlike our local science museum where we're always competing with ten other kids to get to the hands-on stuff, this wasn't very crowded. Tiny Traveler could try everything she wanted to several times over.
Don't miss the mirror maze and spinning vortex tunnel on the way out.
For a cheap thrill buy a £2 "mystery bag" in the gift shop for your kids to open during some moment when they're bored. They have a few decent novelty toys and candy.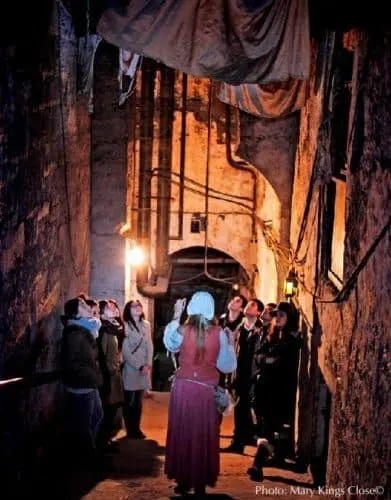 A few blocks down make sure to visit the Real Mary King's Close, a well-done tour of the excavated ruins of a 17th century tenement.
Our tour guide had a macabre, Monty-Pythonesque sense of humor, which is kind of necessary; the tour gives a frank and vivid depiction of how dark and miserable the city was until some time in the 1800s.
Tiny Traveler covered her ears to miss some of the more gory details, especially when he talked about the plague years. Kids under 5 are not allowed and 5 to 8YOs could be a spooked. Tweens and Teens will love it.
After this, consider retracing your steps one block up to Gladstone's Land, a refurbished tenement that shows you how the various classes lived in 17th century Edinburgh. The Close is a ruin and leaves much to your imagination, so the recreated Land Museum pairs nicely with it.
Note: The hop-on-hop-off bus tours stop in front of Gladstone's Land. We got a 24-hour family ticket for £36. We rode the full circuit on the first day and used it to get around a but the following morning. All in all it was a good deal.
Further down the street, you'll find the populist People's Museum and the Museum of Childhood, which we didn't get to but that seemed very promising to me.
We did stop into the Storytelling Centre, which has events for kids during school breaks and a small but very nice kids bookshop that's worth a peak if your kids are readers.
Mine came home with some books we wouldn't have found at home and opened a whole new world of Celtic mythology to her.
Eating With Kids on the Royal Mile
Despite being tourist central, there is a quite a bit of good food to be found along Edinburgh' Royal Mile.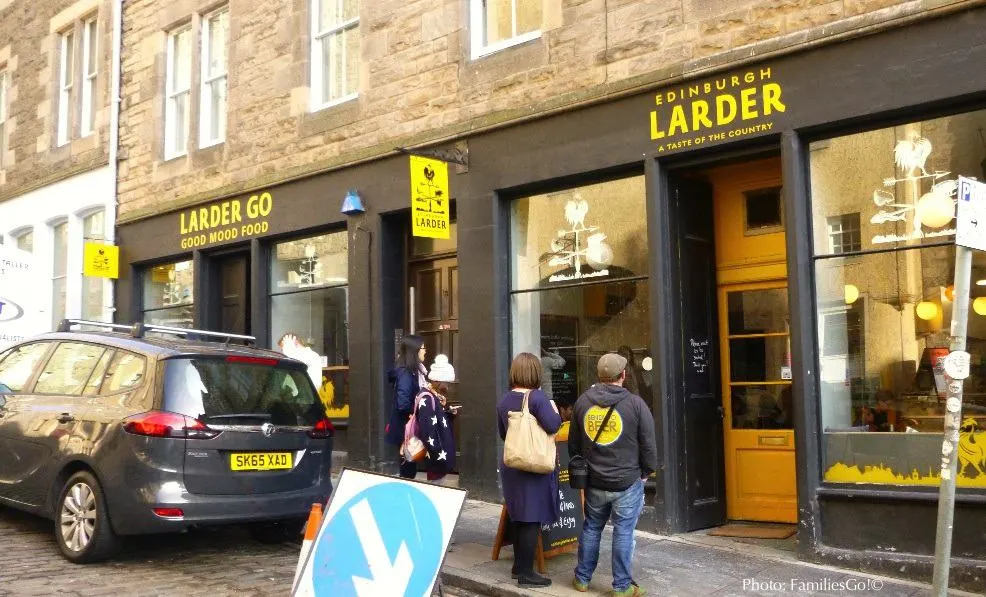 We had an excellent full breakfast with eggs, bacon, sausage, beans and toast one morning at Edinburgh Larder on a side street just off the lower half of the mile. Everything was house-made or acquired locally; nothing came out of a can. Go early as a cue does form later in the morning.
We stopped in the nearby Canon Gait one rainy afternoon because it features cask ales and local microbrews (which were harder to come by than we expected).
It was passed lunchtime but the food looked promising and the place is brighter and more modern than many pubs. Tiny Traveler munched crisps and drank Irn Bru, a sweet, bright orange soda Scottish kids adore, while we samples cask-conditioned ales and lagers.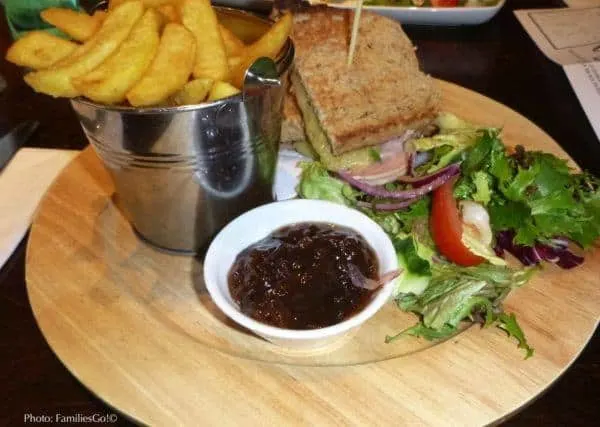 Elephant House, two blocks from the Royal Mile back toward the top, is a coffee shop with a worn-in college-campus feel. It's an essential stop for Harry Potter fans as JK Rowling write part of the first book here.
The food is good and well-priced. It's also a good toddler pick because it's so casual and little ones will love the the hundreds of elephants around the shop.
On a local recommendation we had a very nice lunch at the Albanach Pub about midway down the mile.
My ham and cheese and my husband's smoked salmon had local ingredients on very good local bread. Tiny Traveler's macaroni and cheese was made from scratch and everything looked pretty.
We didn't eat at Oink, a small shop at the low end of the Mile that specializes in roast pork sandwiches. Given the looks of the whole roast pig sitting in the window we were regretful.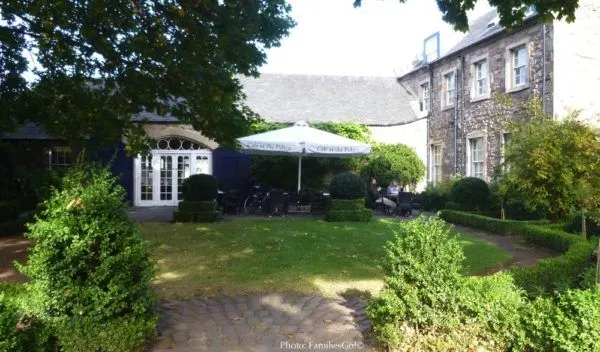 Stopping at the Holyroodhouse Café for an afternoon snack allows you to tell people you had tea at the palace­, complete with crown-shaped shortbread.
Next to the Castle wall on Saturdays there is an Edinburgh Outdoor Market that's worth visiting with an appetite. Scotch Eggs, an assortment of meat pies, fresh cheeses and baked goods all looked enticing (44 Scotland Street fans will note the Valvona & Crolla stall).
Royal Mile Shopping
Tartanwear, whiskey and shortbread: Does anyone leave Scotland without at least one of these items in their suitcase? Edinburgh's main drag has numerous stores that sell each of these.
The Taste of Scotland shops that sell shortbread and fudge often have free samples out (alas, the whiskey stores don't) and Tiny Traveler was happy to try them all.
You can buy shortbread in a variety of boxes and tins, just don't count on getting them home without a few breaking.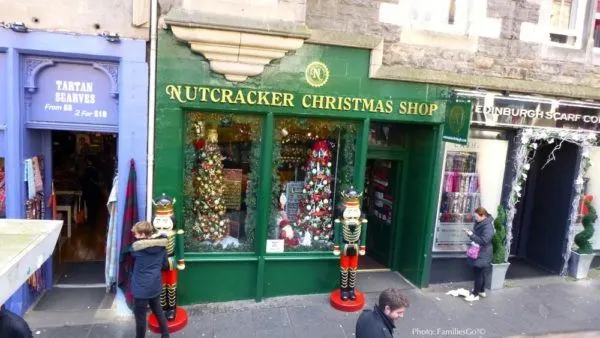 I picked up a warm wool scarf in the Gunn tartan. But if you're family lacks Scottish roots, you can go royal and buy a Stewart tartan or just pick out some colors you like.
We also went into a whiskey shop to look for a bottle of a Scotch we'd had the night before and liked.
The storeowners know their stock and can point you to brands that are more peaty or less so. They can also tell you which brands don't export if you want to back something unique.
Tiny Traveler has never met a Christmas shop she didn't like. There are two (yes, two) Christmas shops on the mile that are chock full of tartan tree decorations. Even if you don't buy anything, window-shopping is free and amusing.
---
Planning a trip?
• Find the best available hotel deals on TripAdvisor.
• Book a stunning apartment in the City Center on VRBO.
• Find the best time to fly with Kayak.
Read Up On Edinburgh
• Be sure to pack Rick Steve's compact Edinburgh Guide for Kindle and in paperback.
• Your kids will love reading M. Sasek's famous This is Edinburgh.
---
How To Save Money In Edinburgh
Though none of these museums is unduly expensive on its own, all these admissions will add up. Several passes are available online and are worth looking into.
The packages vary and some are only worthwhile if you plan to travel beyond Edinburgh. Pay particular attention to which Edinburgh attractions they cover and whether they include Edinburgh Castle and let you skip the line.
Keep in mind many of the larger museums, including the National Museum, are free. A few places, including the palace, offer family tickets that cover two adults and two or three kids at a decent discount.
Pin it for later!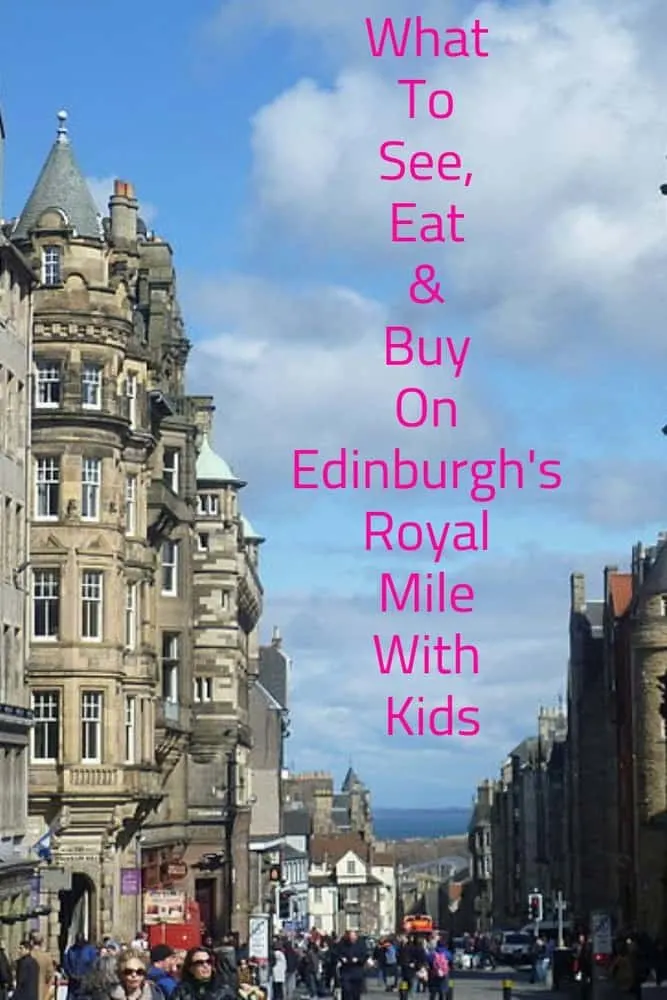 This blog was part of Weekend Travel Inspiration. Visit our partners:
• AlbomAdventures
• ContentedTraveller
• TheCrowdedPlanet
• Malaysian Meanders
• ReflectionsOnRoute
• Safari254