Getting out of our car at Woodloch Resort after our three-hour drive from Brooklyn I smelled crisp autumn air, looked around and said, "Wow, this is beautiful."
Woodloch Pines Resort is an all-inclusive resort that sits on the edge of Pennsylvania's Pocono Mountains. It's a little remote, but that's a big part of the appeal. With a few hours' drive from New York City or Philadelphia, families can feel as though they've completely gotten away from it all for the weekend.
We paid a visit on a weekend in late September, just before the resort goes into high gear for Halloween. Here is my review of Woodloch Pines and what we liked and didn't during our stay.
Read more:
• My list of the 10 Best Weekend Getaways from NYC
• 8 East Coast Towns For Phenomenal Foliage & Fall Family Fun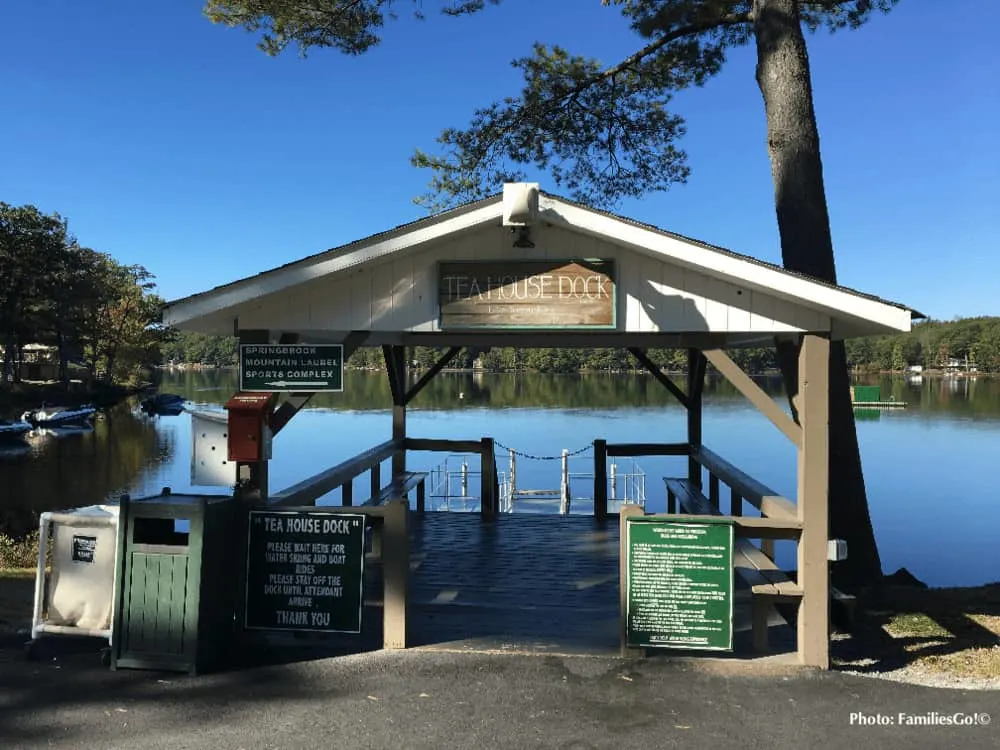 The Vibe at Woodloch Pines
If you want to easily understand what the resort is like, think of the Catskills resort the family visited every summer in The Marvelous Mrs Maisel, then update it with zip lines, yoga and music from Hamilton on Broadway-show night (yes, there are theme nights).
Woodloch Resort is a second-generation family business, a fact that is essential to its identity and the experience it offers. As soon as we walked into the lobby I saw was a homespun looking sign that said, "Welcome home!"
The founders' sons stand inside the dining room shaking hands with guests as they come in to dinner. Meals are served during set hours. You have the same table and server for your entire stay; returning guests sometimes request a favorite server.
The resort has a full schedule of organized activities overseen by a cheerful staff. Kids roam the grounds in giggling clusters and have a lot of independence. It's ideal for groups of families and multi-generations and we saw a few of each on our stay. Several come back every year.
I have to admit this isn't the sort of vacation Rich and I naturally gravitate toward. However, we have come to appreciate that family resorts have their advantages when you are vacationing as a family and this is probably one of the better such resorts within driving distance of NYC.
I'd put it a notch or so above Rocking Horse Ranch because they seem to put more care into their food and the lakeside setting is hard to beat. And it's all-inclusive pricing makes it a better value than Skytop Lodge.
What Are Rooms like at Woodloch Resort
Woodloch has studio and one-bedroom suites that all have two queen beds and a pull-out couch providing room for six people to sleep. The studios would be snug with six but our one-bedroom was exceptionally roomy; so much so that I almost felt bad we were never in the room to enjoy all that space.
Our suite had the pullout couch in the large living room. There were two full bathrooms (one with a bathtub; one with a shower) and a walk in closet with hanger space and a dresser.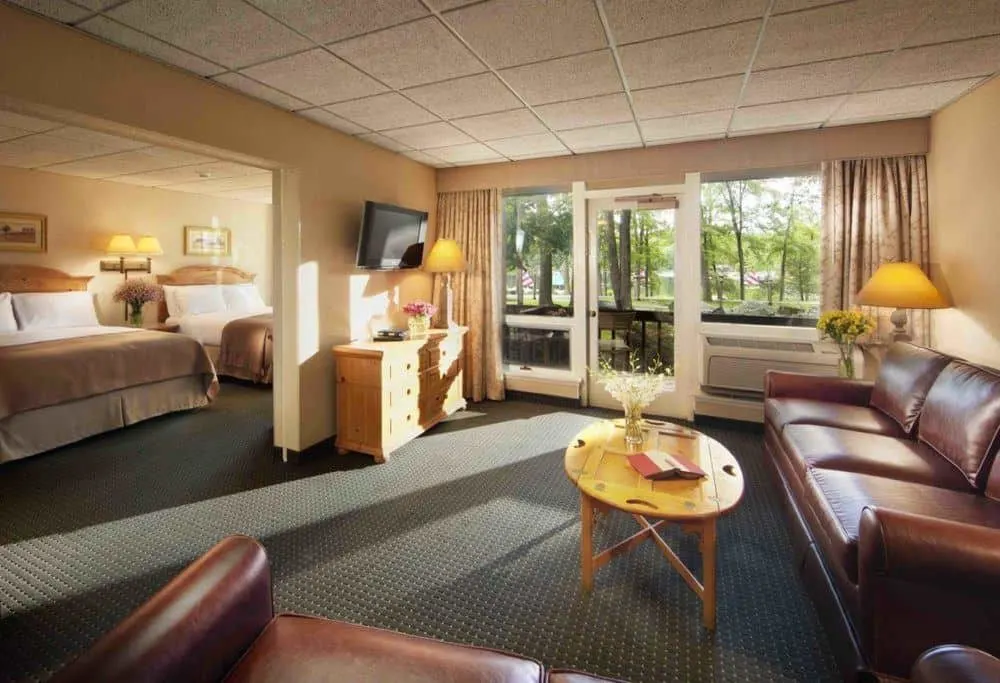 No joke, you could probably put a travel crib in there if you have a baby who won't go to sleep in a shared room. We had a nice balcony facing the lake, but mornings and evenings were too cool for sitting outside.
Read more:
Try these Creative Tips for Sharing a Hotel Room With A Toddler
The two-bedroom suites have enough beds and couches to sleep 12, but I'm not sure I would try it. They require a minimum of four adults for these rooms, which have three televisions, two lake-facing balconies and two full bathrooms with tubs.
The rooms all have a small refrigerator and microwave, too. Parking and Wi-Fi are free.
Rooms prices vary depending on size, whether you have a lake view and if your building is connected to the pool by an inside corridor (we walked outside to the pool, which it was still warm enough to do).
As you might expect at a family resort, all room rates soar during school breaks. Rates are generally higher on the weekend midweek regardless of the time of year. In the fall I often see very good midweek specials, which are great to take advantage of if you have small kids you can pull out of school.
The Woodloch Resort property also has houses you can rent with three to six bedrooms. The rates for these include all the resort's activities and amenities, but no meals. You can order à la carte at the property restaurants and of course many of the big groups who use these houses cook for themselves.
The Countless Activities at Woodloch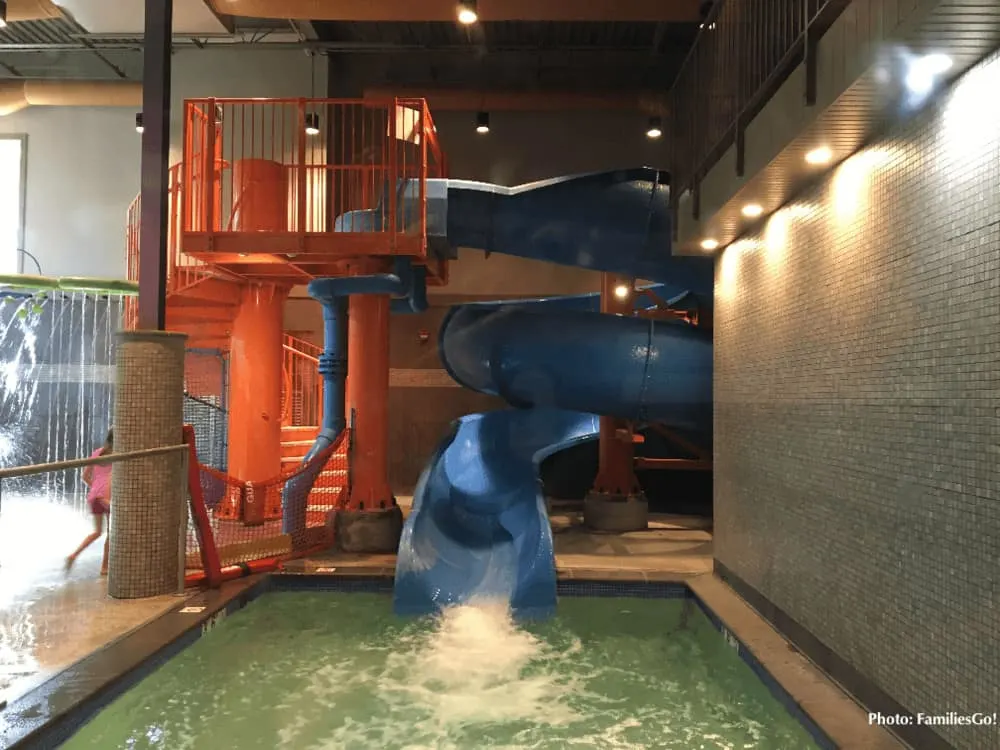 There was a lot to do and the days went by quickly.
Water Everywhere: Woodloch's best amenities are the pool complex and the lake. There are indoor and outdoor pools and three hot tubs (one is adults only). There are also indoor and outdoor splash areas for little kids; the indoor one is adorable.
There's a big twisty slide for older kid in a room by itself, off to the side. There's a lifeguard there all the time and I didn't feel like I had to follow my daughter when she ran over to use it. But it was a little awkward and easy to miss.
The lake has a swimming area and a slide. It was too cool to swim outside, but we did kayak and paddleboard and took a motorboat ride, which was a great way to see some early fall foliage. In the summer I would imagine this is where we'd spend most of our day.
Amenities for young & old: Tiny Traveler loved an indoor jungle gym, which came in handy when we had a gray afternoon. We all liked the go-karts where she could ride with one of us in full-size car or drive on the junior track by herself. There were also bumper boats and indoor bumper cars, too.
We saw a room for arts and crafts, but we didn't see any projects; just paper and crayons. So we didn't spend time there.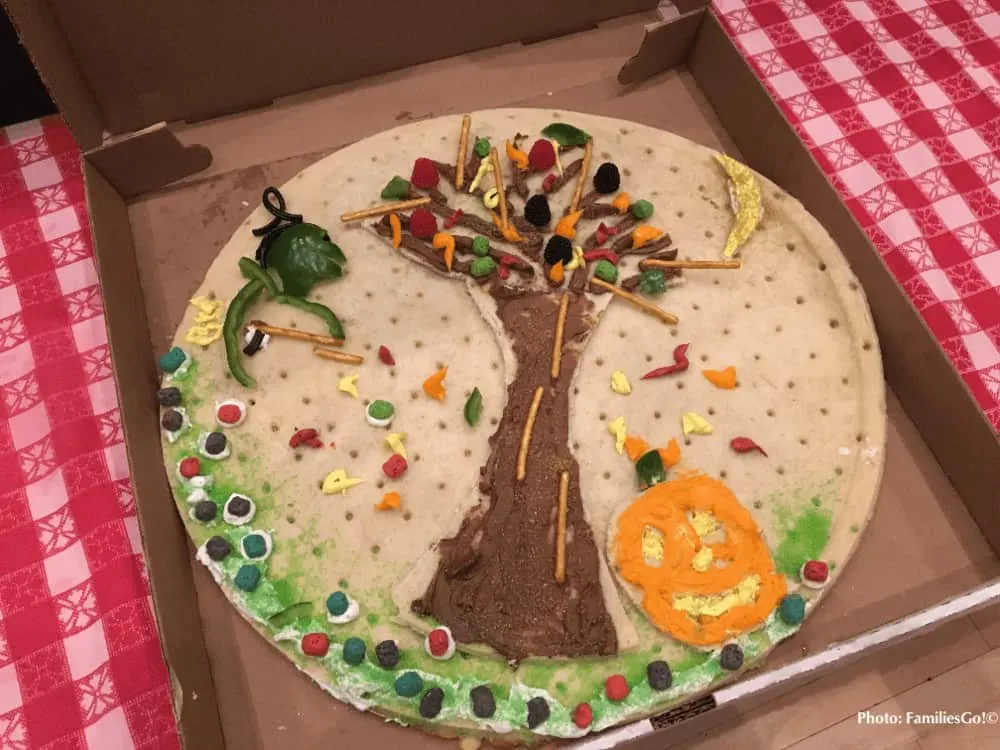 You have to be 13 for both the zip line and climbing wall, which pretty conservative to me, so Tiny Traveler couldn't take a crack at them. Kids 10 and up could do archery, but she wasn't interested. She headed off to one of two outdoor playgrounds while Rich and I gave it a try. It's harder than it looks!
Organized Family Fun: Family Feud and trivia contests aren't our thing. And we heard that returning families can be quite competitive during the scavenger hunt. So we skipped most of the resort's organized activities.
We really liked block party with carnival games like flip the chicken (which I won!) and bean-bag toss. We liked the jewelry making, which carried a small extra fee. It was real jewelry, not plastic kids' beads. Teen Traveler and I both still wear the glass-bead earrings we made.
And despite not winning, Tiny Traveler loved a contest in which we had to create a fall scene on a pizza crust using icing, colored sugar, candy and other items. It required team work to finish it in the time allowed, which made it an engaging family activity.
I did yoga on Sunday morning while the other slept in.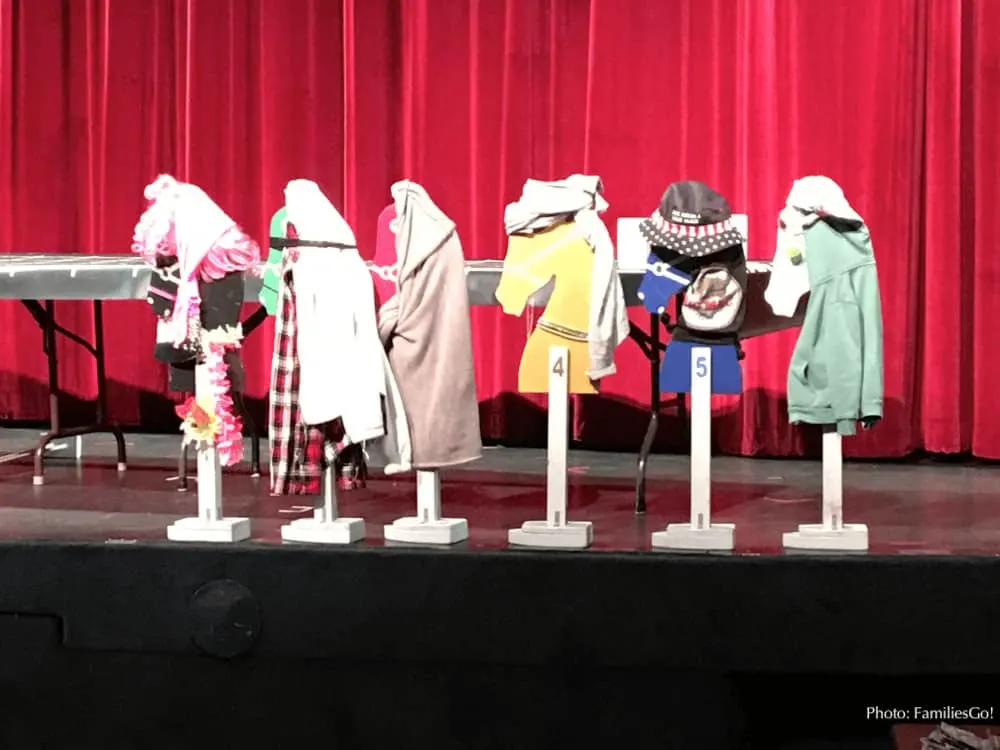 Outdoors: Given the pretty fall weather and the rural setting we would have appreciated more outdoor activities. Woodloch Lake is gorgeous. We regretted it wasn't quite warm enough to swim in it, but really enjoyed the kayaking and paddleboarding.
Opportunities for walking around Woodloch Resort are limited to a one-mile paved track and a dirt path near the lake, which we didn't notice until the last day (it begins behind the pool). There are hiking trails nearby, too, which we would most likely look into on a return visit.
Walking the paved mile, we got a sneak peek of the haunted hayride that starts in October. It's elaborate, well done and definitely for teens and older. Most kids under-12 will want to to stick to the more mile Halloween activities.
Evenings = Family Entertainment: Nighttime activity included a magician who impressed Tiny Traveler with memory tricks and a horse-race game that was corny but fun. The Broadway review on Saturday night was similar to reviews we've seen on cruise ships and just as good.
Fresh Baked Goods + More At Meals
Our meals were included in the room rate. The food isn't what you visit Woodloch for, but we were pleased with many of the things we ate. And we didn't have to plan any meals, which made the weekend that much easier.
An onsite bakery delivered light and crunchy crumb cake and apple crumb cake at breakfast and good sourdough, rye, olive bread and a variety of rolls at other meals.
Breakfast featured very good hash browns. A buffet lunch on Sunday included standard hot entrées (carving station, stuffed shells, etc.) that we skipped in favor of the appetizer table, which offered a variety of tasty salads and piles of cold shrimp and oysters.
We all liked the fried chicken, steamed clams and sides at the Saturday cookout. Rich thought his Saturday night prime rib dinner was only so-so but enjoyed a chicken and crab dish he had on the first night.
Someone at the resort told me they had been working to improve their meat-free options so on both nights I chose the vegetarian dishes, one of which was very good stuffed peppers with quinoa, black beans and corn.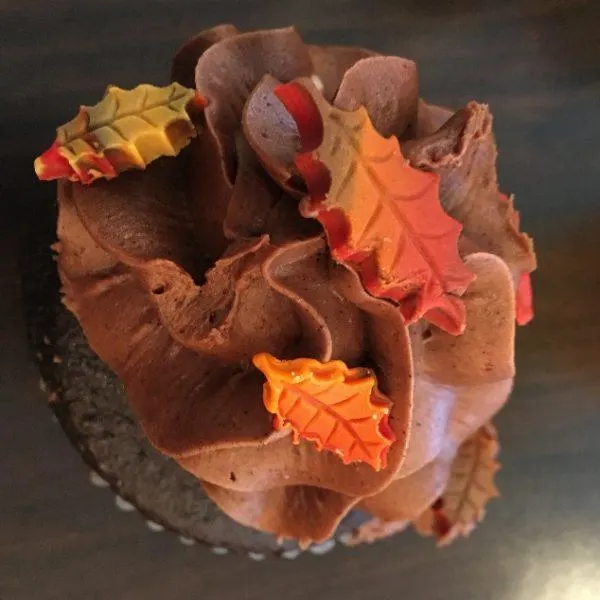 Desserts always looked good but Rich and I were usually too full. Tiny Traveler ate a lot of house-made ice cream and we had cupcakes with autumn colors that looked too pretty to resist at lunch on Sunday.
Since we've been there they've expanded the resort and added additional restaurants to the meal plan, which should provide even more variety.
The dining is very family friendly, of course. Breakfast and lunch have enough options that most kids will find something they like. And if your kids don't like the dinner entrées on the regular menu than can choose from a kids menu.
So, Would We Go Back To Woodloch?
We would go back to Woodloch Resort for a weekend vacation. Ideally we'd go with another family, so we could take advantage of the very safe environment and let the kids roam around on their own while we kayak or relax (and maybe even try the spa at upscale, adults-only Woodloch Lodge nearby).
We might also try winter when there are activities like snow-shoeing and tubing or a June weekend in hopes of having a chance to jump in the lake.
Pin it for later!