Where can we go for an easy, quick, cheap, active, romantic, family, summer, winter or fall weekend getaway from New York City? This is the question I get asked more than any other in my life as a travel writer.
So here are 10 ideas for quick, easy and fun mini-vacations from NYC.
My tip for any trip out of New York is, whenever possible, head out at an off-peak hour, say early Saturday, or Friday after the morning or evening rush. If you head out of town between 3:00 and 7:00 pm on a Friday you will most certainly hit traffic. During the summer weekend traffic starts building by 1:00.
Pack light, but bring layers so you're ready for any weather. And throw a pair of fancy shoes in your bag just in case your dinner plans call for some dressing up.
I hope I inspire a weekend minibreak for your family soon.
10 Easy Weekend Vacation Destinations For NYC Families
1. Hudson Valley West
New Paltz, 85 miles from Times Square, is a good jumping off point for a Catskils weekend getaway in the spring, summer or fall. You'll find state parks, nature preserves and sculpture gardens for hiking, walking and picnicking. There are rail trails for cycling. And plenty of farm stands, wineries and cideries close by.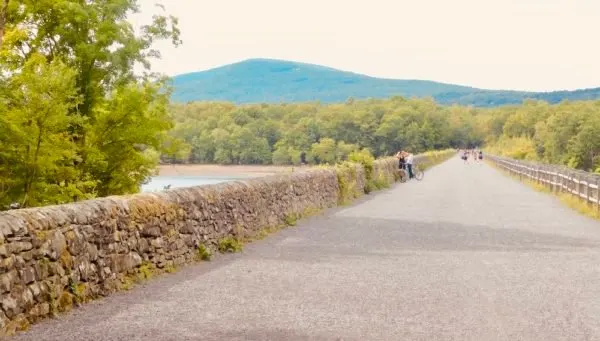 New Paltz has a busy Main Street with lots of restaurant options. But it's not far to explore Woodstock or Saugerties.
In winter head a north and west of Kingston for nearby ski weekends. Belleayre is my favorite hill but I've also heard Plattekill is a good, less-crowded resort.
Read More:
• A Catskills Ski Weekend With Kids
• Fun Couple Getaway in Upstate New York
2. Hudson Valley East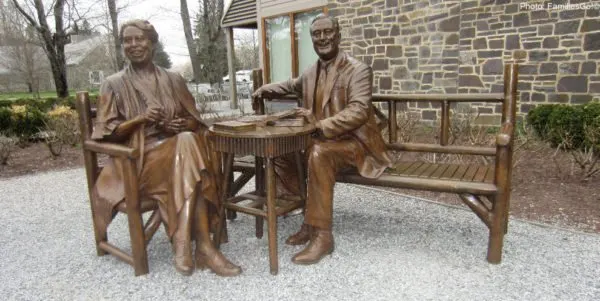 Dutchess County is almost my default weekend destination. There is a lot to do in the spring, summer and fall. Wineries, distilleries, farms and green markets complement Gilded-Age mansions with sprawling gardens, FDR's presidential library and a burgeoning restaurant scene in Beacon and Rhinebeck. There's even a waterpark if you just want to relax with the kids and DIA: Beacon for adventurous museum goers.
Poughkeepsie is 80 miles from Time Square, and Metro North stops there if you want a car-free or bike-centered weekend.
Read more:
• A Hudson Valley Couple's Weekend
• A Family Weekend Getaway to Dutchess County
3. Long Island's Hamptons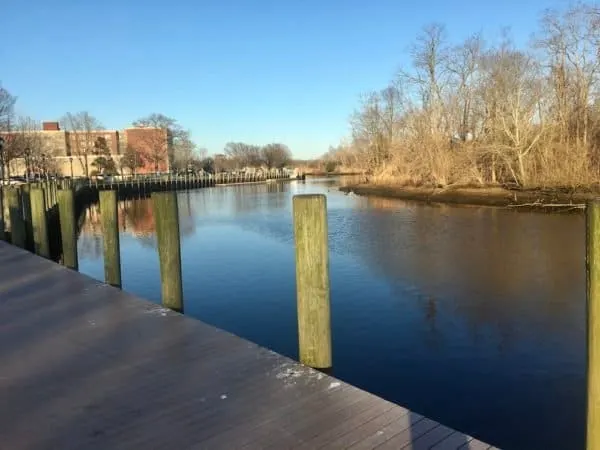 The East End of Long Island is way more than raucous summer shares and chichi Hamptons restaurants where you can't get a reservation.
The North and South forks have beaches, wineries, cideries, farmstands, kid-friendly museums, countless sweet shops, walkable towns and a cluster of affordable family hotels (with pools) in Riverhead, where the forks meet.
I recommend exploring the East End in April and May or September and October. The winter is cold and the summer is too crowded.
Riverhead is 75 miles from Times Square; Montauk is 115 miles.
Read More
• 28 Fun Things To Do in the Hamptons With Kids
4. Cooperstown, NY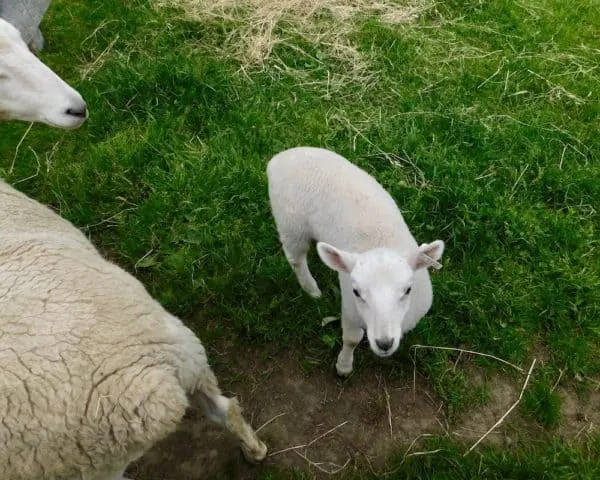 Cooperstown is 195 miles from Times Square, so plan on a two-to-three-night stay to break up the driving.
People usually visit the first time for the Baseball Hall of Fame. But they return for gorgeous Lake Otsego, the walkable Main Street and the friendly, high-quality farm stands and breweries just outside of town. Spring offers perfect hiking weather and baby animals at the farm museum. In summer you can swim, kayak and SUP on the lake; fall brings gorgeous Upstate-NY foliage.
Read more:
• A family friendly weekend in Cooperstown
5. The Finger Lakes, NY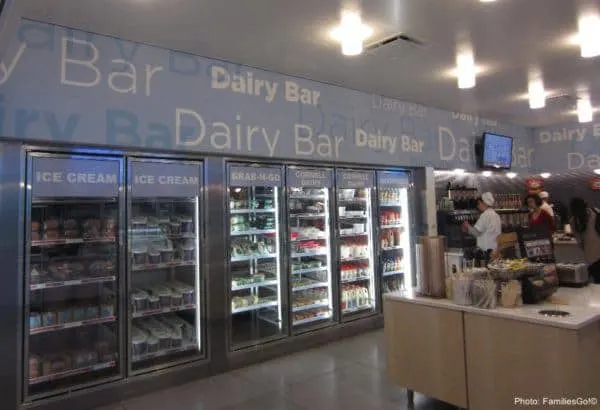 Corning's Museum of Glass is one of the best and most unique museums I've been to. And anyone from 5 to 95 will find something cool to see and do. Corning also has a Main Street full of casual dining and is a half-hour from Watkins Glen, which offers excellent hiking, kid-friendly wineries and a well-regarded race track.
Ithaca has Cornell's dairy store, botanic garden and art museum, plus an abundance of easy and pretty walking trails that overlook gorges and waterfalls. There is a seriously good locavore food scene downtown and kid-friendly breweries and wineries as well.
Ithaca is 225 miles from Times Square and Corning is 250, making it better for a three-to-four-night stay. If you find it hard to choose between them as your weekend base, stay four nights and spend time in both.
Read more:
• 12 Activities for a Finger Lakes Weekend Getaway
• Why You Want to Stay at the Harbor Hotel in Watkins Glen
6. Mystic, Connecticut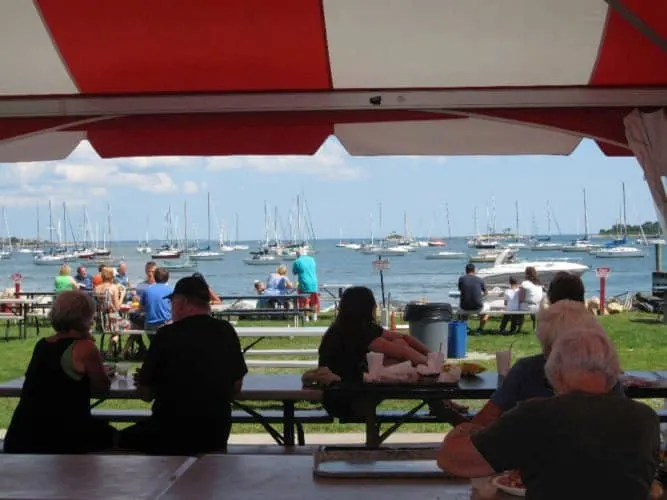 Mystic is 135 miles from Times Square, making a one-night stay doable if you get an early start. But there is enough to do and eat to fill a two-night weekend. The main attractions are the outdoor Mystic Seaport Museum, a full day in itself, and the large and excellent Mystic Aquarium. But there's also kayaking, SUPing and boating on the Mystic River, glass blowing, an adventure park and appealing outdoor clam and lobster shacks. Mystic town has good dining, cute shopping and very good ice cream.
There are plenty of reliable chains around town. If you want something a little different book a room at the House of 1883, a historic Greek revival mansion with three acres of gardens and an outdoor pool. They serve a complementary breakfast, too.
7. The Berkshires, Massachusetts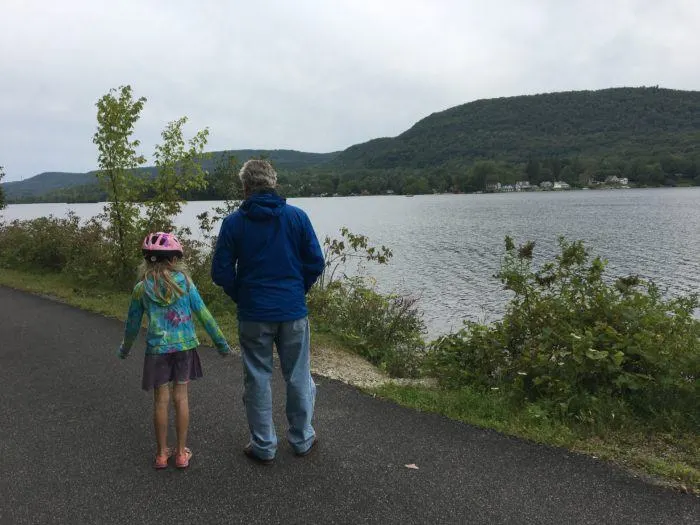 The Berkshires are the New England destination with something for everyone. Outdoorsy families will like the plethora of hiking trails and long rail trail for biking. There are historic homes and mansions, some with beautiful grounds where kids can run around. Tweens and teens will like Jiminy Peak's summer adventure park and winter skiing. Art loves could spend a full day wandering around Mass MOCA, a modern art museum in a sprawling former factory.
Quaint Great Barrington, the southern-most part of the region, is 130 miles from Times Square and funky North Adams, is 170. Either one would be a good base, though you'll find a wide variety of hotels and inns all along Route 7, the region's main artery.
Read More:
• 17 Things To Do With Kids in the Berkshires
• A Fun Summer Weekend at Jiminy Peak
• How Berkshire Mountain Lodge Wowed Us
8. Cape May, NJ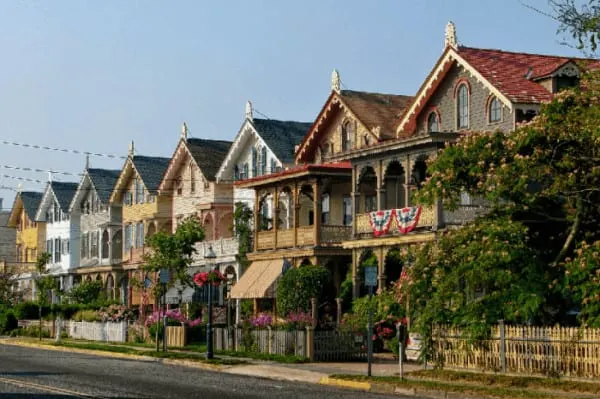 The words "Jersey Shore" don't necessarily conjure images of gingerbready Victorian homes and quaint pedestrian zones. But this is exactly what you'll find in Cape May, 3 hours from Times Square. You'll also find a lovely long stretch of beach, the requisite fudge shop and some cool opportunities to get out on the water and see wildlife.
If you want the old-school experience of a busy beach with a boardwalk, games arcade and a Ferris wheel, Wildwood is 20 minutes up the coast.
Read more:
• 5 Activities for an Easy Cape May Family Getaway
9. Philadelphia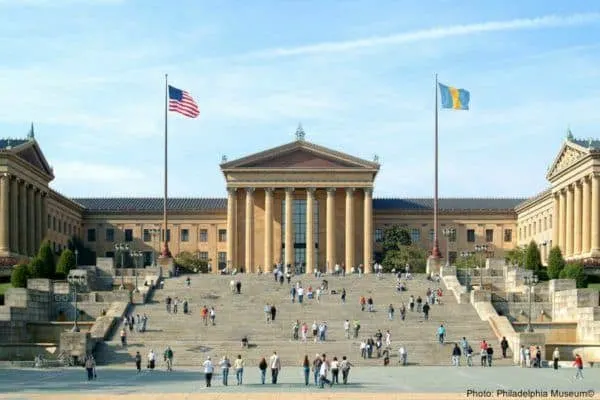 We go to Philadelphia for the weekend fairly often because it's only 96 miles from Times Square, a 2-hour-drive if you get lucky with traffic. We try to always mix old favorites like the Franklin Institute, the Art Museum and South Philly's little Italy with something we haven't done before. Chefs looking for lower overhead than NYC often head to Philly so it's food scene is vibrant (reservations are often a must). And you can see where the Declaration of Independence and the Constitution were ratified.
If you want a car-free getaway it's easy and cheap to take NJ Transit and connect to SEPTA in Trenton.
Read more:
• 48 Hours in Philadelphia With Kids
• Philadelphia Foods You Have To Try
10. Buck's County, Pennsylvania
Buck's County is an easy and popular weekend getaway for Philadelphians but its only about 75 miles from Times Square, which makes it a doable weekend break from the Big Apple as well. We spent a night there on a couple getaway but there are plenty of things to do with kids, too.
Base yourself in New Hope for a good choice of hotels, inns and restaurants there and just across the river in Lambertville, NJ. (Aside from a pesky state line they're pretty much one town.) There are bike and walking trails along the Delaware River and in state parks throughout the county. Stop by Washington Crossing Historic Park, which commemorates a certain famous attack by the Patriots during the Revolution. Hop over to Doylestown for its laid-back vibe and the Mercer Museum, easily one of the quirkiest museums I've been to.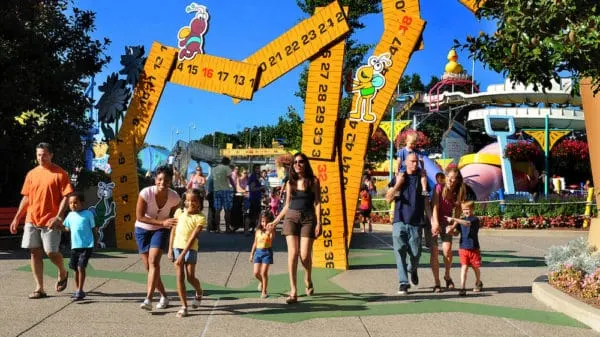 Bucks County is also home to Sesame Place, a popular first theme-park visit for the preschooler set. Its a fun if not restful weekend getaways. And it's easy to combine with a visit to New Hope or Philadelphia for a slightly longer weekend.
The Sheraton Bucks County Langhorne is a step-up from the many value-oriented chains around the park. It has an indoor pool, a breakfast option and a bar, which you might really appreciate after a long day at a toddler theme park.
Read more:
• A Cool Couple's Getaway to New Hope, PA
Pin it for later!