One of the easiest and most fun weekends with kids that you can do in Hudson Valley is a winter ski getaway.
Catskill Mountain ski resorts like Belleayre, Windham or Hunter are close to the New York City metro area, offering a much shorter drive and far less expensive family ski weekend than you'll find in other parts of New England.
With ample vacation-home rentals, hotels in a range of budgets and activities beyond skiing, you can enjoy an easy and relaxing weekend away with the kids and be back home by mid-Afternoon on Sunday.
Here's a Catskills winter ski weekend itinerary I suggest for families:
Read more
Hyde Park and other Dutchess County weekend fun with kids.
Your Hudson Valley Family Ski Weekend
Hudson Valley Hotels & Vacation Rentals For Families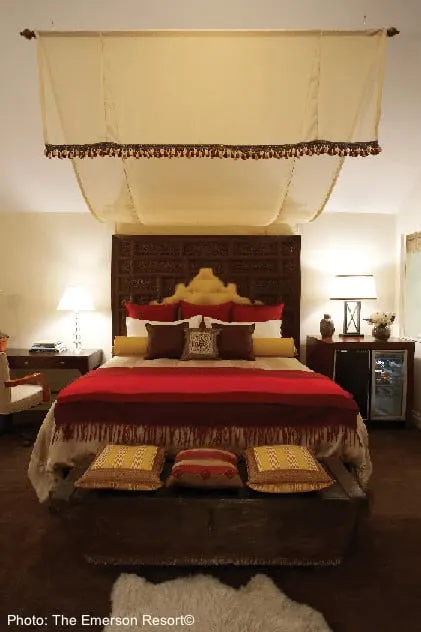 For something upscale, the Emerson Resort offers a rustic lodge, stylish inn, a playground, dog run, two restaurants and the world's biggest kaleidoscope (free to guests).
If you're into quirky roadside attractions, the kaleidoscope is worth checking out even if you don't stay. Rates are reasonable during the week and a splurge on weekends.
I stayed at the Inn with Tiny Traveler, the first journalist to stay there with a child.
I admit that the first glance at the chic canopied beds, huge whirlpool bathtub, fireplace and waiting bottle of local red wine made me think I would have made much better use of the room with my husband.
But the room and bathroom were huge. With two queen beds there was still ample space for a travel crib, toddler cot or air mattress. (or two). The room would easily work even with 2 or 3 kids, which could make it a good value for families.
There's a casual sit-down restaurant where we got coffee and English muffins to go. The country store that sells coffee and baked goods would have been very handier for breakfast, but it didn't open until midmorning.
The one thing the Emerson doesn't have is a pool. For indoor swimming in an upscale, clubby environment try the Hanah Mountain Resort in Margaretville.
There are also a collection of family oriented value hotels around Kingston from brands you know.
A very large number of houses around Belleayre are vacation homes. A rental is a good option for a bigger group, or those who want to do their own cooking or stay a bit longer.
Friday Night: Drive Upstate
Do you driving after school on Friday night, so you can arrive at the ski hills like Belleayre bright and early to beat the line for rentals and lessons.
Dinner: The Woodnotes Grille at the Emerson Resort & Spa is a laid back place to unwind with a cocktail and a seasonal menu that is likely to have something to please everyone in your family.
Saturday: Hitting the Slopes
Our ski mountain of choice in the region is Belleayre, 40 minutes west of Kingston. We were invited to check it out after renovations that included a new magic carpet and rental equipment, and a spiffed-up lodge with a bar, fireplace, and surprisingly good canteen.
I immediately saw the benefits of new grooming equipment. Despite single-digit temperatures, the slopes all had a slight crunchy but very skiable corduroy.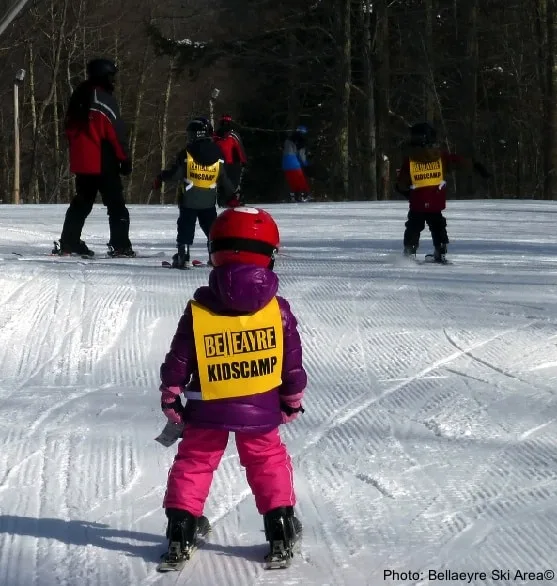 Ski Lessons For Kids
I've been told their weekend ski classes for kids can be large, but on a cold Friday, thing were slow enough that Tiny Traveler went out on her own with an instructor in the morning and with three kids and two instructors in the afternoon.
The mountain has several long, winding green slopes and the instructors actually got Tiny Traveler, a capable but nervous skier, off the bunny slope and onto a ski lift and real ski run for the first time.
The mountain has two classes worth noting. One is an all-day ski camp, available on weekends and holidays, which is usually a good value.
The second is a one-hour class that kids ages 4 to 7 can take with a parent.
This class is a good opportunity to introduce a younger child to skiing without spending too much money. And you learn how to ski with him or her.
Six or 7 year-olds would benefit from a longer class where they really learn and practice ski skills.
The Lodge & Child Care at Belleayre
If your kids get cold before you're done skiing, drop them at the Tiger Den for babysitting. Then go have some fun on the more advanced hills; Belleayre is known for having some longer runs than you'll find elsewhere in the area.
I'm not a skier and so I appreciated the expanded lodge. The food options included chili, fresh-pressed sandwiches and some other cooked-to-order items.
There is a comfortable side room with a fireplace, a view of the mountain and a bar that opens in the afternoon. I settled in for the day quite happily with my laptop and worked while Tiny Traveler skied.
Sunday: Explore The Hudson Valley
The next day, you could get half-day lift tickets and squeeze in a bit more skiing before heading home. If you do that, stop at rustic bakery Bread Alone on route 28 for a snack on the way to the thruway.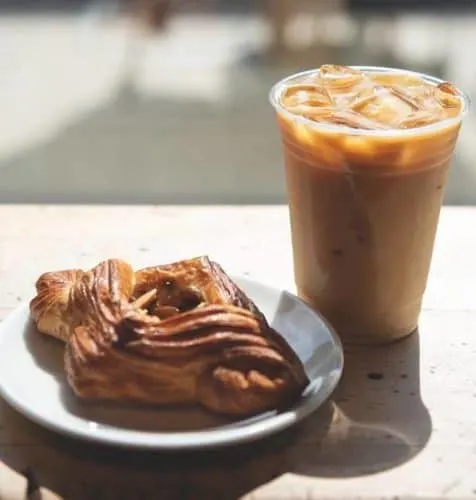 If it's a warmish day, instead of skiing stop to cross the Walkway Over the Hudson, a railroad-bridge-turned-mile-long park with stellar river views (it could be windy on the river; be prepared with layers).
Then drive to New Paltz to peak at the preserved 18th century buildings built by Dutch settlers on Huguenot Street.
Then enjoy an inexpensive college-town lunch on Main Street. Look for Thai, Indian and Mexican as well as several pubs that serve food.
The German sausages, schnitzel, potato salad and cheese spaetzle at Schatzi's Pub & Bier Garden might be just the ticket after a day out in the cold.
Or you can cross the Hudson to explore artsy river towns like Red Hook, Rhinebeck, Beacon and Cold Spring.
If it's too cold for the Walkway, visit Hyde Park, Franklin Roosevelt's Hudson Valley estate and presidential library. Kids can explore the house and grounds along with the vast presidential library.
More adventurous families can stop instead in Beacon, specifically Dia: Beacon. This modern art space, set in a former Nabisco box-printing factory, is roomy enough for kids to explore without bothering the other visitors. And it's always amusing to see how kids react to modern art.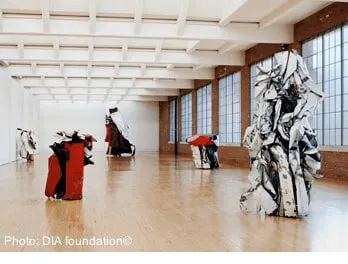 In Beacon, the lunch options include a great creperie, vegan café, a burger joint and a soul food diner with wallet-friendly prices and good chicken and waffles.
Even with all this, you can be back home by dinnertime with the sense that you've really been away. And hopefully with the notion that skiing with the kids can relaxing and fun rather than cold and exhausting.
Plan a Kid-Free Hudson Valley Weekend, too.
Plan Your Family Ski Weekend
• Check more reviews and find the lowest rates for the Emerson on TripAdvisor.
• Find the best hotel rates in the Catskills area.
• Find the ideal winter vacation rental, like this mountain house with hot tub & ping pong.
Pin it for later!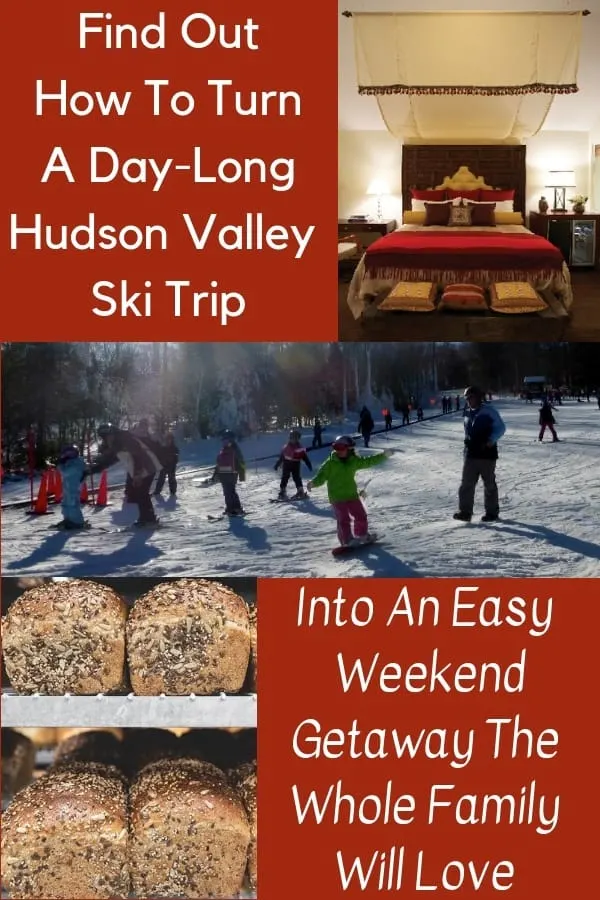 * We were guests of Belleayre and of Ulster County Tourism at the Emerson Resort. Our opinions are always entirely our own.