December is the time to deck those halls, trim those trees and make lots and lots of gingerbread. Or you can just book a stay at a hotel and let them handle all the Christmas cheer.
These twelve kid-friendly hotels from across the U.S. really go out of their way to be festive during the holiday season and are easily worth an overnight stay. Some of them trimmed back the festivities last year but this year have mostly returned to their holly jolly holiday selves.
This year's Christmas-season rates are bit all over the place with a mix of higher than usual rates and unexpected discounts. Take a short weekend trip to one or book one in your own town for a festive holiday-season staycation.
Read more:
• The Best Holiday Season Things To Do Across the U.S.
• My favorite Christmas things to do in NYC
• Get the Christmas spirit with 13 Classic Holiday Travel Movies
These 12 U.S. Hotels Have Amazing Christmas Decorations
1. The Ritz-Carlton; Amelia Island, FL
The Ritz-Carlton on this Florida island is once again tapping into local maritime culture by docking a giant gingerbread pirate ship in its lobby.
It's made with more than 600 cookie pieces and is crewed by fondant pirates and armed with chocolate cannons. The lobby is open to the public.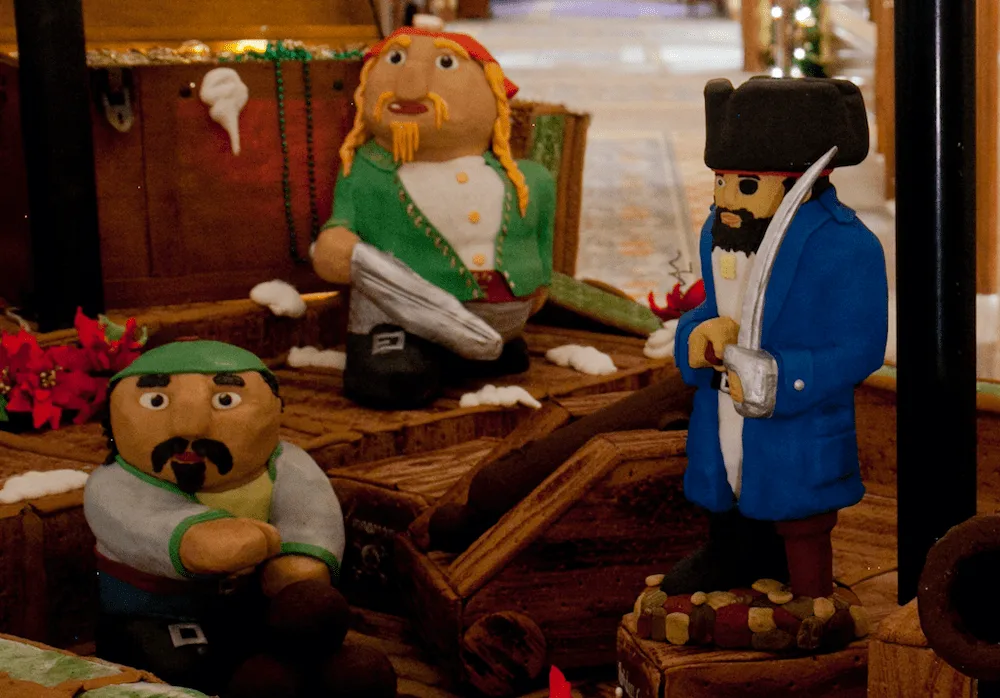 The hotel will also celebrate all season long with a storybook tea and breakfast with Santa on Saturdays starting Thanksgiving weekend.
2. Suncadia Resort; Cascade Mountains, WA
Suncadia Resort, 80 miles southeast of Seattle, will still stages its popular winterfest through from Thanksgiving through New Year will a full schedule of activities and fewer reservations and restrictions this year.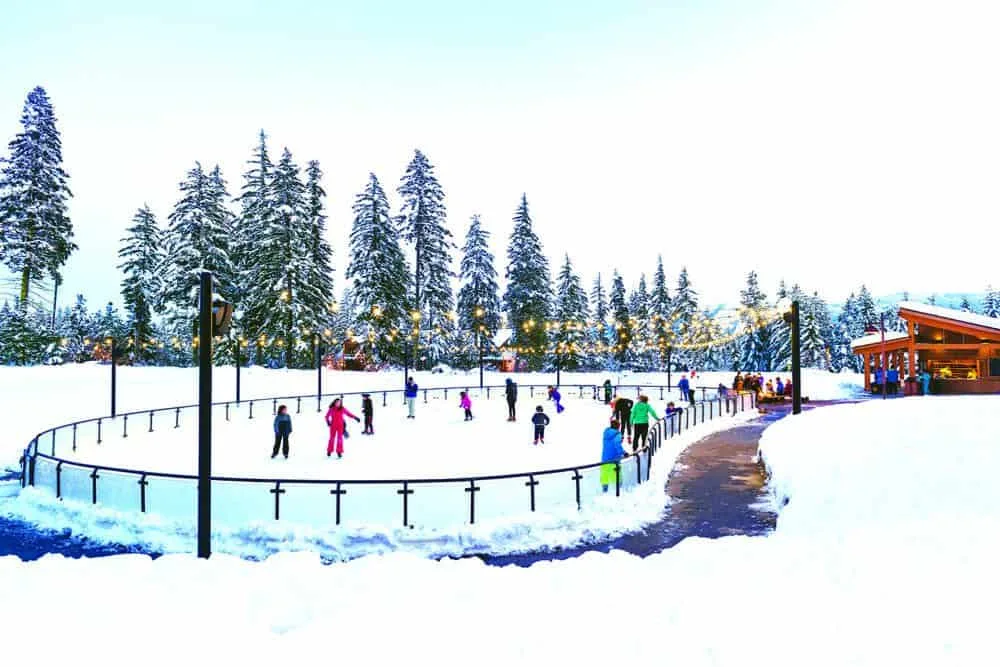 Guests can take carriage and sleigh rides and go ice skating and snow-tubing and try ax-throwing, snowball-launching and snowperson-building. You can still end your day by a cozy fire with a seasonal cocktail and plan a date night for New Year's Eve.
Cookie decorating, gingerbread-house-building and crafts activities for kid and for adults return after a hiatus for Covid-19. There will a tree lighting and holiday bazaar for last-minute shopping.
3. The Carolina Inn; Chapel Hill, NC
For 24 years now, the Carolina Inn has lavishly decked its halls to celebrate the 12 days of Christmas in grand Southern style. And this year is no different.
Through December you can enjoy the hotel's splendid decorations when you come for events like a tea with the sugarplum fairy or brunch with Santa. Young guests can join classes to build gingerbread houses and adults have a holiday tea, too.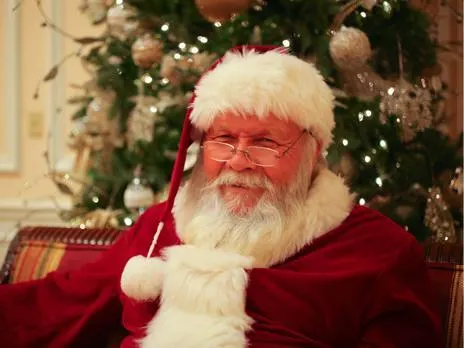 As with other hotels they will be serving Thanksgiving and Christmas brunch, but guests can ask for it to go, too.
4. Gaylord Resorts in FL, CO, MD and TX
The Gaylord Resorts in National Harbor, Denver, Dallas and Orlando are known for filling their soaring atriums with holiday lights, towering trees and amazing ice sculptures.
At each of the hotels expect some combination seasonal movies, indoor snow tubing, ice skating, gingerbread crafting and special holiday lights. New this year: A seasonal Cirque Dreams show and a series of interactive digital games based on the movie, ELF.
Palms has a snow-factory themed play area, story time with the Nutcracker & Sugarplum Fairy, and a live nativity play. It also has a Latinx-themed Three Kings celebration just before and after New Year.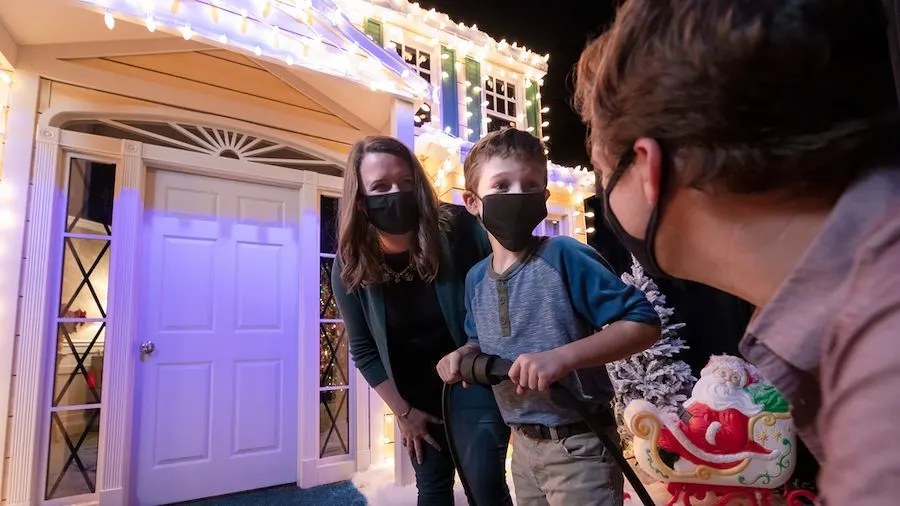 At the Texan there's brunch with Charlie Brown, a carousel and two holiday-season escape rooms. The National has ice bumper cars and the opportunity to walk into scenes from five popular Christmas movies and cartoons—take your picture with a lifesize Freeze Miser.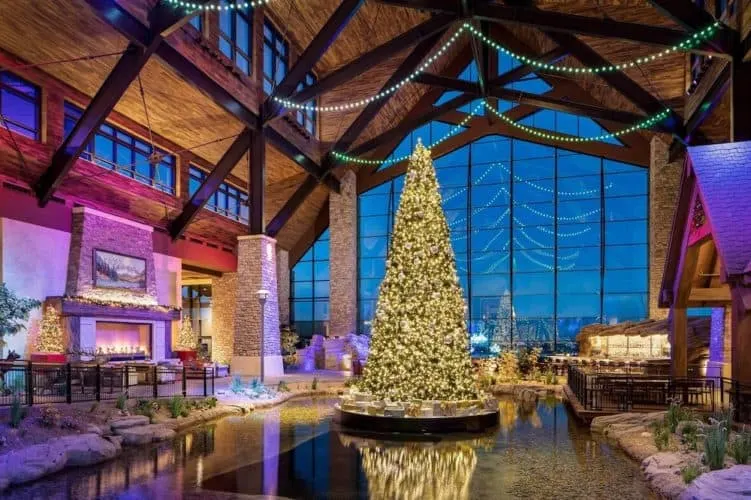 Make s'mores over an outdoor fire, walk through a giant light installation ad glide on a snow tube carousel at the Rockies. This is probably the most innately Christmasy of the four resorts given the giant fireplace, a nature-inspired lobby and the possibility of real snow outside.
5. Woodstock Inn & Resort, VT
The Woodstock Inn in Woodstock, VT offers such a true New England Christmas you expect Bing Crosby to stroll into the lobby singing White Christmas.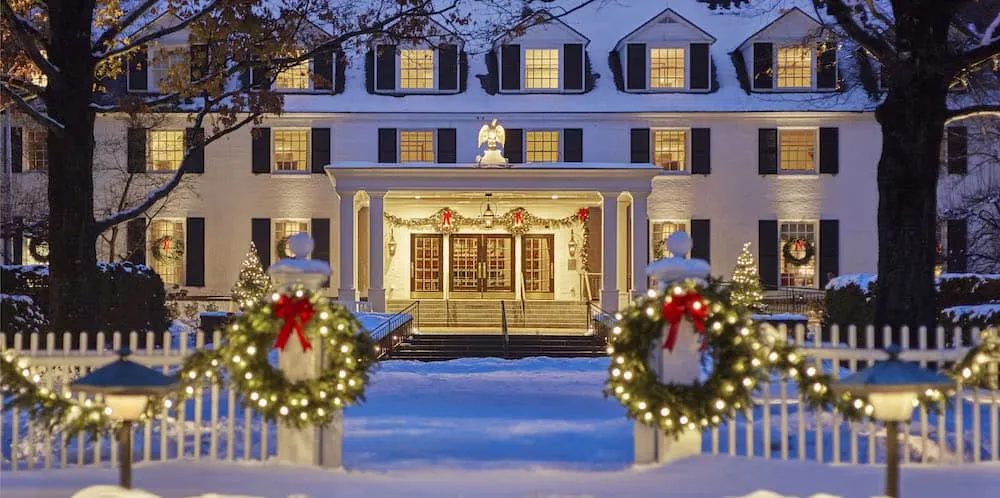 From the front deck through the front doors and across the first floor you'll see evergreen swags, plush velvet ribbons, a fireplace flanked by giant decorated wreathes, and trees of all sizes that were grown right on property.
The swags, wreathes and tree decorations incorporate poinsettias, grapevines, pine cones and dogwood, birch and evergreen branches from the inn's gardens.
Nestled amid the greenery kids love to discover the seven-foot-tall gingerbread cottage that would make Hansel & Gretel's witch envious.
For more seasonal fun, time your visit to coincide with Woodstock town events like the Wassail weekend and Krampuslauf Run.
6. The Jefferson Hotel; Richmond, Virginia
The Jefferson Hotel fills itself to the brim with Christmas spirit, along with countless poinsettias, pine garlands, ribbons, lights and wreathes. The lobby features one tall, decorated centerpiece tree and several smaller ones line the main staircase.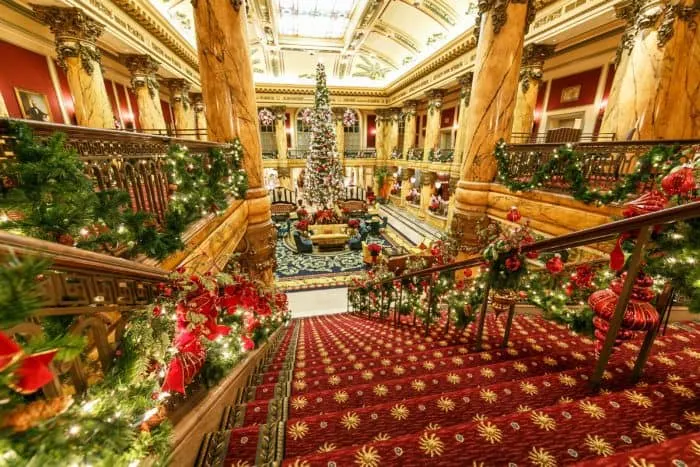 You can appreciate the decked halls when you visit for a holiday season afternoon tea, Tea with Santa or a chocolate-lovers tea—if you can get a reservation. Reserve a table for a holiday lunch or dinner.
The hotel's popular lobby concerts and the tree lighting are still on hiatus as is its holiday season champagne brunch.
The best way to appreciate the hotel's festive decor is by staying overnight. It's offering a midweek holiday package to entice guests to visit.
7. The Barnsley Resort, Adairsville, GA
The sprawling upscale Barnsley Resort, in northern Georgia, strings lights all over its 3,000 acres.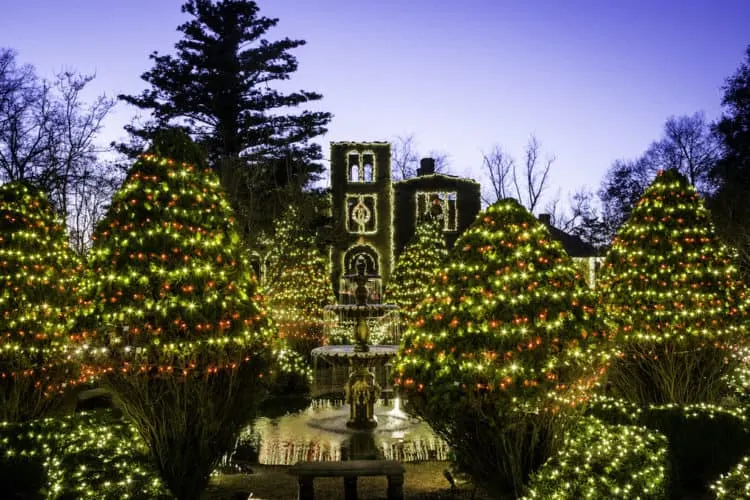 The Inn's main building and surrounding cottages, the central green and the gardens along with the ruins of an older manor house light up every night for guests and a limited number of visitors.
The holiday cheer continues with trees and more decorations in the Inn's common rooms and restaurant.
Guests can enjoy the lights while toasting s'mores at the outdoor fire pit. Or choose one of the cabins with a working fireplace to bring the holiday cheer into your private space.
8. The Inn at Christmas Place; Pigeon Forge, TN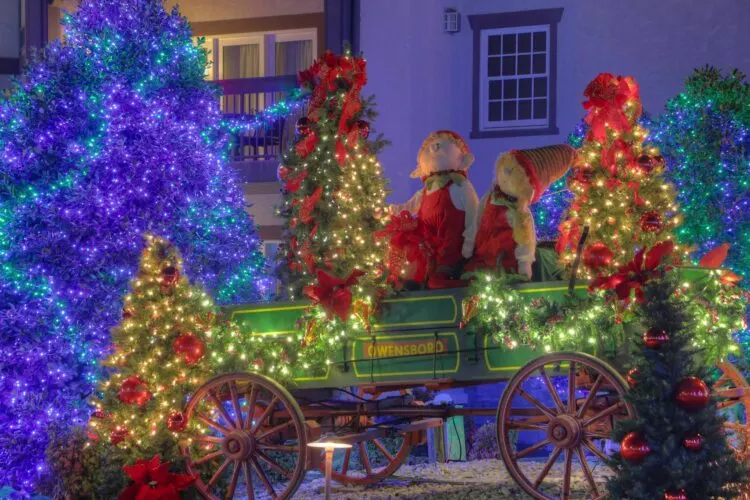 You might wonder what a hotel that is Christmas-themed all year round does when December rolls around arrives. The answer is that they pour on more holiday cheer. Look for more lights, greenery and decorations than usual indoors and out.
Winterfest happens in November with a tree lighting for hotel guests that's accompanied by a concert, cookies and hot cocoa. Through December guests can enjoy concerts, story time and visits with Santa Claus. There are crafts sessions for kids and bow-tying and decorating tips for the adults. And of course there are cookies and gingerbread houses to decorate.
9. The Hotel Del Coronado; Coronado, CA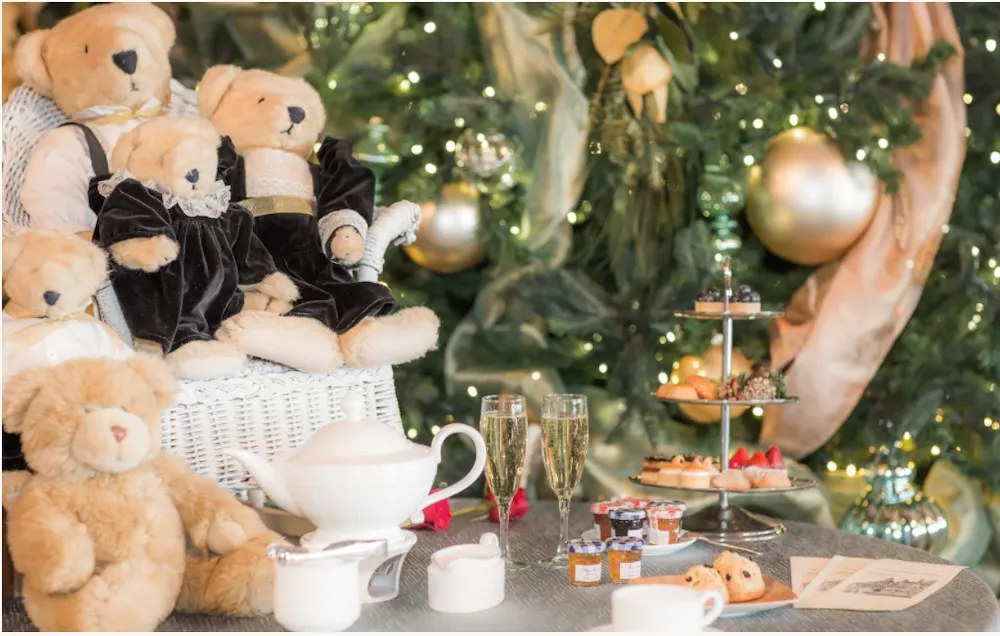 The Hotel Del outside of San Diego is back to its usual holiday festivities with thousands of lights strung around its red towers and along its balconies. A towering tree graces the lobby and swags, holly and mistletoe accent all the common areas.
It's BYO Teddy bear for th Victorian Teas that happen during the week just before Christmas. From Thanksgiving to New Year you can glide around the beach-side ice skating rink, enjoy hot cocoa and festive holiday drinks rink-side or decorate gingerbread houses. Take advantage of mild California evenings to watch Christmas movies on the beach or don Santa hats and make s'mores by your own fire.
10. Fairmont Scottsdale Princess; AZ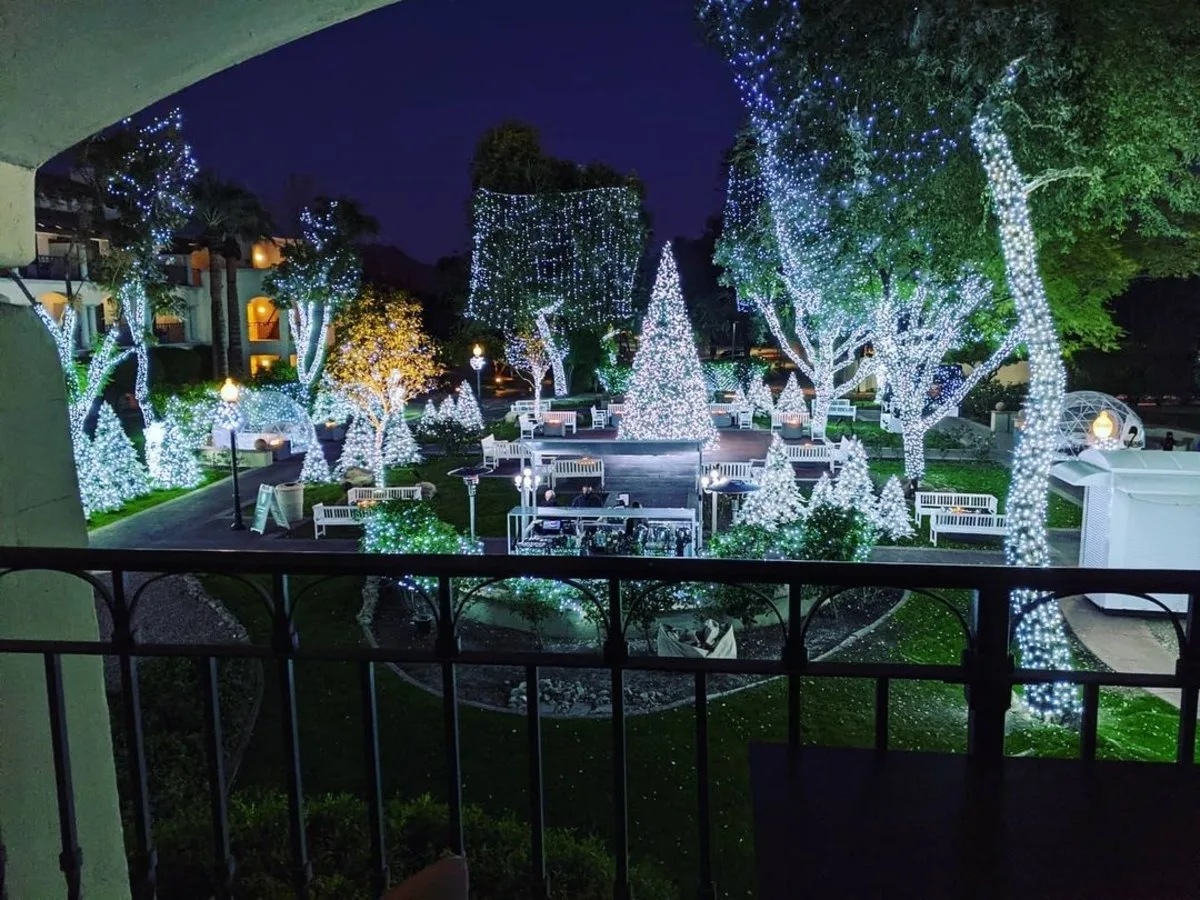 This Fairmont hotel lights up the night for the holidays. Ride a train-trolley around the lagoon where 6 million LED lights take the shape of a pirate ship, mermaid, hippo hot air balloon and more.Walk through a tunnel of lights back to the hotel's main plaza to see a holiday light show before riding the brightly lit Ferris wheel and other carnival rides.
Take the chill off the evening with s'mores or hot cocoa by the outdoor fires or holiday cocktails and hot toddies indoors.
Spend the afternoon ice tubing and skating in the ice skating rink or along the winding Alpine trail. Younger kids will appreciate an ice maze that's just their size, and the opportunity to meet Santa Claus.
11. The Omni Grove Park Inn; Asheville, NC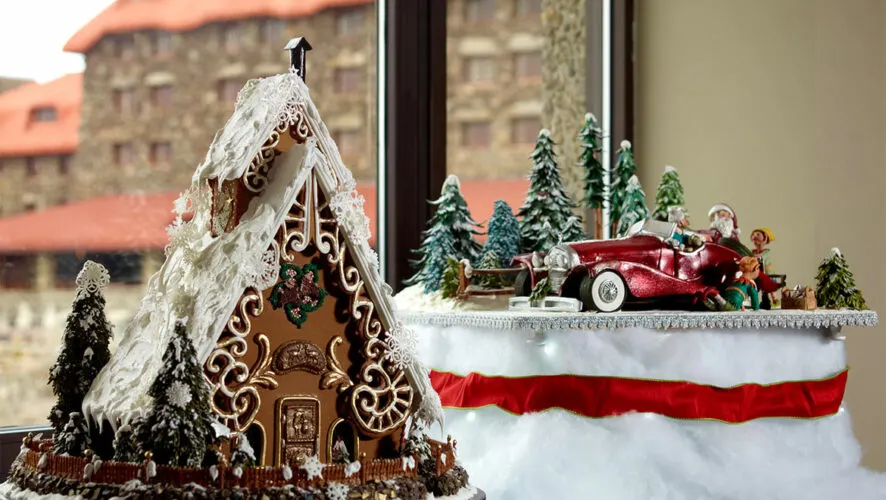 If you can't get enough gingerbread at Christmastime, head to the Southern town, where the Omni hosts a national gingerbread house competition, which is back in-person this year.
Gingerbread creations adorn the lobby. They might include cookie convertibles, pick-up trucks and Santa's zeppelin\g-powered sled, a Victorian streetscape, the storefront and interior of a Christmas shop or a dragon-topped Chinese temple.
There are adult, teen and child competitions, providing a range of impressive and whimsical cookie creations.
Beyond the gingerbread, lights line the trees outside, giants wreaths hang above stone fireplaces and Christmas trees line the hallways. A holiday season stay here is sure to be sweet.
12. The Roosevelt New Orleans; LA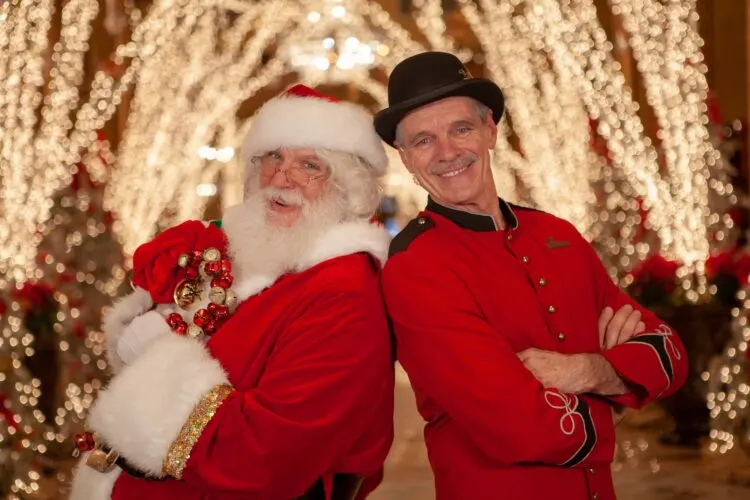 Quite a few hotels in the Big Easy go all out at Christmastime, but the Roosevelt is a perennial local favorite. The lobby's long corridor is lined with dozens of Christmas trees and birch branches covered in thousands of tiny white lights.Garland and holiday ornaments complete the effect.
Lots of people take photos in the lobby entrance and move on. But explore further and you'll usually find an impressive gingerbread creation that changes from year to year. It might be a five-foot tall gingerbread copy of the hotel, a Louisiana plantations house or a Garden District town house with a miniature trolley running by.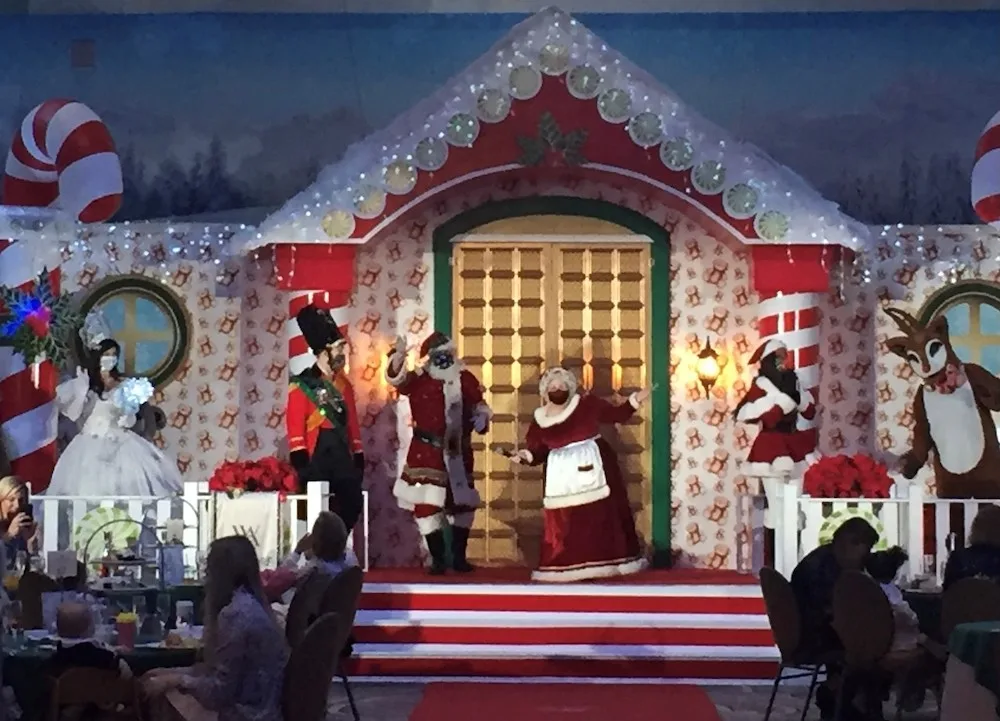 If you aren't staying overnight book some seats for your family at the Teddy Bear Tea that happens on December weekends and weekdays right before Christmas. Santa and the Mrs. emerge from the North Pole home along with toy soldiers, reindeer and other characters while guests nibble on tiny goodies alongside hot cocoa, tea or sparkling wine. It sells out, naturally, so book early.
Pin it for later!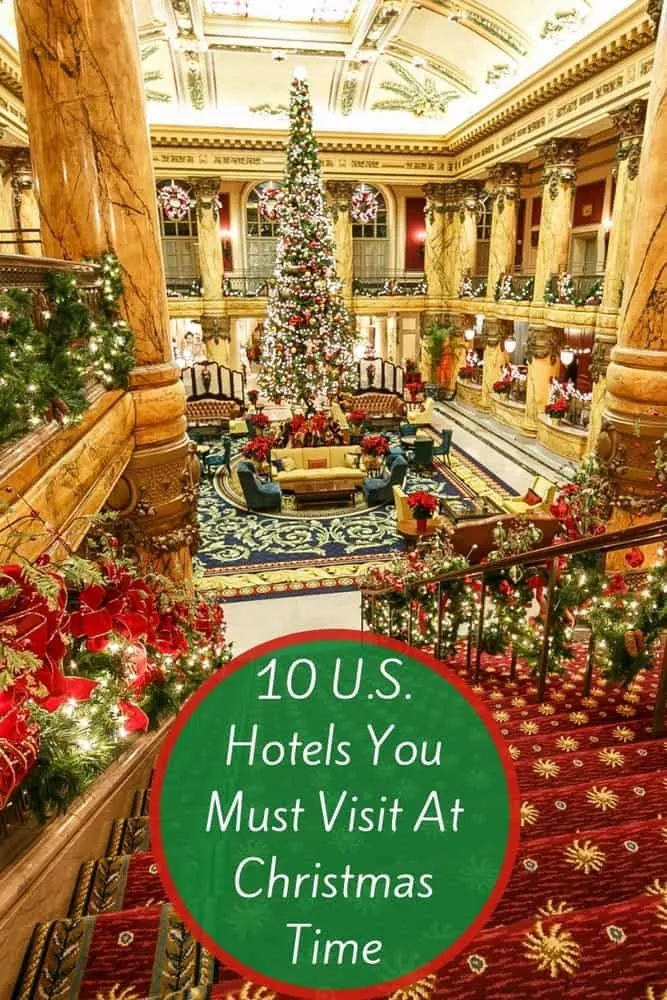 Photos are courtesy of the hotels.