I review 3 Cool Hotels Kids Will Love:
• Nativo Lodge
• Hotel Chaco
• El Vado Motel
Where: Albuquerque, New Mexico
We had the opportunity to spend time in three unique Albuquerque hotels. We stayed in two and spent an afternoon experiencing the third.
They have very different looks and ambience and target slightly different audiences. But they all welcome kids and have amenities parents will appreciate.
They're all pretty affordable, too (unless it's Balloon Fiesta week, when rates across the city can double or triple).
We would stay (or stay again) in all three of these family friendly New Mexico hotels, depending on the mood we were in and the type of vacation we wanted.
The Vibe:
Nativo Lodge: Accessible Native American
If they created a Native-American-themed hotel at Disney World, it would look like the Nativo Lodge. The theming is colorful, approachable and kid-friendly while maintaining its authenticity.
A giant, grinning shaman greets guests from the lobby. And a soaring atrium has large dream catchers and colorful native-inspired art to admire as you ascend to your room in the glass-walled elevator.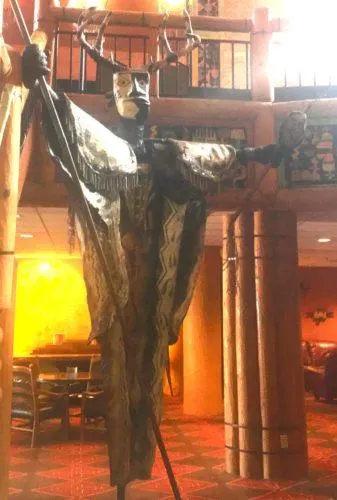 Details like a single elevator, dim hallway lights and unreliable hot tub make the Nativo feel due for refurbishing. Hopefully the room upgrades that are happening will take these other things into account.
The upside is that it's the sort of hotel where you feel completely comfortable bringing the kids. You don't have to cringe if they bound across the lobby or splash too much in the pool because most of the other people around you also have kids. Parents will appreciate that they can breathe easy here.
Hotel Chaco: Southwestern Chic
Hotel Chaco is modern and stylish with lots of sleek surfaces, neutral colors and modern Native American art. It's the one I would choose for a kid-free couple weekend.
That said, it's also that rare hotel where you can feel like you're an adult—not just a parent—and can enjoy adult things like a nice cocktail or good coffee in the morning. But you don't feel out of place bringing a child.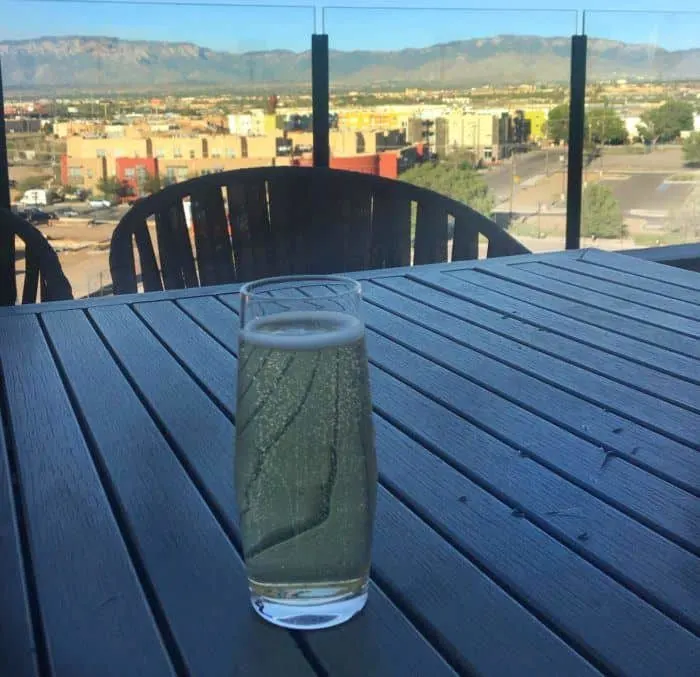 Every staff member we met was friendly to Tween Traveler. The waiter at the rooftop restaurant went out of his way to joke with her. And there is a fair amount of outdoor space for a city hotel.
El Vado Motel: Historic Route 66 Nostalgia
The El Vado was built as a Route 66 motor inn in the 1930s. It's been done over as a boutique motel with a cool 1950s vibe. You half expect to see Don and Megan Draper sipping martinis by the pool.
Look for the vintage-style neon sign along the city's Central Ave. Then check in to the single-story, white-washed adobe building with original details.
Rooms face a courtyard that used to be the parking lot. They sit behind a key-entry gate to give guests privacy from customers at the popular Taproom up front.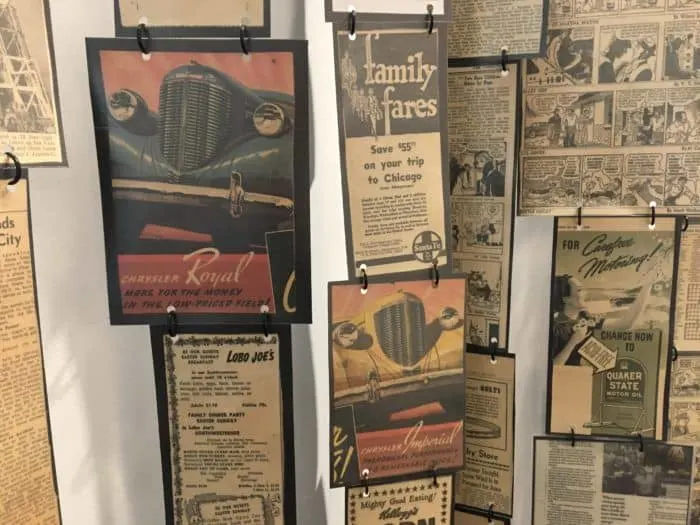 A mobile in the foyer of the events space is made from old newspapers that were found during the same work. Check it out to show your kids the old advertisements and comics.
The Amenities:
Nativo Lodge: Nice pool, no breakfast
The Nativo has an indoor/outdoor pool with a small outdoor patio and indoor hot tub. The pool was refreshing on hot days, but the hot tub worked intermittently. This was a little frustrating on cool New Mexico nights when Tween Traveler wanted to swim anyway.
Next to the pool were four logs set in a square around an Indian rug, which apparently had been inside a vaping teepee. It's the perfect place for an outdoor fireplace and I hope they consider adding one instead of replacing the teepee.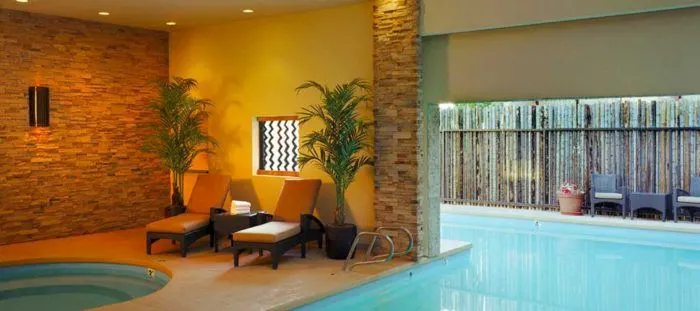 It seems like the sort of hotel that would include breakfast with the room rate. But it's previous restaurant has been closed. A new one is set to open sometime this summer. I'm waiting to see what it offers.
In the mean time, there's a Starbucks just across the parking lot. And Amy's Donuts is a few minutes away on San Mateo Blvd.
The large lobby has comfortable places to sit, but the small lobby bar had an adults-only vibe. So we didn't see families hanging out there. A few small tweaks—maybe a coffee bar and some different lighting— could make it a vibrant gathering place for the hotel.
They Nativo allows dogs for an added fee.
Hotel Chaco: Big pool, rooftop restaurant
Hotel Chaco has a large outdoor pool surrounded by a roomy patio with plenty of lounge chairs. It's adjacent to a patio with an outdoor fireplace and more seating.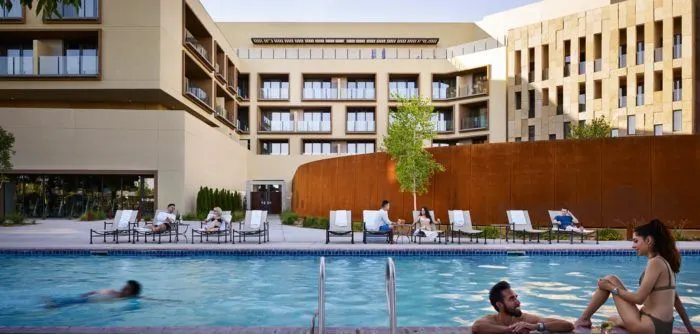 This is an outdoor space where you carve out time to linger, maybe over morning coffee or evening wine, maybe for an afternoon swim. This feature alone should draw families.
There are morning yoga classes on Friday and Saturday mornings. The hotel also has its own small art gallery and a store with a curated selection of locally made art and Jewelry.
For a quick breakfast you can get croissants and Italian coffee at the lobby bar.
The rooftop restaurant and bar, Level 5, serves full breakfast, lunch and dinner with a stellar view of the city and surrounding mountains. Even if you don't stay here I would recommend coming for breakfast or afternoon drinks and snacks; the view is that fantastic (see photo above).
El Vado: Sunny pool, fun food court
The El Vado seems built to appeal to millennial couples and families but Gen-Xers appreciate the retro details. And it could be a good choice for multi-generation stays, given that everything is on one level and all the rooms are close to each other.
The rooms surround an open courtyard with a small three-foot-deep pool built around a former traffic island. You can't do serious swimming but it's fine for cooling off and letting kids splash around safely.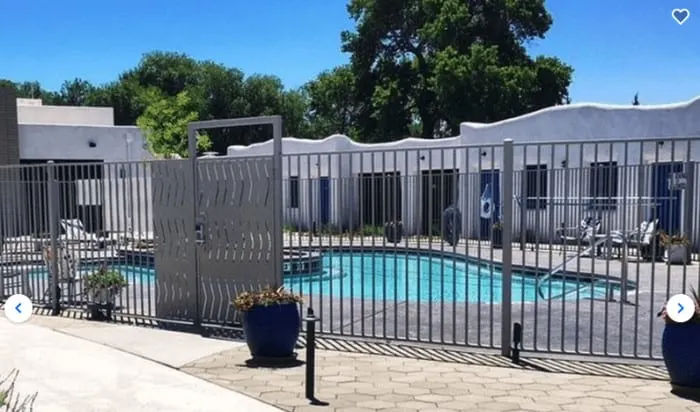 There is a noticeable lack of shade here, which the motel is aware of and working on. Landmark-status limits the structural changes they can make. So shade will probably come from umbrellas or freestanding canopies.
The motel's owner also owns a local microbrewery, so instead of the usual hotel restaurant the front of the property has an open courtyard with tables, a taproom and several food vendors that periodically change. You can find shade under umbrellas and at tables tucked into former carports.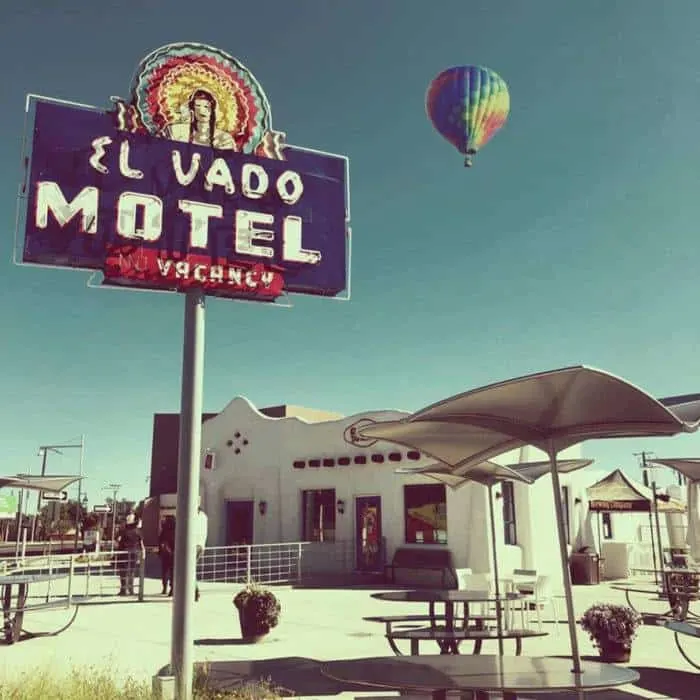 The Korean chicken place is fantastic (when they say "spicy" on the menu, they mean it); there's also a coffee shop for your morning Joe, pizza, burgers, a Costa Rican place and of course Southwestern food.
There's splash pad for kids to dash into, and live music on summer nights and weekends.
Every room has a growler in it, which you can use for drinking water or take to the taproom to fill with beer during your stay.
Part of the space is an incubator for new local retailers who can get their start there and ideally outgrow it and move on. So each time you stay the collection of shops will change.
They make a point of keeping a bilingual staff to answer guest questions and suggest things to do around town.
El Vado is the type of hotel that in my mind follows the Jet Blue model. To keep prices low they can't offer a full-service hotel but they have thought carefully about what amenities guests value the most and focus on delivering those well. So you feel quite taken care of and like you're getting good value.
Select Albuquerque Activities
The Rooms:
Nativo: Basic comfort with a twist
The best thing about the Nativo is the recently done "artist rooms" on the 5thfloor.
Native American artists apply to paint the walls of a room with their own original creation. Four walls give an artist room to work on a grand scale. All the rooms are different from one another and each is impressive.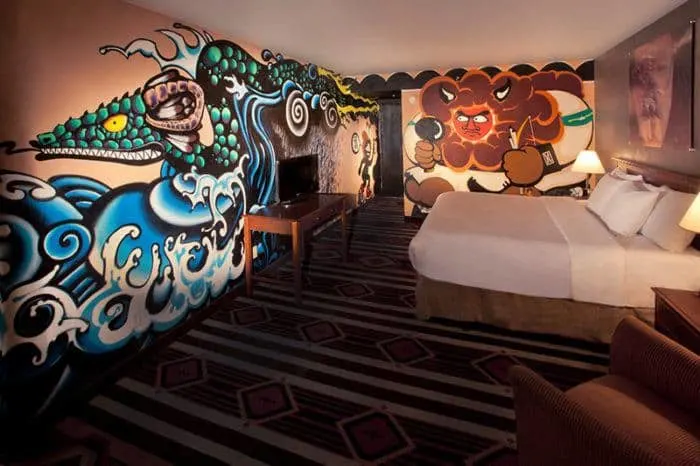 The aim is to have all the rooms done over in the next few years. The art rooms don't cost extra and are worth asking for when you book. I've been told some of the rooms on the lower floors feel due for refurbishment.
The rooms themselves are standard. We had a rollaway bed in our queen room and still had at least some room to move around. The sink is outside of the bathroom, which families appreciate. And the rooms have refrigerators; some have microwaves.
Hotel Chaco: Airy and roomy
The Hotel Chaco's rooms have high ceilings and a glass wall facing a balcony, which gives them an airy feel.
The balcony had clear plexiglass between columns, but some balconies are all plexiglass for a very open feel.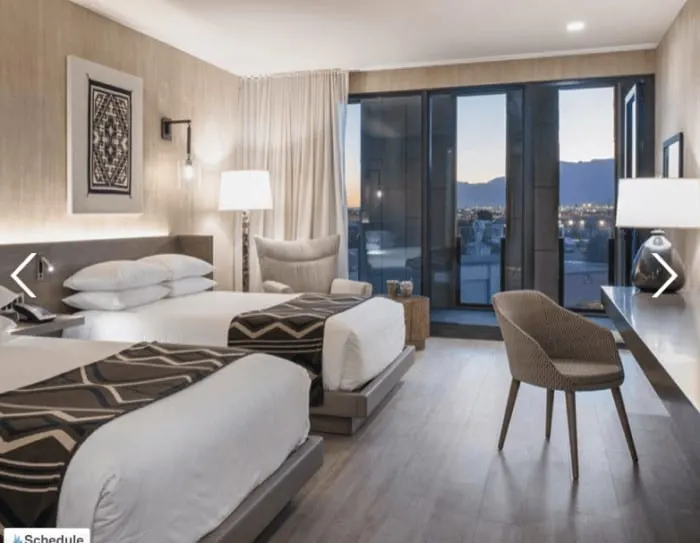 The bathrooms are large with a shower but no tub. A double queen room felt comfortable with three people. It had a wingback chair for sitting and reading, and plenty of USB ports and outlets for our several devices.
El Vado: Vintage 1950s
El Vado was built at a time when hotel rooms were smaller, but they have managed to make them feel cozy rather than cramped with muted colors and streamlined vintage-style furniture (all made by local producers).
The ceilings have original beams and the real adobe walls keep out the heat, cold and noise.
Most of the rooms have an armchair or couch and a refrigerator, along with memory foam mattresses.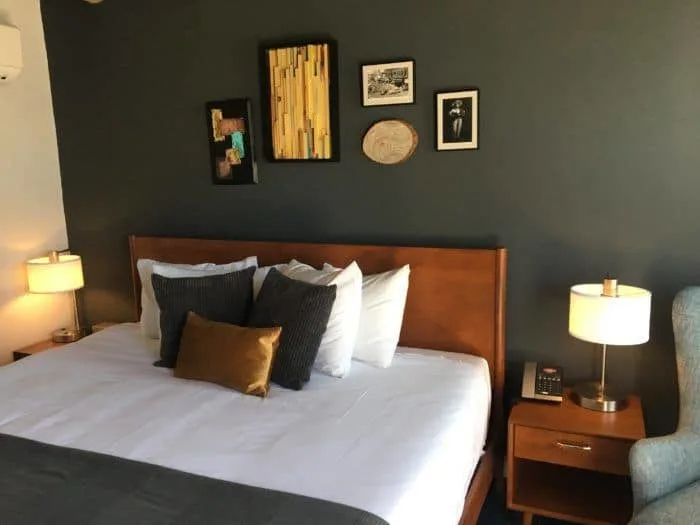 Art hanging on the walls is made out of scrap wood from the renovation.
The double-queen rooms can work for a small family; Don't try wedging a rollaway or portable crib in the single-king rooms. Back in the day, some of the rooms had carports next to them, which El Vado has used create two-room suites that are ideal for families.
The Locations:
El Vado has the best location, across the road from enormous West Park and the BioPark, Albuquerque's top attraction with a zoo, aquarium, botanic garden and recreation pond all in one place. It's also a short walk to the Old Town.
Hotel Chaco, along with the adjacent Hotel Albuquerque, are the anchors of an in-the-works neighborhood called the Sawmill District (yes, there was once a lumber mill here). Give it a year or two and you'll find an abundance of restaurants and shops and housing just outside the hotel's doors.
In the meantime, it's walking distance to old town and three blocks from the Ponderosa Brewing Company, which offers a kids menu alongside its selection of house brews, burgers and southwest fare.
The Nativo is near nothing but convenient to everything. Alongside one of two main freeways and a five-minute drive from the other, it's as central as could be. Nothing we did was more than 10-to-20-minutes away. In a city where you absolutely need a car this made things easy.
In Short:
Hotel Chaco and the El Vado Motel have inviting spaces to spend time in. The former has it's rooftop bar and ground-floor patios. The latter has its food court and pool area, not to mention the rooms themselves.
The Nativo Lodge is more the hotel that you use as a base for going out and doing things. This could change when the new restaurant opens and they finish the makeover (and fix the hot tub). We'll see.
Appropriately, Nativo is also the least expensive of the three, with rates starting just below $100/night. I've gotten far less for higher rates in my travels. If you don't need more than a bed, breakfast and a swim it's a good deal.
El Vado's rates top out at about $180 for the queen rooms and suites.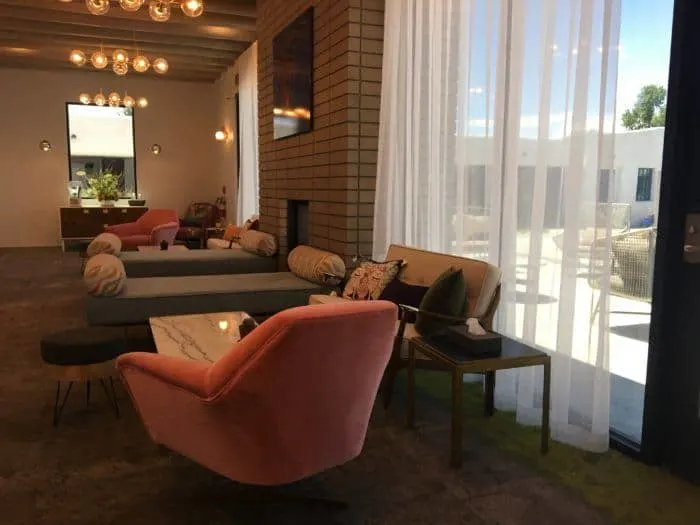 Hotel Chaco is the most variable with rates starting at $175 most of the time but climbing toward $400 on holiday weekends.
I think the latter two hotels are both very good values. I would one or the other if if I wanted to mix my sightseeing with a good dose of relaxation. They would also be my choice for a family staycation in New Mexico, especially the El Vado.
Which suits your family's style?
Pin it for later!