Question:
What are our options for traveling to Cuba with a tween and teen? And how can we compare costs?
Answer:
A Cuba family vacation was briefly a bit easier than it used to be for Americans, but Donald Trump reinstated restrictions for most travel to the Caribbean island. Here is the U.S. State Department's explanation if you want the official details.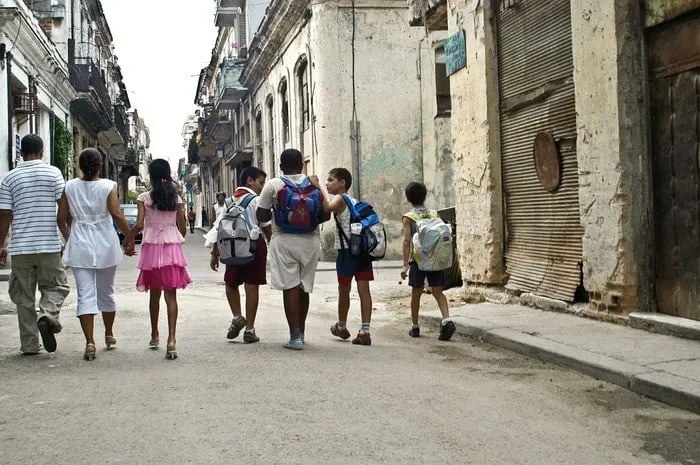 Tourist can visit if the travel meets the requirements of a humanitarian or educational visit. Cuba Candela is still managing to offer legal tours. Discover Corps might be managing to do so as well. See below for details. And read on in case restrictions loosen up again.
• Read 1 family's real-life tips for taking a toddler to Havana
•Read about a Havana port experience: Tips for a Cuba cruise with kids.
The Basics on a Cuba Vacation With Kids
Anyone who is living in the U.S. must obtain a license to travel to Cuba from the U.S. Government, or travel with a business covered by a general license. The easiest way to comply is to work with a licensed tour company.
In addition to the official hurdles, there are logistical ones, too. The tourism infrastructure is still underdeveloped. And the island still contends with the same restrictions and shortages that have hampered it for decades.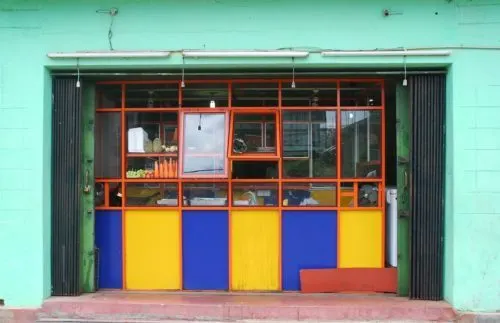 By and large, U.S. credit cards, debit cards and ATM cards don't work, so you need to bring an ample amount of cash to cover all of your costs for the duration of your stay. The only non-cash option is non-U.S. travelers' checks. (Good luck finding those!)
Your mobile phone probably won't work without a local SIM card. Internet access is fairly limited.
Americans need a Cuban visa and health insurance that works outside the U.S. Sometimes the health insurance is included in airfare, cruise or tour fees. If not, you can buy it at the airport.
A tour company might also help with your visa; cruise-ship companies usually don't. Either way you go, ask if you need to handle this yourself.
Where To Stay & Eat
Cuban lodging options for families include full-scale resorts in the beach areas. Havana has upscale hotels, even one or two U.S. brands. But moderate and value hotels—anything in the $80-$225 range—are scarce.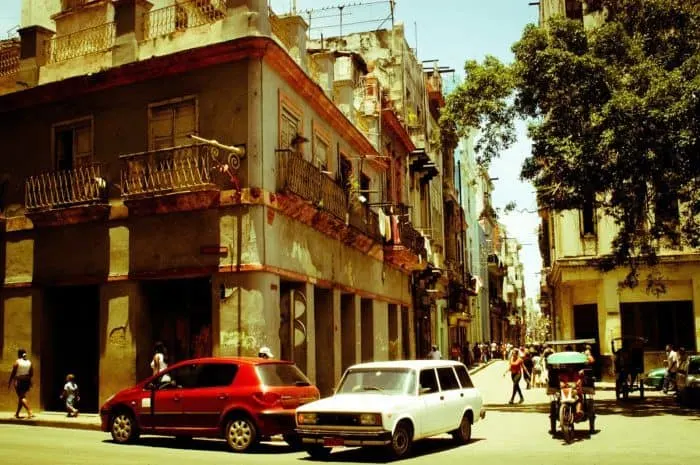 The most common option in the cities is to book an apartment through AirBnB or to stay in a casa particular, which is essentially an informal B&B.
The former is pretty cheap but quality varies wildly.
The latter is very cheap and an interesting cultural opportunity. But this type of set-up isn't for everyone and it will be challenging if no one in your family speaks Spanish.
Grocery stores are expensive. Restaurants and food vendors are generally cheap by American standards but prices and quality are known to vary quite a bit. The biggest complaint we've heard is that meals can get repetitive very quickly.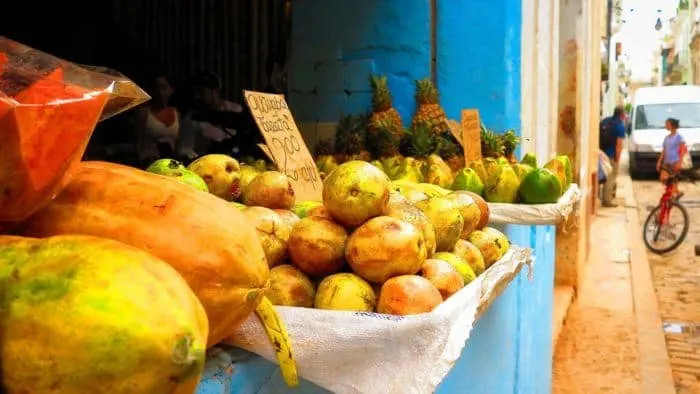 Moreover, food availability is unpredictable in both stores and restaurants. An item or dish you bought one day might be gone the next, not to be seen for the remainder of your stay.
Take A Cruise
Booking a cruise used to solve most of the challenges Cuba presents and could be the most economical choice, too.
Being able to sleep and eat one or two meals each day on the ship saves you from the complications of having to arrange those things. And it significantly minimizes the amount of cash you'll need to carry.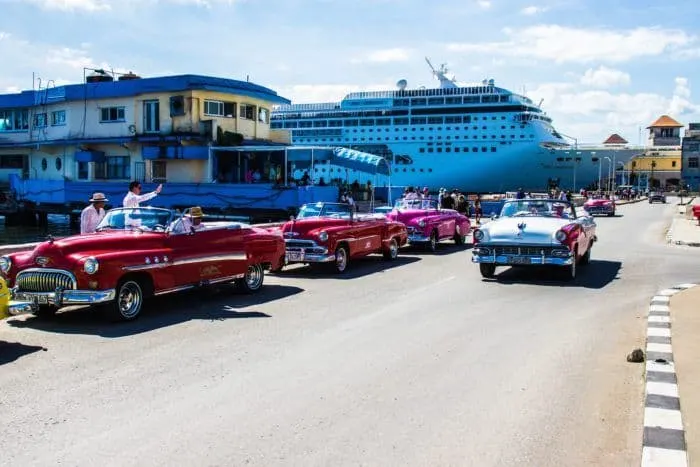 Any shore excursions you book through the cruise company are going to be properly licensed. Or you can book your own tours with licensed vendors to save a little money. But do this from the U.S. before you leave.
Several cruise companies made a one-day stop in Havana as part of a Caribbean itinerary. NCL had sailings with two full days in Havana. Azamara had cruises with three port stops in Cuba instead of just one.
For U.S. based lines can't stop there. Look for these options to come back, should a future administration try again to normalize some relations with Cuba.
Cuba by Land
If a cruise is not your thing, a land-based Cuba vacation is possible. But you have to either be very intrepid and flexible or have an ample budget.
For one thing, Travel Agent Tina Gutierrez Weeks notes that airfare from the U.S. is high.
You'll save yourself a lot of legwork and headaches by booking with a tour company. And you'll have a trained tour guide, who's also a local, dedicated to showing you around. Of course that carries a bit of a premium.
These three companies give you a sense of what is available in terms of Cuba tours for families. All their tours include guides, lodging, transportation and some meals. The first two are very customizable.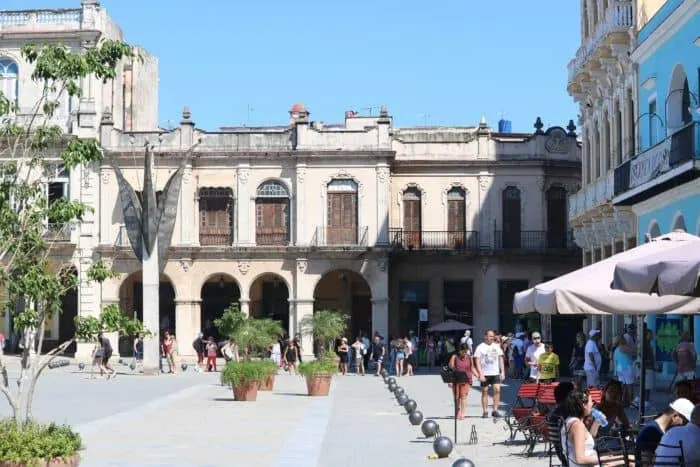 They all offer kid-friendly itineraries that stress educational travel, unique cultural encounters with local people and hands-on experiences, but in slightly different ways.
Global Family Travels offers seven-day private family tours starting at $1,400 per person. You'll stay in casas particulares.
Cuba Candela offers private family tours with lodging in four-to-five-star vacation homes and apartments of your own. Their seven-day tours start at $3,200 per person.
Discover Corps offers small-group tours of 12 to 16 people. Lodging is split between casas particulares and a kid-friendly beach resort at the end of the trip. Their six-day tours start at $3,300 for adults and $2,795 for kids 16 and younger who share their parents' room.
This is Ask FamiliesGo!, where we answer our readers' questions about family travel. We add new questions as our readers pose them, so keep checking back. You can ask your own question by sending us an email.
More Ask FamiliesGo!
• How do you share a hotel room with a toddler?
• Where Are the Deals on Washington DC Hotels?
• Any ideas for a budget U.S. beach vacation?
• How Do We Manage Naps on Vacation?
Pin it for later!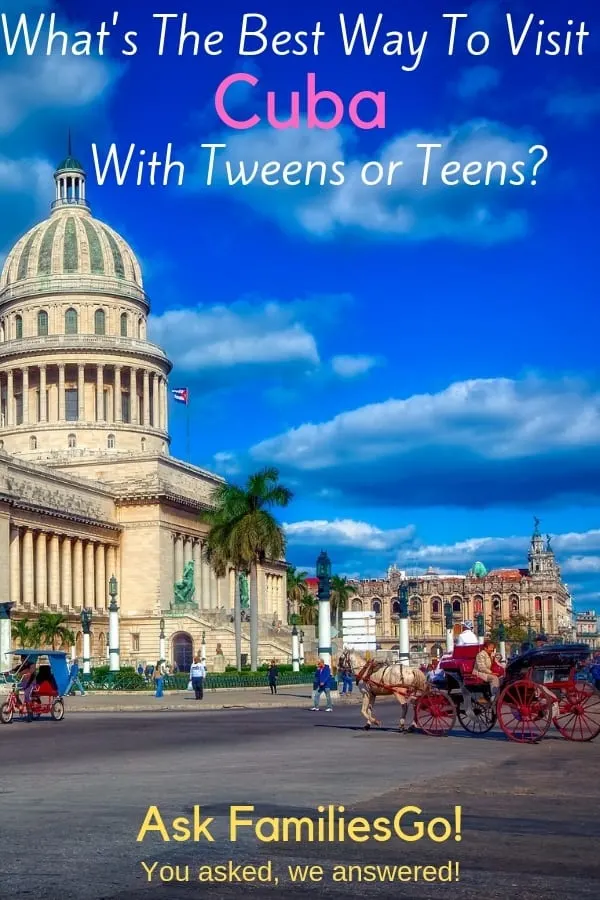 Have a question on family travel?
Ask FamiliesGo! and we'll do our best to answer your email and here on the website.