Curacao is arid with a lot of greens and browns in its landscape. Nevertheless, I think of this Caribbean island as an incredibly colorful place. This is because the best things to do with kids will take you to places that are full of bright colors and cool activities.
Unlike some islands where families go directly to the all-inclusive and never leave until they head back to the airport, Curacao is a place where parents and kids rouse themselves from their beach chairs, rent a car and explore. It's fairly easy to get around and there are free and inexpensive activities that you and your kids will love.
Here are some of the best things we found to do in Curacao during a family vacation with our 15YO.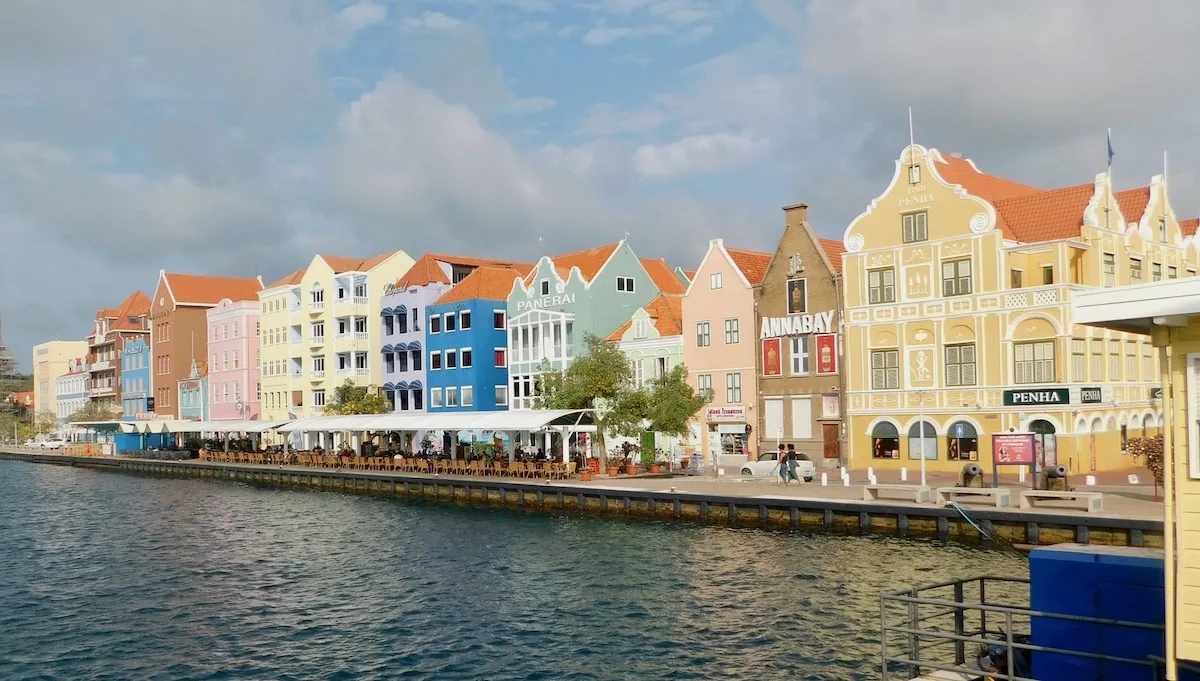 ---
Read about
Our stay at the Hilton's Mangrove Beach Corendon All-Inclusive in Curacao.
Find the Best rates for Mangrove Beach Corendon
Consider, these other Caribbean vacation ideas.
---
6 Fun Things To Do With Kids Around Curacao and Willemstad
Snorkel On Curacao's Awesome Beaches
The south-west side of the island is lined with small beach coves separated by large rock outcroppings. Fish and turtles love hunting among these rocks for food and this provides excellent snorkeling close to shore. Talking to Curacaoans I got the sense that you could put a snorkel mask on and stick your head in the water off of any beach and see some fish.
That doesn't mean all the beaches are the same. Some are more crowded and touristy but have amenities. Others are more local and less crowded but with no amenities. We're happy to trade off amenities to be around fewer people, especially when we're snorkeling.
But if you're in Curacao on a cruise ship port day or you're staying in a hotel with no beach of its own, it's quite handy to be able to rent chairs and an umbrella and have changing cabins, food and drinks. You'll have to find a restaurant for real bathrooms, though.
Turtles & Tourists at Playa Piskado
On the first day of our two-day car rental we headed to the other end of the island to Playa Piskado because we heard from several sources that this was the best beach for spotting sea turtles. And boy was it.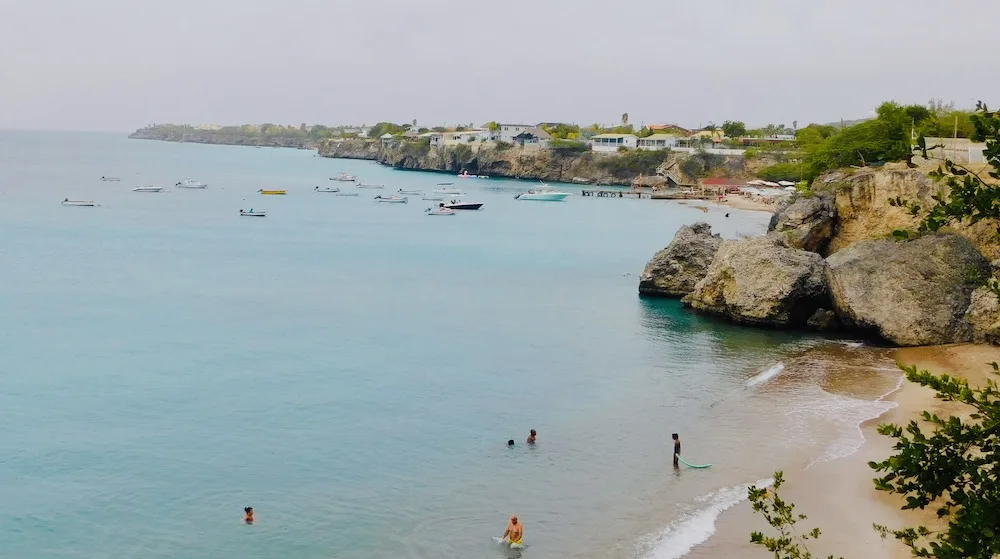 The snorkeling advice we read online said the rocks at the edges of the beach were the best place to spot turtles. We saw a few fish there, but that's it.
There is a pier in the middle of the beach that was crowded with people looking down at the water. It dawned on me that they were feeding the fish (with squid some local guys were cutting up and selling). I don't agree with feeding wildlife at all. But we had to concede that this is where the fish and turtles would be.
We spent an hour in the water and saw half a dozen turtles or more swimming around. They were oblivious to the people snorkeling around them, to the extent that a few brushed against Teen Traveler with their fins, eliciting surprised yelps. I followed a few of the turtles away from shore (at a distance) to have a chance to observe them without a crowd around.
Piskado has chairs to rent, changing cabins and food available right on the beach, including an ice cream truck. It was an easy place to snorkel with kids because the sea life was plentiful and very close to shore.
But It was also a busy beach. Given the number of people and the fish-feeding situation I don't think we would go there again.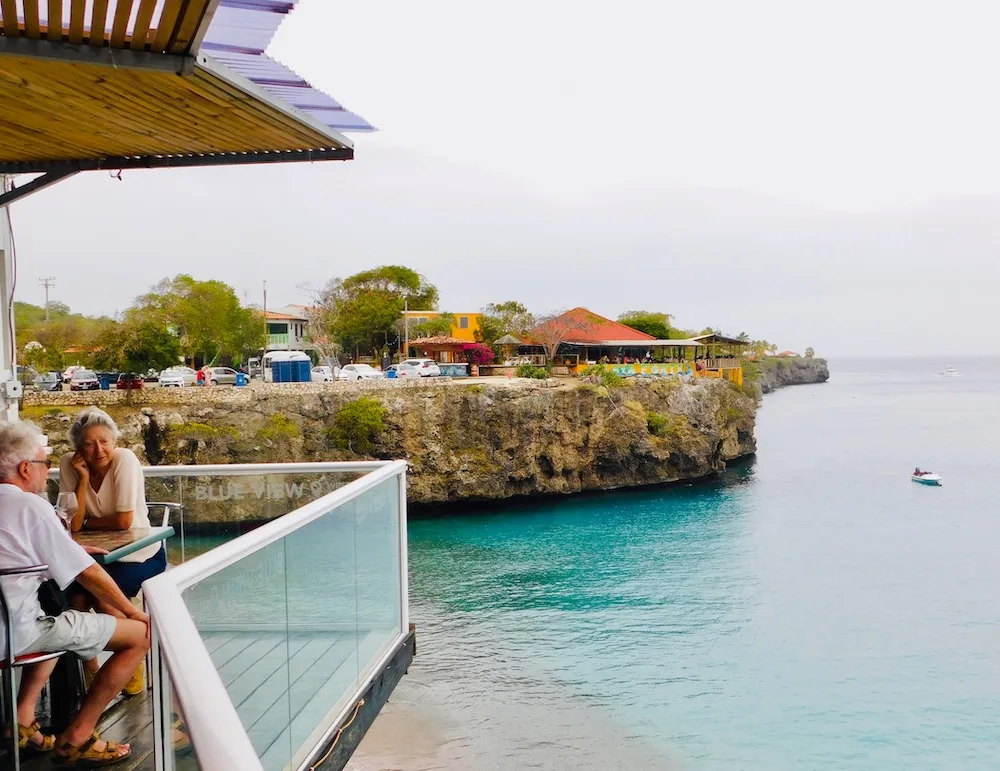 Playa Forti is on the other side of the cliffs at the south end of the Piskado. It was desert-island quiet. If Piskado is not your scene this is a good fallback. We were told you would see fish there. They might not be quite as abundant as at the beach next door, but you'd have them all to yourself.
Take a Lunch break: We had lunch at a place called Blue View Sunset Terrace, on a cliff that straddles the two beaches. We asked for a table on the outside deck, which had stellar sea views. As a bonus, we were able to watch people jumping off the cliffs at Café Playa Forti, a few hundred yards away.
Rich had a sizable shrimp salad. I had local fish in a Creole sauce over a pile of rice and peas. Teen Traveler had chicken saté, one of her favorite foods and a common menu offering. We saw very good-looking ice cream sundaes going by and Teen Traveler really wanted one. But the service was very relaxed and we wanted to get to the beach, so she reluctantly skipped dessert.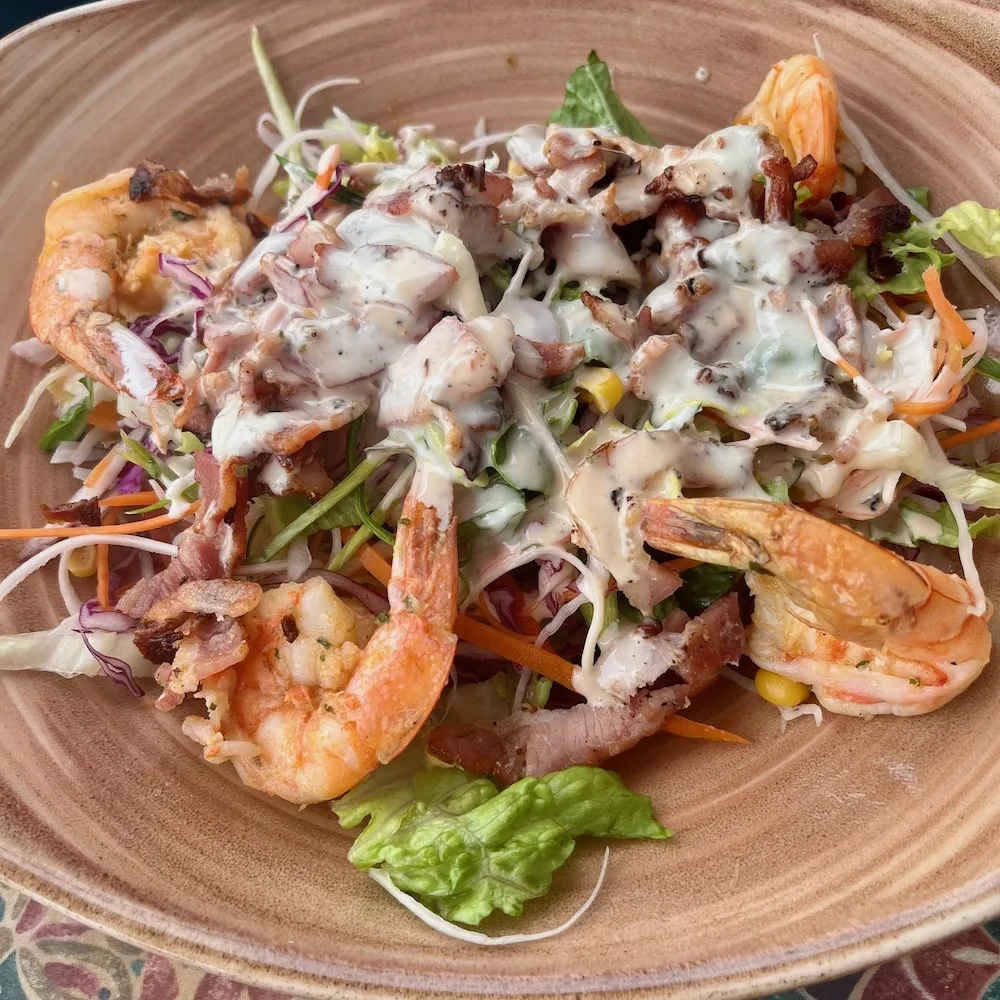 Fish, Dutch Food & Locals at Playa Lagun
On our second day with the car we went to Playa Lagun, a smaller beach not quite as far up the coast and also known for turtles. It wasn't crowded at all because it's BYO everything. A few families had set up tents and grills and were clearly there for a full day out. We spread some towels out and headed into the water.
The beach was narrow enough that we could swim easily between its two cliff walls and we saw tons of fish. They were every color, including electric blue and bright purple. And we saw some large schools swimming by.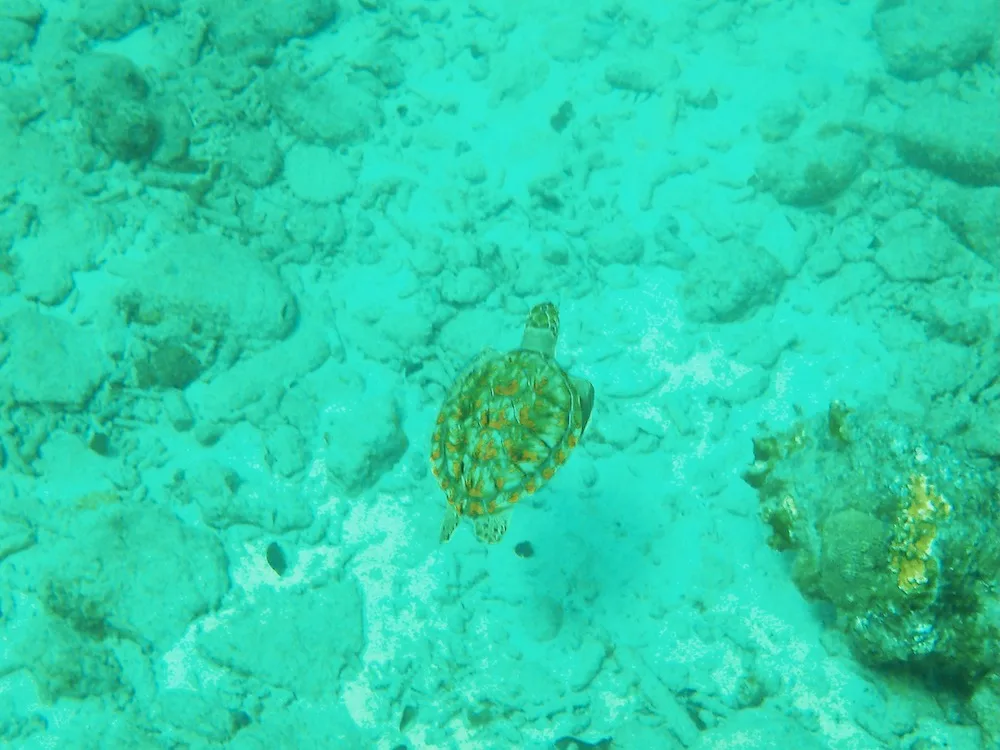 We were about to head back to the hotel when Rich spotted a turtle. We were able to follow it around at a distance for quite a while and it was nice to see it without a swarm of other snorkelers.
While we did see more turtles at Piskado this was a better snorkeling experience overall and we liked the more laid-back and local vibe here.
Take a Snack break: Discover Lagun café overlooks the beach parking lot rather than the beach, but it has friendly beach-shack ambiance and a much more local menu than another restaurant perched above the beach. And they make their own hot sauces, which is pretty cool.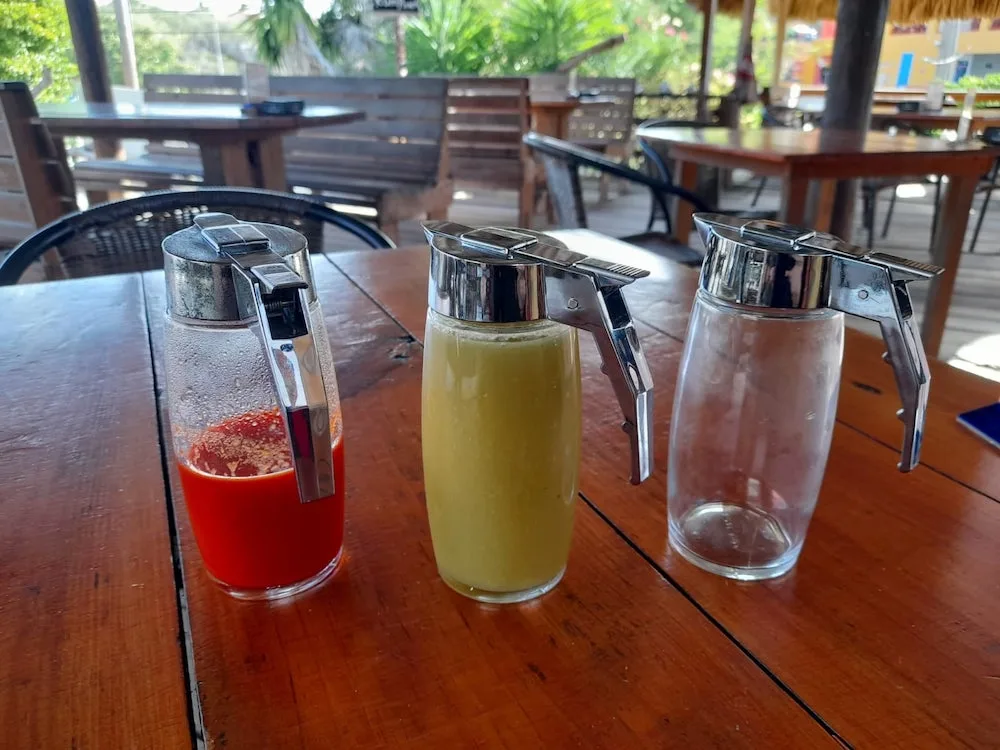 We drank local micro-brewed beer and perused a chalkboard listing the day's catch. We hadn't had much Dutch food on the trip yet, so we blindly ordered an appetizer plate of bitterballen, which turned out to be crunchy, oozy and tasty beef croquettes.
We also ordered a cone of French fries that came with the same sort of peanut sauce that always accompanies saté. This was a new combination for us and we liked it, especially Teen Traveler.
Good to know: Kids love the Curacao beaches because they don't have big waves or a strong undertow, perhaps because of the protective cliffs. The three beaches we swam in had calm water that was safe for very small kids to splash around in and ideal for snorkeling with older kids and teens.
When I ventured toward the outer end of the cliffs at Playa Lagun, though, the wind and the current picked up and getting back toward shore took some energetic swimming. This is something to keep in mind if you're snorkeling with kids who aren't strong swimmers or if, like us, you don't have flippers.
Consider a Snorkel Tour
There is a tug boat wreck that is very shallow but in open water a good distance from shore. It's supposed to be an amazing place to snorkel, but you have to be a good swimmer and have fins to make your way out to it from the nearest beach. And we were told that beach isn't very nice for hanging out and swimming.
If we had another day for excursions we would have booked either a boat tour that visited this wreck or a boat tour to Klein Curacao, a small island off the coast that was recommended to us as picturesque and quiet with a nice beach and clear blue water.
Discover Caves + Bats
We visited the Hato Caves, just north of the airport, on our way to Playa Piskado. This is a very inexpensive and family friendly excursion. The caves are not too big and a tour takes about an hour. It's easy to combine the caves with a beach visit or other excursion in a single day. Some tours combine Hato with a nearby flamingo preserve.
You can only see the caves by a guided tour that takes you through several "rooms" full of stalagmites and stalactites. There's a corridor where small fruit bats like to hang out, literally. The guides point them out to you. As long as you're quiet you won't stir them up.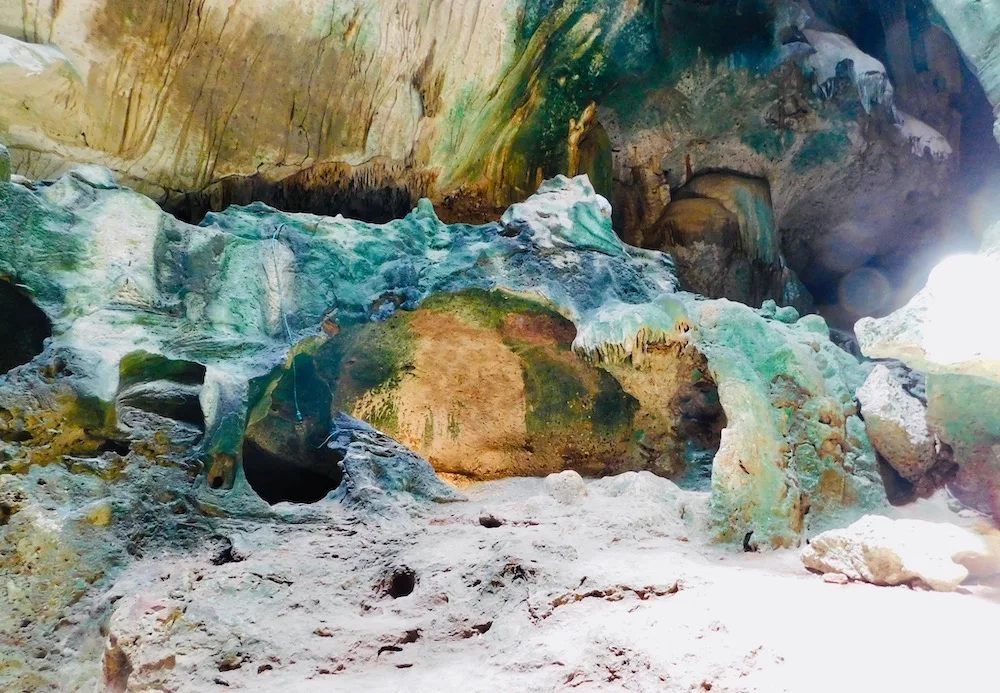 It was interesting to learn the geology that created the caves and to get a reminder of how the stalagmites and stalactites form.
Enslaved people who escaped nearby plantations hid in these caverns. At one point the guide turned the lights out to show us how dark it was when the escaped slaves were using it (absolutely pitch black), but it's only for a few seconds and they warn you.
You can't take pictures everywhere, but the last two chambers have high ceilings and are pretty dramatic. And our guide gave us plenty of time to take photos here.
It's not hot in the caves but it is stuffy and when we returned we definitely wanted a cold drink. The ticket desk is also a snack counter where you can buy ice cream and cold soft drinks. It wasn't overpriced, which was a nice surprise.
Take A Walking Tour of Willemstad
We were told that Willemstad has some interesting history so we signed up for a free walking tour of Otrabanda and Punda, the two neighborhoods on opposite sides of the colorful Queen Emma Bridge that straddles the harbor.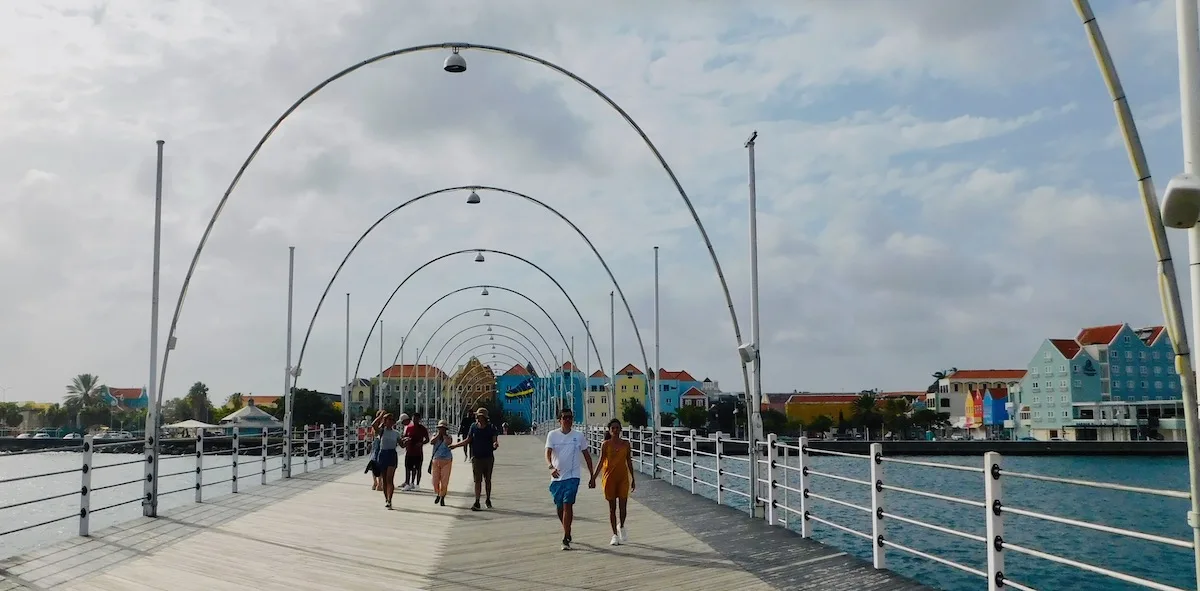 We started at the Rif Fort in Otrabanda and the Queen Emma, which is a swinging bridge, started to open as we were walking toward it. It's pretty cool to see how it works. And apparently if you are on the bridge as it starts to open you can stay there.
But it takes some time for the bridge to open, a ship to pass and the bridge to close again. So the guide had to alter his route a bit and we spent most of the time in Otrabanda.
The tour guide talked about the island's history and told us a lot about Curacao culture. He had a clear affection for local artisans, street art and traditional food and these are what he focused on, which was both good and bad.
Had we not been staying at an all-inclusive, we probably would have gone back to some of the eating places he walked us by, particularly Barrio Urban Street Food, a food court made from shipping containers that riffs on Caribbean street food.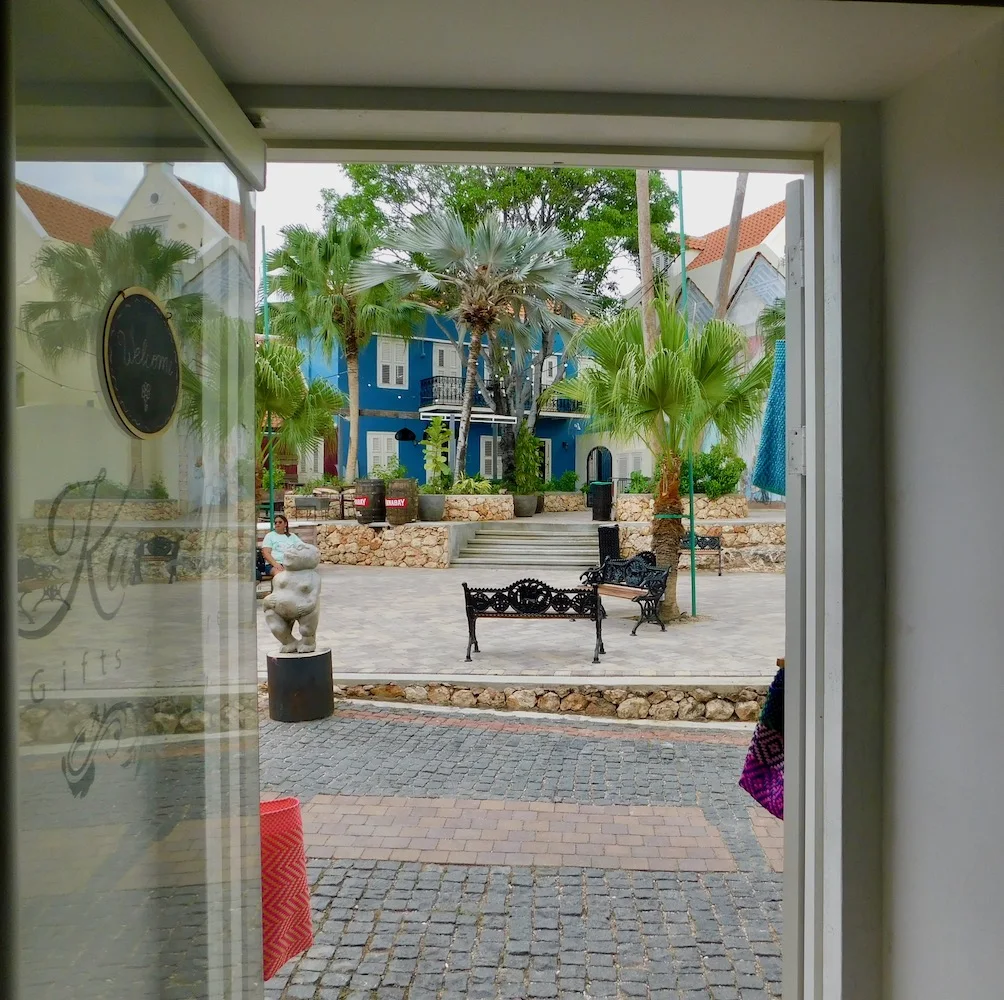 He brought us past the Kura Hulanda Museum, which focuses on the history of enslaved Africans in the Caribbean. Then he walked us through adjacent Kura Hulanda Village.
This collection of old buildings have been restored as shops, cafés, restaurants and hotel rooms. It has a nice open square with a facade renewed in bright local colors. It was easy to imagine it as the 18th century village it might once have been.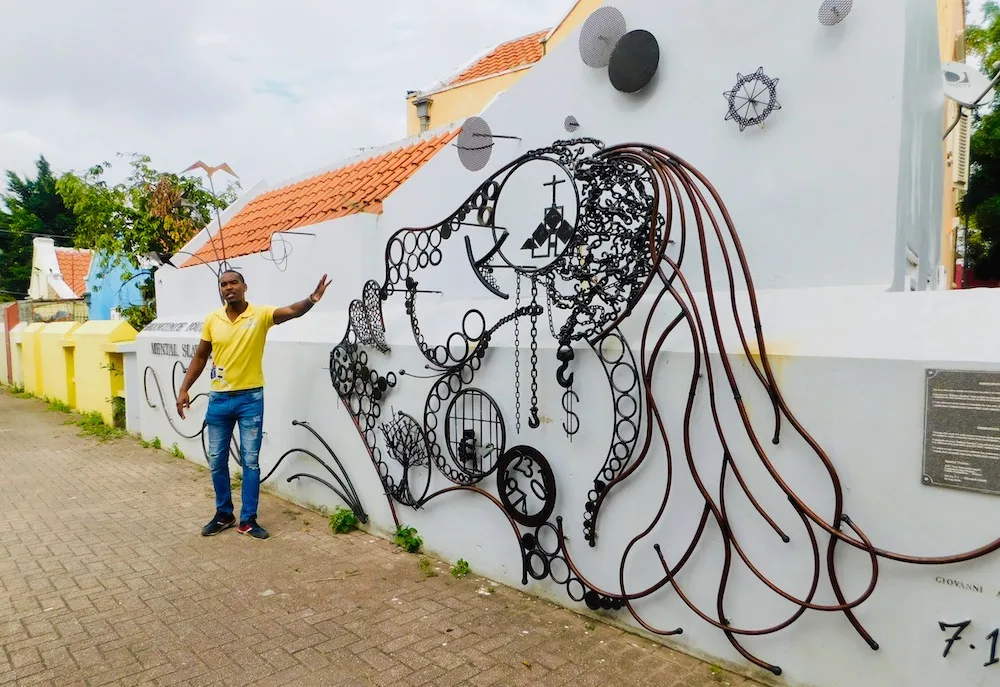 Nearby, he showed us several impressive murals by local artists on and around Arubastraat, including a metal wall sculpture in honor of Bob Marley that was visually interesting and unique.
Across the water in Punda he brought us to Serena Art Shop, a studio on tiny Windstraat, an alleyway just a few blocks from the water but easy to miss if you don't know it's there.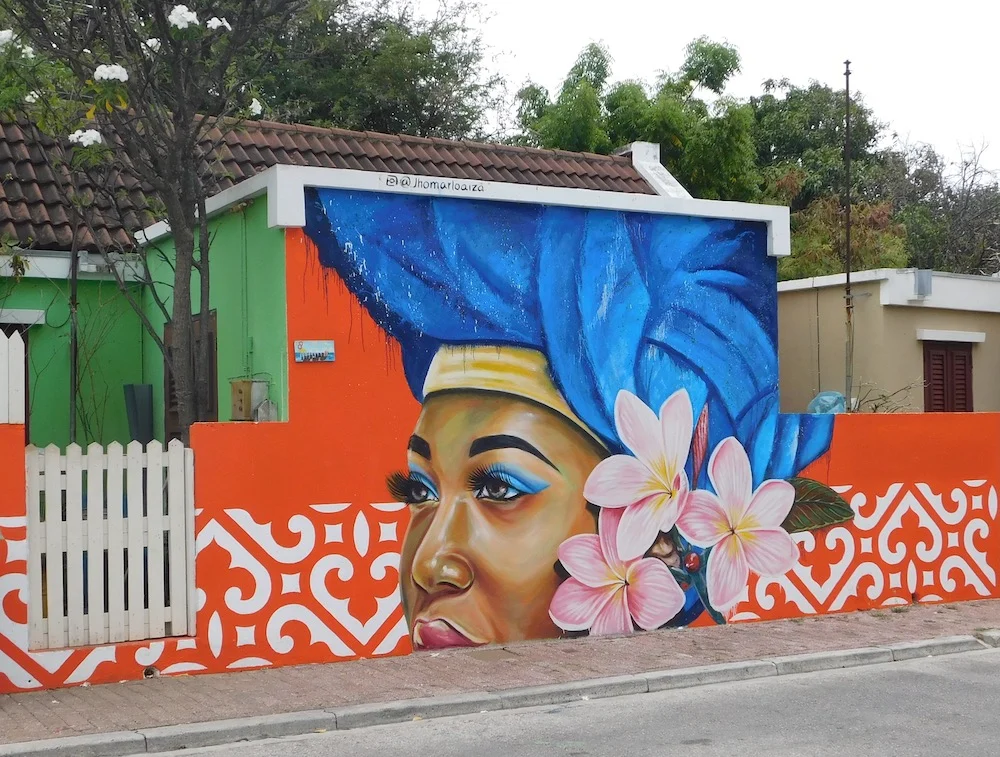 A local artist, who had done some of the murals we saw, owns it and several other artists work and sell their pieces there. I liked seeing the variety of local paintings, wood and stone work and talking to the artists who were on hand.
But, Willemstad has the oldest surviving Synagogue in the Western hemisphere and we didn't even walk past it, which I thought was a pretty big miss.
Also, he ended the tour at Waterfront Arches, a small fort that is all upscale restaurants. He didn't tell us anything about the fort and it was too obvious that he brought us there so the restaurants could get us to stay and eat dinner. We would have preferred ending the tour at a site with more history.
Make sure to walk around after dark so you can see the Queen Emma Bridge all lit up. You can also look at other walking tours.
Catch The glockenspiel
On the Punda side of the floating bridge, in a plaza about two blocks from the water on Breedestraat, there are a bunch of bells hanging on a wall along with a small glockenspiel. The bells play and the glockenspiel figures make a little parade every hour.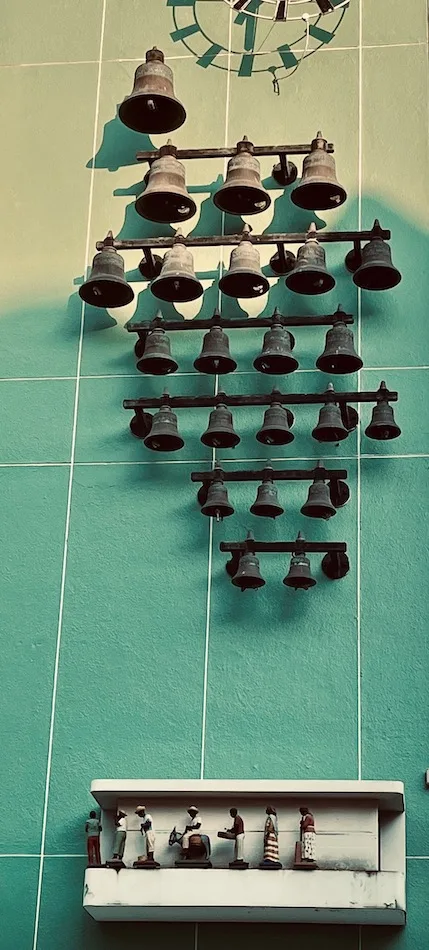 We started to walk away once the 6:00 hour passed and nothing happened. But like everything else the clock operates on island time and began chiming a few minutes after the hour. So be patient! It's worth hanging out to see and hear if you're in the area close to the hour.
Tip: Windstraat is off of this plaza, parallel to Breedestraat.
Stop Into The Synagogue
The existing building of the Mikvé Isreal-Emmanuel synagogue dates to 1730. It's a very pretty building that combines Colonial, Caribbean and traditional Jewish colors and details. If there isn't a service going on, stop in and take a look at it.
Tourists are welcome to attend Shabbat services, but if you plan to do so bring slacks for men and a longer skirt for women. Absolutely no knees or shoulders showing and women should bring a scarf to wear on their heads.
Have Fun At The Rif Fort
The Rif Fort is one of several forts around the island and sits on the Otrabanda side of the floating bridge, protecting the entrance to the city. It's about a ten-minute walk from Mangrove Beach.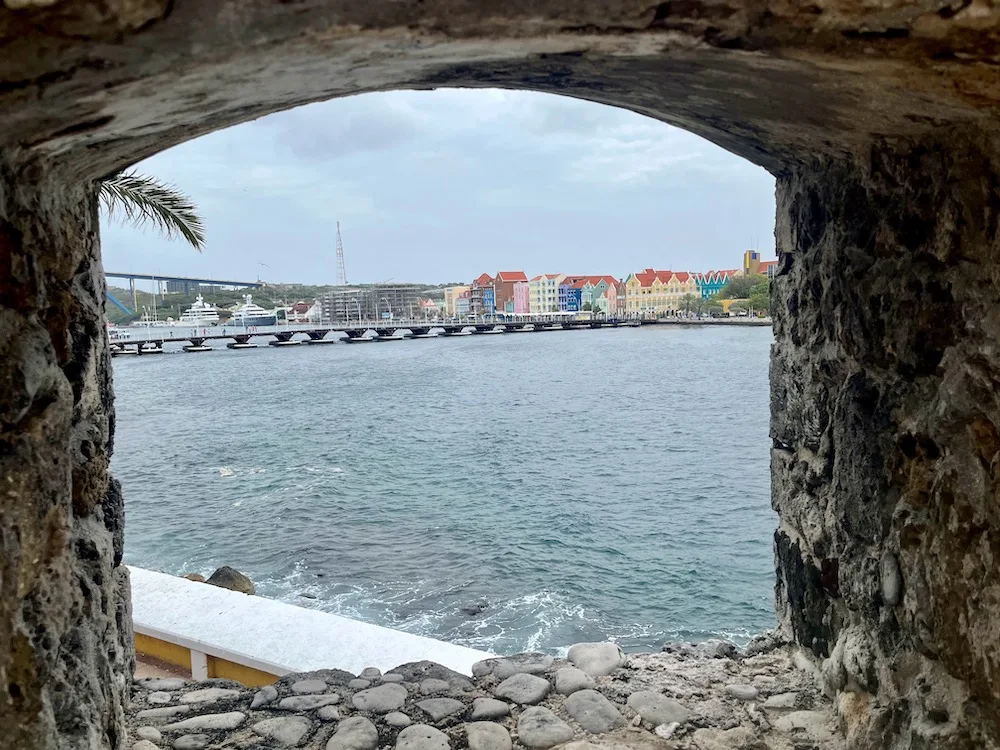 They've repurposed it as a shopping, dining and entertainment space, but you can still climb around, appreciate it as a fort and take in the harbor views from its ramparts.
Being able to take a few photos and explore the fort and then shop for souvenirs, buy ice cream or have a drink and a bite to eat preserves history while giving the space new life and relevance. We did all of those things over the course of a few visits there.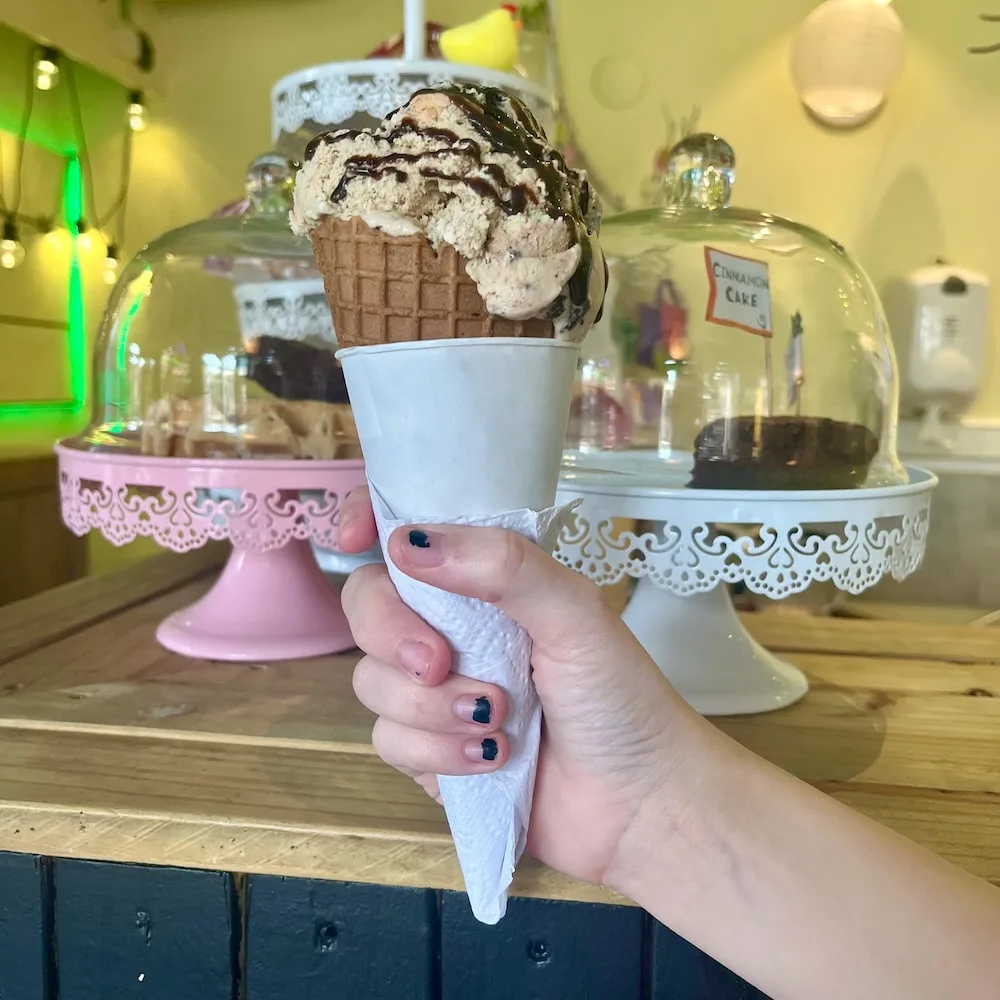 They have live music at 8:00 p.m. on weekend nights. We walked over the see who was playing one night after dinner. There was a band doing covers of everything from 50s doo-wop to Bob Marley and they were good. We bought some drinks and stayed to hear two sets.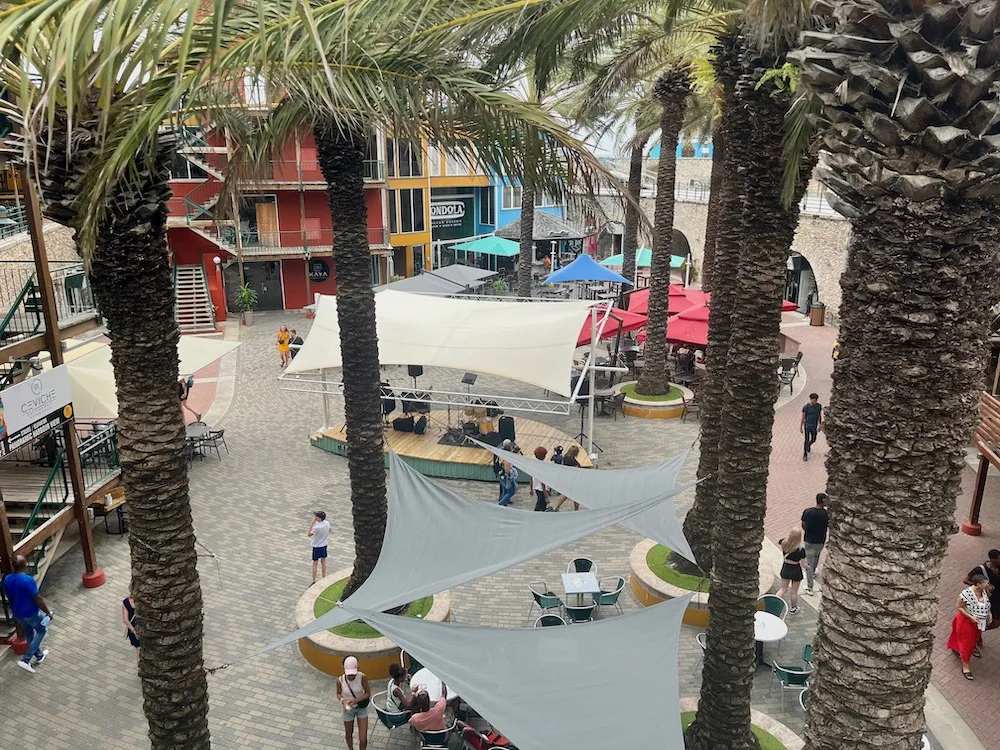 Obviously, we liked Rif Fort better than the Arches Fort across the bay. It's a bigger and more versatile space. And no one is hawking their restaurant to you.
See A Colorful Curacao Parade
Like a lot of Caribbean islands Curacao has a big Carnivale parade just before Lent begins. It also has big harvest parades on the Monday following Easter and a few weeks afterward.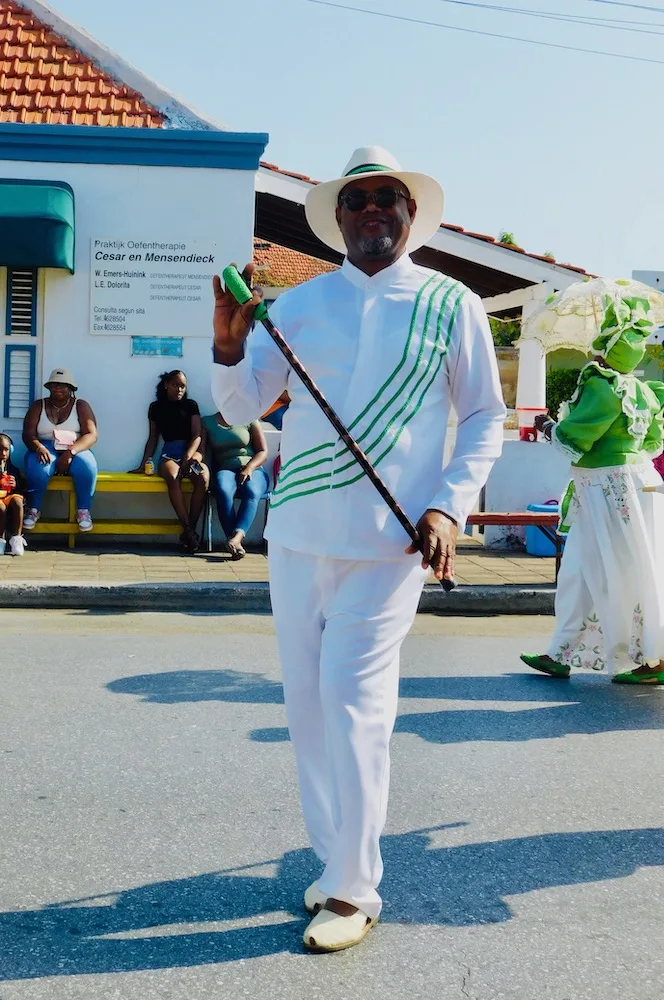 The parades go on for hours as participants make their way down a four-mile route. Groups of people of all shapes, sizes and ages don colorful costumes and dance alongside open trucks with musicians playing live music. Their energy was amazing; at the end of the four miles they were still grooving.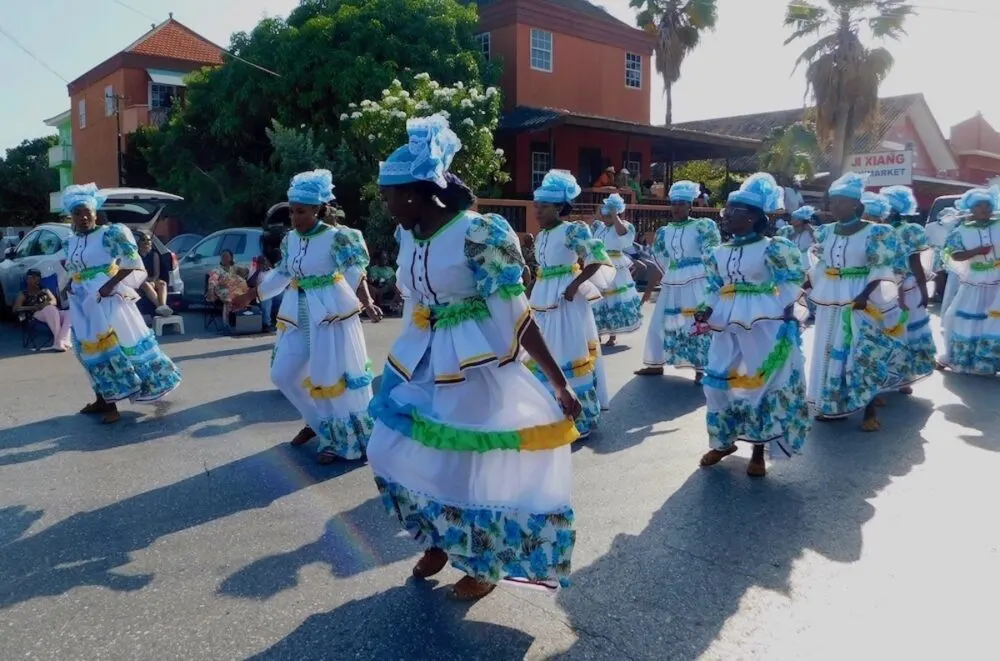 If you are on the island when a parade is happening be sure to catch it. You don't have to stay for the whole parade—that would take a few hours—but watching for an hour or so gives you a real taste of the local community and culture.
A Word About Cruise Ships in Curacao
Southern Caribbean cruise itineraries often include Curacao. It's a small island, which means cruise passengers can easily do a few things in a day with the right tour. You can also take a taxi to one of the beaches and hang out.
If you aren't on a cruise you should know that the popular beaches, excursions and shopping spots like Rif Fort (which is next to the cruise ship dock) are more crowded on the days the ships are in port.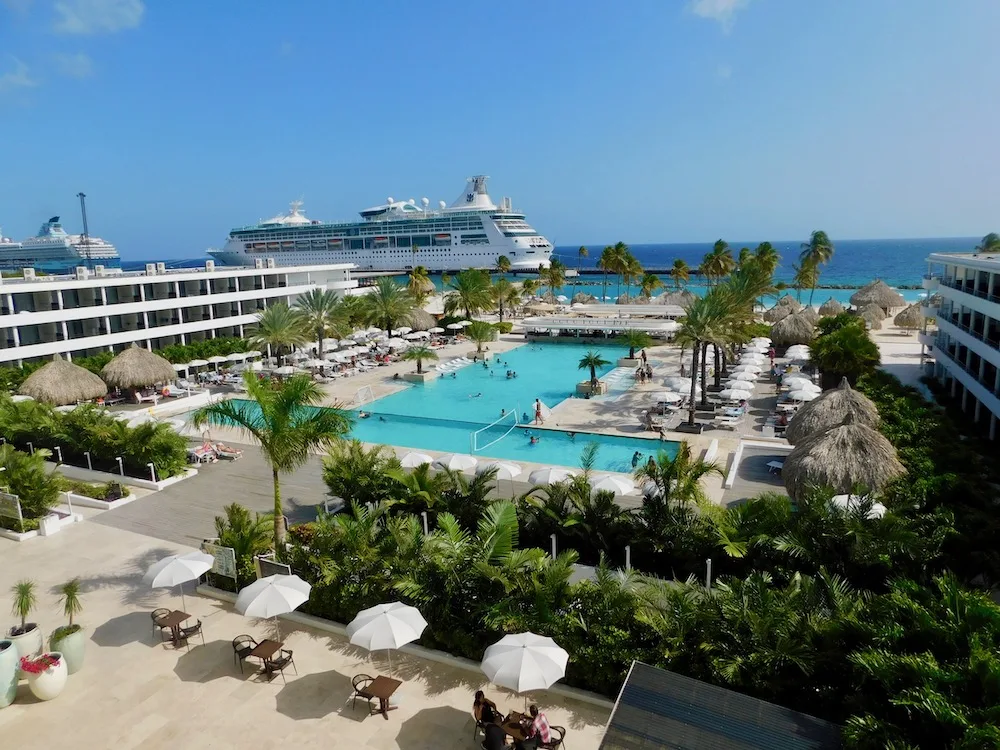 Our resort, Hilton's Mangrove Beach Corendon is next to the cruise ship dock, which made it easy to know when they were in port. Two ships docked on the Thursday we arrived and one docked on the Tuesday we left, so they didn't hamper our sightseeing. You can ask at your resort if this is the usual schedule.
Read about
Curacao essential information, including money, weather and renting a car & driving.
A tip for cellular service
For most of our travel outside the U.S. our cellular service charges us $10/phone/day in roaming fees. This adds up, even when we agree that only one of us can have roaming service at a time. So I was very happy when a fellow traveler writer introduced me to Airalo. It was a where-have-you-been-all-my-life moment.
Airolo is an app that provides virtual SIM cards, so you can access a local cell network without having to replace your actual SIM card and risk losing it. In most international locations now I can all the data I need for about $5/phone/week.
For $15, all three of us can have full use of our phones for a weeklong trip, instead of $70 for one of us to have cell service a time. Big difference! Will I be using Airalo for all our overseas trips from now on? Yes, I will.
Pin it for later!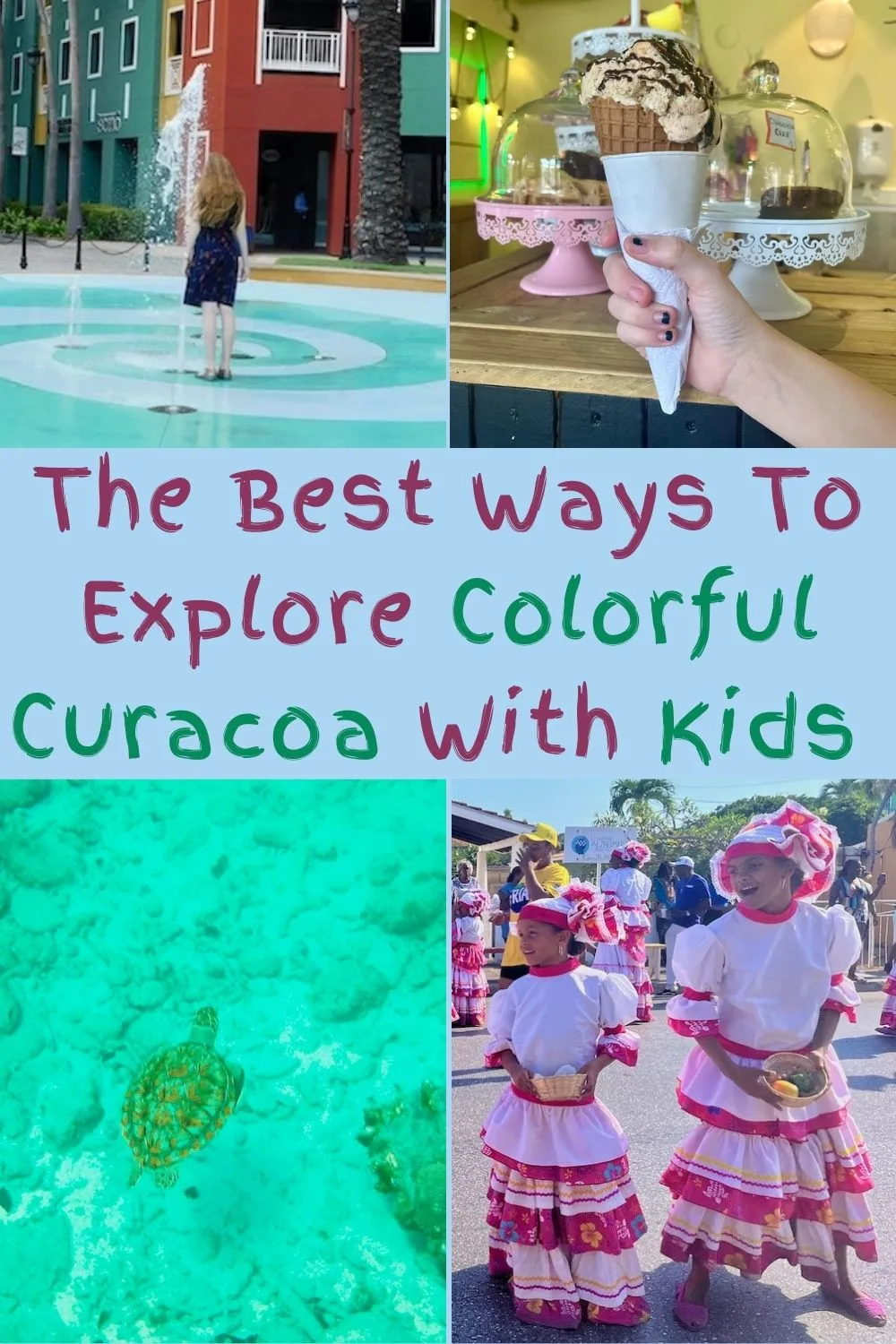 All photos by FamiliesGo!© except the Discover Lagun hot sauces (Discover Lagun).