I've wanted to visit Curacao for some time because I'd heard a lot about the amazing snorkeling and colorful Dutch-style buildings in Willemstad. But I'd also always heard the island and its resorts were expensive and the flight was long. So I was very excited when I was *invited to stay at the Mangrove Beach Corendon, an all-inclusive resort that Hilton Hotels recently acquired to add to its Curio hotel line.
Turns out food and activities on Curacao are pretty reasonably priced as Caribbean islands go. The Dutch-style buildings are charming and the flight wasn't unduly long. Plus, the resort was lovely.
Here's a review of our stay at Hilton's Mangrove Beach Corendon during Easter break, a week many Caribbean all-inclusives are filled to the brim with families.
Need more ideas?
• Read about the fun, inexpensive things we did in Curacao!
• 9 Ways To Spice Up a Grenada Beach Getaway
• 10 Tips for a Relaxing & Memorable FamilyMoon
What's the Mangrove Beach Corendon like?
Plan on Real, Relaxed Family Time
I asked at the front desk about an outdoor market I'd read about but couldn't find on Google Maps. Two staff members told me it's been on hiatus since Covid-19 broke out. But we started chatting and they told me about a different market that was worth a visit and tipped me off to a huge parade that would be passing just two blocks from the resort while we were there.
This easy, outgoing helpfulness was typical of everyone we interacted with at this Curacao all-inclusive resort. Especially since I began traveling with a kid, employees who go out of the way to be helpful make the difference between me liking a hotel and loving it. They really won me over and made me eager to return.
The other thing that stood out for me was the low-key, family friendly environment.
Sure, there was music by the pool all day and bartenders working non-stop to blend tropical cocktails in very bright colors for guests. But we could talk over the music, there were mocktails in bright colors for the kids, and no one was drunk or loud.
It's not the sort of all-inclusive where you expect to be entertained all day long or where parents drop their little ones at the kids club and spend the day on their own.
Try Some Fun Family Activities
My family hung out together and made our own fun, and most other families seemed to be doing the same thing, regardless of the kids' ages.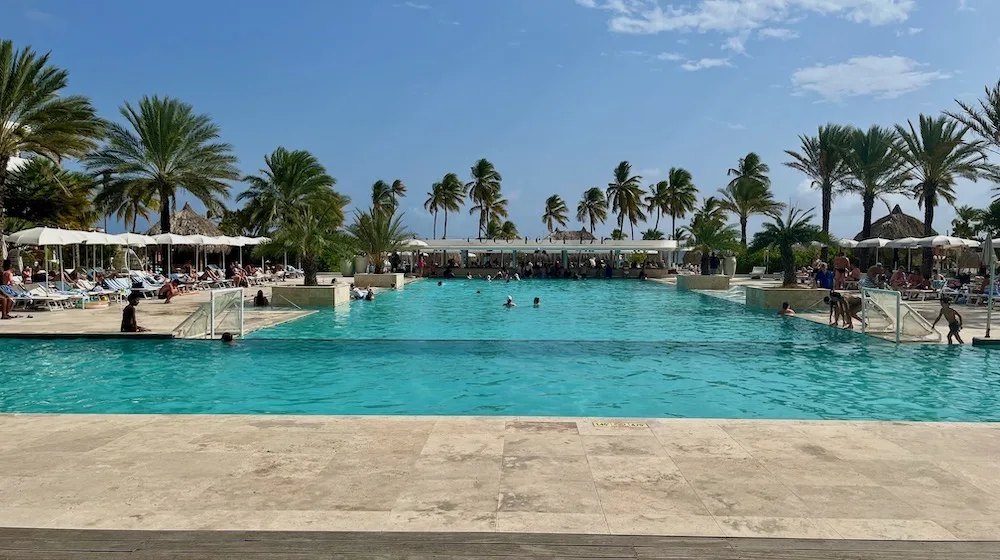 We swam in the large pool, snorkeled off the beach, used the giant water slides, played ping pong and bocce and angled to snag the popular beach swings. We also played cards and took time to chill out with novels and those colorful drinks. There's a small playground for kids, too.
The water slides are on the opposite side of the hotel from the pool, so we forgot about them for a day or two. But once we got around to them we were hooked. Rich and Teen Traveler spent part of every day on them.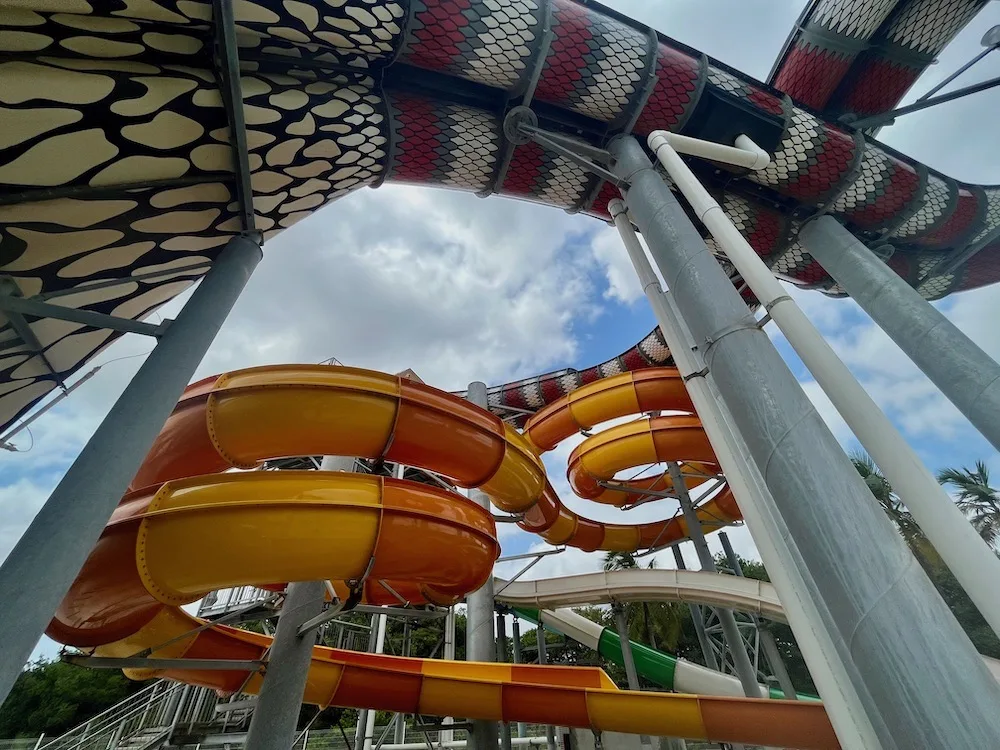 There are slides suitable for kids and adults, including the large and very scary "Cobra." There's also a water playground with a splash bucket for the little ones.
Tip: The water slide area has a small bar that has ice cream, cocktails and beer. If you have to spend a lot of time over there with smaller kids, you can still have a fruity rum concoction. In my opinion this shows great, and often overlooked, consideration for parents.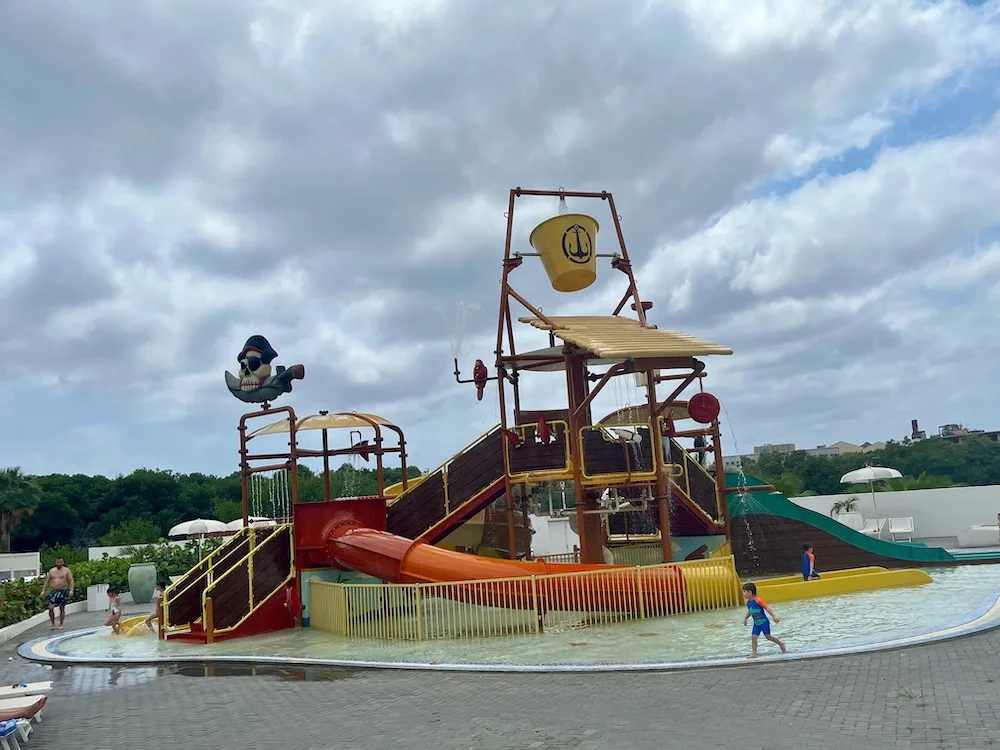 Thanks to a shelf that dropped off about ten feet from shore there was surprising good snorkeling right in front of the hotel; we saw plenty of fish and even a sea turtle.
At night some families gravitated to a small game room or listened to live music by the pool. We liked one band in particular that played a lot of classic pop, disco and reggae songs that we sang along and danced too.
There was a space for a kids' club, but I didn't see any kids group activities outside. So if it was available all the activities were inside the club space. If a kids club is very important to you, I'd recommend you inquire about the hours, activities and frequency of it before you book.
Tip: There are two smaller pools hidden behind each of the side wings. No one was ever in them and they have a lot of shade. They're ideal if you want some quiet time for yourself or a break from the sun, or if you have little kids who are overwhelmed by the noise and activity at the main pool.
Extra Easter Treats
On Easter they had a little fair by the water slides with popcorn and cotton candy machines and a couple of bounce houses. I thought that was a nice extra for the families with younger kids. And teens are absolutely not above taking advantage of free popcorn and spun sugar.
They also had the buffet decorated with pastel balloons and paper bunnies, the desserts turned pastel-colored for the day and the Easter bunny made a visit to the pool deck in the afternoon for photos.
I've never seen resorts get into Easter like this and I thought the effort was genuine and a nice extra for the families with small kids.
Enjoy the Restaurants That Impressed Us
We ate several meals at the buffet and tried three of the specialty restaurants.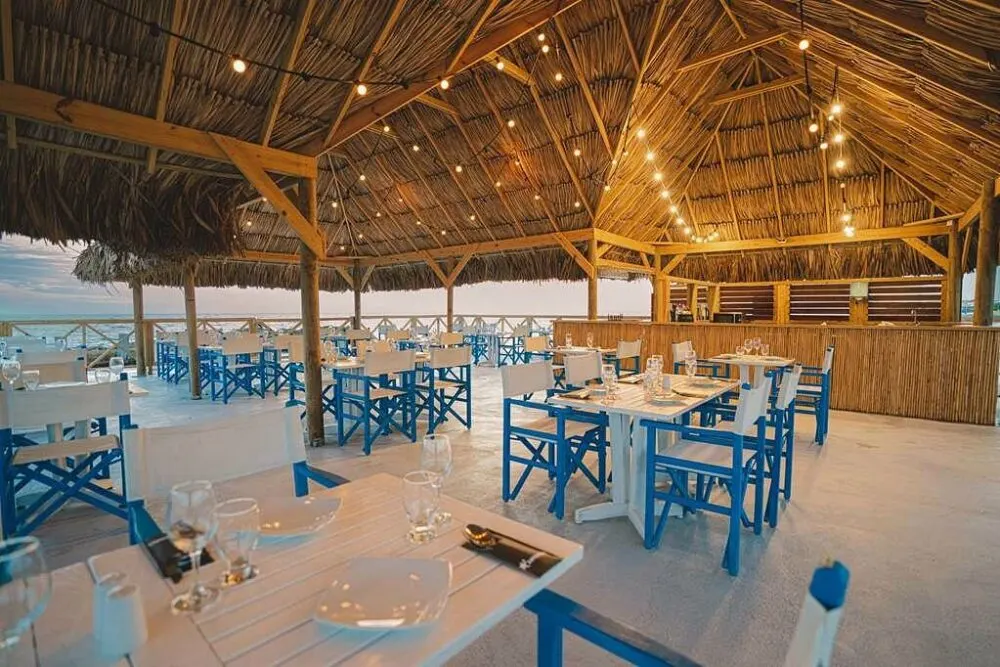 Our favorite meal was at Tavern Seafood, which is at it should be on a Caribbean island. The restaurant sits over the water and was really lovely at night. We started with a fish soup and shared a few mezze and tempura-style shrimp. Then we all had grilled snapper for our main.
At Don & Cor's BBQ, our second favorite, the whole meal is served family style and it's a fixed menu. There's a charcuterie board to start with cured meat, cheese, dried fruit and nuts. There was a good salad and then the staff brought out platters with barbecued chicken, brisket, pork and sausages. They had sangria to drink.
Dinner at the Ristorante Siciliano started with limoncello, an Italian apéritif. There was minestrone and a choice of salads. Then you could also choose from a selection of pastas, pizzas and entrées. There was panna cotta and tiramisu after, two of our favorite desserts. The food was good and the restaurant is right on the beach, which is nice; it was the least novel among them.
Tip: The specialty restaurants have three seatings a night and reservations can be hard to score on weekends and during school breaks. There's a resort app but we had more luck going in person to the reservation desk in the lobby.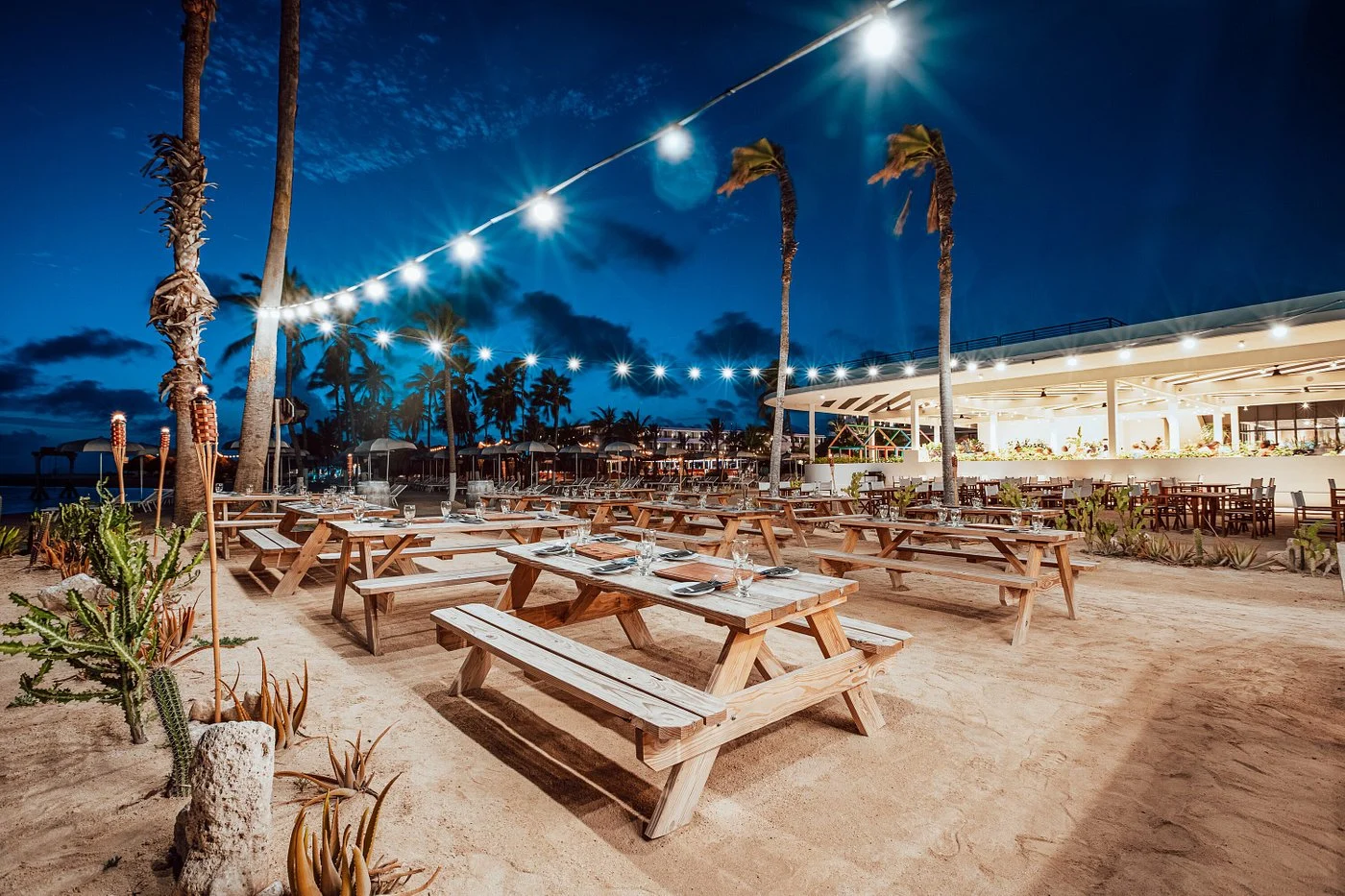 Go as early in the day as possible, especially if you want the prime 7:00 pm seating. We managed to wangle that for the BBQ place but wound up eating at 9:00 pm at the other two places. With a teen (or a baby who will sleep in a stroller) it was fine. Families with young kids might prefer to aim for the 5:00 pm seating, so they can finish dinner before their sun-soaked kids get too tired.
We ate all our breakfasts, a few lunches and one or two dinners at the buffet. It was a small buffet compared to some we've been to, but we'll take quality over quantity and the food here was good.
We liked that they mixed local flavors and dishes in among the usual "safe" offerings. There was grilled local fish and shrimp for lunch on most days; they were always good.
There was always one or two Dutch ovens with chicken or beef dishes, some of which I'd never heard of and were probably local to the island. We quickly learned to seek them out because they were generously-seasoned and always good.
We all ate lots of salads and fresh fruit. There was also pizza, pasta, grilled items and French fries for folks who wanted something familiar. I can't say how these were because none of us chose these items.
Desserts were always a large selection of mousses and layer cakes with a variety of filling. Tween Traveler thought they were fantastic and ate at least one at every meal. I would have appreciated a few cookies or some ice cream.
At breakfast, I tried their chorizo sausage and potato cakes similar to knishes. There was also the fresh fruit, a few kinds of eggs, traditional hash browns, bacon, pancakes and a big selection of breads that changed a bit each day.
One of two complaints I have about the buffet is that there was always a throng of people by the coffee and juice in the morning; it was hectic and they would run out of coffee cups. Things would have been more orderly if they let staff come around to the tables with carafes of juice, coffee and milk.
Since everything is outdoors, pigeons were frequent visitors to the table area at breakfast and lunch. Management told me they're working on ways to keep them away. Ideally they'll find a way to put up bird netting that won't inhibit the nice views, as some of the island's other resorts have done.
A snack bar between the pool and the beach was open for most of the day. It had rotating ice cream flavors and all the junk food you could want including Dutch-style fried cheese, French fries, chicken fingers and pizza, quesadillas and more.
As you can imagine, kids and teens fetch snacks and ice cream from here all day long. We stopped by for cocktails and an afternoon snack on the days when we had late dinners.
There is also a smoothie bar. The "smoothies" are really slushies and the flavors change daily; there was always one option with alcohol and one coffee-based one. They also have "slushies," which are shave-ice. You can get fancy coffee at a pâtisserie off the lobby all morning and at the smoothie bar starting at around 10:00 am.
Settle Into A Room With A View
Our double room was a standard size and we more or less had room for three people to stay out of each other's way. We had a small fridge to keep cold water on hand, which we appreciated after spending all day in the sun.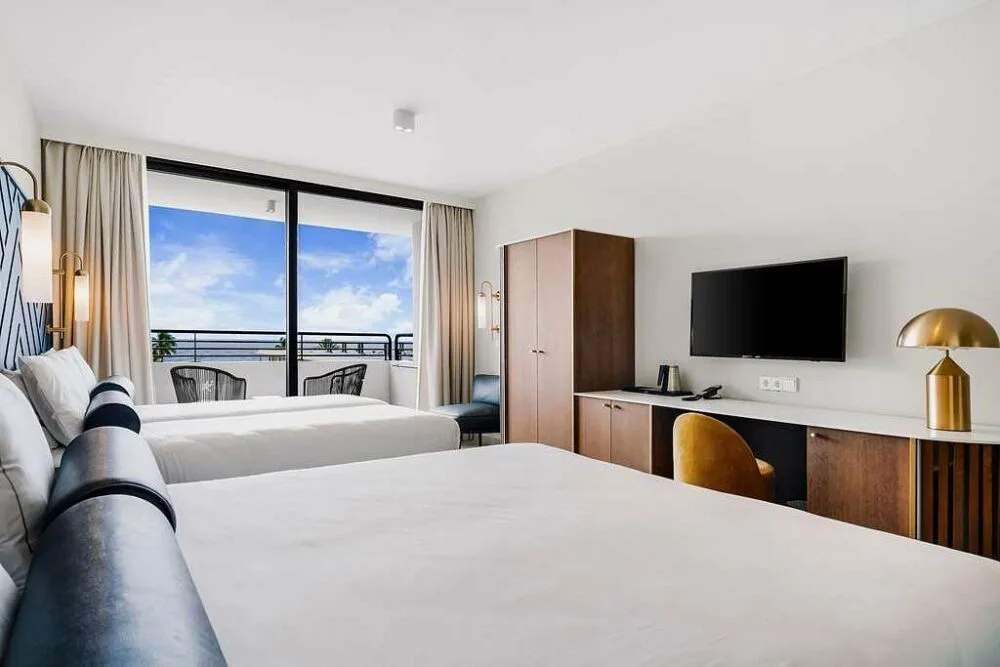 The bathroom, which seemed recently redone, had a great overhead shower and room for all three of our toiletry bags. When I asked for face cloths they left extra hand towels, which was a little odd but it worked.
Rooms facing the beach have balconies. Aside from the gorgeous view a balcony also gives us some extra living space. Rich and I hung out there to read email while waiting for our teen to wake up. She'd read or listen to music there when she needed a break from the sun or just some alone time.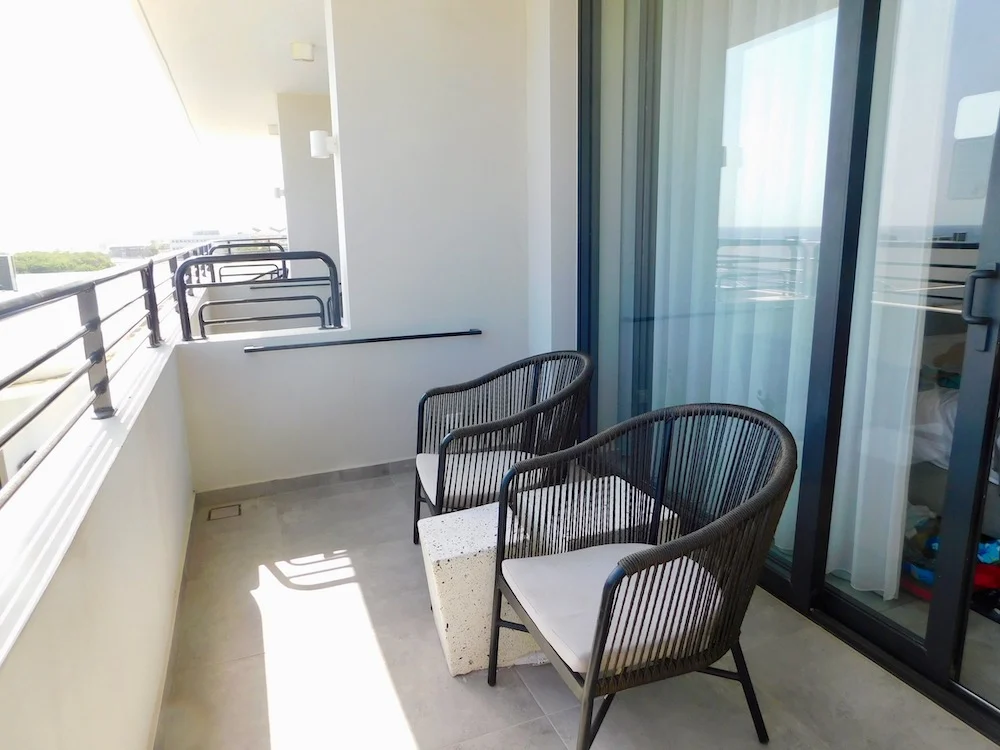 Some of ther higher floors have suites with their own hot tubs and probably more room.
Look For Changes To Come
The elevators were painfully slow and there were spots in our room and elsewhere that were due for a fresh coat of paint. Between this and the other buffet issues I don't think it's quite up the standards of a "Curio" hotel just yet.
But a staffer told me that Hilton has been steadily upgrading the property since acquiring and some of the work was inevitably delayed by Covid-19. In a year's time I would expect fresh paint, faster elevators and no pigeons.
Basic information about Curacao
How to get there:
Airlines: Jet Blue has direct flights from JFK airport in New York and United Airlines has a direct flight from Newark Airport in New Jersey. Delta is planning to resume direct service from Atlanta in December 2023.
None of these are daily flights though, so don't be surprised if you have to fly different airlines to and from to get the exact dates you want.
American and United also have flights that connect through Miami. Copa Airlines often has inexpensive flights that connect through Caracas. They're often the cheapest but they take you further south and add a few hours to the trip.
Weather & packing:
Curacao is arid and the vegetation is mostly scrubby desert flora including cacti. There's a constant breeze, which keeps it from ever being too hot.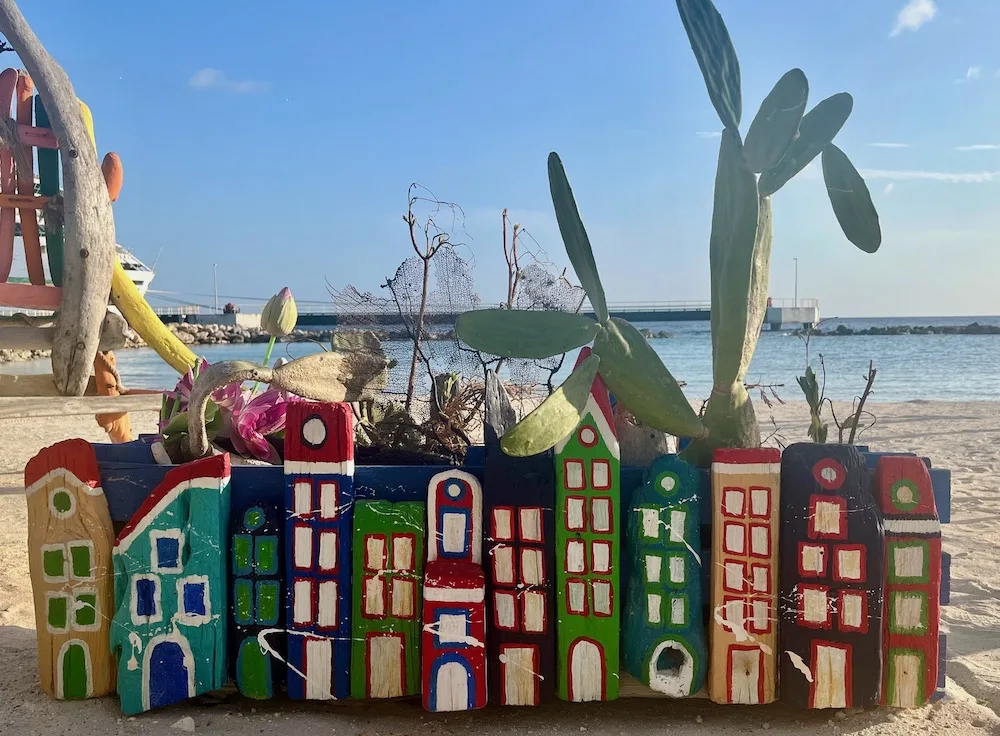 But the sun is strong and you need to wear reef-safe sunscreen, drink water and soft drinks and spend time in the shade. We saw quite a few resort guests with sunburns that had to hurt.
At night the breeze can cool things down quite and restaurants are largely open-air. I didn't need a sweater but I wished I had brought light to medium-weight long-sleeve shirts or a very light hoodie/cardigan.
Willemstad is a business center and local people dress smartly when they go out in the evening. If you plan to go out to dinner beyond your resort, guys should bring khakis, a button-down shirt and maybe a jacket. Women should pack a nice dress and sandals that are more stylish than flip-flops.
Languages:
All Curacaoans speak Spanish, Dutch, English and a local dialect called Papiamentu that combines Spanish, Portuguese and African languages. Written, I could recognize Spanish and Portuguese words in it, but spoken it's impossible to catch anything.
Money:
Despite its relationship with the Netherlands the dollar is commonly accepted everywhere; the euro isn't. In any tourist attractions and Willemstad stores and restaurants you can expect change in dollars, too. No one tried to give us Dutch Antilles guilders at any point.
Menu prices are always listed in guilders, which exchange at about 1.75 to $1. This makes everything look expensive. But the bill was always in US dollars and when it arrived it always seemed very reasonable for what we had.
Electrical Outlets:
They say American outlets are common but we brought a converter and it was good we did because our hotel had 3-prong European outlets. We guessed that this is because it had previously been a Dutch hotel. They had USB ports, too, so without a converter we could still have charged our phones, but not cameras or laptops.
Renting a Car and Driving:
There were a lot of cars in the hotel garage and I had the impression that it's usual for guests to rent cars and explore the island a bit. We rented a car for two days of our stay
Mangrove Beach has a car rental desk, but we didn't want to wait until we arrived to arrange a car. We thought it would be more expensive and we were afraid of limited availability during Easter-week.
They have rental desks at the airport, of course, but we didn't want the car for our whole stay. The pick-up office turned out to be another hotel, which was easy but added some cab fare to the rental cost.
We read that driving was dicey because a lot of the roads were badly rutted and sometimes not paved. We didn't go off the beaten track, but all the main roads were in good condition. There are traffic lights and drivers follow familiar rules of the road.
Navigating is easy in that there is only one main road in the southeast part of the island. It splits into a large circular road around the northwest end.
The island is 38 miles long but give yourself at least 45 minutes to an hour to drive from one end to the other. The roads are not highways and you won't be driving faster than 45 mph.
We received a few warnings to never leave anything in our car while it's parked. The two beaches we visited each had a person who seemed to be hired to keep an eye on the parking lot. At the hotel the car was in a garage behind a security gate. We didn't park the car in Willemstad at all.
Still, while we did stash clothes under seats or in the glove box when we went to the beach, we never left anything in the trunk or visible on the seats and never left anything valuable.
The Rif Fort, a popular open-air space with restaurants, shops and entertainment, had a paid garage behind a security gate and an unattended dirt lot next to the main road. The latter was the only place I would have been concerned about leaving items in the car.
That said, The Rif Fort was ten-minute walk from the hotel and we walked to and from it a few times, in daylight and after dark. We never felt unsafe.
The touristy parts of Willemstad also felt very safe during the day. At night, I would have my wits about me, especially if I were in quieter parts of town. But I would say the same about most Caribbean towns.
Book your family getaway to Mangrove Beach Corendon Curacao all-inclusive resort, Curio by Hilton at the Best Rate
Pin it for later!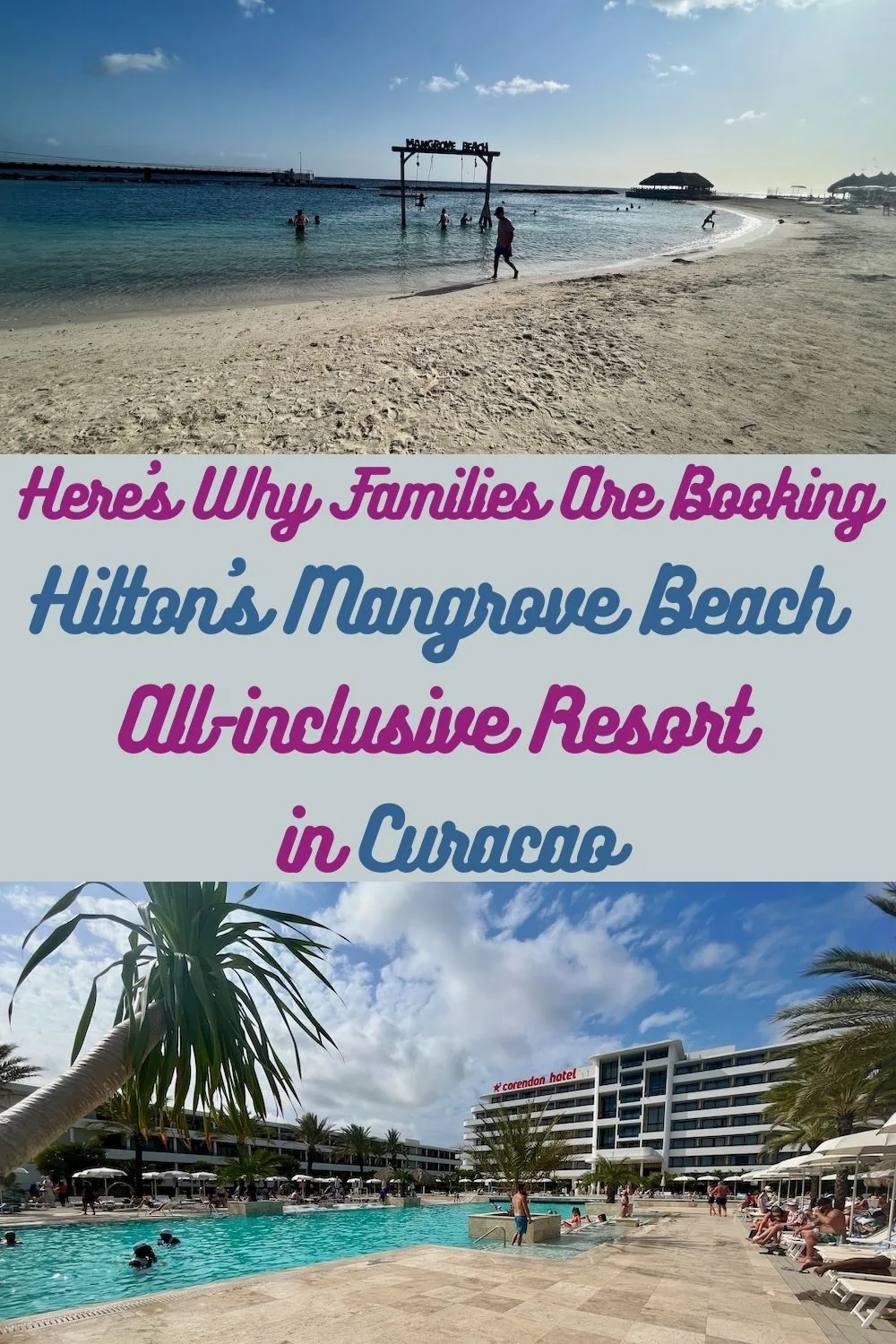 All photos by FamiliesGo! © except hotel room, Taverna and BBQ tables (Hilton va TripAdvisor).
*We were hosted by Hilton for this stay but paid for our airfare and car rental. I was not paid and did not agree to any particular coverage or content in exchange for the stay. My opinions are always my own.