What's the first thing you think of when someone mentions San Antonio? The Alamo, right? (It's hard to forget.) There's more to the city than that famous mission-turned fort, though. As a Texas family we've had the chance to spend quite a few weekends in San Antonio.
Here are five of our favorite things to do there.
More travel ideas:
• The Best Things To Do and Places To Eat in Lafayette, LA
• Do These Bucket List Activities On Your Dallas Getaway
5 Things You Can't Miss on A San Antonio Weekend Getaway
Go to the park
We love Morgan's Wonderland, a new all-abilities park in north San Antonio. Opened in 2010, this colorful, ultra-accessible 25-acre fun park is built in an old quarry and you can easily spend a whole day. There are rides, playgrounds, fishing and hands-on experiences for everyone.
Take in a Tower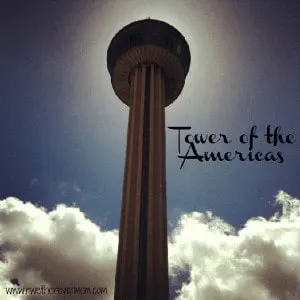 Yes, it's a very tourist thing to do, but my kids get a kick out of the Tower of the Americas, from the super-fast elevator ride to the 360-degree view at the top. Built for the 1968 Worlds Fair, the 750-foot tall needle offers a quick refresher of Texas history along with spectacular views of the Alamo City.
Tip: It sits in the heart of 15-acre Hemisfair Park, a terrific place for running and burning off energy after a long drive. Be sure to find the wooden playground.
Visit the Zoo
Even if you've been to a lot of zoos (what parent hasn't), the San Antonio Zoo, which turns 100 in 2014, is worth a peek. It certainly doesn't look like a 100-year-old zoo, thanks to the recent addition of the $20 million Africa Live Exhibit.
Our favorite things here are the Nature Encounters, where zoologists teach you about the animals in very hands-on ways. The last time we visited we learned to walk like a gibbon, held a hog-nosed snake, and learned what eagles like to eat.
The Kronkosky Tiny Tot Nature Spot is a playing and learning area for kids 5 and under. Bring their swimsuits if it's a warm day.
Tip: The Japanese Tea Gardens next door are nice if you need a little quiet time. If you're adventurous, consider an Asian-inspired lunch at the tea house.

Head to the River
Everyone talks about the San Antonio Riverwalk, but it really is a must. There are several ways to get down to the Riverwalk level and once you descend the stairs, it is as if you are in a different world. The lush green trees, calm river and jolly atmosphere complete your San Antonio experience.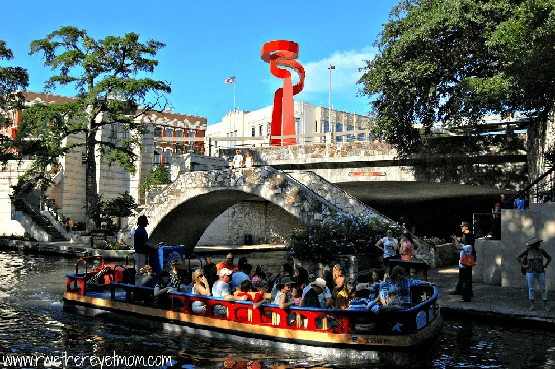 Take a river boat cruise—the guides are entertaining—or just stroll up and down the river banks looking at the restaurants and shops, and listening to the mariachi bands. Mexican food is a must in this near-the-border city and you can't go wrong with any of the restaurants that line the river.
Tip: The San Antonio Museum of Art is on the river, too. Check out it's First Sunday and Saturday Family flicks programs for kids and parents. Or just pick up one of their colorful family gallery guides on the way in.
Remember the Alamo…really!
Visit the Alamo. We are so very proud of our Texas history and the Alamo captures all that pride. The Alamo is a Spanish Mission that a small group of Texans tried to defend against the Mexicans in 1836. The Loss rallied a larger group of Texans who won their independence from Mexico a few weeks later under the leadership of Sam Houston.
If your kids are old enough to be learning history in school, be sure to take a docent tour. If they aren't quite old enough for a history lesson you can explore on your own and ask any staff questions you have.
Tip: If you never learned or can't remember this chapter in American history, stop in to IMAX at the RiverCenter Mall on the way. Their show, Alamo: The Price of Freedom" is a 42-minute, big-screen history lesson.
Rebecca Darling, is native Texan and momma to 3 sassy Texas kiddos, Her ultimate goal is to make exceptional memories for her family. She writes a blog dedicated to family travel at R We There Yet Mom? You can keep up with her on Facebook, Twitter and Pinterest. You can also see read about more of her favorite things to do in San Antonio.