Yes, you can take kids to Bora Bora. In fact, this Polynesian Island is perfect for a beach getaway with kids.
I recently took a family vacation to this French Polynesia island with four nieces and nephews aged 8 to 13 and their parents.
Now, Bora Bora is dubbed the romantic island for a reason; there were LOTS of couples around for sure.
But all the canoodling aside, the great thing about the island is that there's no way to not feel like you're on vacation. It's beautiful, relaxing and its' easy to have fun.
Read About Vanuatu With Kids, too
Here were our favorite four activities from our Bora Bora beach vacation with kids:
4 Awesome Bora Bora Things To Do With Kids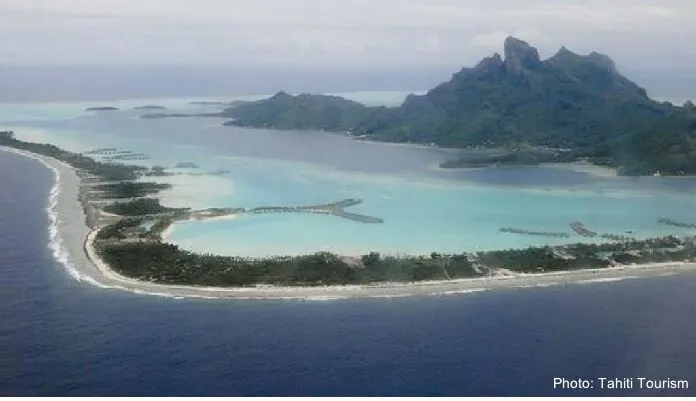 Hit the Beach
This one, of course, is a no-brainer. French Polynesia has some of the nicest beaches in the world and this island is no exception. The waves aren't rough and it was pretty easy to find a nice spot where the kids could swim or build sandcastles.
At night, we took pre-bedtime trips to the beach for some stunning stargazing.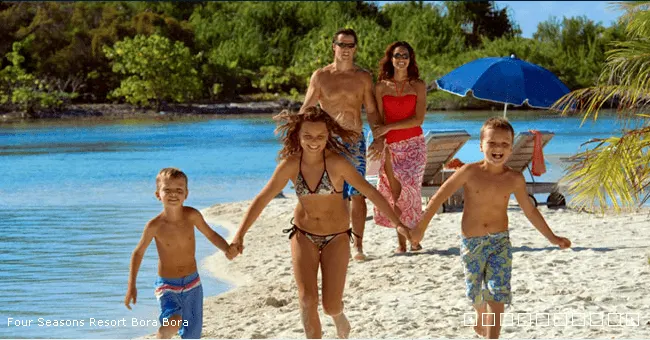 Feed the Sea Life
That is, stingrays and sharks. I felt a little nervous at the idea of watching the kids go snorkeling to feed these predators, but the guides do the feeding while we kept a safe distance from these toothy sea creatures.
Still, I got great pictures and they were talking about the experience for a long time afterward.
---
Learn About Sea Turtles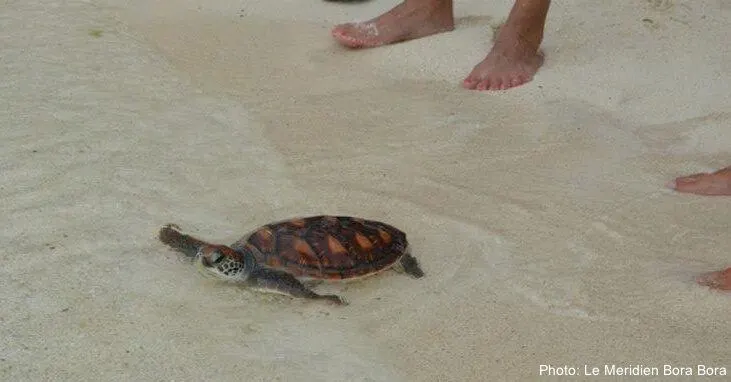 If sharks are not your speed, try a gentler day of swimming with the sea turtles at the Bora Bora Turtle Center on the property of the Le Meridien Hotel.
We enjoyed this and learned a lot about turtles and the center's efforts to help them. And I have to admit it was a more relaxing adventure.
Get Out on the Water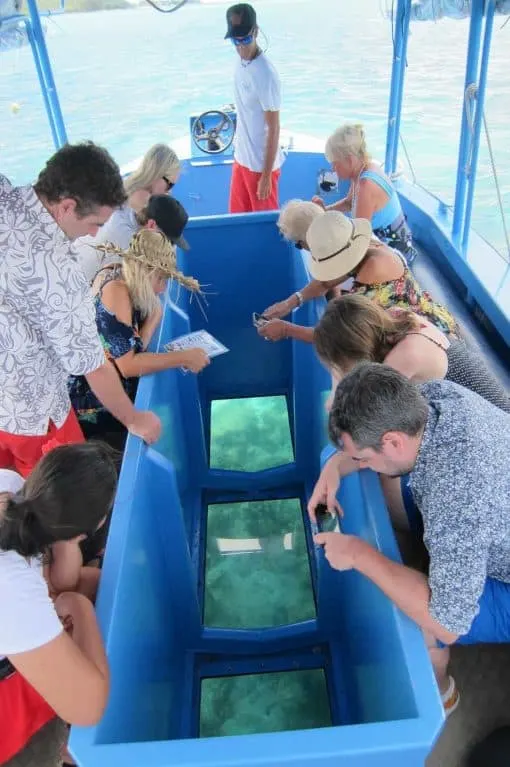 I do mean literally on the water.
Snorkeling is okay, but a glass-bottom boat can provide some of the same views with less work, and they are safer and easier with kids who are not yet strong swimmers or grandparents who don't snorkel.
The kids and adults alike loved our glass-bottom boat tour. The water around Bora Bora is incredibly clear.
We could see so many different kinds of fish swimming around beneath us. And unlike with the stingrays and sharks, I didn't have to worry about being seen as a tasty snack!
Go on a Safari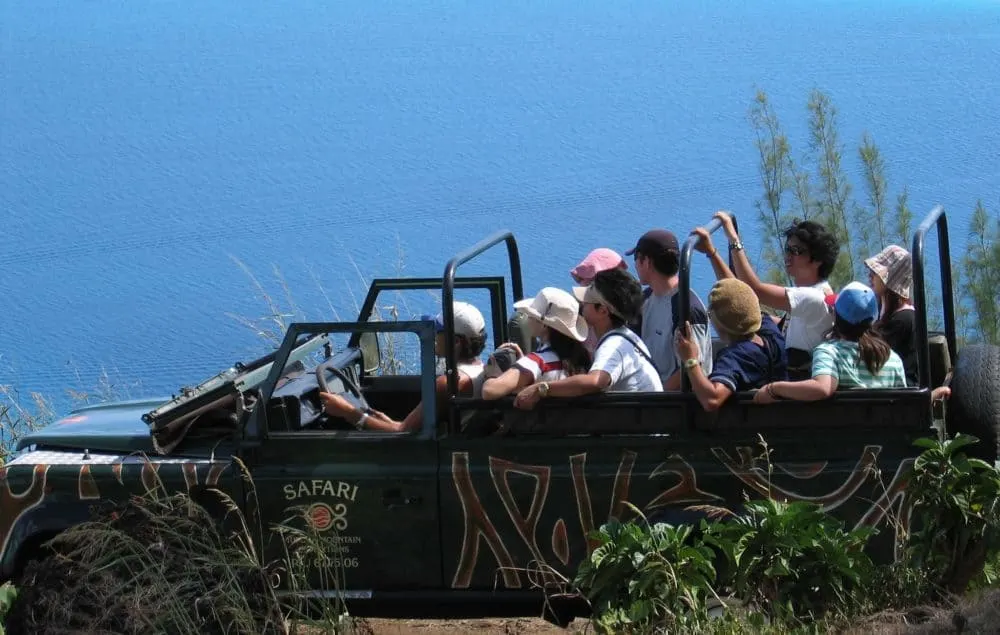 Bora Bora is home to tons of wildlife on land as well as in the water. We took a 4×4 safari through the interior and tried to see who could spot the most exotic animals and birds.
Or if you have tweens or teens with you, rent some bicycles from your hotel and take a ride around the Circle Island Road. It's about 20 miles all the way around, but it's pretty easy terrain.
Taking time out for a picnic along the way, even our youngest cyclist was able to do it. And keep in mind you don't have to do all of it.
Despite the emphasis on romance and the fact that you really don't see a lot of other families, Bora Bora worked out pretty well. It's actually a great place to visit with kids.
Plan Your Trip to Bora Bora
---
Pin it for later!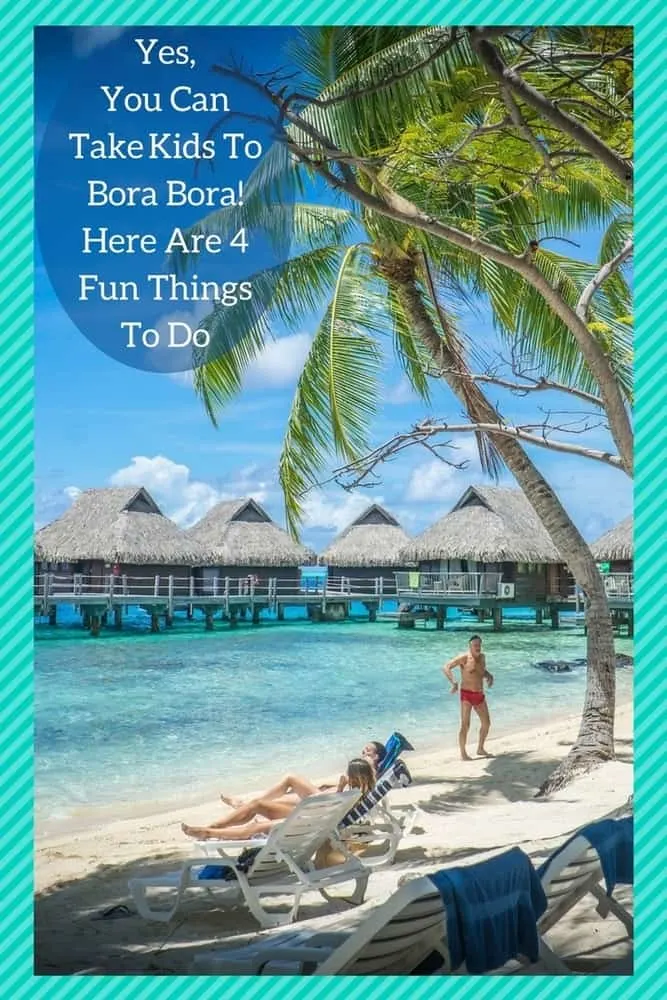 Jess Signet was a traveler before she was born, venturing all over with her parents while still in the womb. Thing have not changed as she's grown older! Follow her ongoing travel adventures on Twitter.
*Feature Photo by Michelle Maria from Pixabay Glass-bottom boat photo by Moana Adventures. Jeep photo by Tupuna safari.