Philadelphia has quite a dining scene. Big-name chefs, restaurants the New York Times says you have try–if you can get a reservation—and a long list of beloved local foods.
Despite not booking those hard-to-get reservations, we managed to eat pretty well and find plenty of options that pleased child and parents.
Read More
• Things to Do in Philadelphia WIth Kids.
• Pair your Philly stay with a few days in Cape May, NJ.
• Plan a kid-free getaway in nearby Bucks County.
The Best Foods To Eat in Philadelphia With Kids
Lunch Time:
Seafood &More at Reading Terminal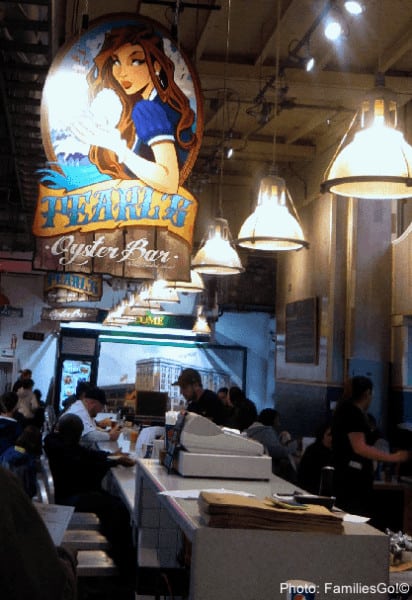 We headed to Reading Terminal on a Thursday well after lunch hour and it was packed, with long lines for the well-known cheese steak and hoagie stands.
Down Home Diner offers American fare like scrapple, pancakes and meatloaf. Molly Malloy's gastropub is the only place I saw where you could get a beer. There are some shared tables in the market's center.
So we returned to Pearl's Oyster Bar, a local favorite overlooked by tourists. Tiny Traveler and I had enjoyed fried shrimp and oysters (respectively) on our first trip. The food was good and the prices more than reasonable. So we were happy to introduce it to Rich.
The highlight this time was snapper soup, with chunks of fish and a dark, incredibly rich brown broth. We were happy to leave the other tourists to their hoagies.
Tiny Traveler had fried shrimp again. Alongside the soup Rich and I tucked into sliders with plump fried oysters and fresh cole slaw.
After lunch, we walked around to check out the Amish stalls selling pickles, jams, produce, breads, whoopie pies, and some fresh produce. The Amish products are generally good quality and make good souvenirs.
On our first trip our hotel rate didn't include breakfast so we picked out some Amish pastries to save for the next day.
An unexpected café
If you visit the Magic Garden, try to do so before or after lunch, so you can eat at Hawthornes Beef Cafe, a cheerful neighborhood place about four blocks away.
Choose from a few local beers on tap, or explore the refrigerator cases with a well-curated selection of bottled beer from all over.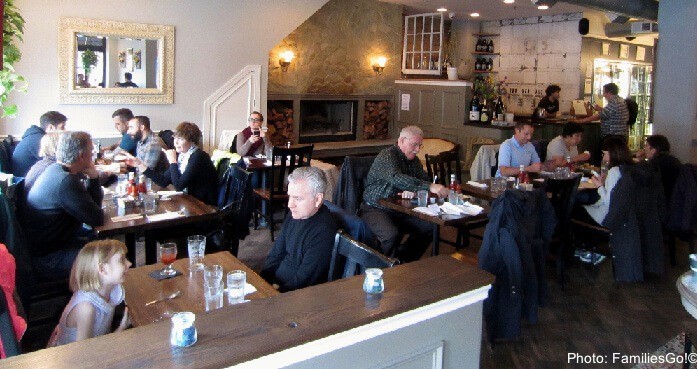 The food is fresh, some locally sourced, and all really good. They don't do a kids menu, but will work with you.
I ordered one buttermilk pancake for Tiny Traveler and she cleaned her plate. Rich had beer-spiked Welsh rarebit, and I had Mexican eggs with a fresh corn and black bean salsa.
An English Pub Lunch
A restaurant row has sprung up on 18th Street along Rittenhouse Square and just north of it. On a recent quick couple getaway Rich and I had lunch at the Dandelion Pub at 18th and Sansom. It has an authentic English country pub feel and is decorated with whimsical British knick Knacks including a well-dressed dandy lion (get the pun?).
Rich had a locally brewed IPA while I tried an English-style cider from Washington, DC. We ordered a plate of deviled eggs, which were flavoted with curry seasoning instead of the usual mustard and paprika and they were quite good. We also shared a steak tartare, which was served like a bruschetta on a thin, crispy slice of sourdough and topped with watercress and a truffle dressing. It was unusual but also really good. The two dishes made the perfect light lunch.
We sat at the bar because the front room seemed both lively and comfortable. But there's a nice dining room, too, that's probably busy in the evenings. And Tween Traveler would have been quite happy to tuck in to the pub's fish 'n' chips, mac and cheese or bangers 'n' mash (sausage and mashed potatoes), so we're likely to return.
You can order a good-looking full-English breakfast at weekend brunch and on Sunday afternoon they do a traditional Sunday Roast with roast beef, yorkshire pudding, roast potatoes and horseradish sauce. Yum.
Desserts range from a very traditional sticky toffee pudding and rasberry roly poly to an Eton mess updated with pink peppercorn merengue.
Obligatory Cheesesteak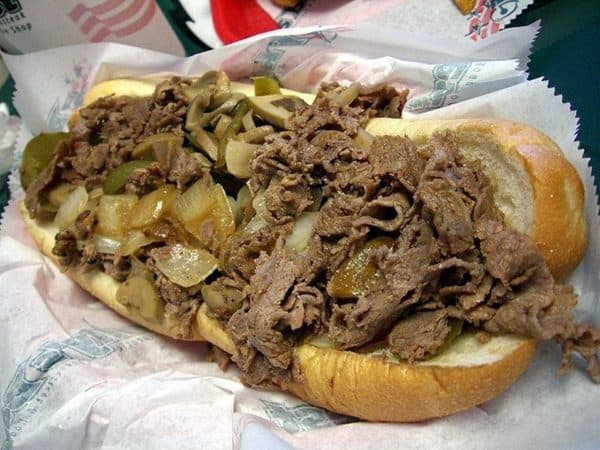 We never leave Philadelphia without eating Cheesesteak, and this time we headed to Abner's near the U.Penn campus.
The last time I ate at Abner's I had steak juice running down my arms, which is what you want in a cheesesteak. This time the sandwich was short on peppers, onions and cheese and not nearly oozy enough.
It should look like the one pictured, which is not from Abner's.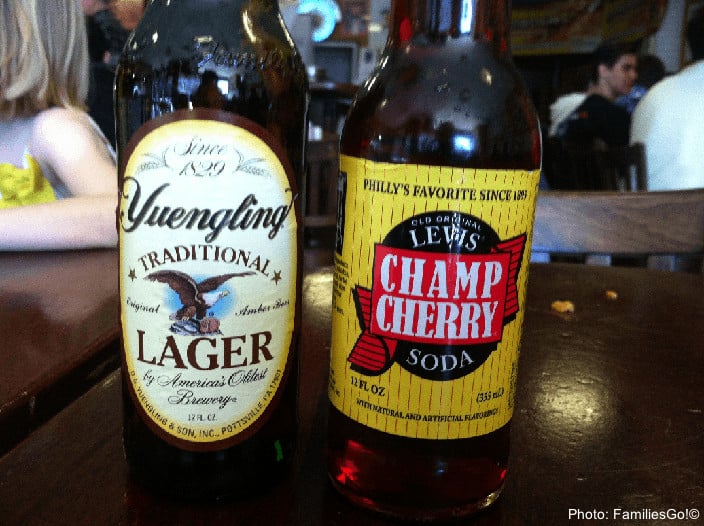 Local drinks (the soda tasted like a cherry lollypop) were still good. Next Time, it's back to Pat's, Geno's or Jim's, which have never let us down.
If you're in town to see a football, basketball, hockey or baseball game we found a good little cheesesteak place near the sports stadiums. Ace of Steaks sits next to a Citgo station onBroad Street, under Schuylkill Expressway; not promising looking. But it was busy and everything was made to order. The cheesesteak was full of peppers, cheese and onions and very oozy.
South Philly Street Food
We like to shop and eat in the Italian stores on South 9th Street. We have yet to try the taco places moving in among the pasta shops, but word on the street is that they're good.
George's roast pork hoagie, which we've had on other visits, is a little hunk of heaven with garlicky chunks of meat and broccoli rabe.
Geno's and Pat's are legendary rival cheesesteak stands tucked away in South Philly. They sit next to an old but serviceable playground if you need somewher to sit and eat. if it's your first time to Philly get one from each place and compare.
Dinner Time:
Spice Up Your Dinner, Szechuan Style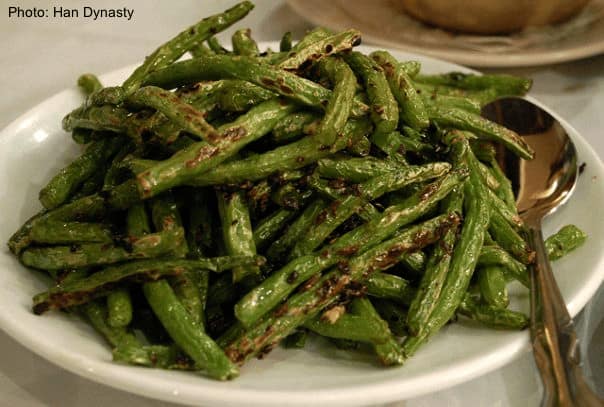 Don't let Han Dynasty's stellar reviews and elaborate Old City digs—in a high-ceilinged former bank— intimidate you. This place at Chestnut and 2nd streets is casual, kid friendly, and so big you're likely to get a table even without a reservation.
Szechuan food is tongue-numbingly spicy but Han offers items that aren't hot and will dial down the heat for you. Tiny Travler was happy with the string beans with minced pork and dumplings.
Rich and I liked spicy, crunchy, cool cucumbers and cumin-spiced lamb that perfectly balanced heat with other flavors. We eat a lot of Chinese and thought that this was excellent.
This is agood dinner to follow up with ice cream, which is easy to find nearby.
Historic District Cuban
If you want something a little different try Cuba Libre Restaurant & Rum Bar at 2nd and Market Streets. High ceilings, antique-style ceiling fans, a balcony and rattan furniture evoke everything that's cool about Havana. The food is fun and really good.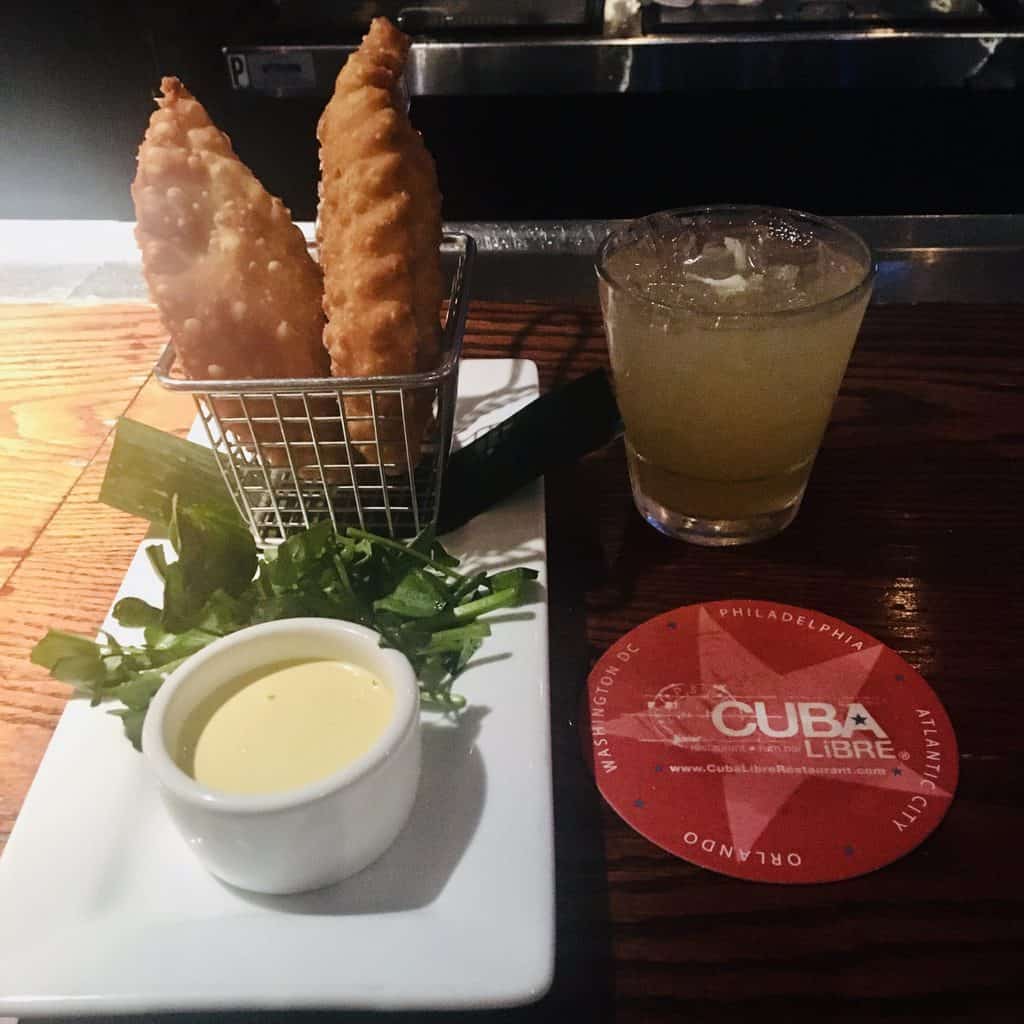 Pineapple-avocado quacamole sounds odd but is really good and comes with long plaintain chips for dipping. Empanadas are crispy with really good flavor and bigger than we expected; both are good for sharing.
Cuban specialties like ropa vieja, arroz com pollo, black bean soup and a pressed Cuban sandwich are spot on. Rice & beans, chicken wings, pollo asado and the empanadas are some of the kid-friendly fare. If you're going to come with kids you'll be welcome at 5:00, 6:00 or 7:00 at the latest. As the night goes on the bars are way more crowded than the tables and it has more of an "adult" vibe.
Absolutely ask for a daquiri on the rocks. It's what the put-upon protagonist drank in Our Man in Havana, and with fresh lime juice and good rum they are tasty.
A Historic Tavern With Good Soup
We were even able to explore the Revolutionary over dinner in Philadelphia.
We're often wary of colonial taverns because they are of course touristy and the food can be underwhelming, but we tried the historic City Tavern for dinner because the kids menu looked good and its pepper pot soup called to us on a rainy night.
It was a great evening. The chef who's been on hand for the last few years has done his research into food history and sources as much as he can locally. The restaurant does a great job interpreting traditional foods for modern tastes.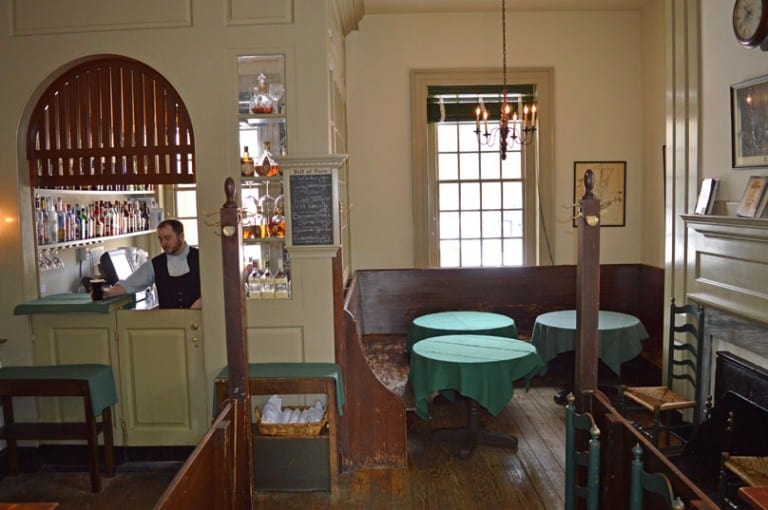 By eating in the cozy taproom we avoided a half-hour wait but gave up the kids menu and the full dinner menu. But that was fine.
From the bar menu we put together a shared dinner of duck sausage with red cabbage and a basket of tasty colonial breads that were coarser, sweeter or more spiced than what we usually eat. They were all really good.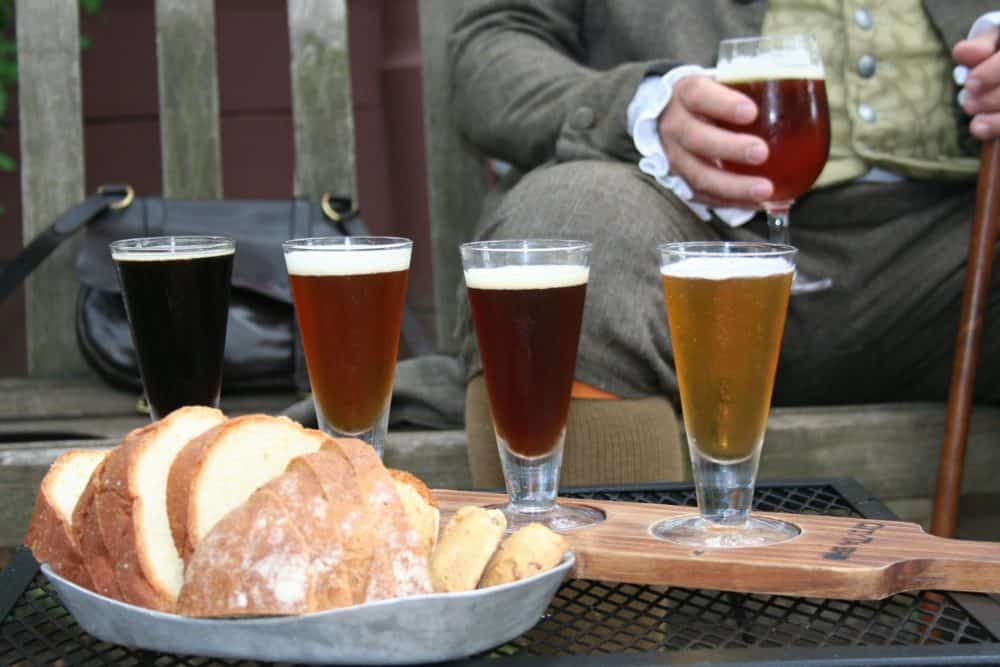 The pepper pot soup was a deep, dark meaty broth with lots of black pepper and collard greens. It was so good we asked for second bowl for dessert.
Tiny Traveler eschewed the soup in favor or a wedge of Linzer torte.
Rich drank a local ale, Tiny Traveler had an Amish apple cider that was incredibly apply, and I had a shrub, a colonial cocktail with rum and fruity vinegar that's having a renaissance at cocktail bars.
Note: The chef running City Tavern gave it up during the Covid crisis. The National Park Service owns the building. I'm leaving this review up for the time being in hopes the Park Service will lease it to a new chef sometime soon. And that the previous chef left his pepper pot soup recipe behind.
Snack Time Around Town
Doughnuts and Donuts
After lunch at Reading Terminal we joined the line at Beiler's for handmade donuts.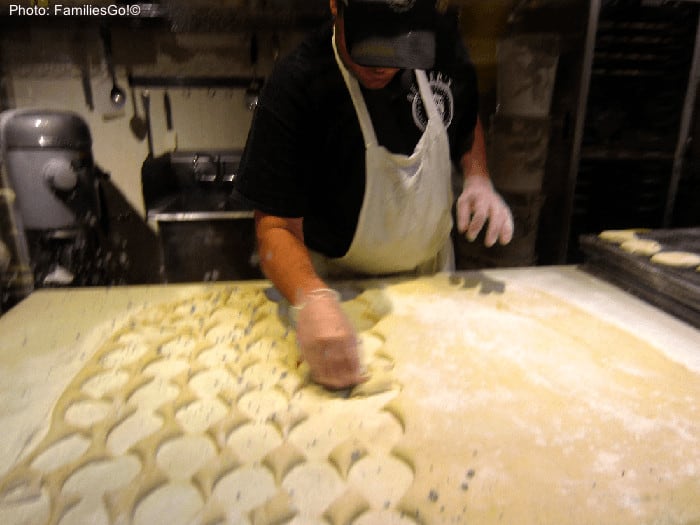 While we waited we watched workers cut dough and fill jelly donuts. Our trio—a simple glazed, coconut and chocolate-frosted with M&Ms — cost less than $3.00 and were delicious.
Federal Donuts, a few short blocks from Rittenhouse Square, is a big local favorite. They mingle traditional glazed donuts with modern flavors like strawberry lavender and grapefruit brulee.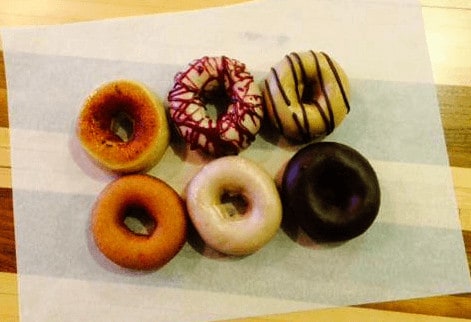 The readymade donuts on display are good but even better are the three flavors that are fried to order. We all liked Rich's fresh, hot cinnamon donut the best. But over all we liked Beilers better.
Historic District Treats
In the Historic District you have to make a detour to either Franklin Fountain or Shane Confectionary, which had its window decorated for Easter when we stopped by. They're on market Street near Penn's Landing, not far from the Betsy Ross house. It's okay to stop at both.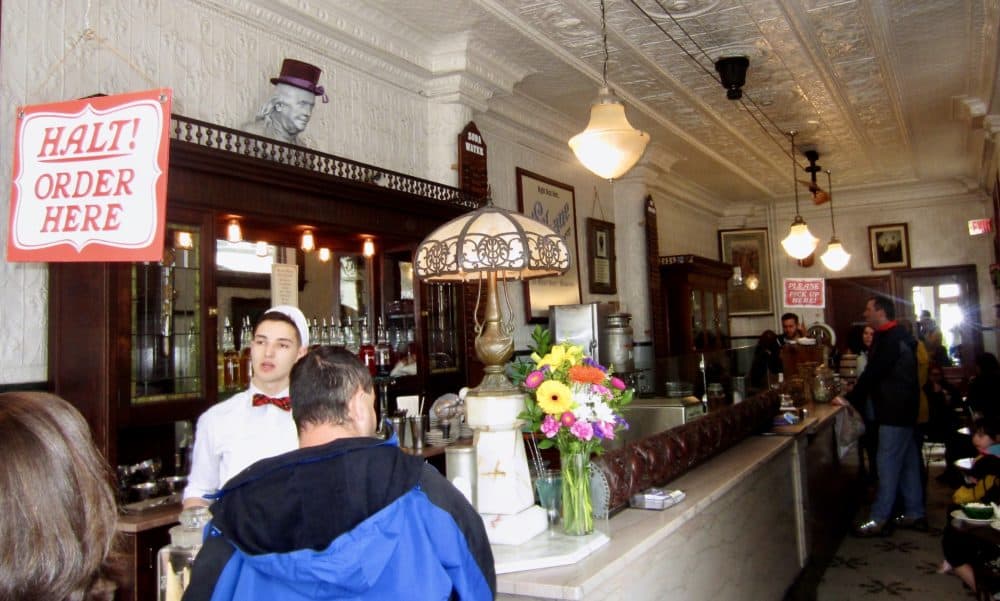 Franklin Fountain is old-fashioned ice cream and soda fountain where they make the ice cream that goes into the sundaes, milk shakes and floats.
The ice cream comes in old-fashioned favorites like coffee, maple walnut and butter pecan, seasonal flavors like peach and blueberry and trendy options like honeycomb and sea salt caramel.
The place is small and almost anytime I've passed by there's been a line. But if you're a fan of good ice cream it's probably worth the wait.
We can't go to Philly without popping in to Shane's, which has been in the city since the 1860s. The candy is in glass jars and displayed along the counters in a way that makes you want to buy everything.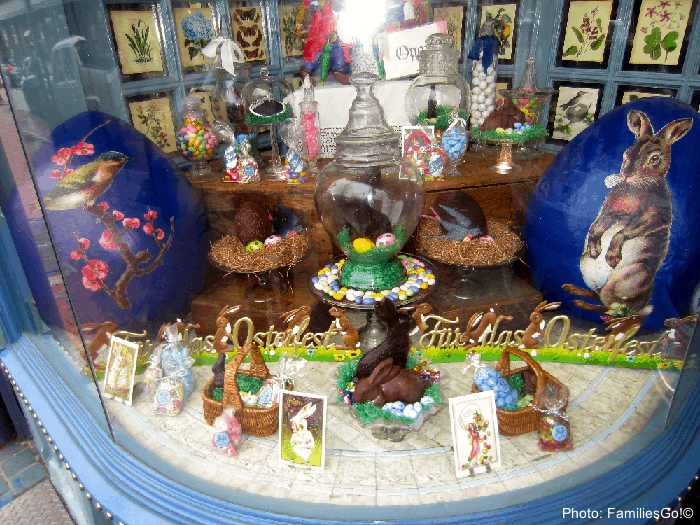 Look for chocolate, caramels and barley sugar shapes made on premises, and all kinds of old-fashioned, modern and seasonal candy. You really want to visit if you're in town at Easter and Christmas time.
They're serving customers from a stand at the front door while Covid is on, which means you can't explore the store. But the candy is still fantastic. When the store is open they brew cocoa and drinking chocolate.
On our first visit, Tiny Traveler left clutching a liberty-bell-shaped chocolate lollypop. On our second visit we bought a bag of chocolate-malt balls and non-pareils to share. The nonpareil are now a routine purchase when we're in town. They come in a nice little box and have incredibly good chocolate coated with the crunchy round sprinkles that give them their name.
South Philly Italian Pastries
After shopping in South Philly we like to stop at Isgro's Bakery for something to munch on the way home. This baker has excellent cannoli and we get a few different kinds. Tiny Traveler, the renegade, once tried a cannoli-cream éclair. I didn't get to taste it but I have to assume it was good. t was the size of her head and she ate every crumb.
Collegiate Snacking
If you're exploring the U. Penn campus, head to University Square for everything from Bucks County Coffee and Taiwanese bubble tea to affordable and good sit-down restaurants.
Pin it for later!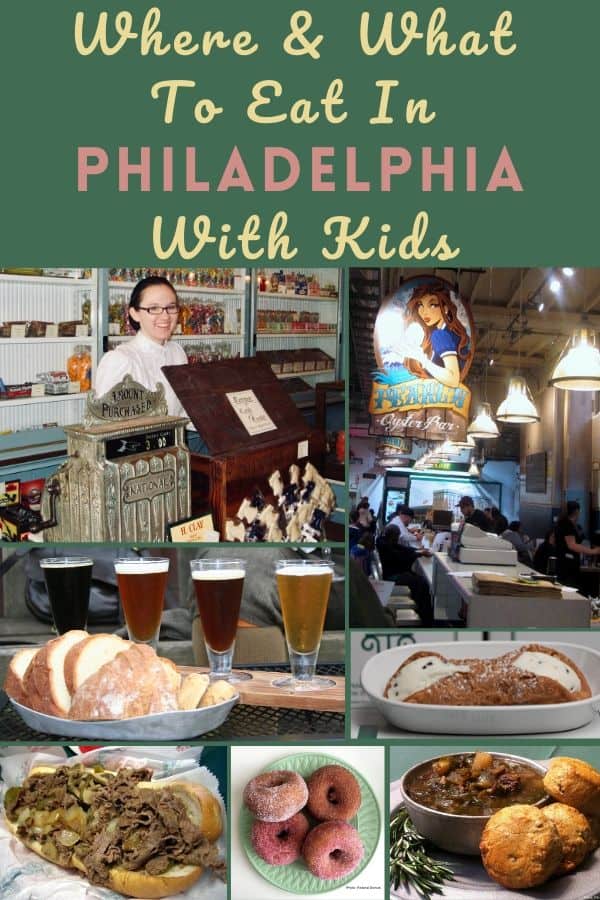 Photos by FamiliesGo! except the photos of City Tavern (City Tavern and Only In Our State); Han Dynasty (Han Dynasty), Federal Donuts (Federal Donuts) and Philadelphia cheese steak (Pixabay).