If you want to enjoy a Nordic cruise, first, forget everything you know about cruising. Exchange sandy beaches, tropical drinks and flip-flops with fjords, Nordic legends and parkas. That's exactly what our family enjoyed on our recent sail through the North Sea.
As a military family stationed in Germany, we had a unique opportunity to visit destinations we never thought possible, including the fjords and port towns around Norway and Denmark on the MSC Sinfonia.
Our weeklong adventure started in Warnemünde, Germany. From there, we sailed to visit the cruise ports of Bergen, Hellesylt/Geirainger and Flam, all in Norway. Our last destination was the lovely city of Copenhagen, Denmark.
Our 3- and 4-year-olds aren't always cooperative on tours. Although the land excursions were enticing, we went our own way to save money and have some flexibility.Here were our five favorite Fjord cruise experiences.
Planning a Cruise Vacation?
Compare itineraries and prices for Nordic Cruises out of Copenhagen.
The MSC Poesia has replaced the Sinfonia on this route.
You might like my Review of the MSC Divina, too.
How To Cruise through The Fjords With Little Kids
1. Enjoying the fjords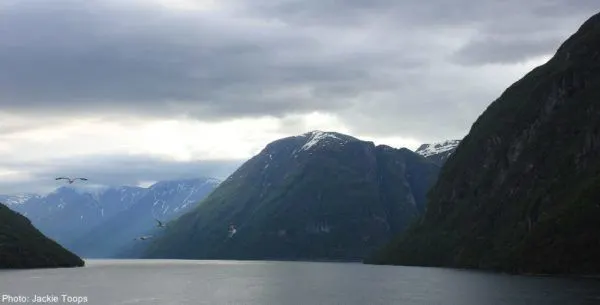 The scenery is the region people take this cruise.
We saw breathtaking fjords like the Geirangerfjord, a UNESCO World Heritage Site. We sailed on blue water framed by lush green snow-capped mountains lined with rushing waterfalls.
Kids aren't huge on scenery, of course, but we talked to our children about the glaciers and counted waterfalls, including the famous Seven Sisters and did our best to engage them in their surroundings.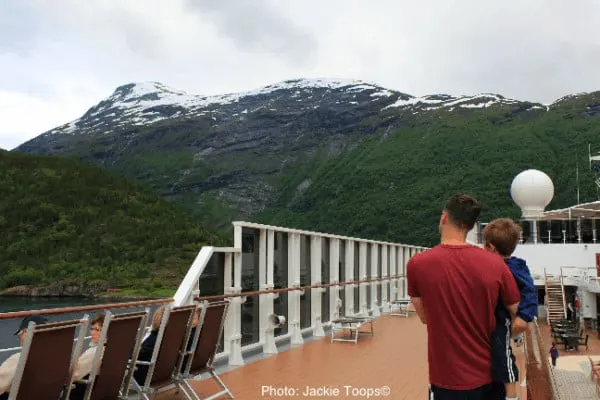 When the kids occasionally went to the kids' club my husband and I enjoyed beers with a view in a serene setting on the top deck of our ship.
2. Exploring Ports of Call
We got to visit some incredibly charming Nordic ports of call where we did a lot of window shopping. We enjoyed (the albeit touristy) stores filled with knitted sweaters, scarves with moose patterns, aurora borealis magnets, and horned Viking hats.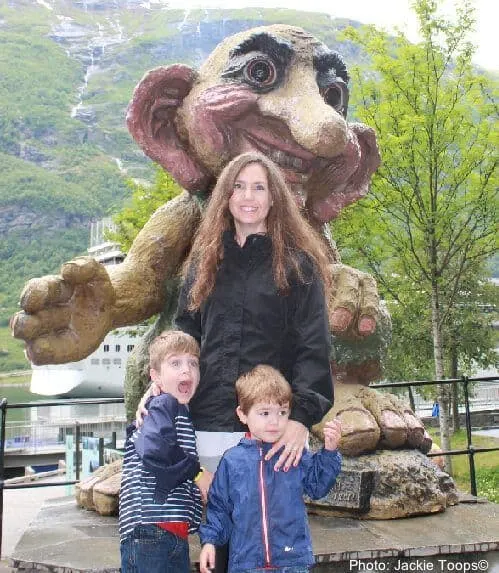 Trolls, those Nordic mythical creatures, are everywhere, from large statues to small figurines. My boys got excited each time they saw one and made a game out of spotting them.
3. Playing in Nature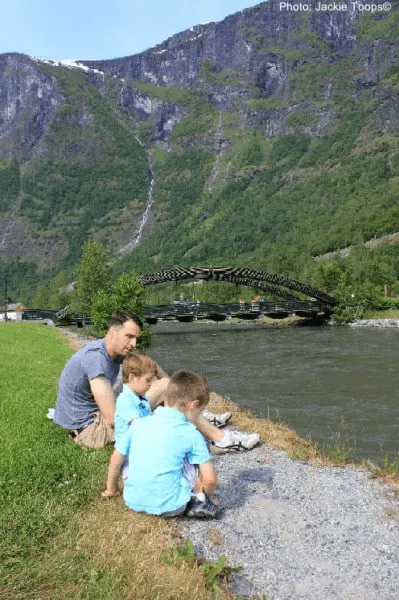 In most of the Nordic ports pristine nature was not far away. We hiked mountains, climbed trees, walked to waterfalls, and threw pebbles in streams. Three of the ports had playgrounds just as we exited the ship, which our kids made beelines for—perfect!
4. Taking in History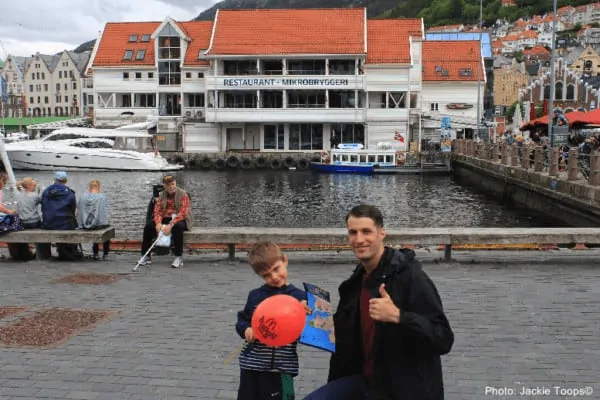 In Bergen we explored the alleyways of the Hanseatic Wharf, another UNESCO World Heritage Site. We ventured through the famous fish market, where my children made friends with the lobsters and crabs, unaware of their fates. We also explored the Bergenhus Fortress.
4. Savoring Local Culture
In Copenhagen, we walked through the Amalienborg Palace Complex and enjoyed the site of multitudes of cyclists (the city is the bicycle capital of the world).
We perused the Stroget shopping district where my kids loved the street performers, including a man with a calliope and a roller skating team.
Finally, we visited the Rosenborg Garden where the kids romped and we happened upon a summer jazz festival.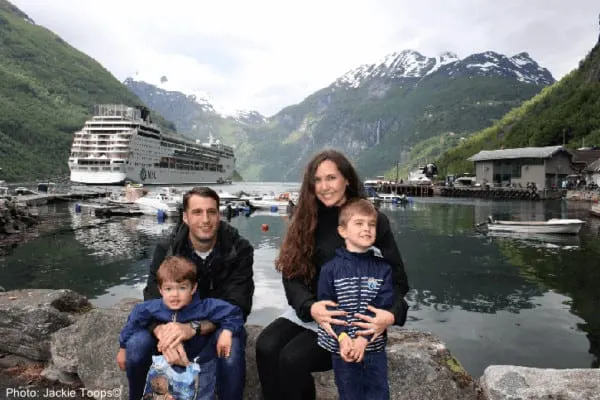 For Older Kids:
If you're taking your Nordic cruise with older children, it's possible to explore these incredible destinations more in-depth and more worthwhile to book shore excursions that will take you further from port..
Here are links for more information on the ports of call where we stopped:
MSC Cruises: The Good, the Bad, the Meltdowns
We're not traditionally cruise goers, but like a lot of parents we've discovered the value of a floating resort and the ease of visiting multiple destinations by ship. We love MSC's service-member discount and that kids 11 and under sail free.
As with any cruise, personal space was an issue; we ended up falling asleep and waking up at the same time as our children. We did miss having some privacy,
We tried to use the amazing MSC Kids Club but on several occasions one of the kids cried and I received the phone call to pick them up. So much for couple time!
So as a family (sigh) we enjoyed the splash pad, arcade and mini golf, and attended diffent nightly performances that featured singers, dancers and acrobats.
Since we sailed the Sinfonia has been through a major refurbishment that expanded the kids clubs to include options for older kids and teens. They incorporate the cruise line's partnerships with Lego and Chicco.
It also has new dining, pub and lounge options and updated entertainment at night. It now sails in the Mediterranean and around South Africa.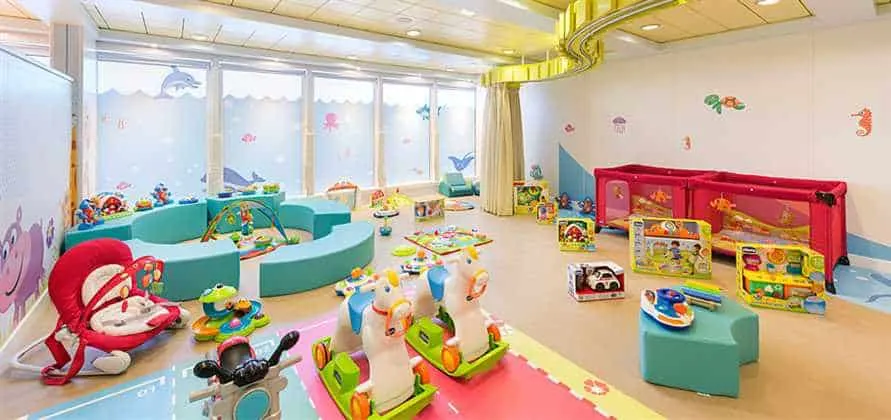 The ship has also added a splash pad. This and the pool are great for enertaining kids in the warm Mediterranean (we weren't swimming up in the North Sea).
We stuck to buffet because it's just easy with two young children. The food was delicious with plenty of variety and healthy options for us. We didn't even mind the kids making ample use of the pizza and hamburger stations, which are open nearly 24 hours a day.
We were among only a handful of Americans on board, which we saw as a plus. The staff spoke English, which was convenient and impressive. Overall, we look forward to more family cruises with MSC.
Pin it for later!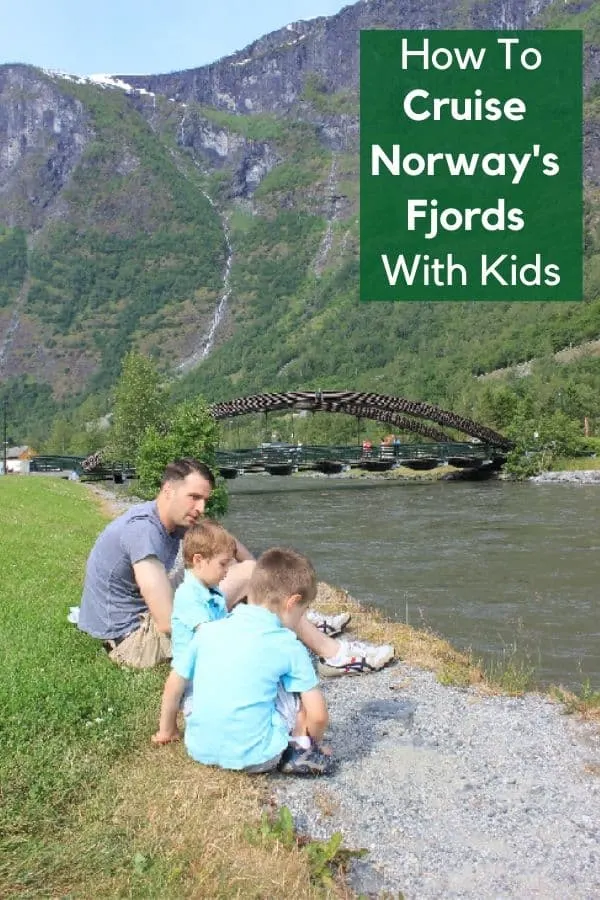 U.S. army wife Jackie Toops chronicled her experiences in Europe while her family was stationed in Germany. She has written for Wall Street International Magazine and HomeAway.com, and has been a recurring on-air guest with AFN Wiesbaden. Follow her on Twitter.
Photos by Jackie Toops except splash pad and playroom, courtesy of MSC.