I had a bit of treat when I got to spend a day aboard the *MSC Divina, which stopped in New York City on its way from Miami to Rome.
MSC is a growing cruise ship company that often offers kids-cruise-free deals, which are great for all families, as well as discounts for military families.
But Americans are still less familiar with it than with other big cruise lines. While I didn't get a full cruise experience, I did get some distinct impressions of how MSC is for American families cruising with kids.
Should You Cruise On the MSC Divina with Kids?
What is the Divina like?
Being "Mediterranean" is a key part of MSC's identity and the Divina does have a European vibe in terms of food, very good coffee, and ample childcare to give adults time to themselves.
I think even on the cruises that depart from Miami your kids are likely to make friends from Spain, France, Italy or Germany, where families know the brand well.
You might also like: MSC's Nordic Cruise with kids.
Who Will Like the Divina Most?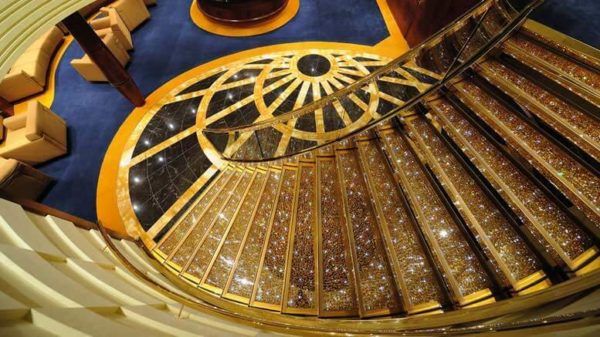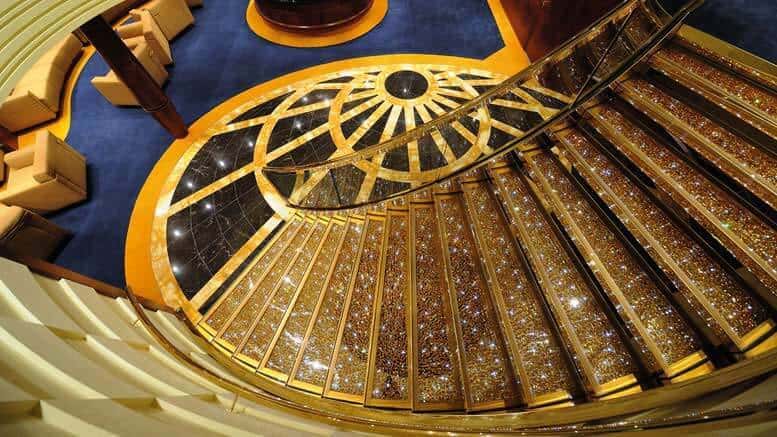 This ship and MSC in general will have particular appeal for multi-generational vacations.
The Divina's Old World opulence—think Venetian Murals, a staircase with Swarovski crtystals, and lots of mirrors and marble—didn't particularly speak to me. But I can see grandparents in particular appreciating the fancy ambience.
There are gala nights on all MSC cruises and a brochure in the staterooms offers guidance on what casual, semi-formal and formal attire look like.
Men are advised to bring at least one suit jacket and tie, preferably two. Women would need a cocktail dress.
Again, I can see grandmas and grandpas appreciating this break from our perpetually casual culture. Plus, they love seeing the grandkids all dressed up.
If you can deal with this extra layer of packing and planning you'll probably get a great holiday-card photo out of it.
The cabins are going through a major refurbishment that you'll get to see on cruises starting in 2020. Look for more categories and variations in size and amenities.
What's Does MSC Have For Kids?
The MSC Kids Club program is pretty robust, with activities for ages 3 to 18.
Partnerships with Lego and Chicco are a big part of the activities, toys and equipment you'll find in the kids clubs.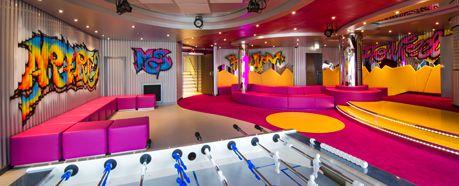 The Puffi's Kids Club has a Smurfs theme and spaces for 3-6YOs and 7-11YOs as well as a separate room for baby care, which offers both babysitting and hours where parents can play with their little ones.
In the evening they offer one program where kids eat dinner with the club counselors and another where kids sup with their families and are picked up in the dining room for evening activities. There is babysitting until 2:00 a.m.—if you can stay up that late.
Teens have the colorful Graffiti's Teen Club with foosball and places to hang out.
The Divina also has an indoor pool, outdoor pool, infinity pool and Aqua Park with a series of small pools and hot tubs.
Look for far splashier kids water parks on the newer ships.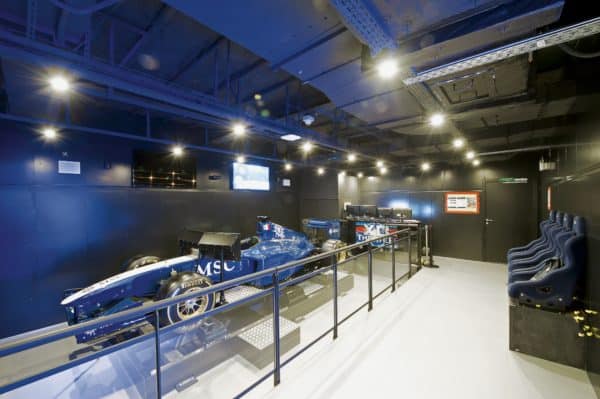 I tried a Formula One Racing simulator which costs extra.
The car racing is surprisingly immersive. After a few seconds you're focused entirely on the view out your windshield as you try to keep your shaking, shifting car on track (I was very bad at it).
It's hard to say what age it's right for. Kids who are too young could get frustrated and give up fast or spend a lot of their parents' money crashing into walls.
The 4D movie theater I got to try has been replaced with a virtual arcade.
What's Good For Parents?
While your kids are off at their club The Divina has an adults-only deck and a large spa that looks like it's pretty darn good at pampering, plus a good number of hot tubs in the pool area.
There is typically a matinee opera one afternoon, which is a little different— and again, it has grandparent appeal— a different performance almost every evening.
There's also a casino, of course. And several different bars and lounges.
How's the food?
MSC's food usually gets good marks. The steak restaurant I ate in was as good as it ought to be and I enjoyed it.
Given the cruise line's roots expect a lot of Mediterranean food in the buffet, a brick-oven pizza station, lots of pasta and salad and an emphasis on fresh.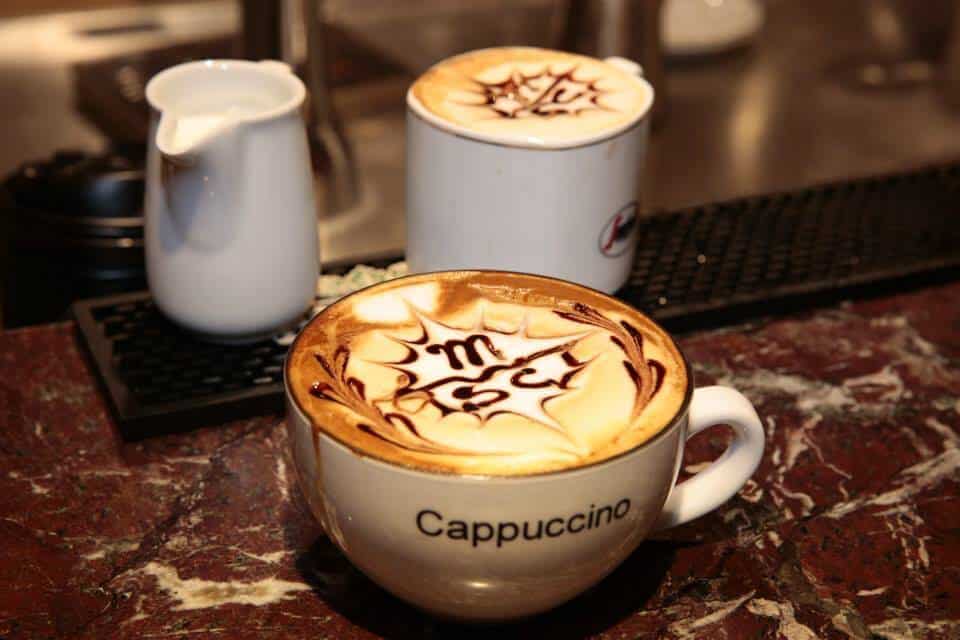 A couple of coffee bars serve a proper espresso or cappucino if you want one.
The other table service restaurants are upscale Italian and French.
The kids menus have the usual roundup of burgers, hot dogs and macaroni, but keep your eye out for European twists like potato croquets, creamy vegetable soups, roast chicken, and even chicken cordon bleu.
What Was Missing on the MSC Divina
Though it launched in 2012 and has been through a few refurbishments, the Divina seems like an older ship. It had a more closed-in feeling than some newer ships manage. It could use more open decks and promenades.
I felt it could use more activities for kids outside of the kids clubs and more things for families to do together, like mini-golf, water slides, climbing walls, movies and so on.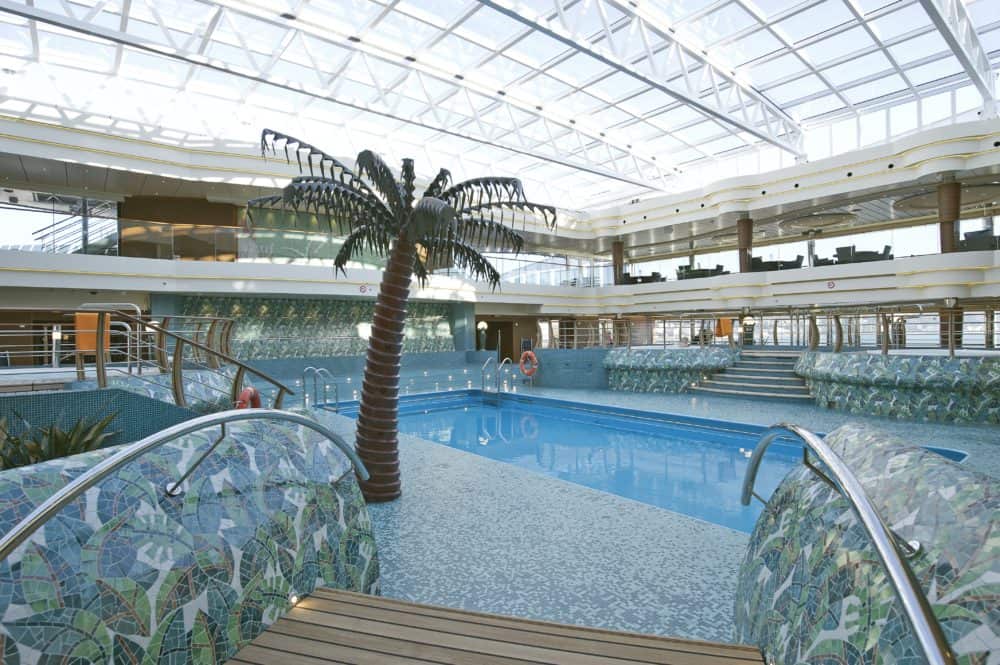 I didn't see a schedule of organized activities, which probably includes some all-ages options and newer ships have added some of these other activities.
The food served throughout its restaurants looked fresh and what we sampled was very good. But I think that for its American audience MSC needs to offer more restaurants and a greater variety of cuisines.
Americans are used to seeing Asian, Latin, Mexican, gourmet burgers and more both on the buffets and in the supplemental restaurants. By comparison, the focus on Italian and French food could become tiring quickly.
MSC's European accent will not be for everyone. But it will appeal to families who are overwhelmed with all the bells and whistles on other cruise lines and want a slightly more low-key and sophisticated alternative.
Families that need to several generations should take a closer look.
Pin it for later!