At least once a year I book a hotel room in Downtown Chicago—just a few minutes from home—and my husband, kids and I enjoy a staycation. Seeing the city through the eyes of a visitor is one of my favorite ways to spend a weekend.
We'll do typical Chicago sightseeing activities like riding the hop-on-hop-off bus, try a Segway tour, or stroll along Michigan Avenue from the Art Institute passed Millennium Park to the Water Tower.
While we locals love these major attractions, we have our secrets too. Here are a few of my family's favorite local things to do in Chicago that you might love as well on a weekend or longer visit.
6 Unique, Local Chicago Things To Do With Kids
Play on Lake Michigan
With 26 miles of sandy shoreline, it's hard to ignore great Lake Michigan on our doorstep.
Chicagoans live for long summer days and spend their free moments soaking up the sunshine and splashing in the water at any of 2 dozen shoreline beaches.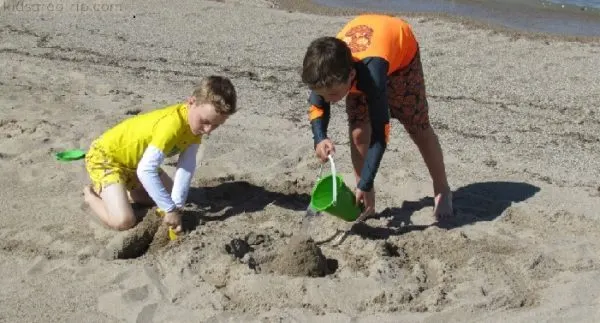 For those who don't love the heat of the day, wait for the fireworks that happen twice a week at Navy Pier and during various festivals throughout the summer.
The beauty of the sparklers over the city and reflecting in lake is magical.
Enjoy al fresco restaurants
One of the most enjoyable and kid-friendly ways to experience Chicago's world-class cuisine is at a rooftop restaurant or an outdoor patio.
The city rooftop views are stellar and dining al fresco brings a festive vibe to any dining experience.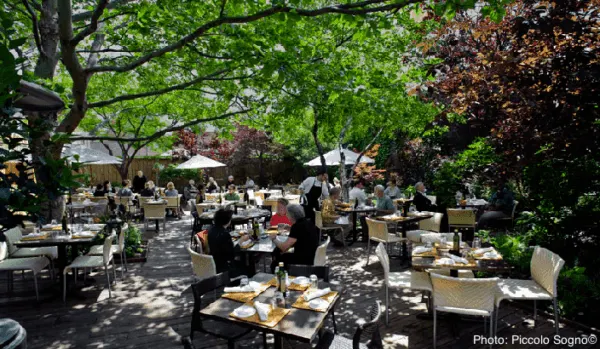 Some of our favorite spots are the cozy backyards at Piccolo Sogno and Stella Barra pizzeria, and the rooftop at Rock Bottom Brewery.
Many of the downtown hotels also have family friendly rooftop restaurants and bars.
For drinks or a meal with a great view try the terrace at Loews Streeterville Social.
It welcomes families during the day and early evening and has a grassy area where kids can play (it becomes a bit of a nightlife scene after dark).
Keep in mind kids are often welcome in bars and lounges in the afternoon; less so after 7:00 p.m. or so.
Read more
• My review of the Loews Chicago hotel.
• My Guide To Chicago's Bucket List Attractions With Kids
See Chicago from the river
Seeing the Windy City from the Chicago River or the lake provides a unique perspective on its buildings and history.
The architecture tours on the river offer a different vantage point for appreciating the city's history and many noteworthy buildings.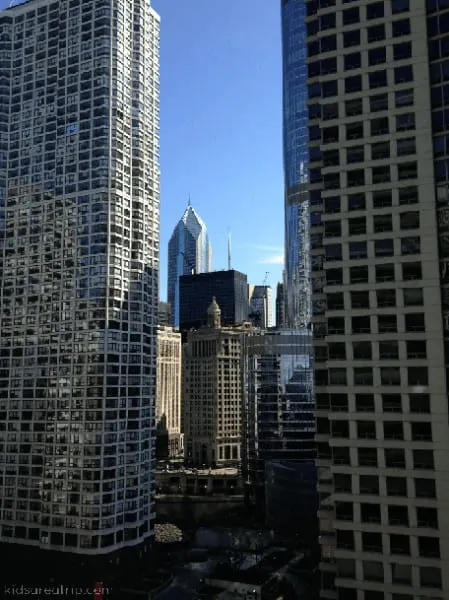 Be sure to read reviews and find the right tour for your group. Chicago has famous architecture and plenty of colorful history. Some guides do a better job than others of making it all engaging for kids.
Shoreline Sightseeing runs a tour from Navy Pier that lasts about 75 minutes and covers most of the major points of interest in the city. Children 7 and above will appreciate this tour and the views; younger ones may simply enjoy being on the water.
If you prefer to steer, another option is renting kayaks—on your own or in a tour group— and heading out to explore the lake or river.
It provides a unique perspective on the city and some great photo ops besides.
Discover diverse neighborhoods
Chicago neighborhoods are culturally rich, diverse and well worth exploring. Head to Andersonville for its Swedish American Museum and stop by the Swedish Bakery for crunchy almond toska tortes.
Or take a tour of Chinatown, stop for dim sum, and enjoy a bubble tea at Joy Yee Noodle.
Maybe once-German and now-Latin-American Pilsen is more your style with its art murals, taquerias, and National Museum of Mexican Art.
Chicago Food Planet offers walking food tours of several Chicago neighborhoods plus the Navy Pier.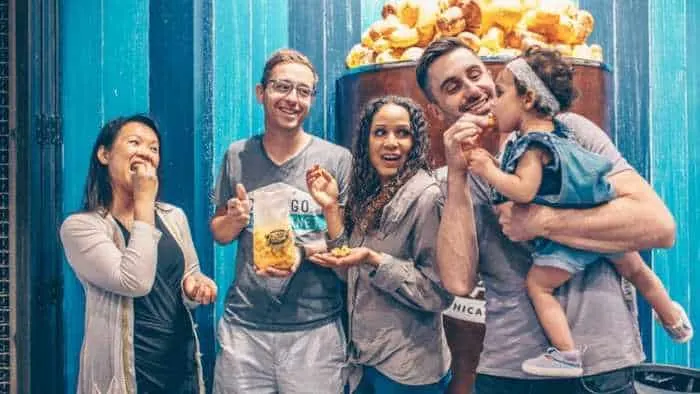 The tours change seasonally, but usually combine samples of local classics like deep-dish pizza or Chicago dogs with new and interesting additions to the food scene.
Most of the tours involve an alcoholic drink or two and will substitute soft drinks for kids, or adults who don't imbibe.
Go off the beaten path and explore the neighborhoods, you'll be surprised by what you find.
Walk the 606 trail
The newest addition to the Chicago trail system is the 606, an elevated trail built on a former freight train line.
This nearly three-mile-long trail connects four neighborhoods, Bucktown, Wicker Park, Logan Square and Humboldt Park.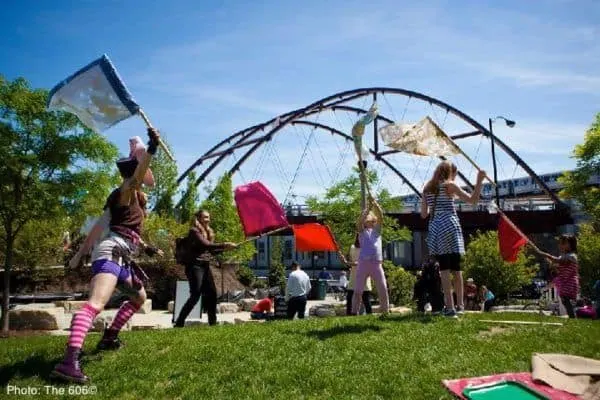 The path is 10 feet wide—perfect for walking with a stroller or taking a family bike ride—with a dirt running path on either side.
The trail connects with several city parks and feature several urban art installations as well.
At the western end is an observation deck with great sunset views. The trail just opened this summer and is already pretty busy most weekends.
Explore amazing museums
We love are the Chicago History Museum. Permanent exhibits allow you to trace Chicago's history and unique culture by riding an L train, visiting a jazz club, "shopping" in Marshall Fields and fitting yourself inside a Chicago dog.
Learn about the African America migration north, explore Lincon's Chicago and see a movie that carries you from the Great Chicago fire to the World's Fair to the dizzying building of the Sears Tower. Temporary exhibits might focus on history, social issues, music, fashion and more.
We also like the Peggy Notebaert Nature Museum, part nature center and part natural history museum. During a visit you might climb around a treehouse, view impressive nature photography, learn about bees or visit the indoor butterfly garden.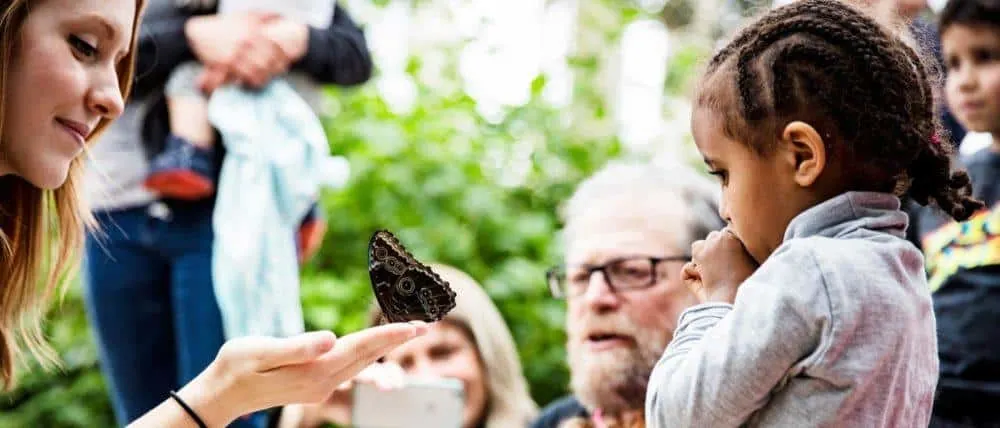 There is a lot of fun interactive stuff here to engage the under-7 set. But older school-age kids interested in science and nature, will find things to engage them, too.
This is a great alternative if your family likes science museums but you think your kids might be overwhelmy by or too young for CMSI.
I never get tired of exploring the Windy City. There is something magical about the architecture, the water, the sights and the people that makes it a one-of-a-kind city.
Plan Your Chicago Trip!
---
• Easily find great deals on thebest Chicago Hotels book them with TripAdvisor.
• Book a vacation rental in a cool Chicago neighborhood with VRBO.
---
• CityPass can save you 51% Chicago's top attractions,
and you'll skip the long lines, too!
• Book Chicago Pizza Tour or a Ghosts & Gangsters Tour
with Viator.
---
Pin it for later
Kirsten Maxwell spent many years living in the Chicago suburbs with her husband and three over-scheduled boys. Her passion is writing about travel, including traveling with a child with food allergies. You can find her family travel tips at Kids Are A Trip. Follow her family's adventures Instagram.
Beach and buildings photos are care of Kirsten Maxwell. Other photos are courtesy of the venues they depict.