In the fall Tiny Traveler and I were flying coast-to-coast on Jet Blue. Of course, given the current stranglehold airlines are putting on seats that don't cost extra, it seemed likely my daughter and I would be sitting in two middle seats, one in front of the other, rather than next to each other. (I did everything I could ahead of time to get side-by-side seats, to no avail).
When I mentioned this to Tiny Traveler she burst out crying. "I'll be right behind you, and you'll probably read a lot," I suggested, hoping to reassure her. "But I like to play games with you," she countered. "And if I play with Play-Doh I want to bake things for you."
Read more:
• My Top Tips For Getting Over Jet Lag With Kids
•33 Items To Help You Take Your New Baby Anywhere
• Here's How To Fly With a Toddler As a Single Parent

Use Your Next Flight For One-on-One Time With Your Kids
5 Hours of Real Down Time
The exchange prompted me to look at airplane travel from her point of view. I see it as the barely tolerable hurdle I have to get over to get to the fun thing– the vacation.
Tiny Traveler sees it as part of the vacation excitement. And more important, it's an opportunity for some cozy one-on-one time with her dad or me. We can sit and do something together without the distractions of work, homework, smart phones, laundry, shopping and after-school activities. She actually likes the airplane and this has a lot to do with it.
Less Managing, More Engaging
I realized that as she gets older I can actually think less about keeping her occupied for the duration of the flight so she doesn't bother other people and more about how I can engage with her in ways that are fun for both of us.
So I'll probably pack a book we can enjoy reading together, maybe Paddington Bear or The Rescuers. And we'll bring some portable games we both like to play, like Uno or Twisted Fish, our current favorite. I might even try to find a movie to download to my iPad to watch together.
Finding Balance
This is not to say that I will spend five or six hours in the air being my child's entertainment. I always hope to squeeze in a magazine or some writing time. But I find that it we start out doing something together, when I say, "OK, why don't you do something on your own and let me read for a bit," she's more likely to go along with it. If I try to make her to fend for herself from the get-go, I don't get a moment's peace.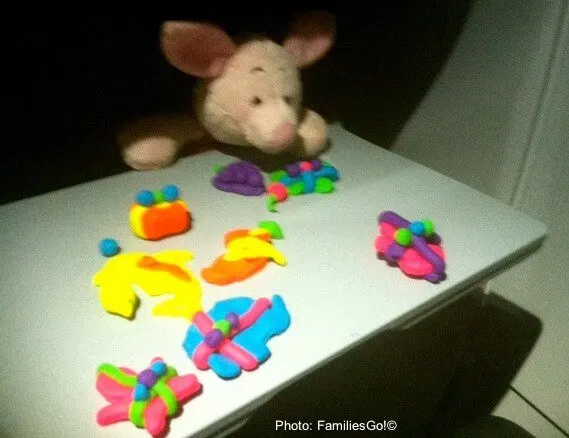 Though I can't say for sure, I think this can also be an opportunity for families with two or more kids, too. They no doubt crave one-on-one time with either or both parents, and you probably would like that, too. So why not use your flying time? One parent sits next to one child on a given leg (or portion of it) and then you switch off. Of course, you want to carve out some everyone-is-on-their-own time, too, so you might actually get to thumb through a magazine or catch up on that season of Scandal that you missed.
Update
We did get to sit together. We did "bake" with Play-Doh and we did read a Roald Dahl book together. Then she drew and watched some Disney Jr. while I read my book. On the way back, we were both tired—when TT gets tired she gets endlessly chatty—so there was a bit more Disney Jr. on that leg. But there was also more Play-Doh and two card games, which helped to pass the time for both of us. It was a good balance, which is what you hope for.
How do you manage time with your kids on airplane rides? Tell us how you make it quality time.