I love German food, in all its porky, potato-ey spaetzle-iness. And since we have friends and family in Munich I'm especially partial to Bavarian German food.
I eat my way through Munich when we visit and I know what we like. But I recently consulted with local Munchners we know and trust to find out which foods visitors should be sure to try when they visit southern city.
Here is what to eat in Munich to dine like the local. Kids will eat many of these foods, and if they won't eat anything else, just ask for plain spaetzle with butter or plain Knodel (dumplings) or find a big pretzel.
Planning a trip to Bavaria?
Book the best rates on Munich hotels with Trip Advisor.
Rent an apartment in the Center of Munich with VRBO
Check out Lonely Planet's comprehensive Guide to Bavaria and Rick Steve's Guide to Munich.
12 Kid-Friendly Foods to Try in Munich
Snacks and small meals
1. Obazda: This is a cheese spread made with beer and paprika that you'll see in beer gardens, served with rough bread or (ideally) a large pretzel, some onion slivers and maybe some radishes.
It's a nice afternoon snack or an appetizer to share.
2. Leberknödelsuppe: Liver dumpling soup is exactly what it sounds like. Liver is not everyone's thing, but if you do like it these dumplings are traditional, unique and worth a try.
3. Leberkäse mit Spiegelei: Leberkase with a fried egg is German comfort food. Despite it's name LeberKase doesn't actually have any liver or cheese in it.
It's essentially bologna, cut thick and fried up with an egg on top. It makes for a hardy lunch on a gray day.
4. Weisswurst: Weisswurst are soft-textured white sausages that were traditionally eaten as a second breakfast but are now more typically a lunch dish. We always make a point of stopping at Schneider Brauhaus for a pot of Weisswurst "mit brezie," with pretzels and a Schneider weissbier.
5. Seafood at The Viktualienmarkt: This central outdoor food market has stalls selling soup, sandwiches and a variety of wurst.
But when you need a break from all that wonderful meat, head to Fisch Witte, where you have your pick of freshly prepared fish dishes to eat at indoor or outdoor tables (just look for the giant lobster).
Despite the market setting they'll serve you wine in a real glass, which is nice.
Afterward, walk around the market, pick up some souvenirs, and buy a container of whatever fruit is in season for dessert. If you're lucky you'll spot some tart stackelbeern (gooseberries).
If you want to make your kids really happy, find the fellow that sells colorful squares of sticky Turkish delight.
Read More
• Top Things to do in Munich With Kids
• 24 Hours in Schwangau
• Top European Zoos
Bigger Dishes
6. Nürnberger Bratwürst: Yes, I know, we're in Munich, not Nurnberg. But on a cold or wet day that are few better places in Munich for warming your bones than the Nürnberger Bratwurstglöckel next to the cathedral (the Frauenkirche or Dom, as the locals call it).
These finger-sizes sausages come with good sauerkraut and freshly shaved horseradish that will make you sit up straight.
7. Resche Ente mit Blaukraut: This is crispy roast duck, usually served as a half or quarter, with roast cabbage and maybe potatoes.
Really, what else do you need to know to want a plate of it right now?
8. Pig: Bavarians love their pig, and you really can't leave Munich without digging into a plate of schweinhaxe. It's a large pig's ankle, and meatier than you'd expect. It's usually served with cabbage and potatoes.
If it's just a bit to intimidating try Schweinebraten mit Knödel; roast pork with dumplings. It's a more typical cut of meat, though still not a small meal.

Seasonal Treats
9. White asparagus (weißer Spargel): If you visit Munich in the early spring you'll see white asparagus everywhere – in the markets, as side dishes, even with menus built around them.
Munchners love this spring treat and it's a very when-in-Rome thing to join in the "asparagus fever" with them.
10. Chanterelles (Pfifferlinge): For a few weeks in summer you'll see these dainty yellow mushrooms everywhere. They'll stir them into soup and risotto, cook them with meat, and toss them into egg noodles with butter and parsley. I can't get enough of them.
Sweets
11. Schnitten: These are the sheet cakes you see in bakery windows around the city. They are usually topped with seasonal fruit, but my favorite has rich semi-sweet pastry cream and poppy seeds (mohn).
When plums are in season you'll also see sheets of purplish not-too-sweet Zwetschgendatschi, too.
If sightseeing has you footsore, do like the older locals and take a break for kaffe und kuchen around 4:00.
12. Kaiserschmarrn: A dish called "the king's mess" can't be bad.
This is a plate of warm, fluffy shredded pancakes, studded with raisins, covered in powdered sugar, and served with jam or apple sauce on the side.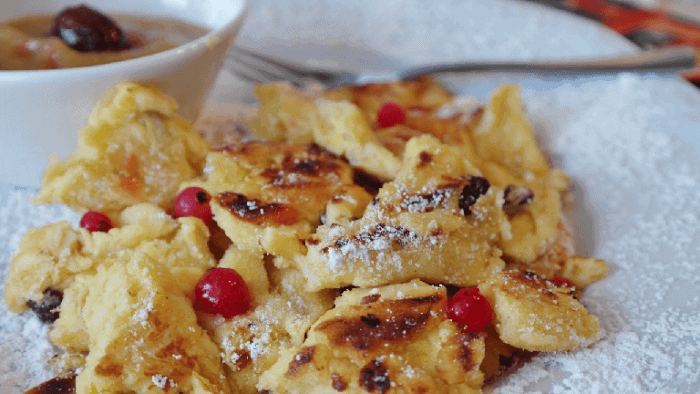 It's a dessert but it's OK to eat it for breakfast, too. When my husband was studying abroad in college, he'd sometimes have it for dinner, too.
And To Go With It All…
Beer! Munich has its share or local brewers who turn out reliable pilsner, helles and dunkle beers yearround.

In spring look for doppelbocks, strong beers meant to fortify you during lent. They usually have the suffix -ator in their names (Celebrator, Maximator, etc.).
Weissbier is popular in summer (or with weisswurst anytime). Also in summer beer gardens serve radlers, a refreshing low-alcohol mix of beer and lemonade.
In the fall you'll drink Marzenbier and special Octoberfest brews.
Schorle: While you are enjoying your beer, treat your kids to one of these fizzy fruit drinks. The most common is apfelschorle but you'll find black current, elderberry and other fruits, too.
Pin it for later!