Hershey, Pennsylvania calls itself the "Sweetest Place on Earth." Visiting at any time of year is a chocolate-filled, family centered experience. So you can imagine that this is a place where they really get into the holiday spirit in a big way.
I've learned that taking my family to Hershey on a weekend between Thanksgiving and New Year is a great way to raise our Christmas spirit. Here's what we enjoyed most during our December visit to Hershey.
A Holiday Season Hershey Family Weekend
Two Miles of Christmas Lights
There's nothing like a festive array of twinkling Christmas light displays to get you in the holiday spirit. Open on select dates between mid-November and January 1st, Hershey Sweet Lights is a drive-through experience with more than 600 illuminated, animated light shows.
You can buy snacks and drinks for the show, but we packed our own hot chocolate in travel mugs to set the mood.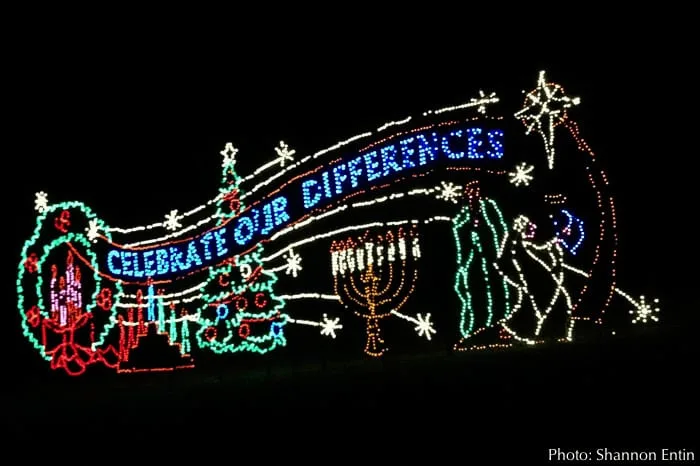 My kids received special glasses, like the paper 3D glasses you get with movies, that produced a snowflake effect on some of the lights. They also made regular car headlights look like they were surrounded by rainbow snowflakes. My daughter wore her glasses for the rest of the night, oohing and aahing happily.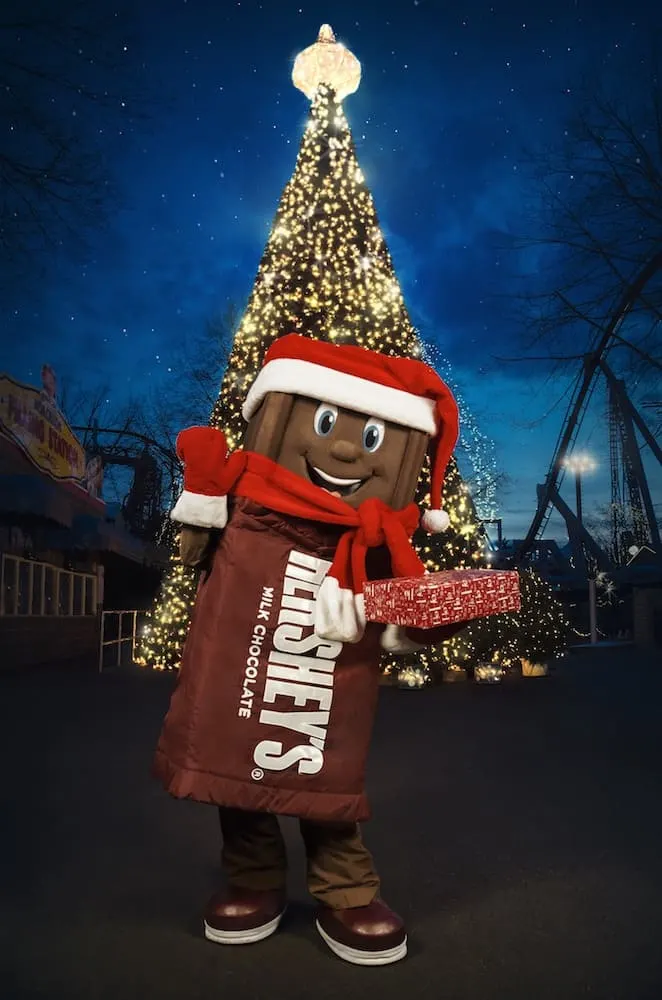 We tuned the radio to the designated station to enjoy holiday music during our drive through, and giggled over the classic (my kids would say "dated") Christmas music they played.
I certainly enjoyed singing along with Gene Autry's original "Frosty the Snowman," but the kids snickered and rolled their eyes. Still, I got them to sing along when "Jingle Bells" came on.
The light displays were cheery and varied. The first section was traditional Christmas displays – wreaths, sleighs, Santa, reindeer, candy canes, and so on.
"Find Rudolph" was a recurring theme and you could periodically find the red-nosed reindeer popping out from behind a tree. Younger kids would love this scavenger-hunt idea.
My kids loved the 12 Days of Christmas display. This is one song we actually like to sing together. It was lots of fun seeing it brought to life in lights with 12 drummers drumming, 11 pipers piping, and so on.
Other Things to Do In Hershey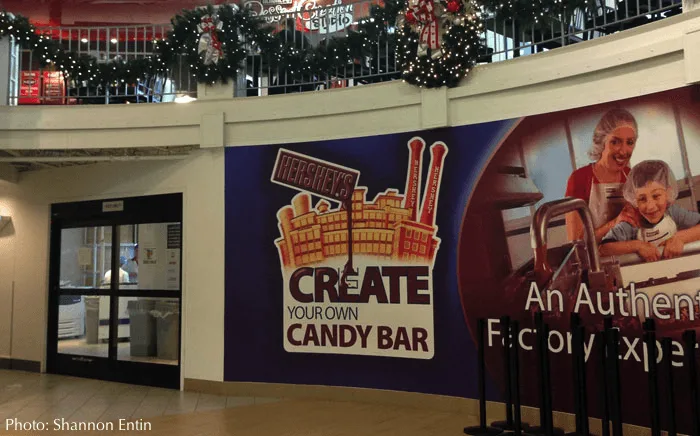 During the holiday season, Hershey Park lights up Christmas Candy Lane. The Park opens Fridays through Sundays with limited rides, even more lights, Santa and his reindeer and other seasonal features.
If the weather is just too cold, definitely head to The Hershey Story on Chocolate Avenue. This museum takes you through the history of the Hershey area and is chock-full of interactive exhibits.
You can also try the Chocolate Lab, where you'll learn all about chocolate, from bean to bar, and make your own chocolate creation.
And if your kids really chocolate, the "Create Your Own Candy Bar" experience at Hershey's Chocolate World is fantastic! Chocolate World also has a ride that shows you how Hershey chocolate is made. The souvenir shops can provide plenty of gift ideas and stocking stuffers for the chocolate and candy lovers in your life (seriously, what kid wouldn't want to find extra long Twizzlers in their stocking?).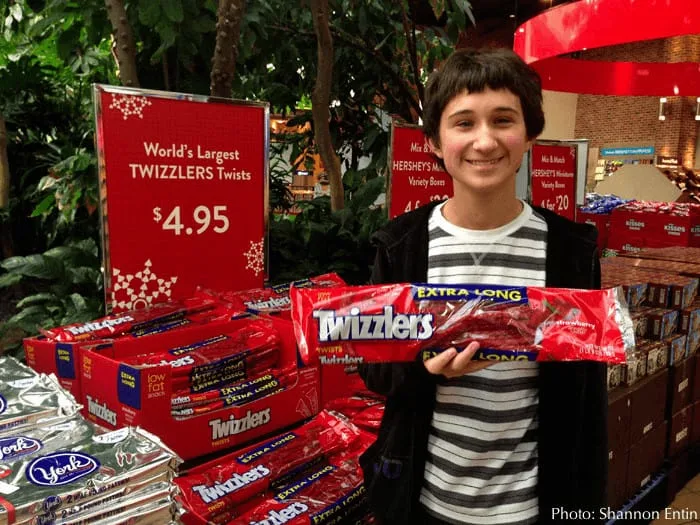 Additionally, the Hershey Holiday Trolley, a Christmas-themed variation on the summer trolley, leaves from Chocolate World. (Read about summer activities in Hershey.)
You'll learn about Milton Hershey and the town he created, sing Christmas Carols and get free chocolate samples.
Note: You can also book a separate trolley ride through the Sweet Lights if you don't want to take your own car. Just be prepared: On a busy night you could be on the trolley for a good 90 minutes. That's a lot of caroling.
Staying at the Hershey Lodge
The Hershey Lodge goes all-in with its chocolate theming. If the chocolate kisses on your pillow and cocoa-infused shampoo and conditioner don't delight you, surely the specialty desserts and chocolate martinis will. (Find the lowest seasonal rates.)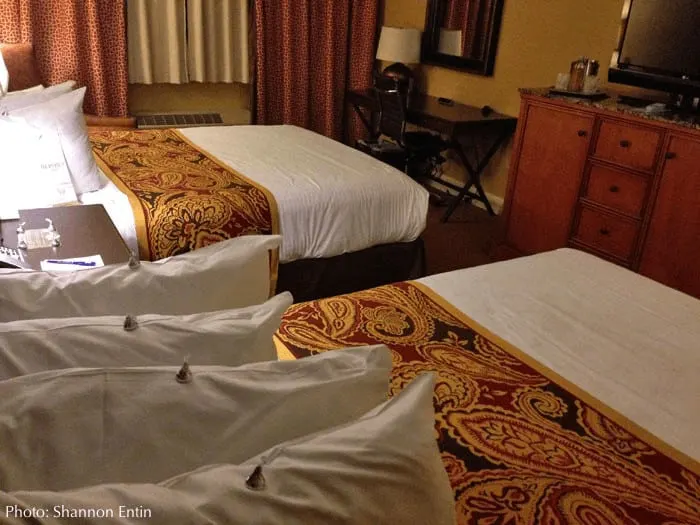 The lobby welcomes you with cozy wood and stone décor, and the smell of chocolate is everywhere, which seems especially appropriate at Christmas time. Families gather around the fireplace in comfortable chairs, playing cards and eating treats.
Hershey's Kids' Check-in (available seasonally) is a unique feature where kids get to sign the "Kids at Hershey Lodge" guest book, participate in a Hershey's candy guessing game, and receive a chocolate surprise.
The rooms are tastefully decorated in – what else– chocolaty brown, gold, and burgundy. Our room had two queen beds, a lounge chair and a mini fridge in addition to the usual amenities.
Hershey is a small town that's easy to get around and Hershey Lodge is in a perfect location, just minutes from all the attractions. We could see the roller coasters from our room. One of the best guest perks is the free shuttle around town so you don't need to drive everywhere.
Dining at The Lodge
The Hershey Lodge has several on-site dining options and most are good. On a Sunday we chose The Bears' Den sports bar so my son and I could watch some football. At our table my son chose the chair facing the enormous 7-by-12-foot screen. He was in heaven.
I was in heaven trying out some of the delicious chocolate martinis; the Peppermint Patty was my favorite.
A Christmas weekend getaway to Hershey, PA offers the perfect blend of holiday lights, family fun, and sweet, delicious chocolate!
Read Shannon's full review of Hershey Lodge.
Check Prices on other Hershey Hotels
Pin it for later!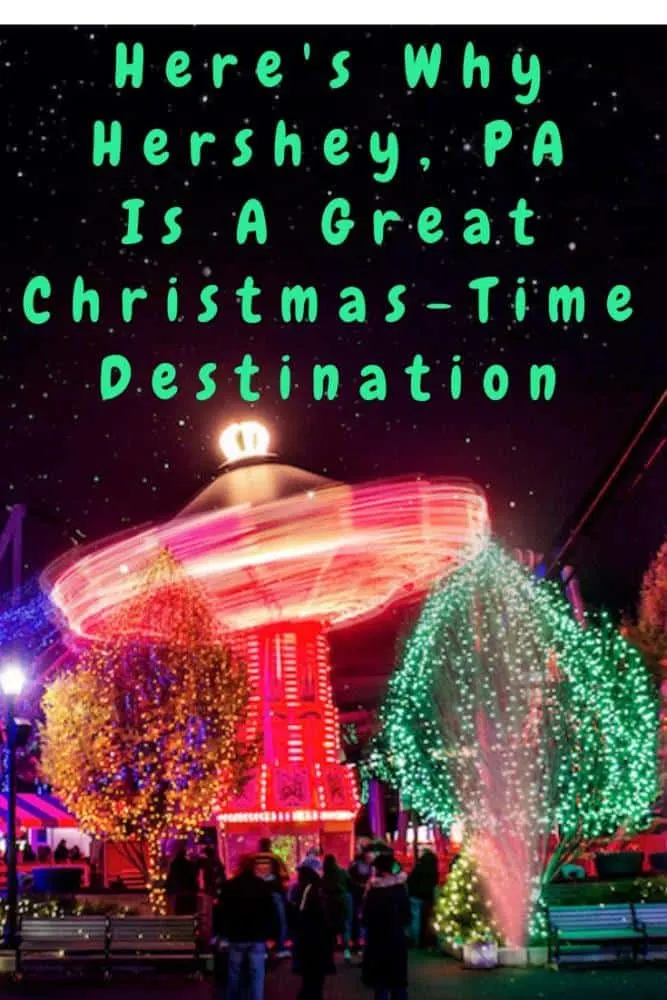 Shannon Entin is a travel writer and chocolate lover. She shares her adventures at TV Traveler.