The Trouble With Kids and Taxis
Yes, I know. You need to get your family from the airport to your hotel and back again as simply as possible. You don't need a rental car and either there isn't public transit or you can't deal with public transit with kids and luggage in tow. You need a taxi cab.
But booking and taking taxis with kids is a little complicated; especially in a place you've never been.
You'd like to not have to carry your child's car seat for two 20-minute taxi cab rides but also don't want to put them in your lap. I've been there. Doing a group vacation and need transport 6 or 8 or 10 people and their luggage. I've been there, too.
Here is the best advice we can offer for safely taking cabs and taxis in cities you don't know with kids and babies in tow.
9 Tips For Taking Taxis With Babies and Kids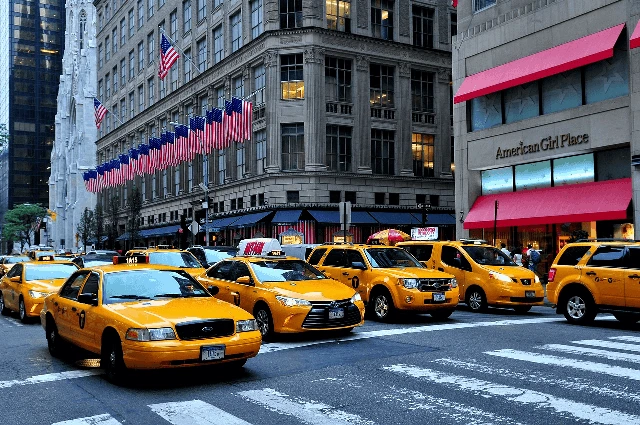 1. Don't count on cabs you hail on the street in cities like New York to have car seats; they won't.
2. Check the website for your destination hotel to see if they run a shuttle service to your hotel. This might solve your problem immediately.
3. If you will need a cab to your best to book a taxi ahead for when you land and request a car seat. It's a better bet than hailing a local cab outside the airport.
4. Call the hotel where you're staying and ask the concierge for a recommendation for a local taxi service.
5. Try a taxi app like Lyft, or Curb in NYC. Some drivers carry car seats. And if parents make the request often enough more drivers will start doing so.
Just make sure the seat is installed properly and tightly enough; if the drivers don't have kids they might not know all the tricks.
Personally I try to avoid Lyft and its main competitor because I don't like their labor practices and I like supporting local cab drivers and cab companies. They're small businesses and the money you spend with them stays local, unlike with the rideshare app companies.
But I understand that in some places they really are your best (or only) option.
6. Try an aggregator service like LimoCart with connections to taxi companies in multiple cities.
7. Before leaving town, check a handy website like Ride Guru, which will compare the prices are fares for the taxi options at your destination. For example in London they'll show rates for black cabs, mini cabs, ride share services and so on.
8. Skip the cab. Many cities, like Hong Kong and Montreal, run shuttle buses and trains services that go practically curb to curb (or close enough) between the airport and major hotels.
When they're good (Hong Kong's is very good) they can be almost as easy and convenient as a cab— sometimes more so— and much less expensive. Your hotel front desk or its website can tell you how close the public transit will get you.
Plan ahead for this option. Read up on the system before you leave so you have an idea of where to go, if you need local cash, where you can expect to be dropped and so on. And think about how you might pack differently (that is, lighter) if you are using public transit rather than a cab.
9. If taxis are a big part of your life, consider new options for car seats and strollers, like the Doona, which seem almost made for parents who take cabs with infants. (read more about awesome travel strollers we love.)
Just don't plan to use it for long; it's just for babies.
When kids are big enough to just need a car seat for proper seatbelt positioning, buy a BubbleBum booster seat.
It fits easily in a suitcase and takes about 30 seconds to inflate. We love ours and have taken it everywhere from California to Senegal.
Pin it for later!