Bali is an amazing place. It's beautiful, relaxing and culturally rich in ways that are uniquely Balinese, and even unlike the rest of Indonesia. Better still, it's an easy place to be with kids.
There's a lot to do, the pace is relaxed, and it's a culture that really likes kids.
Here are ten things to do when visit the island with your family.
You Might Also Be Interested In:
• Everything You Need To Know To Visit Kazakhstan With Kids
• 5 Awesome Things To Do in Borneo with Kids
• Plan A Unique Beach Vacation With Kids in Bora Bora
10 Top Family Activities in Bali
1. Monkey around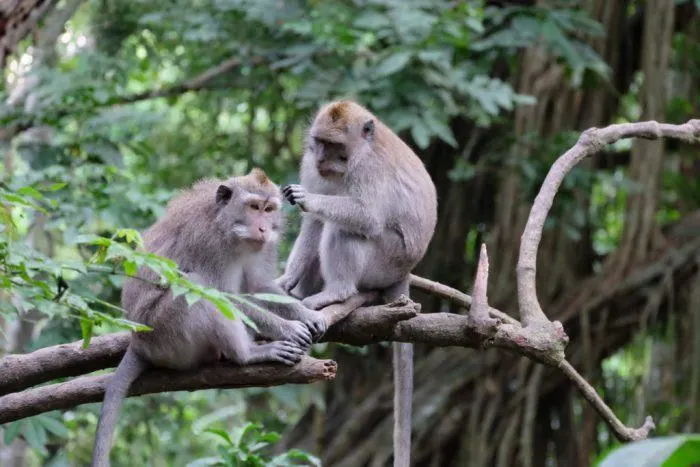 The Monkey Forest in Ubud is one of the more popular attractions and the highlight of a lot of visits. I would keep babies and toddlers in carriers. And take seriously the warnings against wearing jewelry and bringing food. They will find the latter and I saw a few monkeys paying way more attention to a woman's feet than she cared for because of some sparkly fobs on her flip-flops. But come early and play by the rules and you'll get some great photos.
2. Eat roast pork in Ubud
When we at at Ibu Oka, we sat on the floor around low tables in a tiny stall and ate our fill of pork, cracklings, sausage, rice and sambal for pennies. It was amazing. Then Tony Bourdain declared it one of the best meals he ever had and now apparently the owner has three locations and diners sit on chairs. But the meal is still the same and will still be a great deal by western standards. If you are a fan of roast pork it's a must.
3. Walk through the rice paddies
Bali has a unique irrigation system that keeps its rice paddies green and lush almost yearround. The terraces are beautiful and a walk along a path out of Ubud let through a swath of them that was amazing. Farmers working in the fields offered to open coconuts for us (for a small fee; worth it) and the skinny ducks you see often on menus abound. It's a nice morning break from sightseeing. This is probably one of the easiest things you can do in Bali with a toddler or baby because there is a lot to look at and you can pace yourself.
4. Take a cooking class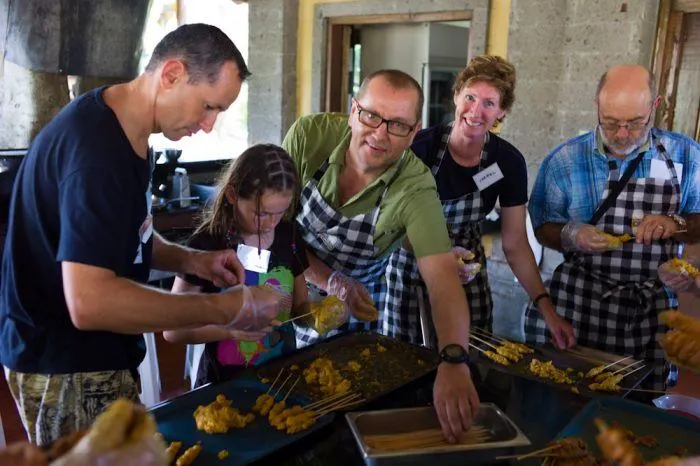 We actually found it tricky to find traditional Balinese dishes beyond Sate and Nasi Goreng (fried rice) and easily had our most authentic meal at Bumbu Bali right in Nusa Dua. Duck was amazing and black rice pudding was as exotic as it was sweet. We liked it so much we bought his cookbook to take home. So I wouldn't think twice before signing up for a cooking class with these folks. I'm confident you would learn quite a bit about local ingredients and cooking and eat a fine meal.
If you can't get to Bumbu Bali there are plenty of other classes around the island.
5. Visit a temple or two
Bali's Hindu Temples are beautiful, complex and part and parcel of every day life. You haven't seen Bali until you've visited one or two. But they are all over the place and with kids in particular I would say the best ones are the ones that aren't too far. Ask your hotel to find you a driver, preferably one who can tell you a little about what you're seeing (or who can bring along a guide who can) and take half a day to explore this aspect of the local culture.
6. Splash at a water park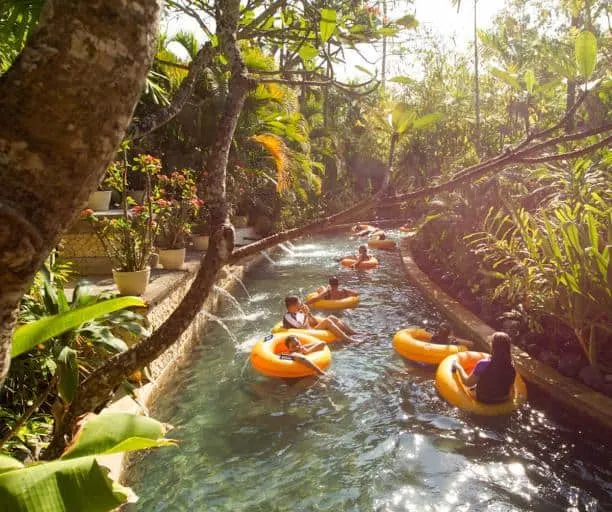 We haven't tried Waterbom Bali water park near Denpasar, but it's incredibly popular, especially with Australians on their winter beach holidays. I would say that if you have kids old enough to swim you probably want to go, and you probably want to read up first for tips on what time to arrive, how to get the best lockers and which slides are worth the wait.
7. Eat on the beach
There are a few spots along Jimbaram beach where the tables and chairs are right in the sand. It's acceptable to take your shoes off and wiggle your toes in it. Having the beach all around you is handy, too, for kids too young to sit still through dinner.
You get your meal by going to one of the stalls at the top of the beach and choosing fish, shrimp or shellfish from the tanks and ice beds (skip the lobsters; you can have a fine meal without that touristy splurge).
The seafood is priced by weight and comes with rice and spicy sambal (think Indonesian Salsa), and you can order beer and soft drinks. The most casual and tasty meal you will ever have.
8. See a live show
The Kecak and Barong dances we saw were loud, colorful and quite memorable. They involve Hindu myths about monkey kings, good dragons and evil kings and lots of drumming.
It's another thing worth doing but also worth finding near where you are staying. If you are spending a night in Ubud making a point of seeing one of the shows in this cultural hub.
9. Have an adventure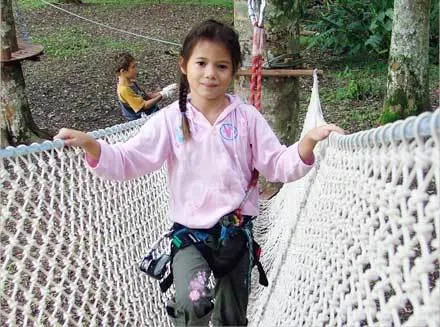 The Forest Walk adventure center is in the northern center of the island, one hour to 90 minutes from the major tourist zones. Kids 8 or 9 and up love adventure courses and on this one they can zip-line over rice paddies and making their way across the jungle canopy on ropes and ladders. It's the thing they'll tell their friends about when they get home.
10. Go to Surf School
Bali is on the bucket list of most serious surfers. It has several spots that are known for great surf. So whether your child has never been on a board before or has a few waves under his belt, you can probably find a school that fits. And surfing classes can be a great parent-kid activity with tweens and teens.
Where to Stay in Bali:
I think it's fairly tough to pick a bad hotel in Bali, and while prices have certainly climbed in recent years, you can find some very comfortable places that are very good values.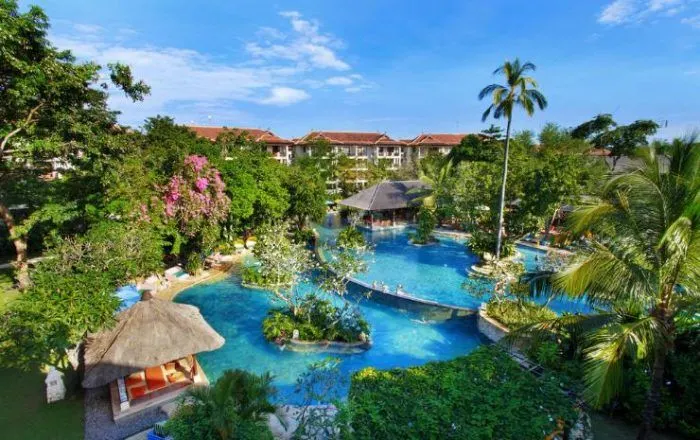 We loved the Tjampuhan Hotel and Spa in Ubud for its lush location on the side of a ravine, its natural water stone pools, the traditional Hindu altars and amazing fresh fruit at east-meets-west breakfast buffet. We loved the Pansea Puri Bali (Now the Belmond Jimbaram Puri Bali) for its gentle weaving of traditional and modern and its excellent cocktails. The rooms offer plenty of room and privacy and Jimbaram is the best of the three beaches I saw for swimming, walking and playing.
We stayed at the Novotel in Nusa Dua (left) for its proximity to the airport, to be honest. But we found ourselves liking it more than we expected. If you are looking for a beach resort getaway and just want to dip your toe into Balinese culture, the Novotel can provide a very fun and comfortable family experience, complete with a free kids club, spa and great pool.