Driving up the mountains on my way to Tenaya Lodge in early December there was still a lot of gorgeous fall foliage to see. As we continued to climb up the mountain, though, the golden leaves began to disappear, replaced by freshly fallen snow. That is when I knew this trip to Yosemite National Park would be unlike any of my previous visits.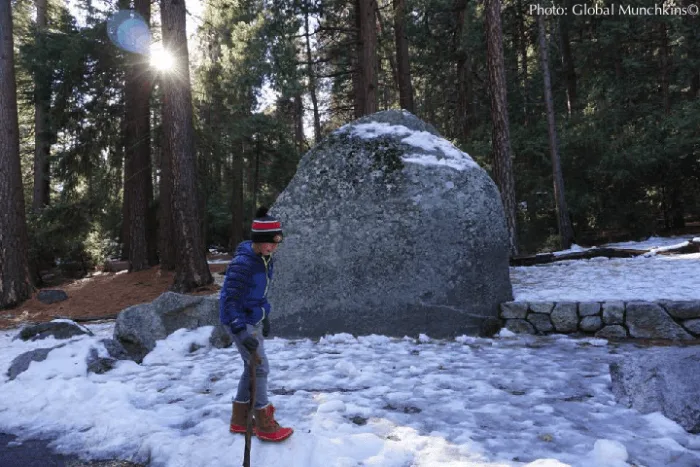 Growing up, my dad loaded our family into his pick up truck every summer to go camping in Yosemite. This time I was visiting in wintertime and staying in a luxury lodge. And what a difference it made! I was at the Tenaya Lodge for less than ten minutes when I realized I had been doing Yosemite all wrong.
Below are the three reasons my son and I loved Tenaya Lodge.
Also, try these travel ideas!
• 5 Warm Winter Vacations You Can Take in the U.S.
• Discover The Favorite Local Christmas Activities in 11 U.S. Cities.
• 12 Hotels that Deck the Halls & Everything Else for Christmas
1. You can experience Yosemite without roughing it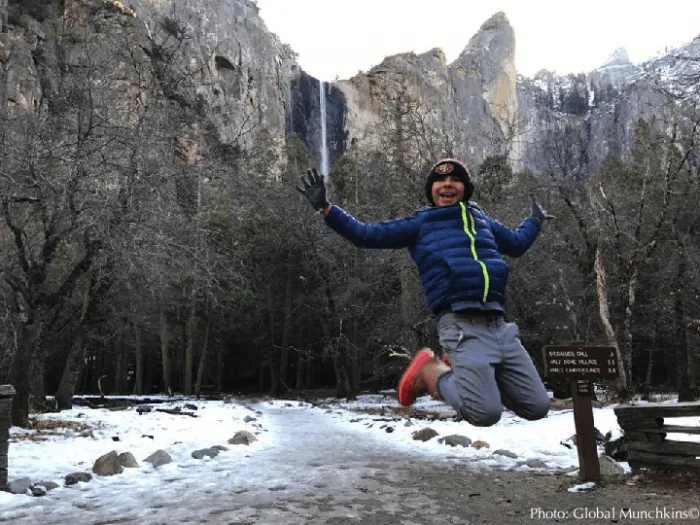 My son and I pulled into the Tenaya Lodge driveway and immediately a very cheerful bell hop unloaded my car as we warmed up by a massive outdoor fireplace. The resort itself was picture perfect, beautifully adorned for the holidays and wrapped in a blanket of snow.
A 30-foot tall (real!) Christmas Tree welcomed us with lights and ornaments and a front desk clerk eagerly told me about the hotel's amenities. These include a full-service spa, indoor and outdoor pools, five stylish onsite restaurants, plus a kids club and babysitting services if I needed them.
It was quite a change from s'mores and a lumpy sleeping bag, and a complete game changer. I hadn't taken my own family to Yosemite yet because the thought of taking five kids camping sounded more like torture than a vacation.
At Tenaya we still enjoyed all the beauty of the park, which begins two miles from the lodge. But after a day activities in the cold outdoors we would return to the lodge where I could soak in the hot tub while my son splashed in the pool, get a spa treatment, have an elegant dinner, and retreat to a plush bed, a remarkable experience!
Note: The valet is complimentary and excellent. Definitely use it!
2. There's a variety of rooms for families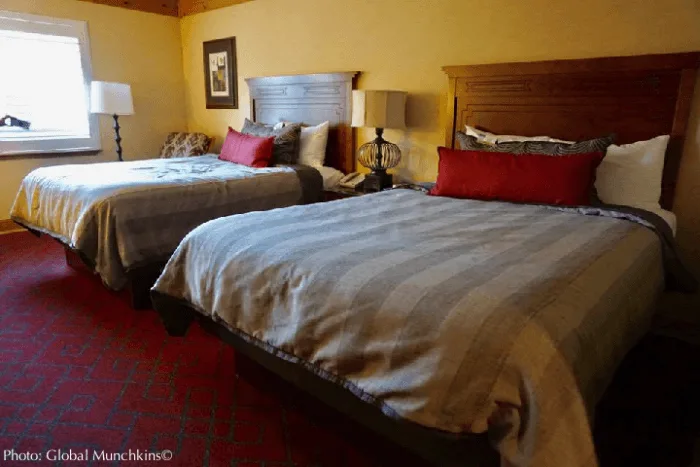 Having enough space for everyone to relax and unwind on their own is crucial when traveling with a large family. It allows everyone to stay sane and enjoy our together time. I was keen to check out all the different room options and Tenaya Lodge did not disappoint with standard rooms, suites and cottages.
All the options come with flat screen tvs, mini fridges, granite bathroom counter tops, barn-inspired doors, plush bedding and plantation style window treatments, all of which I thoroughly enjoyed.
The extended two-queen lodge room is a good choice for a family of four or five. It has the same amenities as the standard two-queen room, plus an additional 75 square-feet of space and a pull-out sofa bed. Some of the suites have microwaves, which come in handy for making simple breakfasts and snacks. If you'd prefer one of these suites be sure to ask when you make your reservations.
Note: They've recently remodeled some of the cottages to create multi-room cabins, which are another great choice for large families and multi-generation trips. I'm dreaming of returning with our whole family to experience one of these.
3. There are tons of family activities onsite
Wintertime is an excellent season to visit Yosemite. The crowds and traffic are a lot thinner. And of course everything looks a magical coated in fresh snow.
Seasonal & year-round activities:
As much as I could spend all day, every day in Yosemite, kids can only take so much scenery and hiking. Thankfully, Tenaya has plenty keep a family entertained. Depending on the season you might find mountain-biking, hiking, archery, rock climbing or ice skating.
I had five hot tubs to choose from when I wanted to warm up and decompress. My son loved the indoor pool.
Our December visit meant we got to experience holiday time activities like gingerbread workshops and ornament and cookie decorating classes. There's also a kids dinner with Santa and a reading by Mrs. Claus of 'Twas The Night Before Christmas.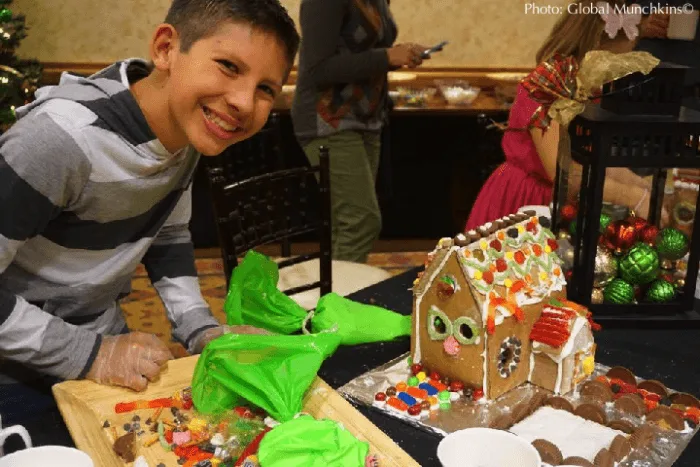 In summer there are also three outdoor pools, including a kids pool with water features (and an adults-only pool). There's a summer ropes course and zipline, too.
My Advice: I actually recommend booking a day or two more than you think you want for the park to make sure you have time to experience everything the resort has to offer.
The restaurants:
Tenaya's timbered lodge vibe carries over to all five of its restaurants. Sierra, Jackalope's Bar & Grill and Timberloft Pizzeria are casual and all have kids menus. Portions in all three are pretty big; if your kids don't do kids menus, they can definitely share entrees.
In winter you can order bar items and food at the ice skating rink (use the phone at the entrance to the rink). For a real treat you can also buy s'mores kits and toast the marshmallows outside next to the rink.
Embers is an intimate adults-only dining room with a large fireplace at its center. I didn't get to try it this tie but will surely will if (when) I return with my husband.
My Advice: The room service here is fantastic! Start one of your days with breakfast in bed as a super fun way to treat the family to something special.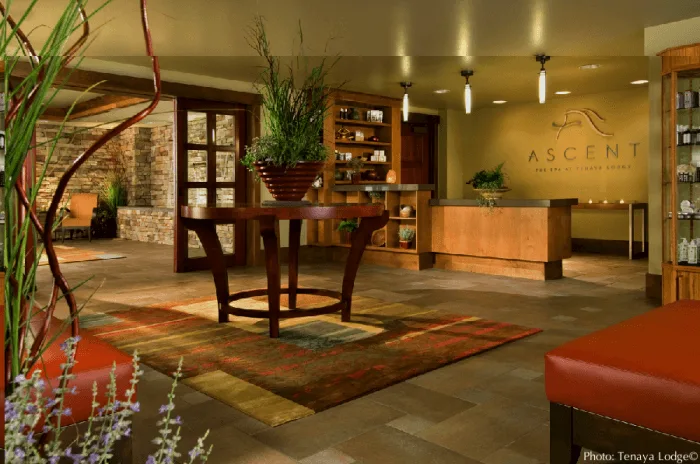 The Spa:
The counselors in the Kids Club are fantastic. I highly recommend parents use this perk so you can take advantage of Tenaya's 10,000-square-foot Ascent Spa. Try the indulgent facials and body treatment, detox in one of the spacious saunas or steam rooms or take a yoga class. This was the best resort spa treatment I've had.
I was excited to see they also have Mommy 'N' Me sessions. My daughter and I tried this in Puerto Rico a few years ago and it has become one of our favorite things to do together on vacation. We will definitely schedule one of these when we return!
My Advice: If you'd like a Tenaya date night book a couple's massage and a quiet meal at Embers. Don't miss the flaming bananas diablo for dessert, made tableside. It looked amazing!
Tenaya Lodge In Short
Tenaya Lodge showed me how to experience the outdoor wonders of Yosemite National Park and come home rested and rejuvenated, rather than achy and mosquito-bitten. This resort is easily one of the best hotel stays I've had all year.
I highly recommend it to families who have Yosemite in their plans in any season.
Pin it for later!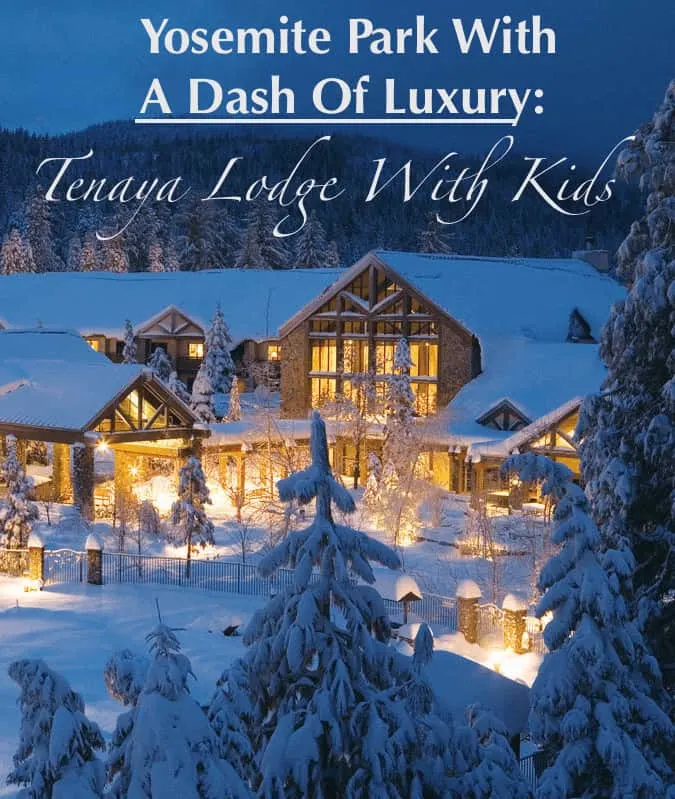 Amber Mamian is a freelance luxury travel writer, family travel expert and founder of GlobalMunchkins.com. Her work has been featured in Lonely Planet and on The Today Show, Red Tricycle and various news publications. Amber's main passion is traveling the world and she shares that zeal with her husband and five kids.