The 2 Hotels:
The Crowne Plaza Lake Placid & the Golden Arrow Lakeside Resort
Where:
Lake Placid, NY
There are few hotels in Lake Placid that aren't kid-friendly to at least some extent because the area is such a popular destination for families, especially in summer, but in fall and winter as well.
But the upscale lodges are not in everyone's budget and some of the smaller hotels lack amenities like a pool, restaurant or in-town location.
The Golden Arrow and Crowne Plaza hotels have Main-Street addresses and amenities that make them good values for their rates, like on-site restaurants, pools and hot tubs. We recommend them as family friendly hotels for a Lake Placid vacation in summer or winter.
Here's how they compare:
Better Location: The Golden Arrow
The Golden Arrow has the best hotel location in Lake Placid. It's on Main Street and on the lake and has a great view from lobby as well as from many of the rooms.
It has a private beach where you can play and swim in summer. In winter you'll find outdoor fires along the shore. When the lake freezes they clear a hockey rink.
The hotel is also right on Main Street and an easy walk to outdoor ice skating, the Olympic Center and lots of restaurants and shops. It connects by an indoor corridor to the Alpine Mall, which has a great Mexican spot.
The Crowne Plaza is perched at the top of a hill right above of Main Street roughly across the street from the Golden Arrow. It's as close as you can get to the ice rinks and the Olympic Center, where a lot of special events take place.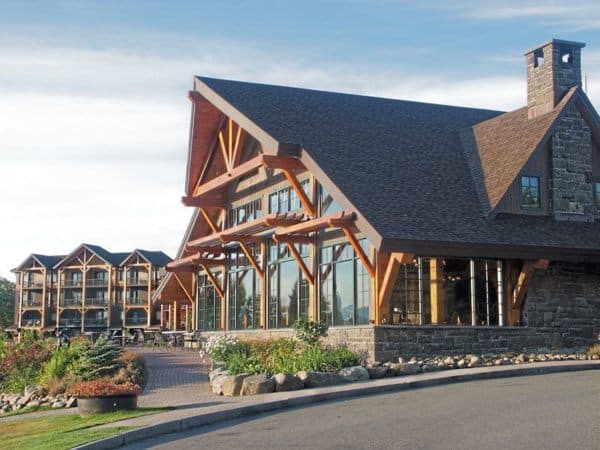 It's also an easy walk to of the town's restaurants and shopping—once you make it down the hill.
The hill is long and steep and can be a bit daunting in the winter when parts of the sidewalk are icy or snow or slushy – or all three.
We were fine with it, but if you have older family members traveling with you it's a factor to keep in mind. There's a municipal lot at the bottom of the hill, so you can always just drive to the bottom and then set out on foot.
---
Read more:
Things To Do With Kids In Winter in Lake Placid.
• My family's favorite Lake Placid restaurants.
---
Better Vibe: The Crowne Plaza
The vibe the Crowne Plaza is one of a laidback Alpline ski lodge. Over Ferbruary's winter break the hotel was filled to the brim with families. Over Christmas break it has a mix of families, couples and groups.
It's a bigger hotel than the Golden Arrow so we can usually get a room here even on the busiest weeks.
The hotel's absolute best feature is the great room with its high, timbered ceilings and enormous fireplace (photo: top). It has a bar and big comfortable couches and chairs. It's a great place for families to gather in the evenings. And it's a cozy place to spend the day if you have people with you who are less interested in the Adirondacks' great outdoors.
The Golden Arrow is a busy family hotel. It feels more quaint and old-fashioned but that's not a bad thing at all.
Whenever we visit In the winter the hotel is hosting a large group in town for hockey, ice skating or other competitions. Even when it doesn't have groups it books up fast during school breaks and holiday weekends. More than once we couldn't get a reservation.
The groups have never inconvenienced us, though they can make the pool a very busy place in the afternoons and if we wanted to get an early start we made a point of getting to breakfast before them. The trade-off is that with a big crowd no one notices if your youngsters get a little boisterous at breakfast or at the pool.
Better Rooms: The Golden Arrow
This is where the Golden Arrow absolutely wins out for us.
Twice we were able to book family suites overlooking the lake and we loved it. Both had a sitting area with a fireplace (one was gas, one had duraflame logs). Our most recent room had a king bed and fold-out couch; a previous one had a separate kid's room.
We loved settling in by the fireplace to read, nap and have a glass of wine before dinner. After dinner we'd gather around to have dessert and play card games.
The king-bed room also had a jacuzzi bathtub. The temperatures were down in the negative digits during that visit and it was a chilly walk to the pool and hotel hot tub. So we each used the jacuzzi tub quite a bit.
Our room had a small table that could be used for eating. We mostly used it as central station for gloves, hats and keys. It also had a refrigerator and microwave, which is handy in winter for making hot cocoa and other after-skiing snacks.
In general all the rooms we've had have felt roomy enough for 3 people even with all the boots, ski pants and other gear that comes with a winter vacation. The only things we could have used were some coat hooks.
The lakeside view from the upper floors is quite nice. On the first floor lakeside you don't get much of a view but it's very easy to pop outside for lake activities.
The Crowne Plaza's rates start higher than the Golden Arrow's, so we've only booked standard rooms. And even when Teen Traveler was smaller these felt a bit cramped.
In particular, when we couldn't get a double queen room we were told our king room could sleep three people. We assumed that meant there would be room for a rollaway bed. But once we moved one in there was absolutely no room to walk around.
Also, the extra bed is $15 a day, which is something to consider when pricing a larger room. (They waived the fee for us when we asked to upgrade to a larger room and they botched the switch).
Next time we would book two queens or make sure the room has a pullout sofa. The lake view rooms are bit brighter than our rear room, which faced parking and woods.
All the rooms here also have a fridge and a microwave.
There was absolutely nothing wrong with our room, apart from the size. But I didn't love it and I would say they might be due for updating. Luckily, it's the type of hotel where you don't spend a lot of time in your room.
Better Amenities: It's a toss-up
The best thing about the Crowne Plaza is the enormous Great Room with its panoramic view of the lake, town and nearby mountains. It's the major upside to that big hill. We came to Lake Placid at Christmastime with extended family, and I booked this hotel partly because it seemed this room would be ideal for gathering.
One member of the family settled in here to read when the rest of us were out during the day. We'd stop in for hot cocoa or a local beer in the afternoon and have dessert and Irish coffee here at night. It's a good place to play games, too.
It has a very good bar, a fireplace (the prime spot when you can grab it) and plenty of oversized chairs arranged in groupings.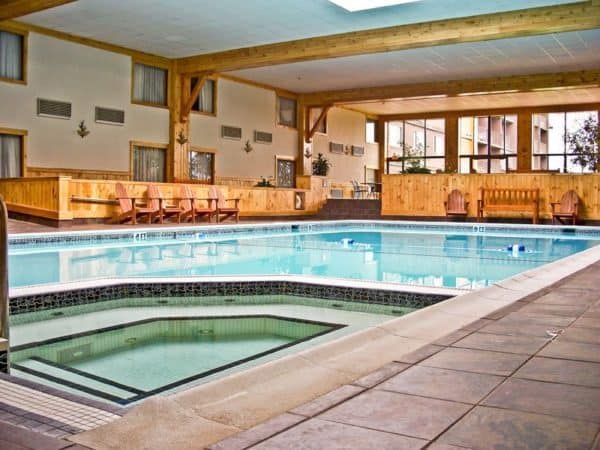 The hotel has a good size indoor pool and hot tub. Over winter break the pool was a busy from about 4:00 until well into the evening. Earlier in the day and over Christmas break it wasn't quite as busy.
The pool feels new and is kept in good shape, even on busy days.
It's breakfast buffet is a good deal and better than average.
The lakefront is the Golden Arrow's best amenity at any time of year.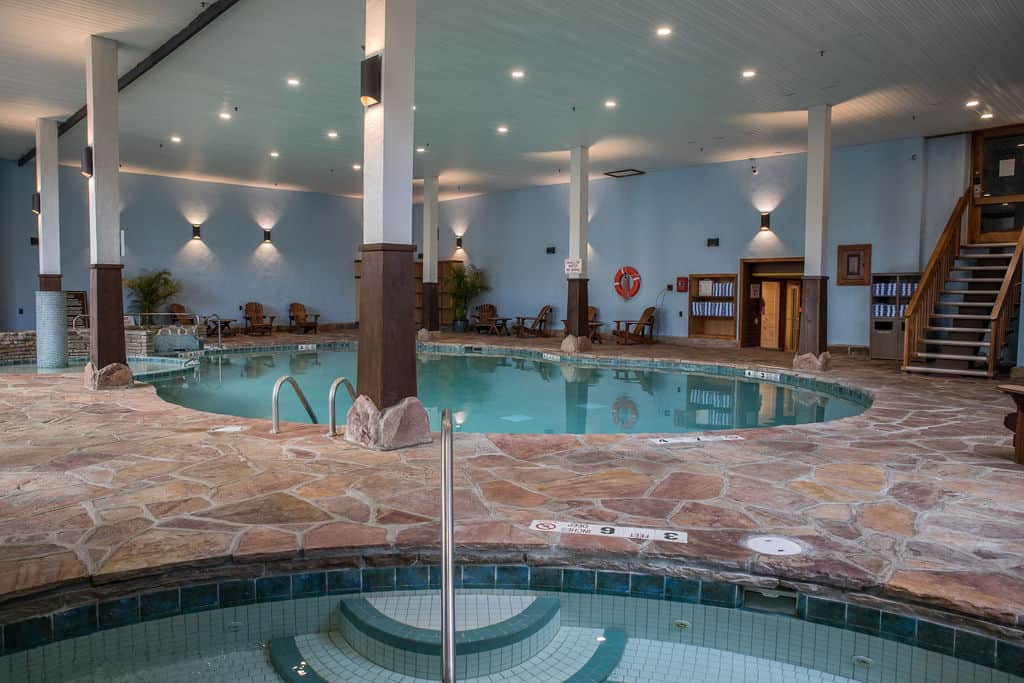 The pool is smaller than the Crowne Plaza's but there are two hot tubs, a sauna and a steamroom. We've had visits where these were feeling a bit worn around the edges. But on our latest stay they felt updated and in fine working order. The steam room, sauna and whirl pool are a great antidote to both the cold weather and out active outdoor schedule.
The lobby, though picturesque, doesn't have a bar and doesn't invite lingering the way the Crowne Plaza's does. but it has a balcony with two tables that were ideal for playing board games before dinner.
The Golden Arrow's restaurant, Generations is right on Main Street so people walk in off the street and it feels like another town restaurant more than a hotel restaurant, which is good.
The breakfast buffet is good for fueling up for skiing and skating; the egg dishes we ordered off the menu were good, too.
At night, dinner is fine and the desserts are really good. We stopped in after dinner elsewhere a few times to bring a couple of glasses of wine and a tiramisu or cheesecake back to the room.
Both hotels have free parking. The Crowne Plaza has a large outdoor lot. The Golden Arrow has an outdoor lot and an underground garage that can be a little daunting in winter if you dom't have really good tires.
The Bottom Line:
On balance our first choice is the Golden Arrow because of its roomier rooms and locale right on the lake and Main Street. They're in the middle of updating rooms, too, so we're eager to go back and see how that comes along. It's perfect when we are just three.
But the Crowne Plaza is a better choice for an extended family or a group. It's also our reliable plan B when there's no room at the Golden Arrow, especially now that I know how to choose a better room.
---
Book your stay now!
the best rates for the Golden Arrow and the Crowne Plaza.
• Explore other great Lake Placid hotels.
---
Pin it for later!
Photos the Golden Arrow lobby, feet by fire place and hockey places by FamiliesGo!©. All others are courtesy of the respective hotels.