Let's Compare These 2 Top Lake Placid Hotels for Families:
Most hotels in Lake Placid, NY are kid-friendly—at least to some extent—because the area is such a popular family destination in summer, fall and winter.
But the luxury lodges are not in everyone's price range and the small budget hotels lack amenities like an indoor pool, restaurant or in-town location.
Lake Placid hotel rates have risen in recent years (as they have in most places). But the Golden Arrow and Crowne Plaza are still provide great value by offering guests to amenities like on-site restaurants, indoor pools and hot tubs. Both hotels are conveniently located near the Olympic Center and outdoor skating oval, shops and restaurants.
I recommend both of these as top places to stay for families booking a Lake Placid vacation, but they have their differences, too. Each is better for different reasons and different kinds of groups.
Here's how these two Lake placid hotels compare:
The Golden Arrow has the winning location
For me, the Golden Arrow has the absolute best location of any hotel in Lake Placid. It's both on Main Street and on Mirror Lake and has a picture-perfect lake view from lobby as well as from many of the rooms. (I took the photo below from my balcony.)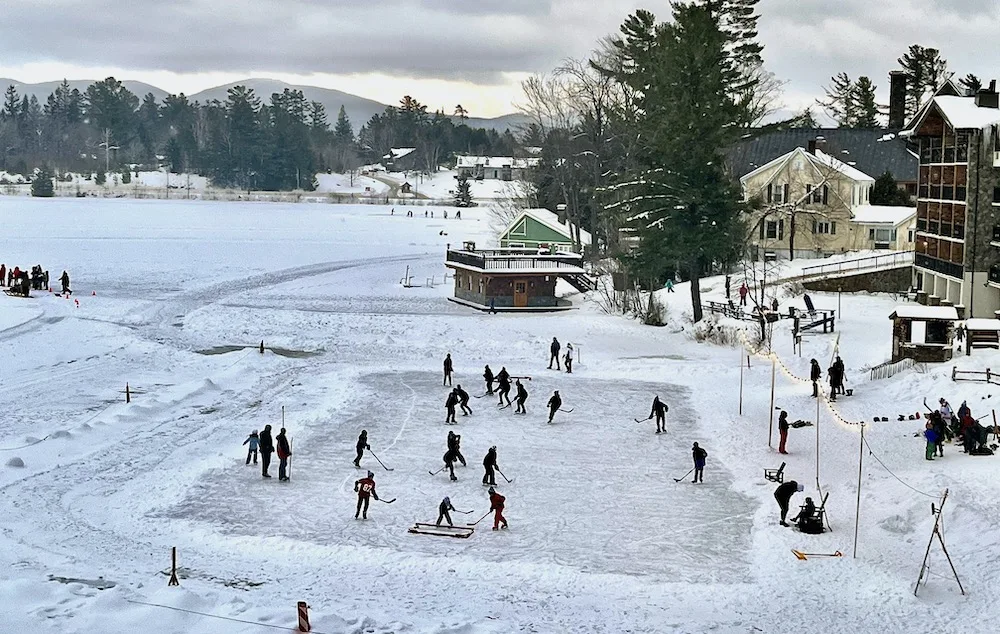 It has a private beach where you can play and swim in summer. In winter you'll find outdoor fires along the shore (you can buy marshmallow kits in the lobby). When the lake freezes they clear a hockey rink. You can walk on the lake and if it doesn't snow too much you can ice skate, too.
The hotel connects by an indoor corridor to the Alpine Mall, which has a great Mexican spot, a coffee bar and a place to buy beer, wine and cider. In the winter I really appreciate being able to get coffee or an aprés-ski beverage without having to pile on your coat and boots.
The Crowne Plaza is perched at the top of a hill right above of Main Street, also giving it stellar views of the lake and Adirondacks.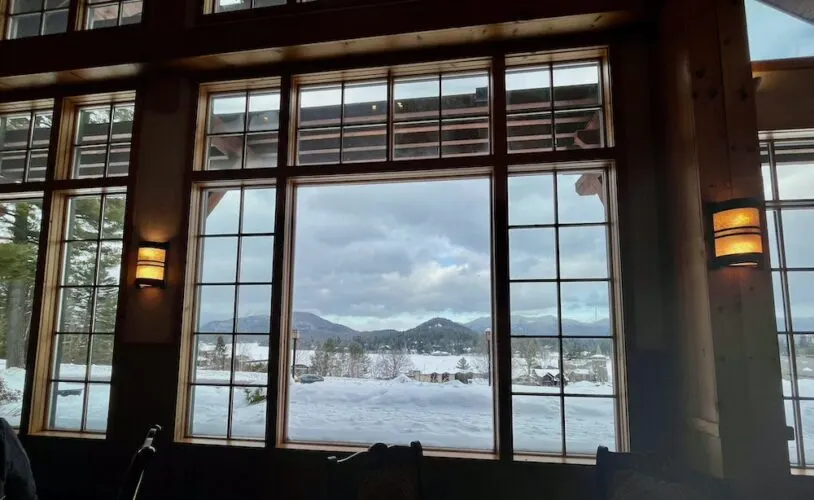 It's an easy walk to of the town's restaurants and shopping—once you make it down that long hill.
The hill is daunting, especially in the winter when sidewalks can be icy. We managed it, but if you have older or not very mobile family members traveling with you it's not ideal. There's a municipal lot at the bottom of the hill, so you can always drive to the bottom and then set out on foot, which the grandparents who stayed with us on one visit chose to do.
Once you get down the hill the hotel is right next to the Olympic Sports Complex, where there are a lot of hockey, figure-skating and speed-skating tournaments in winter. The lake, shops and restaurants are also steps away.
---
Read more:
Things To Do With Kids In Winter in Lake Placid.
• My family's favorite Lake Placid restaurants
---
The Crowne Plaza has a fantastic great room
The Crowne Plaza's vibe is laidback woodsy ski lodge. It's bigger than the Golden Arrow and usually hosts a good a mix of families, couples and groups.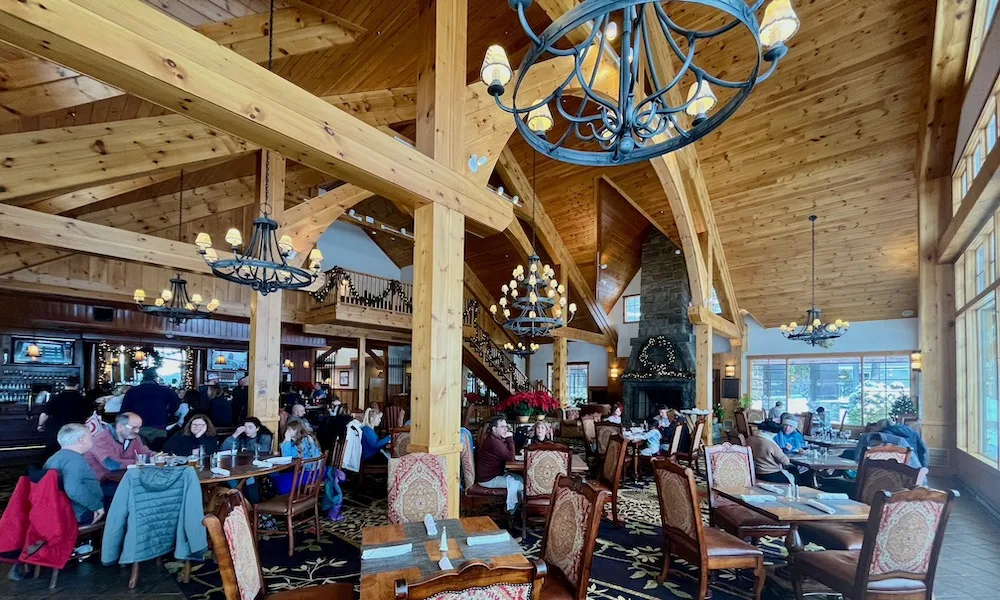 The hotel's absolute best feature is the Mackenzie great room with its high, timbered ceilings, iron chandeliers and an enormous fireplace. It has a bar and big comfortable couches and chair. It's quite a win when you can snag them.
They have a casual menu with good onion soup, quesadillas and sweet potato fries. It's a nice place to have lunch or an afternoon drink and snack, even if you don't stay here. We returned here almost every night for dessert and Irish coffees when we did stay.
It's an ideal place for extended families to gather. Moreover, if you have people with you who are not into the Adirondacks' great outdoors, they'll be happy to settle in by the fire while you're out skiing or hiking, This is handy for multi-generation families, or just bigger groups with varied interests.
The Golden Arrow's exterior looks like a German Alpine chalet. The inside feels as quaint and cozy as you might expect.
During most winter weeks the hotel is bursting with families in town for hockey, ice skating or other competitions. The hockey families tend to move through the hotel (and town) in large, sometimes boisterous groups, which can be a little overwhelming in the hotel's smaller quarters.
The groups have never made our stay unenjoyable. But they can make the pool very busy at times. If we want breakfast at the hotel we make a point of getting to restaurant before they do. The trade-off is that all those hockey families won't notice or care if your kids are more boisterous than they ought to be.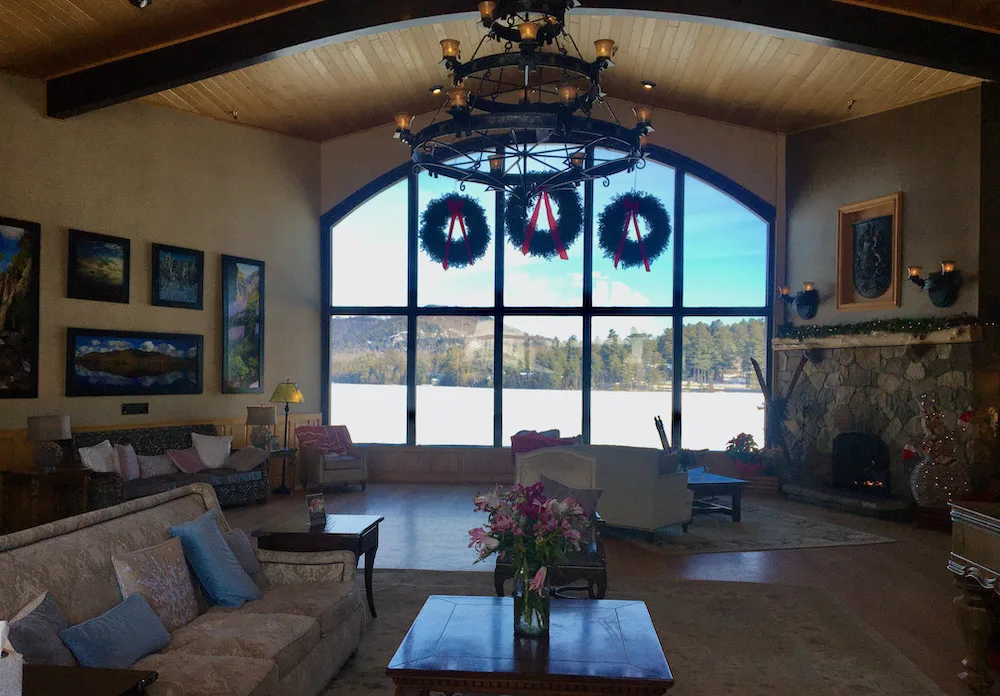 The one place the Golden Arrow comes up short is its lobby. It has a huge windowed wall with a gorgeous lake view and a nice fireplace. But the furniture is sparsh and spread out. There's no place to gather a group to chat or play a board game. And you can't sit with a glass of wine to admire the view. More furniture, organized for socializing, would make the room cozier and more useful.
The Golden Arrow has newer, better rooms
The Golden Arrow has been gradually refurbishing all its rooms and is just about done. We always book a room overlooking the lake, so we have a balcony and big glass doors. The rooms that face the street are probably just as comfortable but have standard windows and no balcony, which makes them feel smaller and a little darker.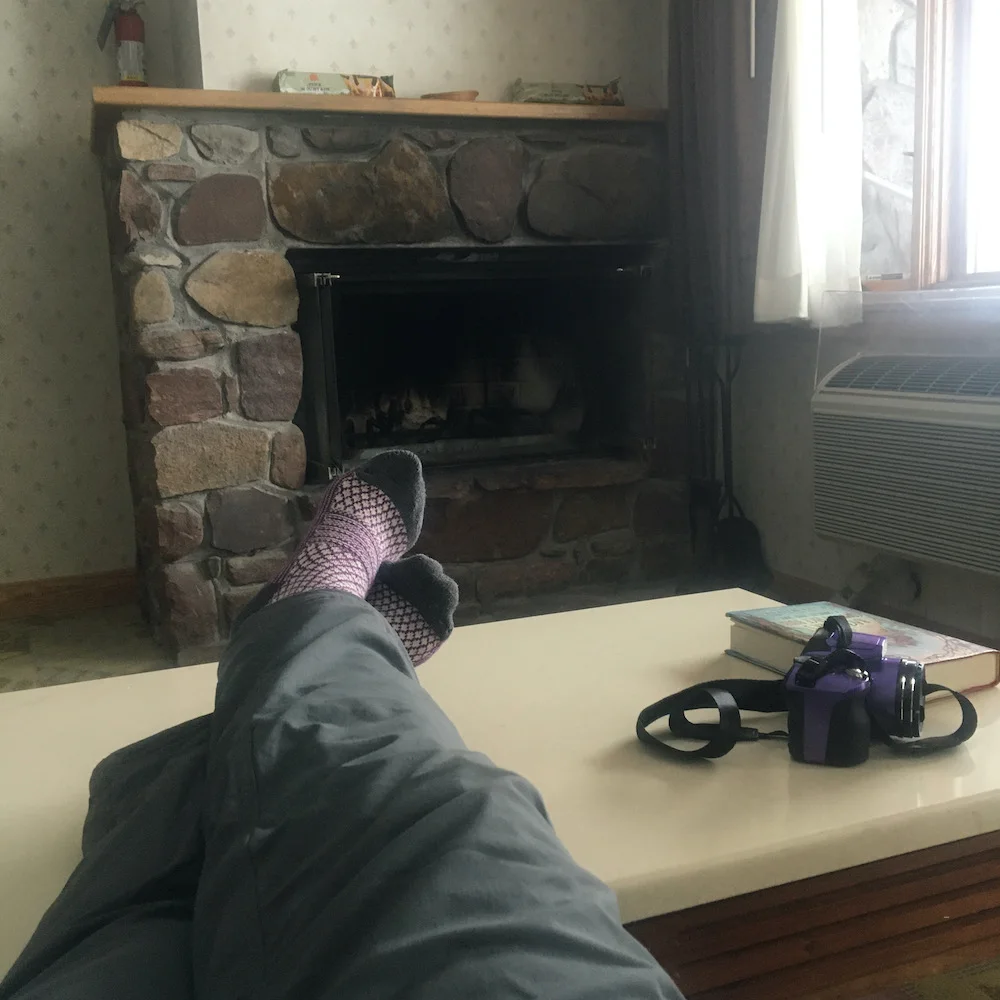 We've had both standard rooms and suites. They all have a small couch and coffee table, which makes the room feel comfortable. They all have small refrigerators and microwaves, too. This is especially appreciated in the winter when all the skiing and ice skating makes kids ravenous. They all have a coat closet, too where we could keep for all the coats and wet boots out of the way.
The suites are a bit bigger and have fireplaces (some gas and some with Duraflame logs). One of our suites had a king bed and fold-out couch. It also had a small table that we used as a central place for hats, gloves and other small items. Another suite had a separate kid's room, which was awesome.
We loved settling in by the fireplace on both visits to read, nap and have a glass of wine before dinner. We could also gather around the coffee table after dinner for dessert and games.
The king-bed room had a whirlpool bathtub. The outside temperatures were down in the negative digits during that visit and it was a chilly walk to the pool and hotel hot tub. So we used the whirlpool tub quite a bit.
In general all the rooms we've had have felt roomy enough for 3 people We could have used a few hooks around the rooms for hanging bathing suits and wet ski clothes, but that's my wish for almost every hotel I stay in.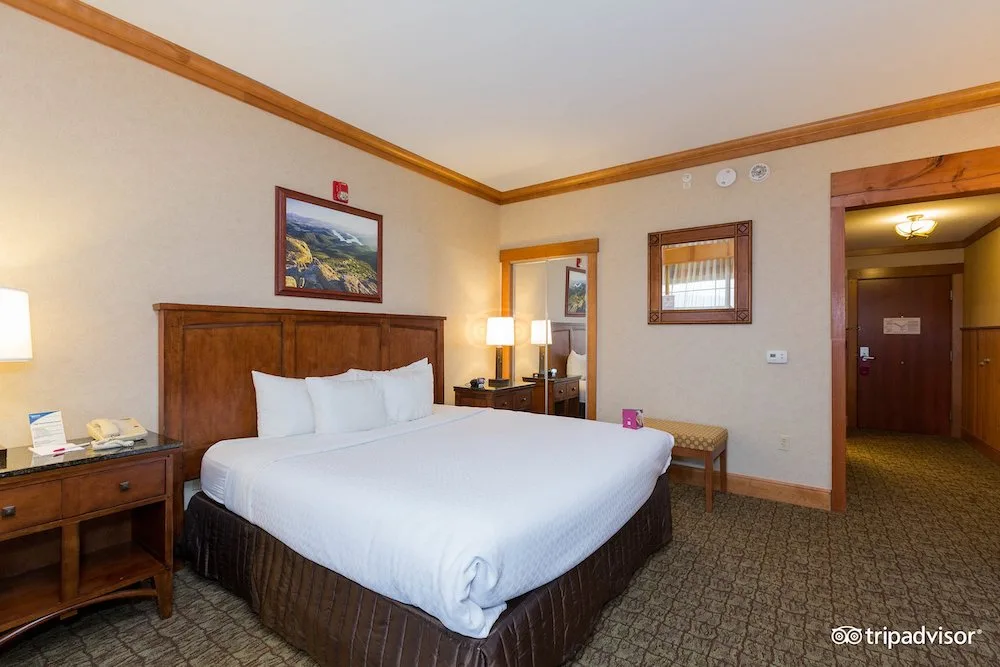 In the Crowne Plaza we've only booked standard rooms. And even when Teen Traveler was small these felt cramped and a little bland.
In particular, when we couldn't get a double queen room we were told our king room could sleep three people. We assumed that meant there would be room for a rollaway bed. But once we moved one in there was absolutely no room to walk around. I wish more hotels would accept that a room with one bed does not sleep three people.
Also, they charge a daily fee for the rollaway, which is something to consider when comparing prices for a larger room.
If we stayed again we would request a two-queen room or pay the higher rate for a larger room with a pullout sofa. The lake view rooms are bit brighter than our rear room, which faced parking and woods.
All the rooms here also have a fridge and a microwave.
The rooms are fine but I would say they might be due for updating. At the moment it's a not a hotel where you can hang out and relax in your room..
Both hotel have Nice Amenities
Beyond the Golden Arrow's lakefront and the Crowne Plaza's great room these Lake Placid hotels have comparable amenities.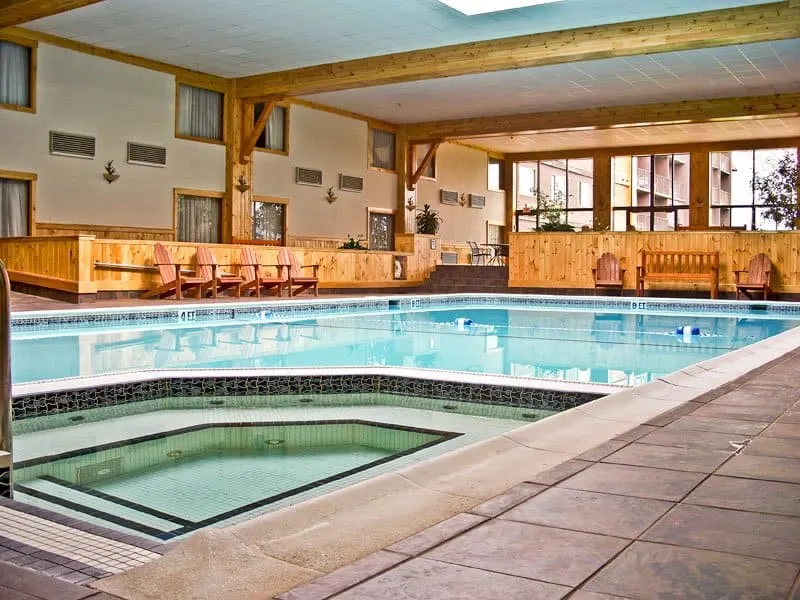 The Crowne Plaza has a good size pool and hot tub (top photo). The Golden Arrow has two hot tubs alongside its pool, plus a sauna and good steam room. Both pools can be busy with kids in the late afternoon and after dinner. At the Golden Arrow the kids stay away from sauna and steam room, making them quieter places to ease your weary muscles aprés ski.
The Crowne Plaza has a breakfast room with a breakfast buffet that is a good deal (for a hotel breakfast) and better than average, with healthy options like muesli and oatmeal as well as the usual cereal and eggs.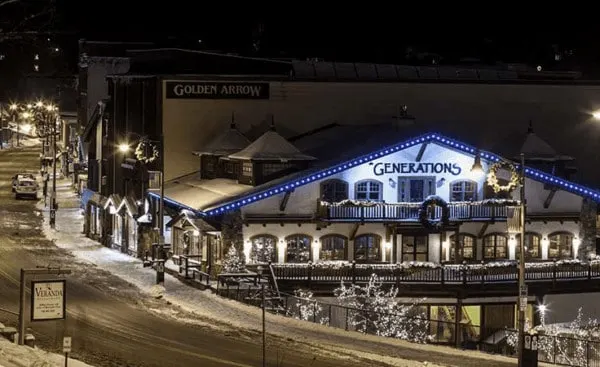 The Golden Arrow's restaurant, Generations is right on Main Street so people walk in off the street and it feels like another town restaurant more than a hotel restaurant, which is good. It's serves food all day.
Breakfast is as pricey as hotel breakfasts usually are, but it wasn't actually that much more than we were paying in local diners. Thee egg dishes are properly cooked to order, the hash browns and coffee are good and the service is friendly and helpful.
Both hotels have free parking. The Crowne Plaza has a large outdoor lot. The Golden Arrow has an outdoor lot and an underground garage, which has a daunting incline but also keeps all the snow off of your car.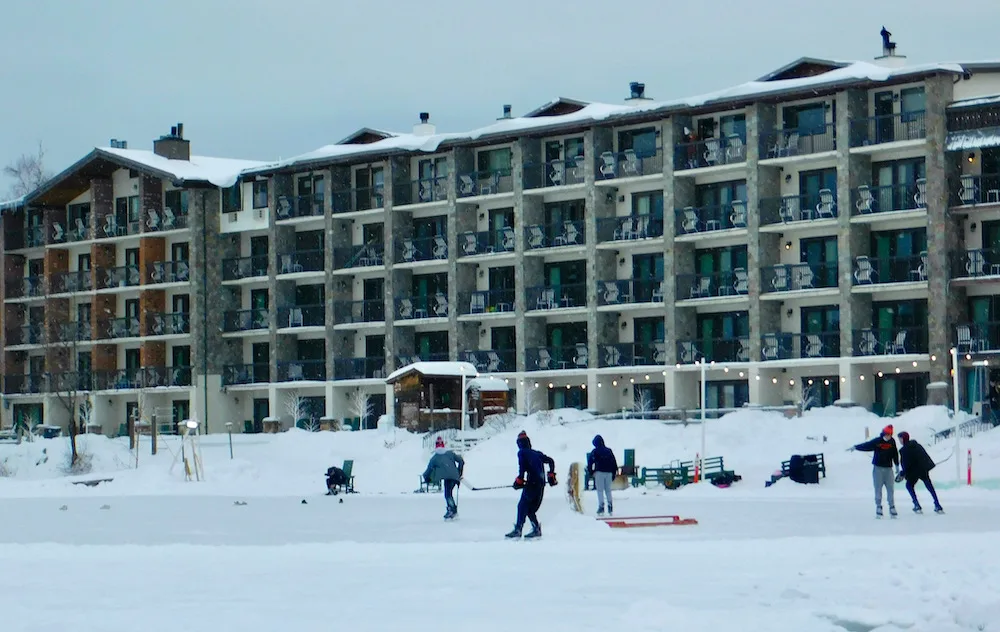 Which hotel is right for you?
On balance our first choice is the Golden Arrow because of its roomier rooms and location on Mirror Lake and Main Street.
But the Crowne Plaza is a better choice for an extended family or a group because the great room is such an awesome hang-out spot.
2 More Lake Placid Hotels
Bonvoy bought The Grand Adirondack Hotel and finished a major refurbishment in 2022. It's transformed the place from a budget ski-town hotel to something quite cozy and upscale. It's right smack in the middle of town.
Its bar and restaurant have a welcoming ski-lodge vibe and a nice menu The hotel doesn't have a pool or its own parking. But it's ideal if you want a more upscale experience in town, maybe for a couple's getaway.
I've tried a few times now to stay in the High Peaks Resort at the opposite end of Main Street, but it always books up before we can. The draw for me is the Lake House with its homey lounge— centered on a big fireplace— easy lake access and rooms with lake views. It also has two indoor pools, in the Lake House and in the main resort building.
In the summer, definitely consider the waterfront collection of suites. They're very private and right on the shore of Mirror Lake. In the winter these rooms are usually the last to go be this building has no amenities and no indoor path to the pools and lounges in the main buildings. Putting on a coat and boots to take a swim is not appealing.
---
Book your stay!
the best rates for the Golden Arrow and the Crowne Plaza.
• Explore other great Lake Placid hotels.
---
Pin it for later!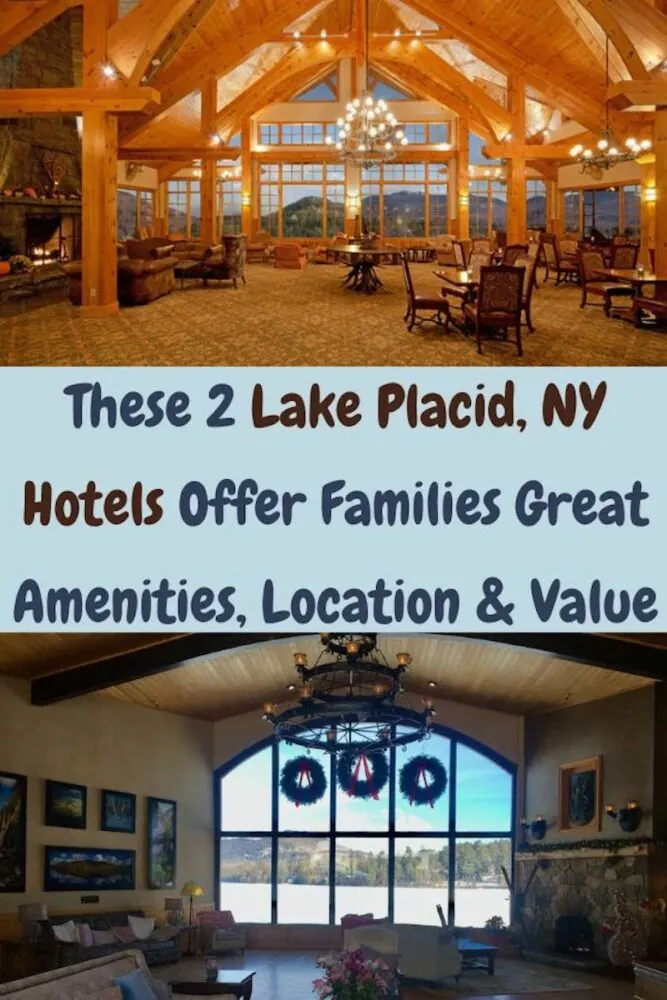 Photos by FamiliesGo!©. except the Crowne Plaza room, pool and great room (top), the Golden Arrow Pool and Generations, courtesy of the hotels