One of the things that brings us back to Lake Placid year after year is that the town has a lot of restaurants for its small size and most of them are family friendly and pretty good.
There is plenty of standard ski-town fare: pizza, pasta, chili, steaks and burgers. But we see creative dishes, sometimes where we least expect them.
On our latest visit we encountered "ski-town pricing" more than we had in the past. We even skipped Smoke Signals, a former favorite, because several entrees topped $40 and we thought that was too high a price point for a BBQ joint.
A few tips: Many places don't take reservations but some have virtual waiting lists. If you're staying in town you can add your name and judge the wait time before heading to the restaurant. If it's not Friday or Saturday, double check restaurant hours. A lot of places close on Mondays in winter and some stop serving at an earlier hour Sunday through Thursday.
These are some of our favorite Lake Placid family dining spots.
---
More Trip-Planning Help:
• Read more: Top Things To Do With Kids In Winter in Lake Placid.
• I review My 2 favorite Lake Placid Hotels with ideal locations.
• Book the best price on a great Lake Placid hotel.
• Rent a vacation home right on Mirror Lake.
---
13 Lake Placid Restaurants That Both Parents and Kids Will Love
Kid-Friendly Microbreweries and Tap Rooms
1. Lake Placid Pub & Brewing
We never leave town without a meal or two at Lake Placid Brewing. We have long loved all their beers and reliable pub fare—great chili, onion soup, fish & chips and sandwiches— in reasonable portions.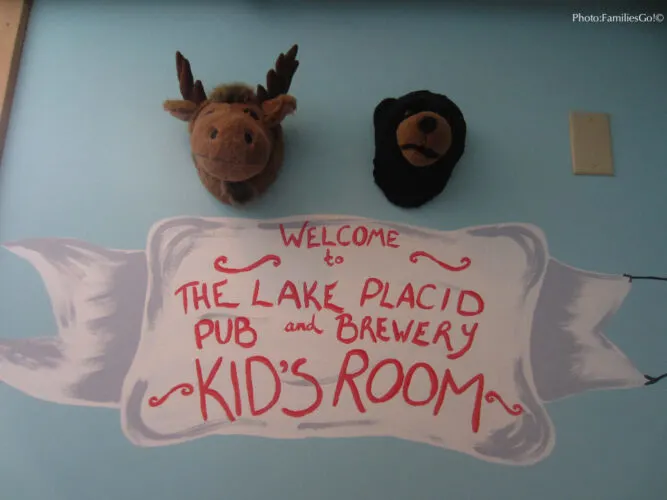 The first floor is cozy bar area with foosball and some sort of electronic hockey. Upstairs is a room with more tables and college flags all over the walls.
If you have kids under 7, the well-maintained kids' play area up on the third flood will give you an appreciation for this place even before the food comes.
2. Big Slide Brewing
Big Slide is just outside of town, not far from the Ski jump, and it had become been a place we visited whenever we're in town, just to see what's new. On our latest visit though, the menu was bizarre and everyone in our group struggled to find something they wanted to eat.
The margarita pizza was pale and doughy and the toppings on other pizzas were odd. They put honey on what is essentially a fancy pepperoni pizza. Other pizza topping included kielbasa and pickled sour cherries or fennel pollen with a "truffle balsamic glaze swirly."
The only foods that should include the word swirly are lollipops, cupcakes and ice cream.
Even though they have a charcuterie plate with New York cheese and salumi, the burger and sandwiches featured Velveeta cheese, Spam and coconut-kimchi slaw.
They used to offer solid farm-to-table gastropub fare.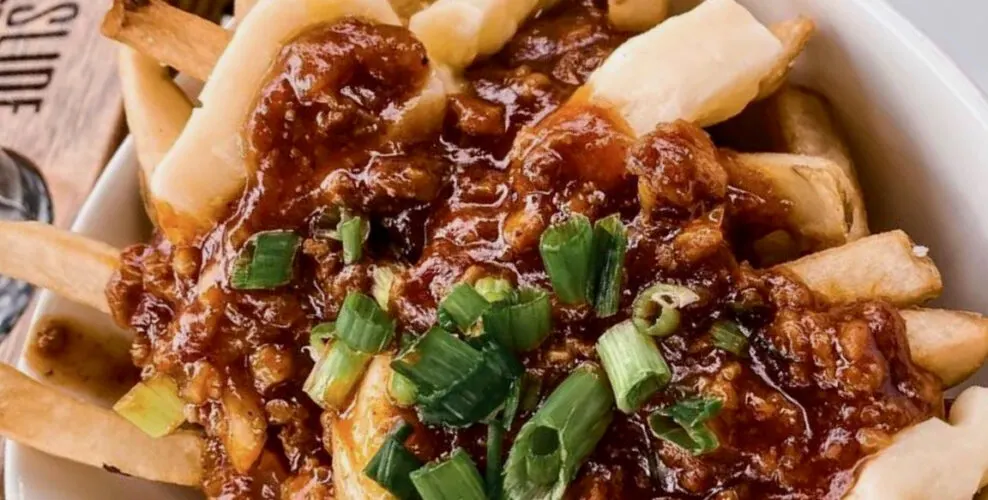 On previous visits we'd ordered pretzel nuggets with a cheddar-ale sauce, celery root soup, poutine with New York cheese and peppercorn gravy, and a pizza with boar-and-pheasant Italian sausage, wild mushrooms and more local cheese.
It was all really enjoyable and went well with the brewery's very good and interesting beer.
I'm hoping Big Slide gets over its acute case of hipster-itis and returns to its solid gastropub sensibility before our next visit.
For a Good, Casual Lunch or Dinner
3. The Cottage Café
My favorite lunch spot in town, hands down, is The Cottage, the Mirror Lake Inn's cozy, lakeside café. The room is lovely, the tab is reasonable, and no matter how busy it is the service is friendly.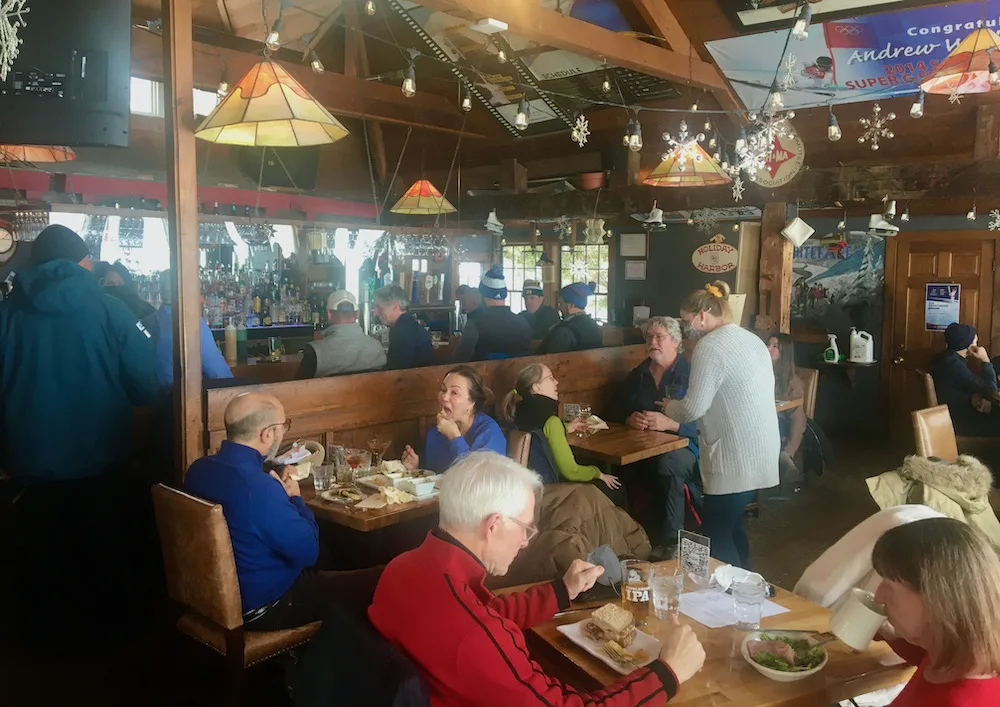 On our most recent visit Rich and I share a warm Brussels sprout salad and flat-bread pizza with a variety of sausages. It was a perfect light winter lunch. Tween Traveler had a cheese pizza off the kids menu, which was fine.
I had lunch with a girlfriend a few days later. We both had hot apple cider (not spiked, though that's an option). She had chili in a bread bowl and I had a flatbread with ham, apple, red onion, mozzarella, blue cheese and a drizzle of honey. I could never have ordered with my family. It sounds odd but was really tasty.
The Cottage is small and the wait can be long at prime lunch or dinner hours. It's fairly easy to grab a table midweek or mid-afternoon. Once when we did encounter a wait we put our name on the list, took our beeper and went to play on the frozen lake. It was fun and made the wait feel shorter.
7. Peak 47
I had another lunch with a girlfriend at Peak 47, the pub at the Whiteface Lodge, because we'd booked treatments at its lovely spa.
This is another place I've been wanting to try for a while because it's a lovely room and the menu has quite a few interesting and appealing items.
We both ordered the chicken sandwich with fig jam, Swiss cheese and bacon. It came with freshly made potato chips and crunchy, lightly dressed cole slaw.
But it was hard to decide. The short rib grinder, green pepper mussles, truffle fries and several wood-fired pizzas were all tempting.
Ask for a table near the windows or the fireplace. The former provide nice views of the snow-covered resort in winter. The latter will be cozy and warm because the fireplace is large.
The Lodge is outside of town, on the road toward Saranac Lake so not super convenient for dinner. But if you have free time in town it's worth driving over for lunch to check out both Peak 47 and the Lodge itself.
4. Lisa G's Restaurant
On our latest visit we ate at Lisa G's, on the outskirts of town, for the first time in years because it was a convenient lunch stop from cross-country skiing.
The adults loved it; the two teens were so-so on it. Both ordered wings because other items that might have appealed had twists they were suspicious of, like garlic-scallion fries with the fish 'n' chips.
There are tempting vegetarian options like Moroccan nachos and a curry noodle bowl. Rich and I split a coconut-butternut squash soup and steak-and-Swiss sandwich. The chili, burgers and fries (with or without garlic and scallions) are good, too.
5. The Pickled Pig
The Picked Pig is right across from the Olympic Center and can be packed on weekend nights when there are ice skating or hockey events; try to avoid those nights, but otherwise make a beeline here. It's a kid-friendly place with better-than-expected food adults can appreciate and portions that are very shareable.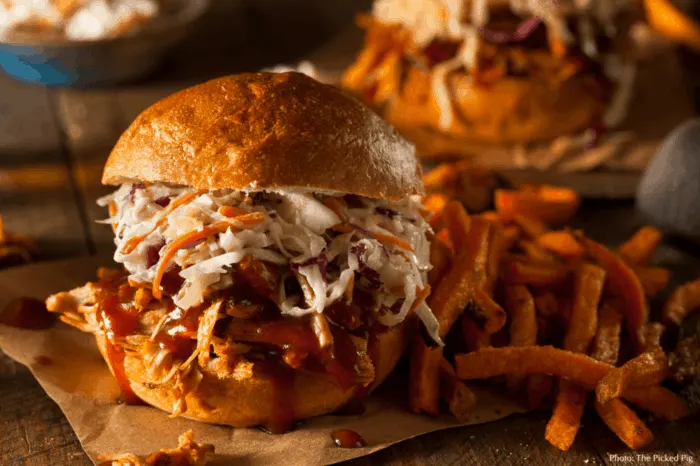 On a recent visit I had chicken tacos with maple-jalapeño slaw, Rich had shrimp tacos with mango salsa and the rest of the table had brisket sandwiches and chips. The tacos were especially good and the brisket was neither too dry nor too fatty.
The sandwiches were reasonable portions but we could have shared one of the taco plates (three lareg tacos) with a side and been quite full.
We ordered the Grandmer's poutine on another visit. It was fine but could have used much more bourbon-brisket gravy. It's a large appetizer and along with a large side salad it was plenty for Rich and I to share as an entree.
On a previous visit, ribs, a pulled-pork sandwich (top) was exactly what we wanted it to be with good fries. The ribs are sticky, just smoky enough and good. A half-rack is plenty for a hungry kid. My family could easily share the full rack with an extra side or two.

All the kids in the place were drinking pink Saranac Shirley Temple sodas the first time we visited and or kid followed suit. It's become Teen Traveler's go-to beverage when she's in town. Most restaurants have it, and some have Saranac's ginger beer, orange soda or root beer, too.
6. Wyatt's
When we want something very quick, cheap and easy we head to Wyatt's, a Tex-Mex counter on Main Street.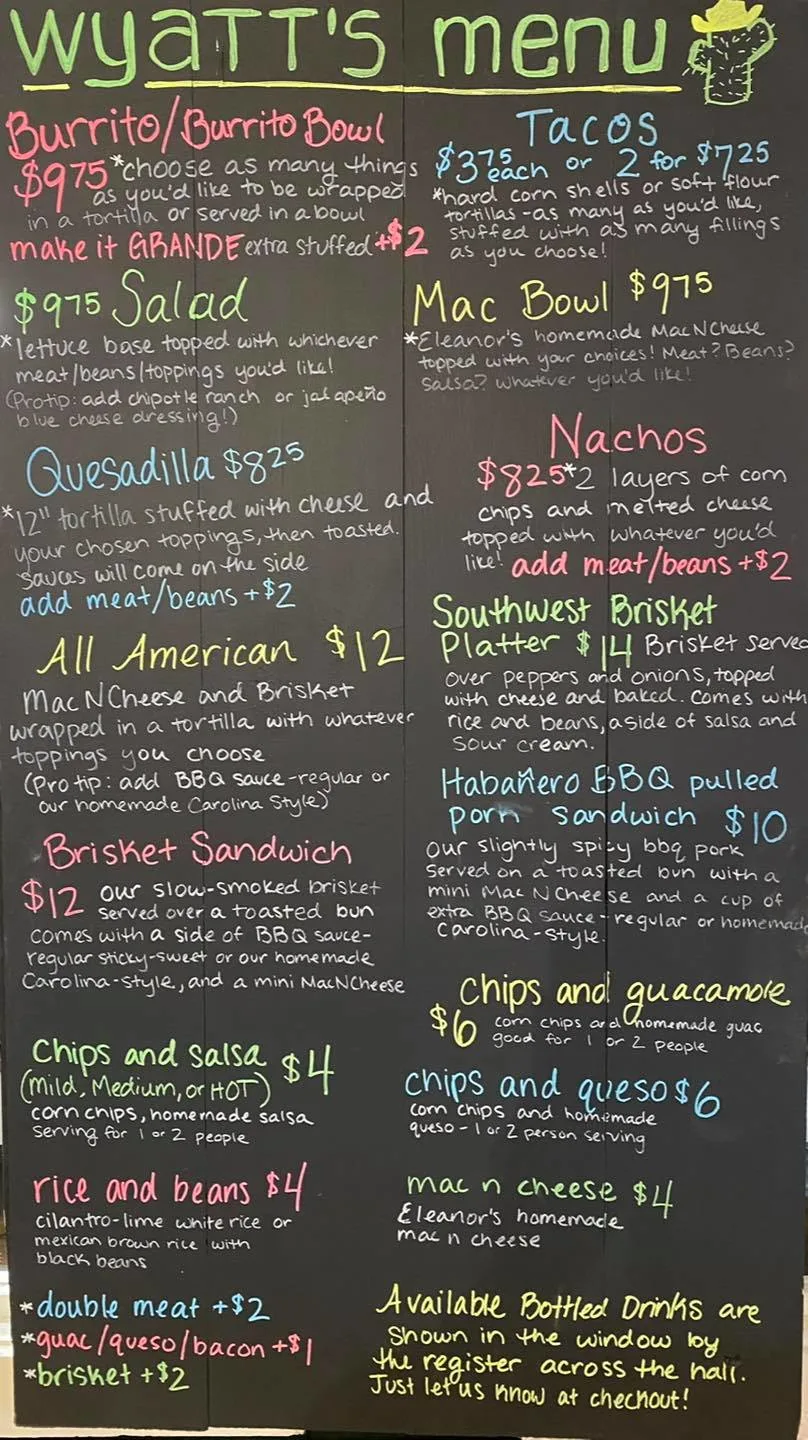 Everything in this burrito joint is fresh and feels homemade. The beans and meat that were supposed to have a kick had a nice one — they have their own hot sauce if you need more heat.
Tiny Traveler, was not a burrito fan on our first visit but was happy with a plate of rice, beans and cornbread. Now she'd happily tuck into their made-to-order tacos or burritos. They have since added mac & cheese to the menu, an easy kids' favorite.
The price is right. And it's inside the Alpine Mall, which is extremely handy of you're staying at the Golden Arrow, which connects to the mall. They have a counter and a few tables inside the mall. But most people get their Tex-Mex to go.
For a Fancier Dinner
9. Great Adirondack Steak & Seafood Company
Great Adirondack Co. in the center of town is popular, largely due to its classic prime rib dinner It's hard to resist and no matter who we travel with, a few people at the table always order it.
On our latest visit our table shared crispy duck wings with bourbon bbq sauce, a fun twist on the usually Buffalo wings. I had classic, gooey onion soup and a beet salad while others had fish & chips, burgers and pan-fried local trout.
They always have flourless cake on the dessert menu. The teens always order one each and usually devour it.
GAC is always busy on weekends and very busy on holidays. People just looking for drinks and snack can head to the new outdoor tent, which makes the dining room less busy, It's easy to get a table on weeknights and you can check the wait on a virtual wait list.
10. Jimmy's 21 Lakeside Italian
We've eaten in Jimmy's two years in a row now and it's likely to be an annual repeat for us.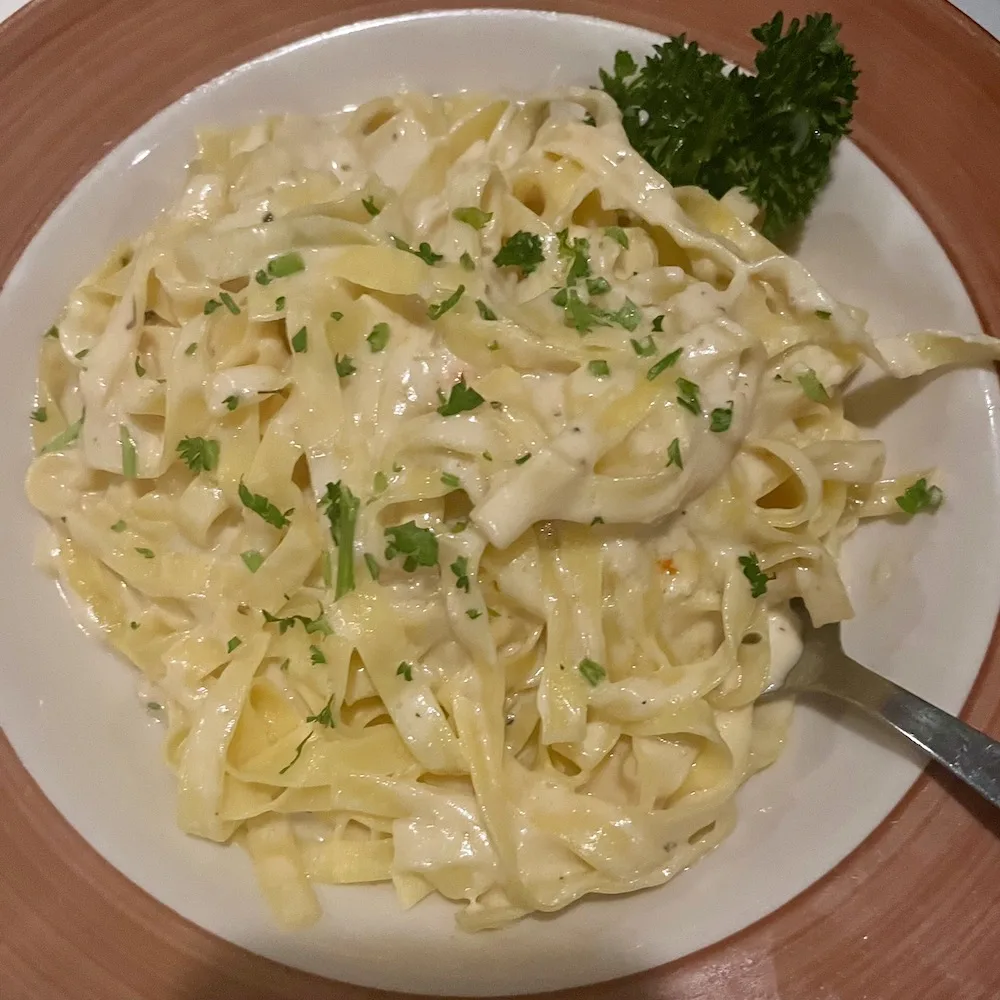 It's mostly standard Italian dishes but they are done reliably well and the service is always cordial, even when they're busy and our teens are indecisive.
The lasagna, fettucine alfredo, lobster ravioli and NY strip steak are reliable and repeat orders for our group. This year I tried the scallopini with mushrooms, roasted red peppers and white wine garlic sauce The flavors mingled well and it was filling without being heavy.
Jimmy's website says the restaurant takes reservations by phone. We got a table without one on both visits but not without a wait. If you have more than four people, want to eat at the peak dinner hour or have young, impatient children I would recommend calling.
Breakfast & Coffee in Lake Placid
12. The Downtown Diner
The Downtown Diner, which sits right at the beginning of town, doesn't look like much from the outside, but have breakfast there at least once.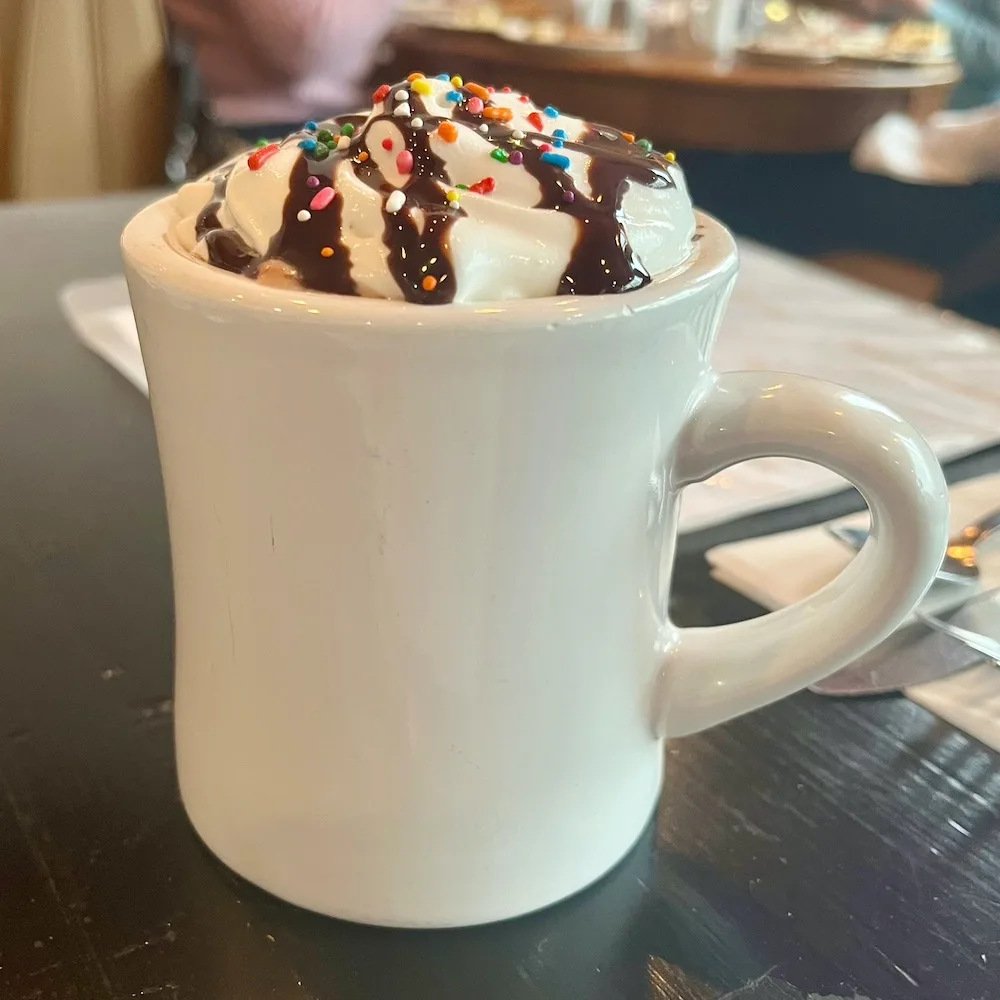 The service is friendly and everything is made in-house from the hash to the salsa I had on Mexican eggs on a previous stay. On our latest visit I had excellent blueberry pancakes while everyone else had omelets, scrambled eggs and biscuits. Both the chandeliers and the hot cocoa are fabulous so don't miss either.
10. Cocoa & Dough
Cocoa & Dough, a doughnut shop that pairs its doughnuts with the ice cream sold next door, has hung on for two winters now, so I have high hopes for it.
They specialize in over-top doughnuts covered in cereal, Oreos and all kinds of things. But they have respectable sugar-coated cake and chocolate cake doughnuts that are perfect with coffee. Teen Traveler rated their Boston cream "excellent" with a generous dollop of Bavarian cream and chocolate glaze on top.
They have a few items ready in the case and have a menu of doughnuts they'll fry, fill and dip to order. There are few things better than a warm doughnut fresh from the fryer.
They sell drip coffee and hot cocoa. If you want fancy coffee drinks you'll have to stop in to Starbucks after you pick up your doughnuts.
13. The River View Café
The River View Cafe at High Falls Gorge is one of my favorite places in the area. There is a comfy love seat if you can grab it, next to the wood stove with a view of the gorge. I've spent many a morning here with mug of tea or a latté and my laptop while my family was skiing just up the road.
After I collect them we have sometimes returned so they can warm up by the wood stove with après-ski beer and hot cocoa.
The café has a small menu of soups and sandwiches, too. In the winter it's only open on Friday and Saturday, so plan accordingly.
Pin it for later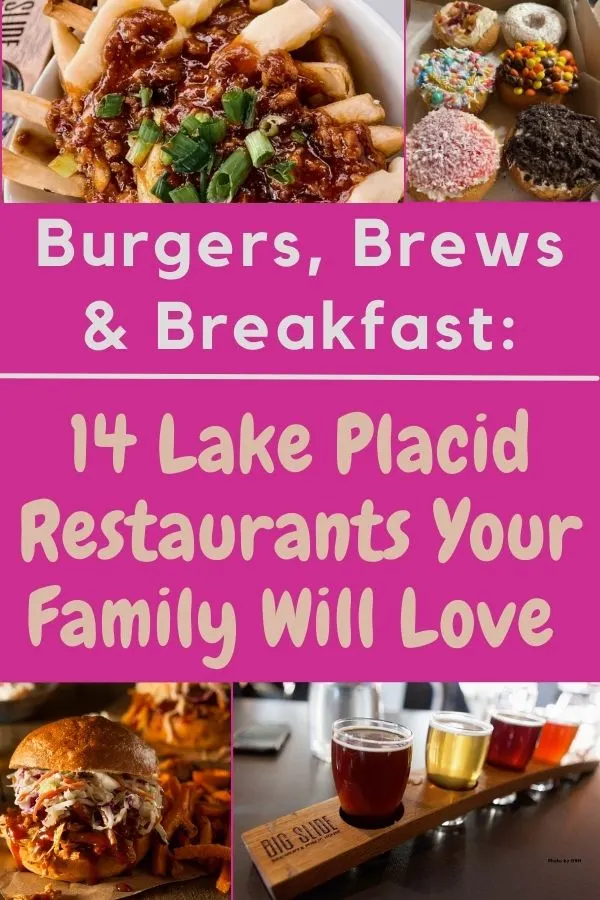 Photos of Lake Placid BrewPub, Saranac Soda, the Cottage, Liquids & Solids cocktail and the disco ball by FamiliesGo©. All others courtesy of the restaurants.