One of the things that brings us back to Lake Placid year after year is that the town has a lot of dining for its small size and much of it is very enjoyable.
There is plenty of standard ski-town fare–pizza, pasta,chili, steaks and burgers–but quite a few places rise above that and truly stand out. We have our standbys now, but we also try something new each time we visit, too. These are of our favorite Lake Placid family dining spots.
Top Lake Placid Restaurants Where You Can Take The Kids
Kid-Friendly Microbreweries and Tap Rooms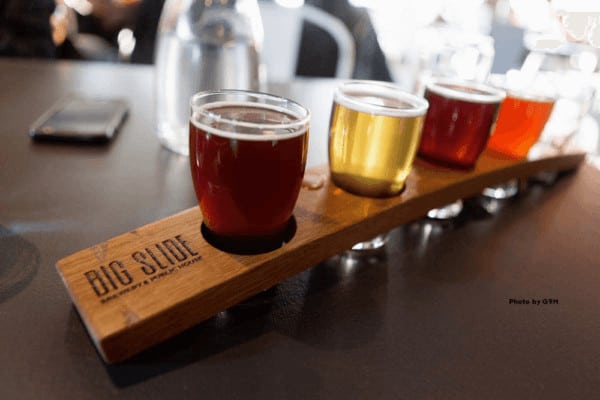 The new must-try brewpub is Big Slide, just outside of town, not far from the Ski jump. Their beer is good, their bar tender is friendly. The menu is expensive for upstate New York — $14 for sandwiches — but they are trying to provide good quality with house-made and locally sourced ingredients as much as possible.
All their wines are from New York State and they have "guest" beers from other state brewers. The effort shows. Our celery root soup and ham sandwich were excellent and the kids menu is good.
We never leave town without a stop at Lake Placid Brewing. We have long loved all their beers and reliably yummy pub fare—great chili, onion soup, fish & chips and sandwiches— in reasonable portions.
If you have kids under 7, the well-maintained kids' play area up on the third flood will give you an appreciation for this place even before the food comes.
For a nice dinner out in Lake Placid
We have gone twice now to the hip and impressive Liquids and Solids at the Handlebar. We go knowing they don't have a kids' menu and won't tweak any of the dishes for a kid.
The farm-to-fork menu is always interesting and Rich and I enjoy our dinners and cocktails so much, we don't care. He's had kidneys and cassoulet. I've had house-made French sausage and pappardelle with a rich duck confit.
Tiny Traveler generally makes do with a bowl of olives, a lot of bread, one of the plainer appetizers and bites of our food. It's definitely not her favorite place. But the wait staff is friendly to her and they serve Boylan's cherry soda. So we don't feel too bad.
Great Adirondack Steak & Seafood in the center of town is always packed and only takes reservations for large groups. I miss their lobster mac & cheese, but there is always something tempting on the menu.
The salads and house beers are good. After an active day in the outdoors the very popular prime rib dinner is hard to resist.
For a Good, Casual Meal in Lake Placid
On every visit to Lake Placid I have looked longingly at The Cottage, the Mirror Lake Inn's cozy, lakeside casual restaurant. But we always opted against it because it's small and the wait is always long.
On our last visit we finally gave in, put our name on the list, we took our beeper and went to play on the frozen lake. And I was happy we did. The room is lovely, the tab is reasonable, and our warm brussel sprout salad and flat-bread pizza was a perfect shared winter lunch.
Generations belongs the lakeside Golden Arrow hotel, but faces the street and draws in plenty of diners who aren't guests. Their entrees are fine and their kids menu has some better-than-usual choices.
But for us their starters and endings stood out. The fried calamari comes with a well-spiced marinara, the spinach salad and onion soup are great. And we stopped in a few times for dessert– great cheesecake and tiramisu–even on nights when we dined elsewhere.
It's a good place to settle in at a table in the bar area on that night when you want a light meal of appetizers and dessert rather than a full sit-down dinner.
The Picked Pig is another new kid in town and worth a stop. Portions are more reasonable than we expected. It's burgers and barbecue and again it's all house-made with a focus on quality.
Ribs, a pulled-pork sandwich (top) and a steak platter were all exactly what we wanted them to be with good fries and chips. All the kids in the place were drinking pink Saranac Shirley Temple sodas; don't miss them.
Our only complaint is that they don't include the barbecue items on the kids' menu so Tiny Traveler wound up with a full portion of ribs. Luckily she'd skied all day and ate more than she usually does.
The Downtown Diner, right at the beginning of town doesn't look like much from the outside, but have breakfast there at least once. The service is friendly and everything was made in house from Tiny Traveler's pancakes to Rich's hash to the salsa on my omelette. And the chandeliers are fabulous!
For a quick bite in Lake Placid
Every ski town has its Mexican restaurant. We were pleasantly impressed by Wyatt's BBQ in the Alpine Mall on Main Street. Everything in this burrito joint was fresh and felt house-made.
The beans and meat that were supposed to have a kick had a nice one. They gave us a side of beans and corn bread for Tiny Traveler, who was not a burrito fan at that age. And the price was right.
Saranac Sourdough just outside of town toward Saranac is our go-to place for breakfast sandwiches served on the store's own breads. We haven't ventured here for lunch but have faith their salads and lunch sandwiches would be just as good.
I often stop into the River View Cafe at High Falls Gorge. It's small, but they seem to offer a little more each time I visit. There is a comfy love seat if you can grab it, next to the stove with a view of the gorge.
It's where I sit with a mug of tea and my tablet while Tiny Traveler and her dad are skiing just up the road. After I collect them we sometimes return so they can warm up by the wood stove with après-ski beer and hot cocoa.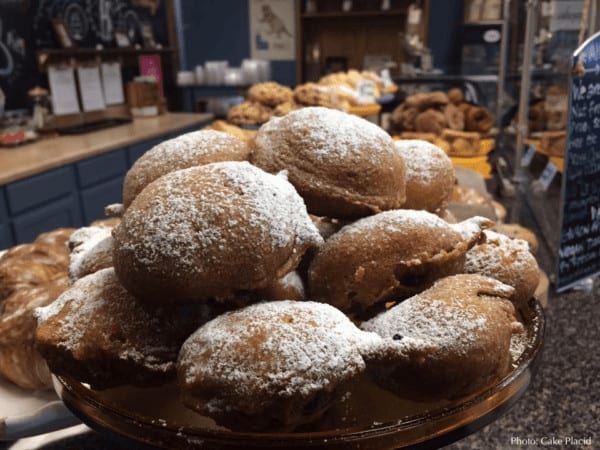 The tempting desserts at Big Slide come from local bakery Cake Placid. If you skip the last course at the restaurant, be sure to stop by this bakery in a shopping plaza at the opposite end of town. You'll find proper scones, killer cake donuts and irresistable cupcakes and cakepops.
Pin it for later