Montreal is not a pretty city in the winter — what city is? But look beyond its grey building exteriors and slushy streets and it's a really fun city. It's full of good things to eat, has lots of culture, and even in winter it offers lots of opportunities to get outside.
Here are all the things we squeezed in during a 2-night stay, many of which are available to do all year round plus a great family hotel we revisited a few times.
Read more:
• Our favorite Must-Try Food in Montreal
• Add a Quebec weekend to your getaway with these tips
• My recommendations for the best kids' winter clothes.
The Doubletree by Hilton: An Ideal Montreal Hotel For Families
We like the Doubletree by Hilton Montreal and have stayed there a few times now. It's not in the middle of anything but it's convenient to everything. It's on Catherine Street just a few blocks from the heart of downtown. It's only a few blocks from the historic old town and from Blvd St. Laurent with its restaurants and shops.
It also connects to Underground Montreal from the Complexe Desjardins next door. And it has two metro lines nearby that will get you pretty much anywhere in the city in under 30 minutes.
It's across the street from two art museums and opposite the Place des Festivals, where special events take place. The Complexe Des Jardin atrium, next door, has bakeries, a liquor store, a small supermarket, and some other conveniences we found handy whenwe stayed. It also hosts a lot of events, including a large cheese tasting that was going when we were last there.
The Vibe:
The Doubletree is bland from the outside, like much of Montreal in winter, but has a cosmopolitan artsy vibe, with vibrantly painted elevator doors and funky sculptures and other art inside.
A lounge next to the bar has a long, skinny, very modern fireplace and was usually empty, so we would often pause there whenn we came in to warm up.
It doesn't scream kid-friendly visually but the hotel definitely attracts families.
The Amenities: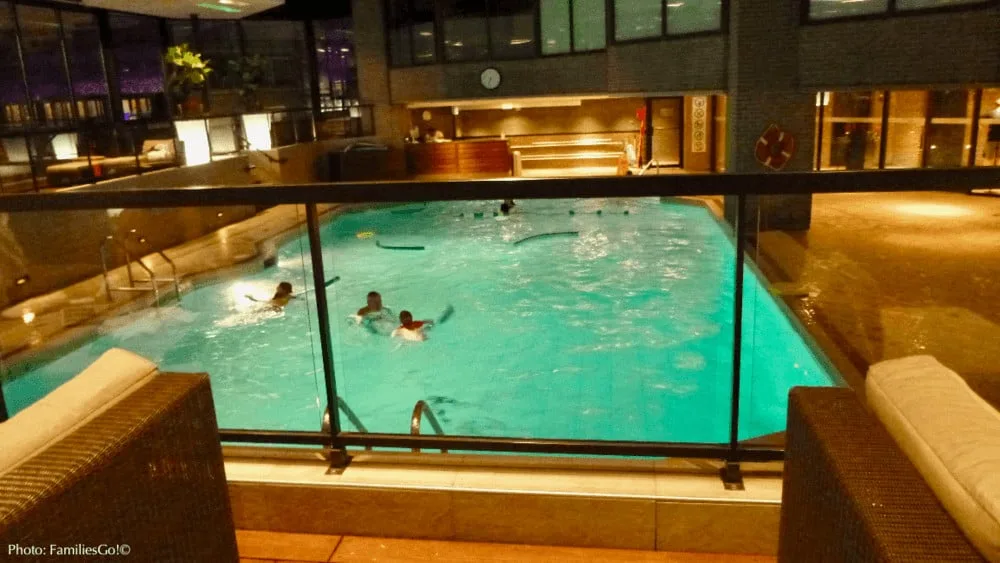 Should you visit in winter, the most important thing for families to know is that the Doubletree Montreal has a very nice indoor pool with a glass atrium and an outdoor deck.
When I was searching for a hotel we found that several of the brand-name hotels in the same area had outdoor pools (in Montreal? Really?).
There is always staff on hand at the pool during the day and they usually throw a bunch of noodles and other toys in to the water, which Tiny Traveler loved.
There is a co-ed sauna and steam room downstairs with the changing rooms. It's worth trading off watching the kids at the pool to take turns using them, especially in the chilly weather.
There was no concierge, but the front desk staff could answer all our questions about getting around. The reception floor had a small lounge with a very long, slim, modern fireplace. It was handy for pausing, warming up, finishing snacks when we came inside.
There is a parking garage with a valet and self-parking.
The Room: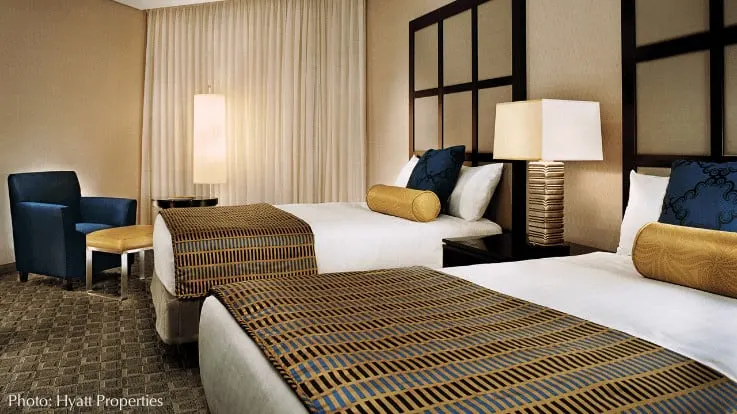 Our standard room was nice and roomy with a reading chair and ottoman and plenty of floor space to spread out our suitcases. We also had a long baseboard radiator, which came in handy for drying wet bathing suits.
The rooms have big windows for taking in the city. The bathroom was small but I can live with that as long as the room has extra space.
Super Fun Things To Do with Kids on a Montreal Weekend Getaway
Ice Skate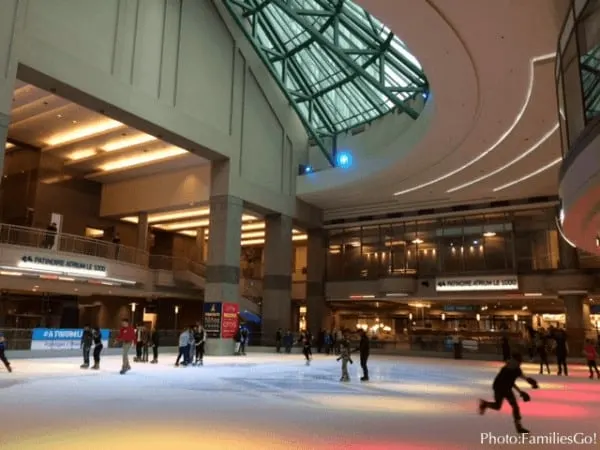 We had a patch of warm rainy weather during our visit, which kept us from trying any of the several outdoor rinks around the city.
So we walked through the Montreal Underground to the Le 1000 office building, which has a skating rink in its Atrium Le 1000 just above street level.
You do feel like you're skating in an office building. But the atrium has nice light and it's fun skating around the pillars on the rink.
On a weekday when Canadian kids are in school it isn't very crowded. Tiny Traveler thought it was novel and said this was one of her favorite skating rinks (and we've tried a few).
There are lockers for your bags and shoes, and rentals are available.
Note: Resist your kids' entreaties to buy one of the brightly colored slushies at the pizza place off the rink. It wasn't actually slushy and was pretty bad.
Climb a Hill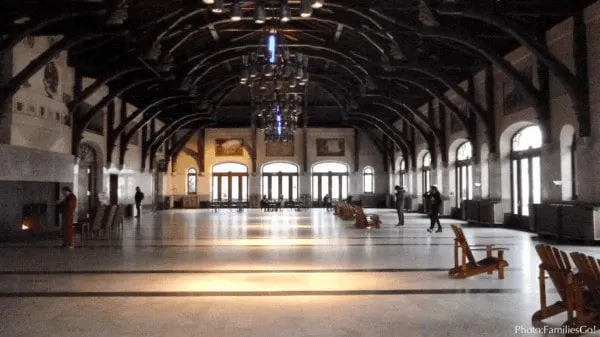 The sun came out on the second morning we were there so we decided to climb Mont Royal, a large woodsy park designed by Frederick Law Olmstead.
You can take any of several leisurely circular trails to the top. Or you can go straight up a set of long stairs you'll come across.
It was hard to sort out the easy trails with lots of snow on the ground so we took the direct route, which helped us to work off all the wintery food we'd been enjoying. Tiny Traveler enjoyed romping in the snow and didn't bother with the paths.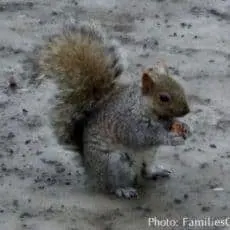 At the top there is a large plateau with views of the city and the lovely Chalet Mont Royal, a 1930s stone building with a large fireplace and carved squirrels keeping an eye on things from the rafters. In winter it's a nice place to warm up.
The squirrels in the park are very used to being fed and will skittishly walk up to you to see if you have food for them. Tiny Traveler had fun feeding them bits of the granola bar in her pocket. Though I have to admit that when we had 5 of them in a circle around us waiting for more treats it was a little freaky.
Note: There's no metro stop close by but there's a parking lot at the entrance on the Chemin Remembrance and a stop for the #11 bus that runs between there and the Mont Royal metro stop.
Ask your concierge about other buses that stop nearby. You can buy a ticket on the bus and transfer between bus and Metro for free.
Visit a Market
Montreal has several green markets where vendors sell a mix of prepared foods, sweets, maple products, bread, produce, meat, charcuterie and cheese. They are all a bit out of the way in residential areas, but are worth the Metro ride.
We visited Jean Talon and Atwater. They each focus more on shopping than dining but you can definitely put together a tasty lunch at either one.
Jean Talon has a excellent cheese shop, a stall with Middle Eastern and several stalls that sell maple syrup, sugar, candy and butter for you to bring home.
Atwater has a large French bakery upstairs with excellent croissants and a busy sandwich and pizza shop downstairs.
Note: If you visit Jean Talon walk down the Rue St. Hubert on the way to or from the Metro. It's a shopping street with a glass arcade over the sidewalk, which is attractive and handy in bad weather.
The shops are down-market but there are some funky dress shops that make for good window shopping and Le Roi du Smoked Meat deli is there if you want to try this local specialty.'
Eat some Maple Sugar
(actually, eat a lot of it)
In addition to the maple products at the Montreal green markets, you'll see maple shacks set up on street corners around town selling more kinds of maple products than you can imagine.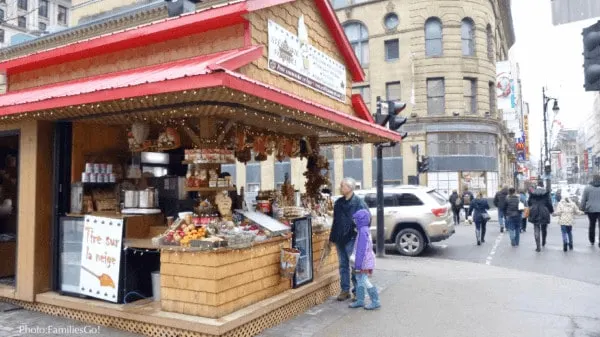 The best one we found is across from the Hudson Bay Company on St. Catherine Street. They had very good soft-serve vanilla ice cream with a ribbon of maple syrup running through it.
Tiny Traveler and I bought one cone to share, fought over it and went back later to buy another one (and fought over it).
Here and at other maple stalls look for the tray of ice they all have. They pour a ribbon of maple syrup over the ice, let it crystalize and wrap it around a stick like cold maple toffee. You'll see local people buying it for themselves and their kids, but I think you have to really like maple!
If it's the maple sugar running season you can take a day trip to visit sugar shacks (cabanes) outside the city.
Attend a Festival
Montreal prides itself on the many festivals it hosts during the year. We discovered the Montreal Light Festival steps from our hotel (one of several reasons to choose the DoubleTree). It runs during February and March and usually coincides with winter break in the U.S. It varies from year to year but always features art, entertainment and food.

This year's festival featured an above-street zip line, a super fast toboggan run, a Ferris wheel, lots of games, curling, an entertainment stage and Canadian foods like maple toffee and poutine.
Tiny Traveler's favorite discover was the beaver tails (long flat donuts with toppings. She loved them with simple lemon, cinnamon and sugar, though they can get far more elaborate and gloppy). They also had bonfires where you could roast sausages and marshmallows.
We didn't try the zip line but Rich and I loved the toboggan and Tiny Traveler liked making pictures on giant Light Bright boards. There were also light-based art installations around town (top). All the activities were free and we walked through a few times.
Visit a Museum
Montreal has several museums, but the most quintessentially local one is the Montreal Museum of Archaeology and History at Pointe-A-Calliere in the old town.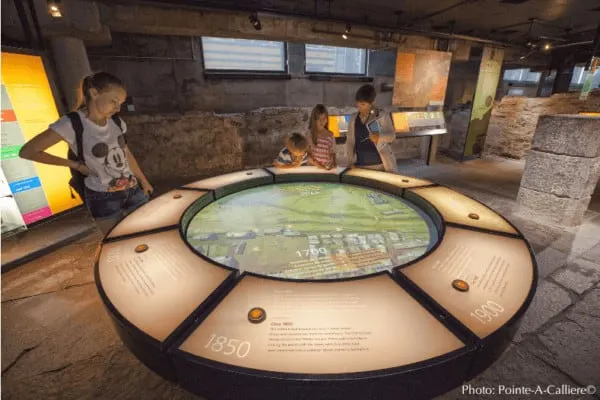 The basement has ruins of older buildings and the exhibits celebrate the literal layers of Montreal history to be found at the site.
There is an excellent movie that projects the history of the city on to a wrap-around screen and ruins below it.
Since the native tribes in the area were similar to those wandering around New York state our visit dovetailed nicely with TT's 4th grade history lessons. Plan on two hours here.
If your kids are too young for history or are more interested in other pursuits try the Montreal Science Centre, also on the waterfront or the sprawling Biodome with the adjacent insectarium and botanic garden. We have yet to get to either one but hear nothing but raves about both.
Tour Old Town Montreal
With the history you've just learned at the archeology museum in mind, take a stroll around the old port. It's not as big or as abundantly charming as Quebec City's old quarter, but it's a fun place to seek out restaurants and window shop.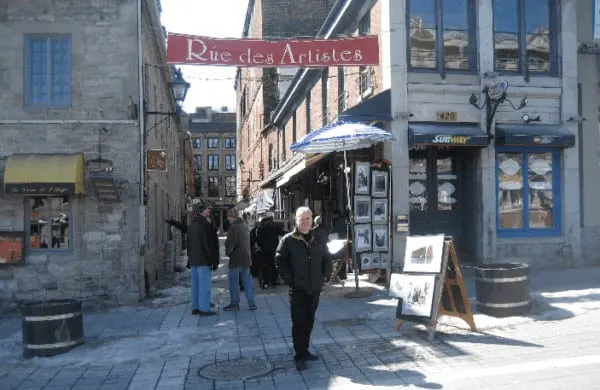 There is a fantastic ropes course at the port in summer. There are also walking tours available in the summer months, or you can find DIY walking guides online.
---
Plan This Trip:
• You can find great hotel deals in Montreal all year round.
• Book a vacation rental in one of Montreal's trend neighborhoods.
Find fun, kid-friendly tours on Viator.
---
Basic Things To Know
How Do You Get To Montreal?
Montreal is a two-and-half-hour drive from ottowa, less than two hours from Burlington, VT; an hour north of the New York State border crossing, five hours from Boston and six hours from New York City.
There are plenty of flights into Montréal-Pierre Elliott Trudeau International Airport; it's a less-than-90-minute flight from New York City. It's easy to take an express bus into the city. We were able to walk to our hotel from the downtown stop.
Some families take Amtrak's Adirondack train from NYC and several upstate cities and towns to Montreal. The train had advantages over both cars and planes and there scenic stretches through the Hudson Valley and Adirondakcs, but it does take 10-hours.
Border crossing: Keep in mind everyone in your family, including the kids, needs a passport for entry into Canada regardless of whether you drive, fly or take the train.
If you fly, leave time on your return flight go through U.S. immigration in Canada.
Winter Weather in Montreal
On our three February visits to this city the temperatures ranged from the low 30s to the high 40s during the day and dipped down to the 20s and even teens at night.
Dress in layers, wear a coat that will keep you dry in snow and rain. And wear boots that will keep you dry and warm and won't slip on slushy or icy sidewalks.
For winter trips like this i just pack my Blundstone boots. They keep my feet bone dry, I can wear thicker socks with them to keep my feet warm and I can walk around in them for hours. Plus they look nicer with jeans and corduroys than a lot of winter boots, do.
Pin it for later!